In March, the Morrison Government announced that it had cut Australia's non-humanitarian permanent migrant intake by 30,000 to 160,000 for the next four years. The Government also announced that it would re-weight the permanent skilled intake away from independent visas toward employer sponsored visas.
According to Dr Bob Birrell from the Australian Population Research Institute, these changes will make it much harder for international students to obtain permanent residency, thereby reducing their incentive to choose Australia as their study destination:
This year the number of skilled independent visas will be slashed by 16,000 to 18,652.

There will be 23,000 skilled regional visas, as well as about 25,000 places for nomination by states and territories which will mainly involve regional settlement.

A further 30,000 skilled visas will be employer sponsored…

Australian Population Research Institute director Dr Bob Birrell said the program had been rebalanced to employer sponsorship, which meant matching skills with the jobs available…

Dr Birrell said the rebalanced program and tougher points test meant bad news for thousands of overseas students trying to stay here permanently after their studies…

"The points they need to get an invitation to apply have gone up sharply. They'll have to find other routes like finding employers to sponsor them or states to sponsor them," he said.

"On the one hand the government is still insisting that the overseas student industry is a high priority industry which they've bent over backwards to facilitate"…

"On the other hand they're changing the selection system which will make it more difficult for students who finish here to get permanent residence."
The impact will be most detrimental on student flows from India and Nepal – Australia's second and third biggest source nations – who are more inclined to study in Australia as a pathway to achieving permanent residency.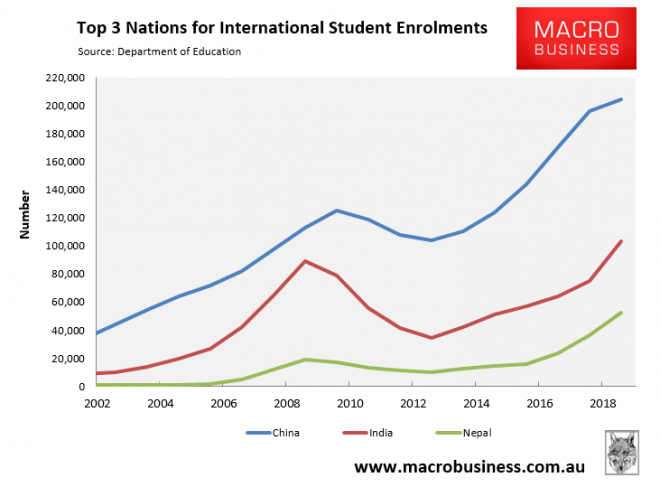 We should also acknowledge that Australia is facing stiffer competition from other nations, like the United Kingdom and Canada, which are seeking to grow their international student industry.
Last month, the United Kingdom announced that it would match Australia and extend its post-study work visa from four months currently to two years, as illustrated in the next chart: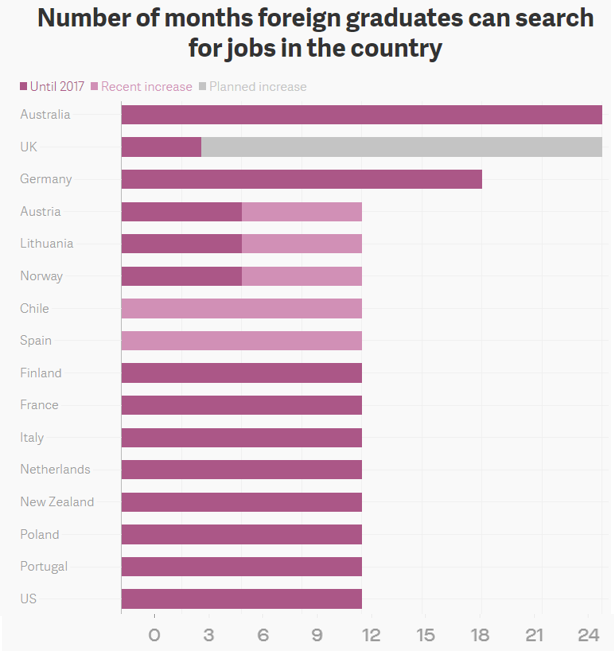 In a similar vein, Canada is aggressively courting international students by marketing more heavily overseas and relaxing visa requirements.
To add further insult to injury, there are increasing concerns surrounding university entry and teaching standards. These came to the fore in May's Four Corners' "Cash Cows" report, which fingered students from the Indian Sub-continent as being key culprits in the decline of university entry and teaching standards.
As a result, Australia's tertiary education sector is now under increased pressure to raise standards and be more discerning about which international students they take. This should limit the flow on Indian and Nepalese students going forward, other things equal.
At the end of the day, Australia has no natural competitive advantage in education. Rather, the key drawcard to choosing Australia is its generous working rights and easier pathway to permanent residency, as well as our lax entry standards.
Accordingly, Australia's international student industry has morphed into an unsustainable bubble built on declining standards and overly generous visa arrangements. It is now rigged to blow.
Latest posts by Leith van Onselen (see all)