Links via Sinocism:
Real estate won't rescue the economy this time?

China Business News reports on the relaxation of housing purchase restrictions in some cities and areas, and a rumor that restrictions will be relaxed in Yanjiao, a commuter "suburb" of Beijing just over the border in Hebei.

But the article says any loosening in some areas not a sign of change in central government policy that "houses are for living in, not speculating on", and in fact small adjustments in some areas are in line with the central government policy that each city may adjust its policies to fit their local conditions. So while there may be some loosening this does not yet sound like backsliding to unshackling real estate as part of a broader stimulus effort to prop up the economy

核心城市房价今年首降!未来房价走向,社科院报告这样预测…… _ 经济参考网 _ 新华社《经济参考报》官方网站

CASS' monthly report on the real estate market predicts that between now and the end of the year real estate prices will be mostly stable with a slight rend towards declining…so in line what the government wants…

China developers cut prices by up to 10 per cent to spur sales amid slowdown as policymakers maintain market curbs | South China Morning Post

Some builders are cutting as much as 10 per cent off their selling prices to boost cash flows, after latest official data showed the economy grew last quarter at the slowest pace since records began in March 1992.

The economic report was followed by data showing September new home prices (excluding state-subsidised housing) in 70 Chinese cities rose by the smallest since February.

"They are still under pressure to sell more homes in the coming two months," said Gao Shen, a Shanghai-based independent analyst specialising in socio-economic issues. "They may not be able to sustain the expected sales increase next year given the government's resolve in cooling the property sector."

中小房企上演"求生之战" _ 经济参考网 _ 新华社《经济参考报》官方网站

Xinhua's Economic Information Daily reports that 24 of China's top 100 housing developers are at risk of not being able to make short-term debt repayments

Yicai Global – [Exclusive] China's Greenland Offers Staff Bonuses to Hit Developer's Annual Sales Target

Greenland Holdings has set aside CNY50 million (USD7 million) for bonuses to spur staff to achieve the property developer's CNY400 billion (USD56.5 billion) annual sales target. To that end, some employees have even been told to buy a home from the company…

The division in central Hunan province requires all employees, even those still in their three-month probationary period, to buy a Greenland-developed home in the province by the end of this month, though they can enjoy preferential purchase conditions, Yicai Global has also learned.

Changsha government denies rumors it is relaxing housing purchase restrictions
Market signals are for further falls.
First, household debt growth, which is basically mortgages, has been falling and it is close to levels previously associated with falls in starts: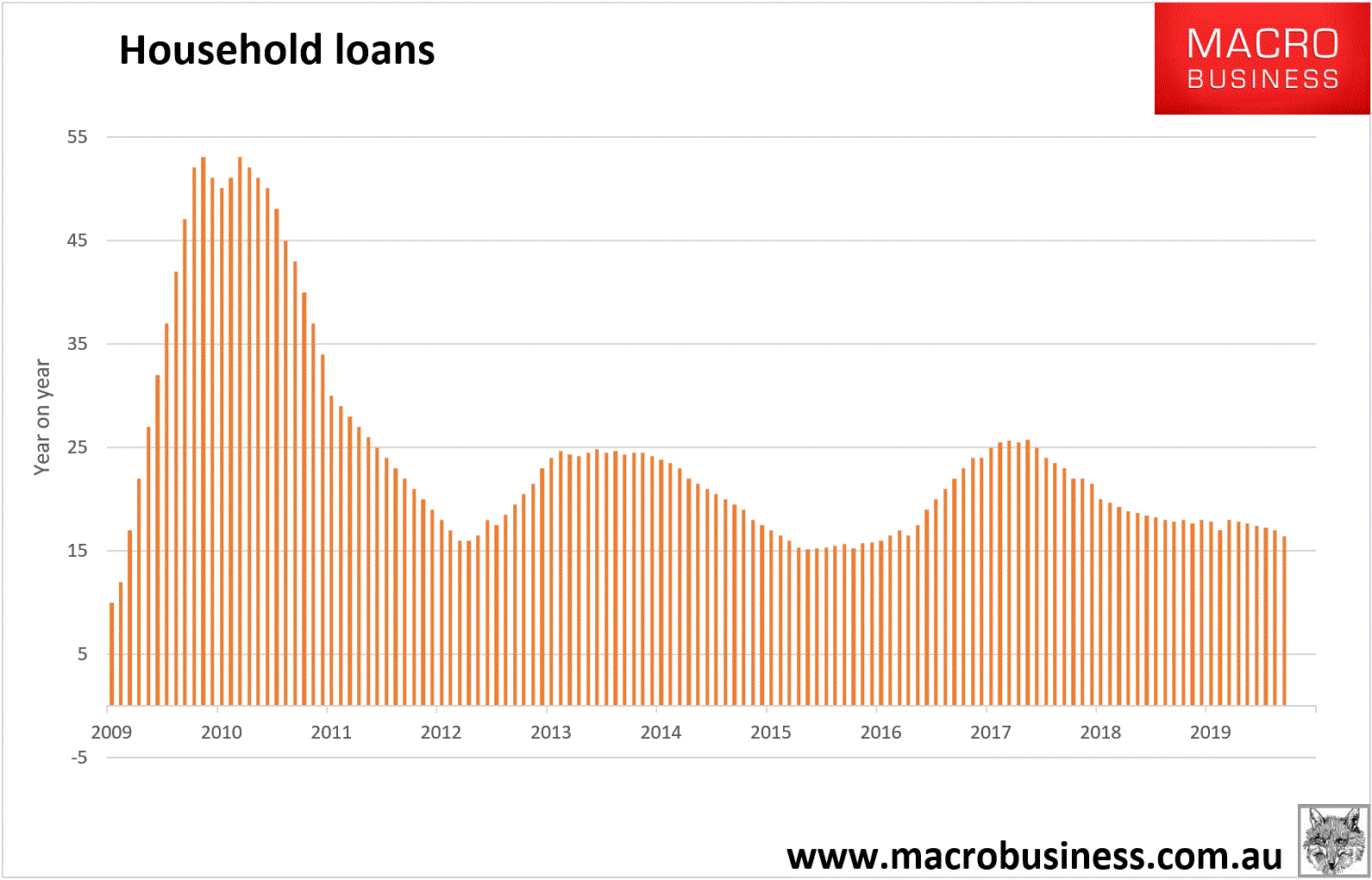 New house price gains have likewise been slowing: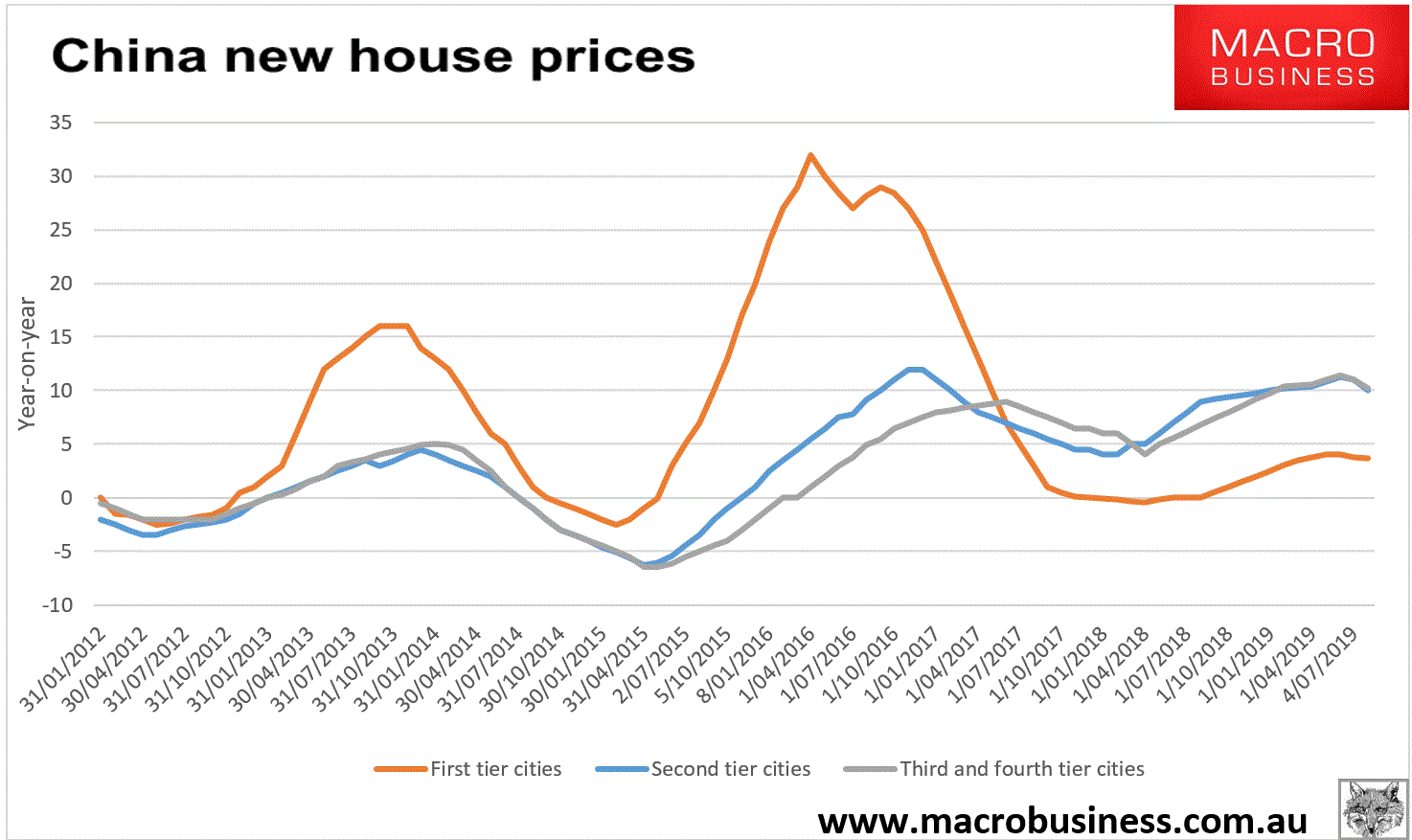 Note that, unusually for China, this cycle has been dominated by the lower tier cities that make up 90% of the market. In a way that helps explain why construction has been strong given more of the credit growth likely went into fresh urbanisation new builds than existing stock for price gains this cycle. That has produced record dwelling starts by floor area: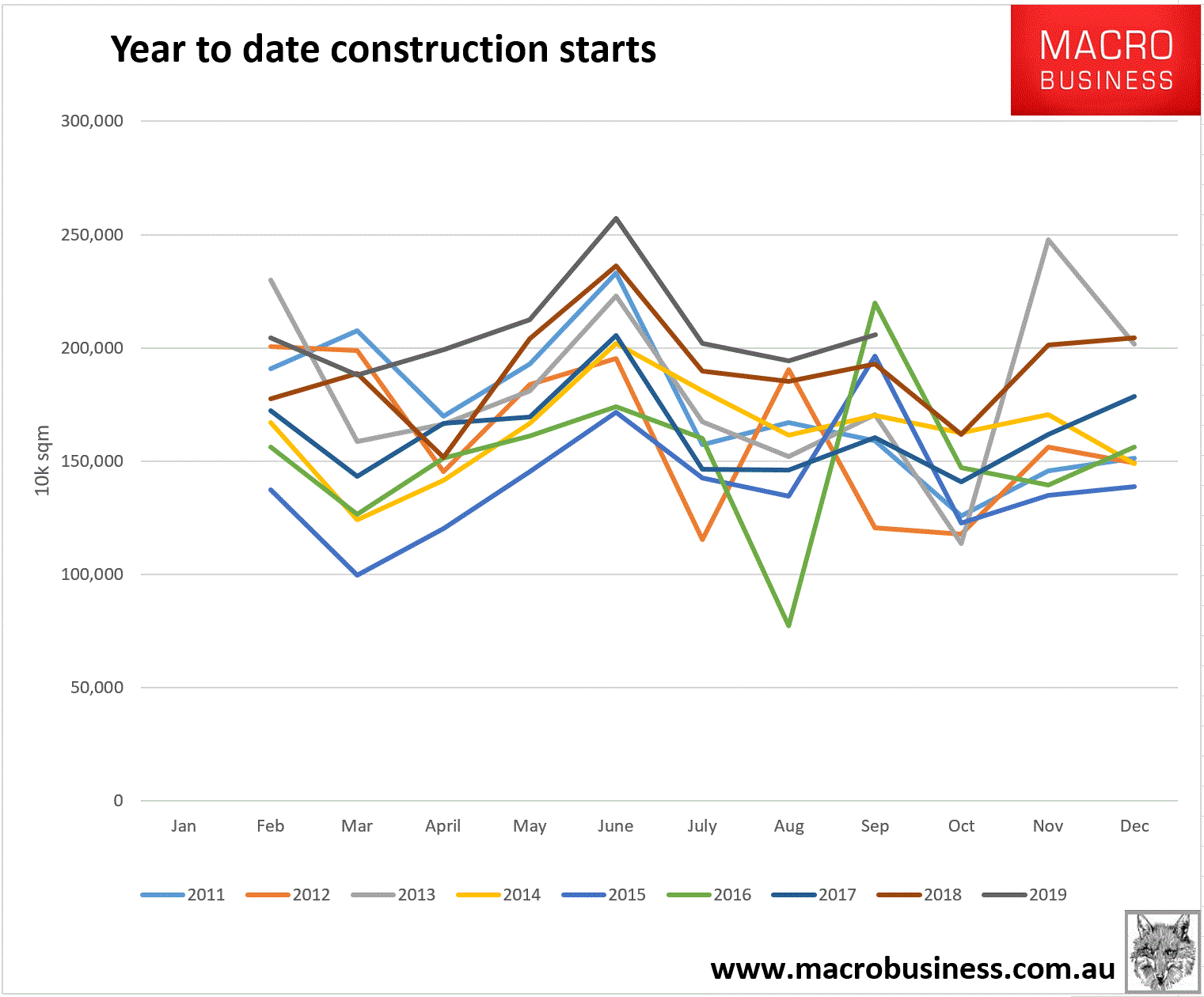 And staggering floor area under construction: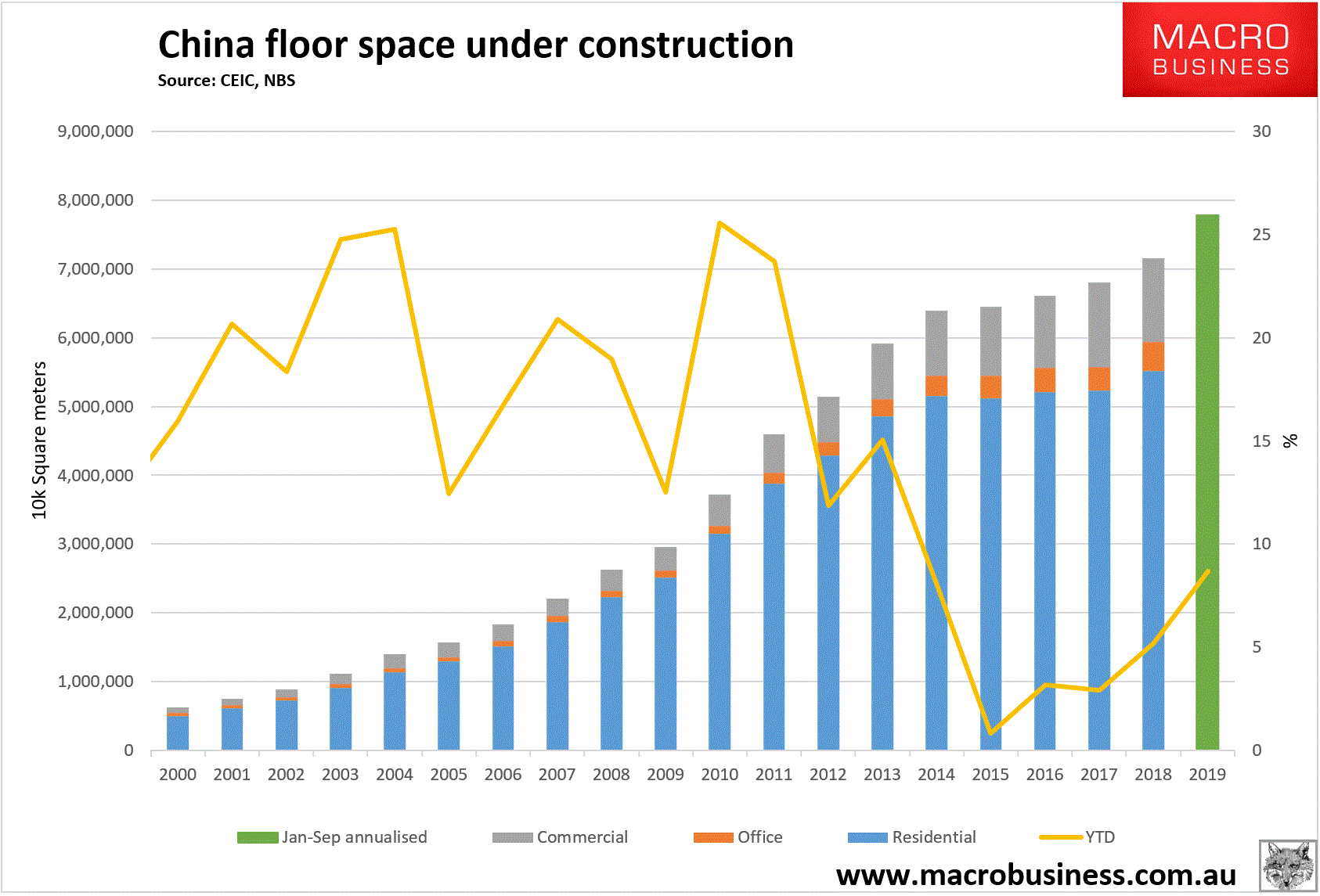 Nonetheless, other signals have been indicating imminent falls in construction for some time. Developer land purchases have been falling heavily all year and still are: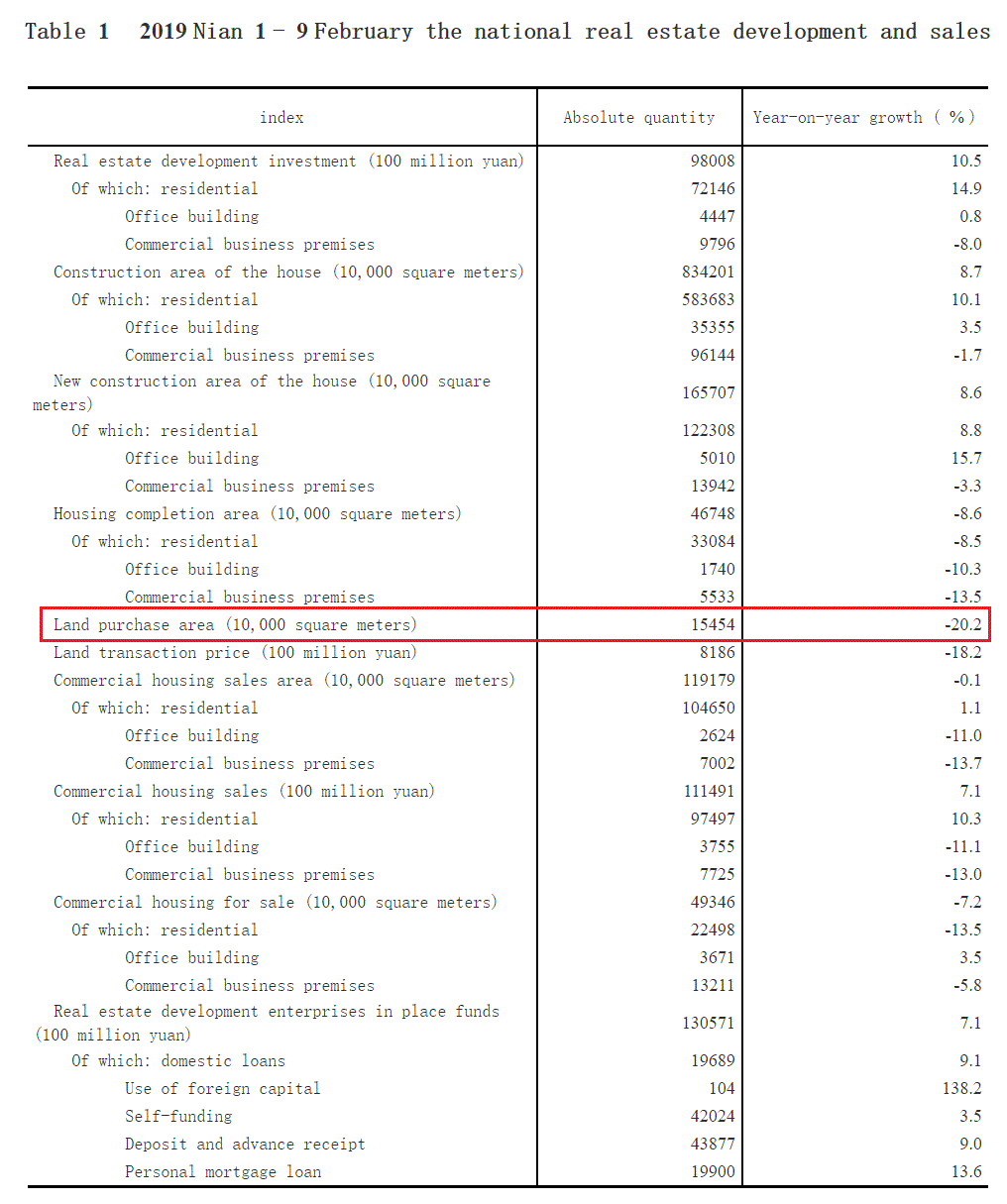 Excavator sales have turned down: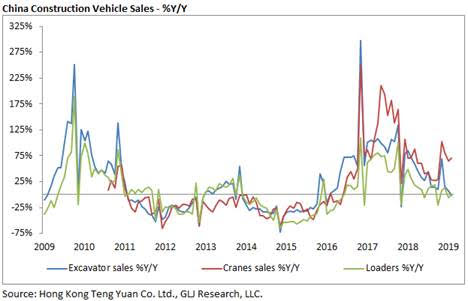 Sales of new apartments have also been falling all year, culminating in a dreadful recent Golden Week with reports of a collapse in transactions.
Yet starts have boomed anyway and when we compare the two an unprecedented divergence appears: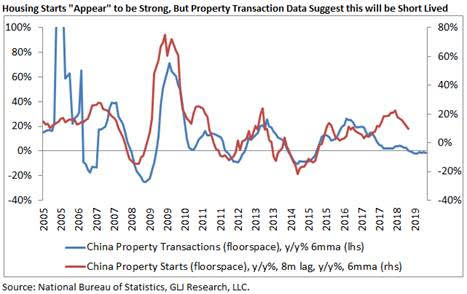 In short, every leading indicator that worked in the past to warn of a sharp slowdown in Chinese empty apartment construction is presently sending out a bright, flashing warning. Yet the blocks keep going up anyway.
Given the divergence coincided with the rise of the trade war, I can only conclude, albeit based upon circumstantial not hard evidence, that the CCP has ordered its fleet of SOEs to invest and build more empty apartments to keep those Chinese exiting the tradable sectors employed, and to save face in the economic war with the US. They must using some source of debt that is off the books and hiding the inventory.
If so, waiting for a real estate construction slowdown in the near term may prove to be like waiting for Godot despite what market data is telling us.
That does not mean that the bulk commodities that benefit most from this extraordinary waste, iron ore and coking coal, will hold up next year. They're falling anyway on rising scrap and correcting supply imbalances. Over the long haul, it will only make China's capital misallocation problem worse as all of those empty apartments produce no return despite the debt.
But it does mean that there is an asterisk applied to any of the more bearish risk cases for bulk prices next year.
Latest posts by David Llewellyn-Smith (see all)