Yesterday we reported how the Harvard Kennedy School's Center for International Development has ranked the Australian economy amongst the least sophisticated, with Harvard labelling Australia "rich, dumb and getting dumber".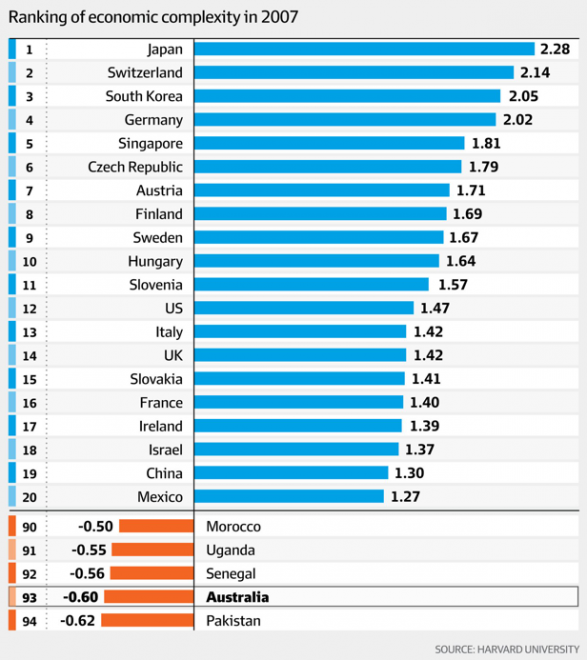 Today, a variety of mainstream Australian economists have addressed Harvard's rankings, with some dismissing the findings and others showing concern. From The AFR:
"Complexity of exports is no necessary indicator of good terms of trade," said Geoff Carmody, an Access Economics founder and former Treasury officer. "Trade is a path to riches if we can sell our exports at high prices and import others' at low prices"…

"The interesting thing about the data is that it does show that Australia is effectively a quarry and has an underperforming tertiary sector and little else," said Stephen Anthony, the chief economist of Industry Super Australia. "Other countries have left us in the dirt"…

Richard Holden, who has a PhD in economics from Harvard University, said he was "moderately concerned" about Australia's narrow range of exports, which make up about one fifth of the economy…

"It's not going in the right direction," Professor Holden said. "We should think about how we diversify"…

"We are not particularly entrepreneurial as a nation," said AMP Capital chief economist Shane Oliver.
As I noted yesterday, Australia's economy is bred to be unsophisticated and stupid.
Our economy relies on importing hundreds of thousands of people every year to work in non-tradeable services industries, alongside increasing household debt. Together, these drive consumption and malinvestment into property and catch-up infrastructure, rather than productivity, which ultimately erodes living standards.
Moreover, adding roughly one million people every 2.5 years necessarily dilutes Australia's fixed mineral base, thus diluting wealth per capita and making us individually poorer than we otherwise would be.
Salvatore Babones encapsulated the problems a year ago when he described Australia as "the world's first immigration economy" – effectively a population ponzi scheme:
Australia's population has grown by nearly 45 percent since 1991. No other major developed country even comes close to that rate…

The majority of Australia's population growth comes from immigration. In turn, Australia's so-called economic miracle is based on immigration, too…

Australia is, in essence, in the midst of an unprecedented experiment in mass immigration the likes of which the developed world has never seen. And this influx of people feeds into its growth story through several channels. The first is that more people means more demand—for everything, but especially for housing…

Mass immigration has also led to a massive building boom that still has not kept pace with population growth in Australia's major metropolitan areas…

These immigrants often fail to find work that corresponds to their professional qualifications… Their presence gives the economy a boost…

Third, Australia has even managed to turn immigration into an export industry… It is an open secret that most of these students view an Australian degree as a back door to permanent residency. In effect, Australian universities are selling more than just a quality education. They are selling the hope of a permanent resident visa along with it…

Inevitably, all these economic and budgetary upsides come at a price. Roads are clogged, schools are full, power grids are strained, and housing is scarce.

Politicians and activists of all shades agree that Australia's infrastructure is not keeping up with population growth…

For more than 20 years, a majority of Australians have consistently preferred lower levels of immigration…

As Australia's population grows, the country needs exponentially more and more immigrants in order to continue to reap the same economic benefits. As a result, Australia's heavy reliance on immigration to float the economy and fund government budgets runs the risk of turning into a giant immigration Ponzi scheme. So far, Australia has more or less been able to stretch existing infrastructure to accommodate a much larger population. But sooner or later, things will come to a head. When they do, Australia may experience the world's first immigration economic crash.
Nothing that regular readers don't already know.
"Rich and dumb, and getting dumber" perfectly encapsulates the contemporary Australian economy.
Latest posts by Leith van Onselen (see all)