See the latest Australian dollar analysis here:
DXY was up last night as EUR fell: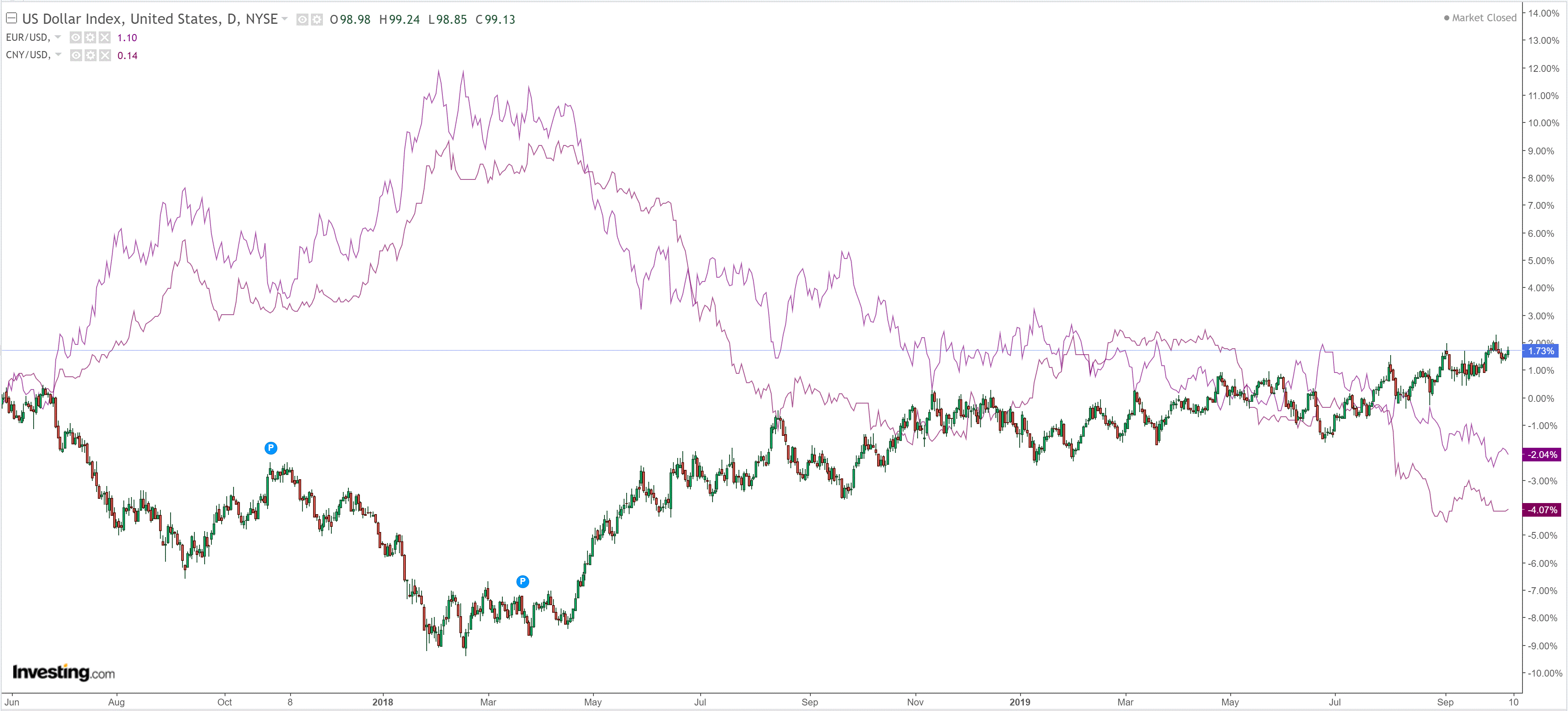 The Australian dollar fell against most DMs: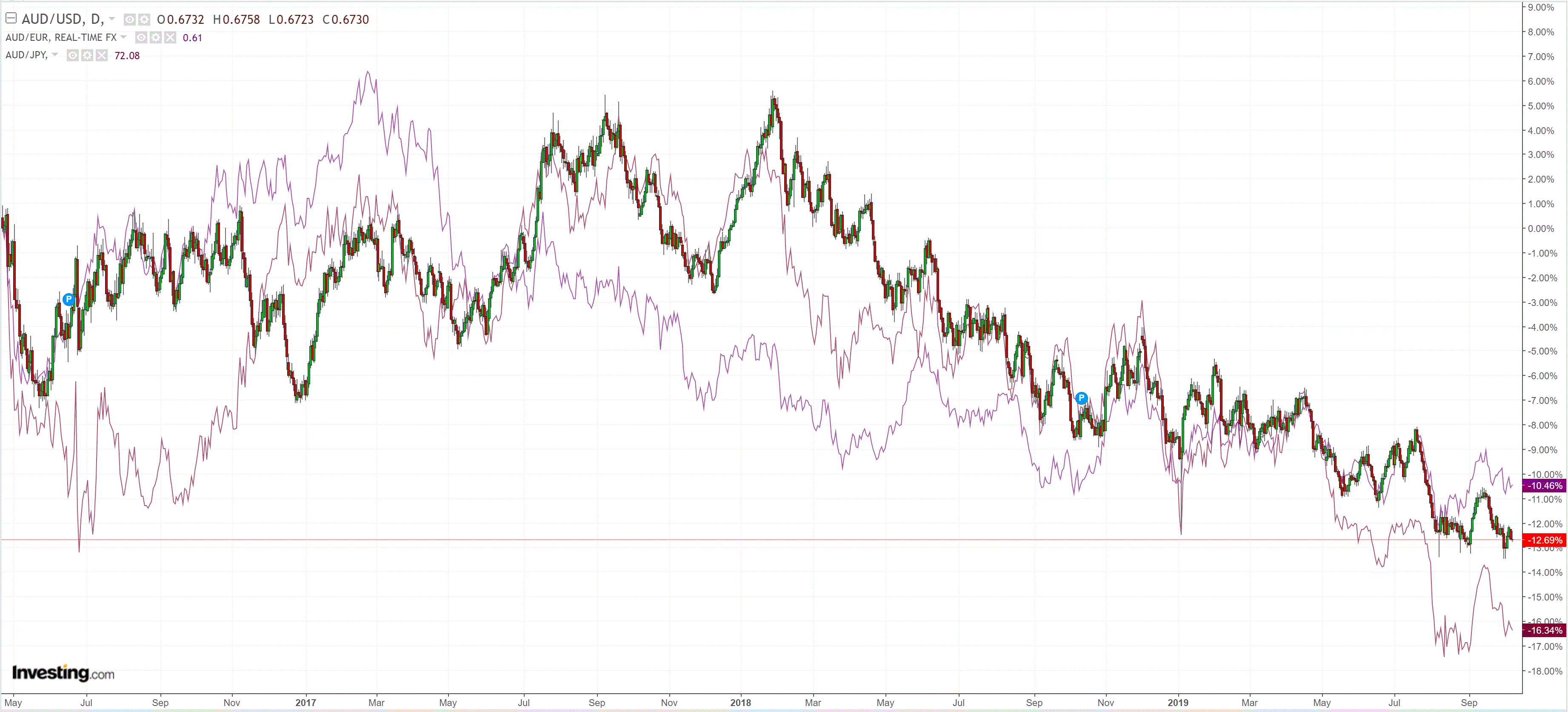 But not so fast as EMs did: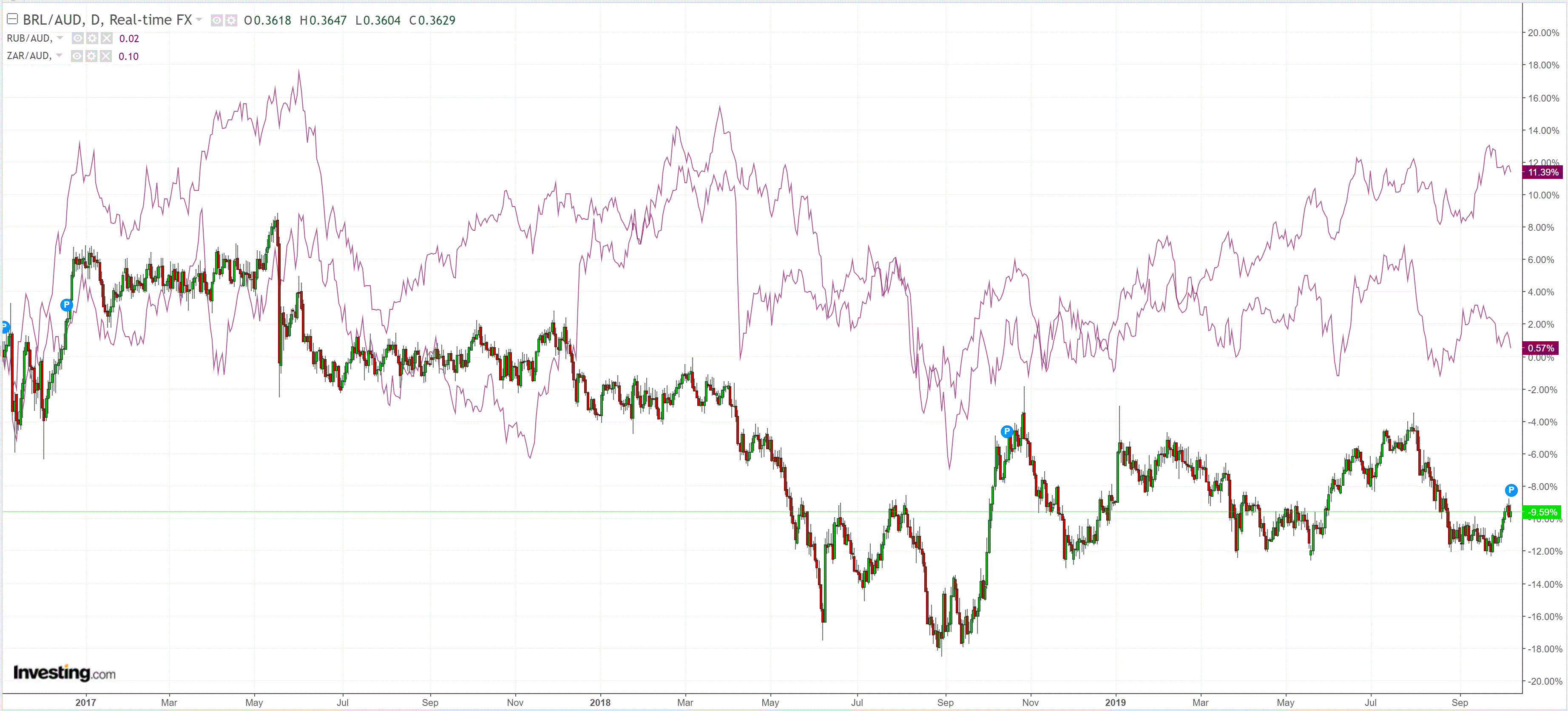 Gold bounced: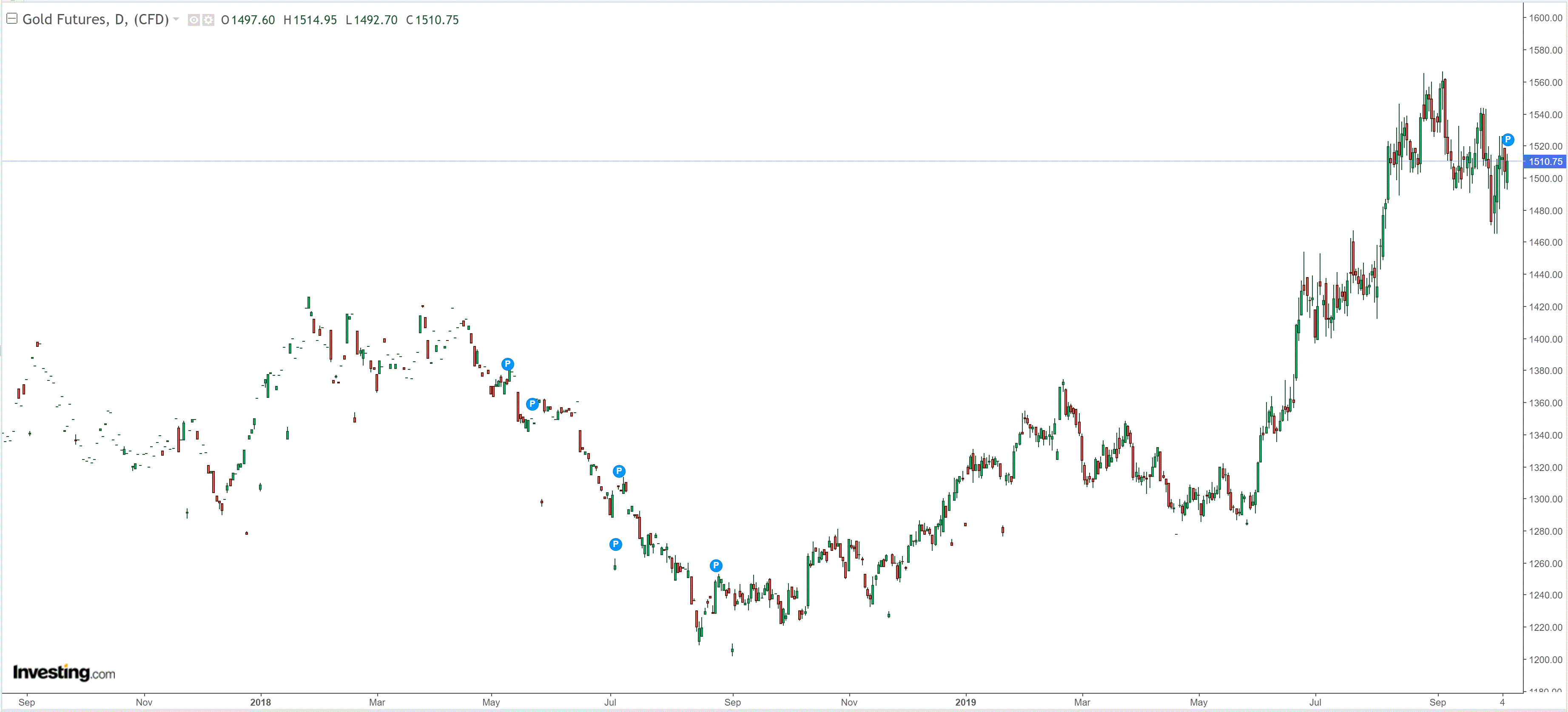 Oil fell: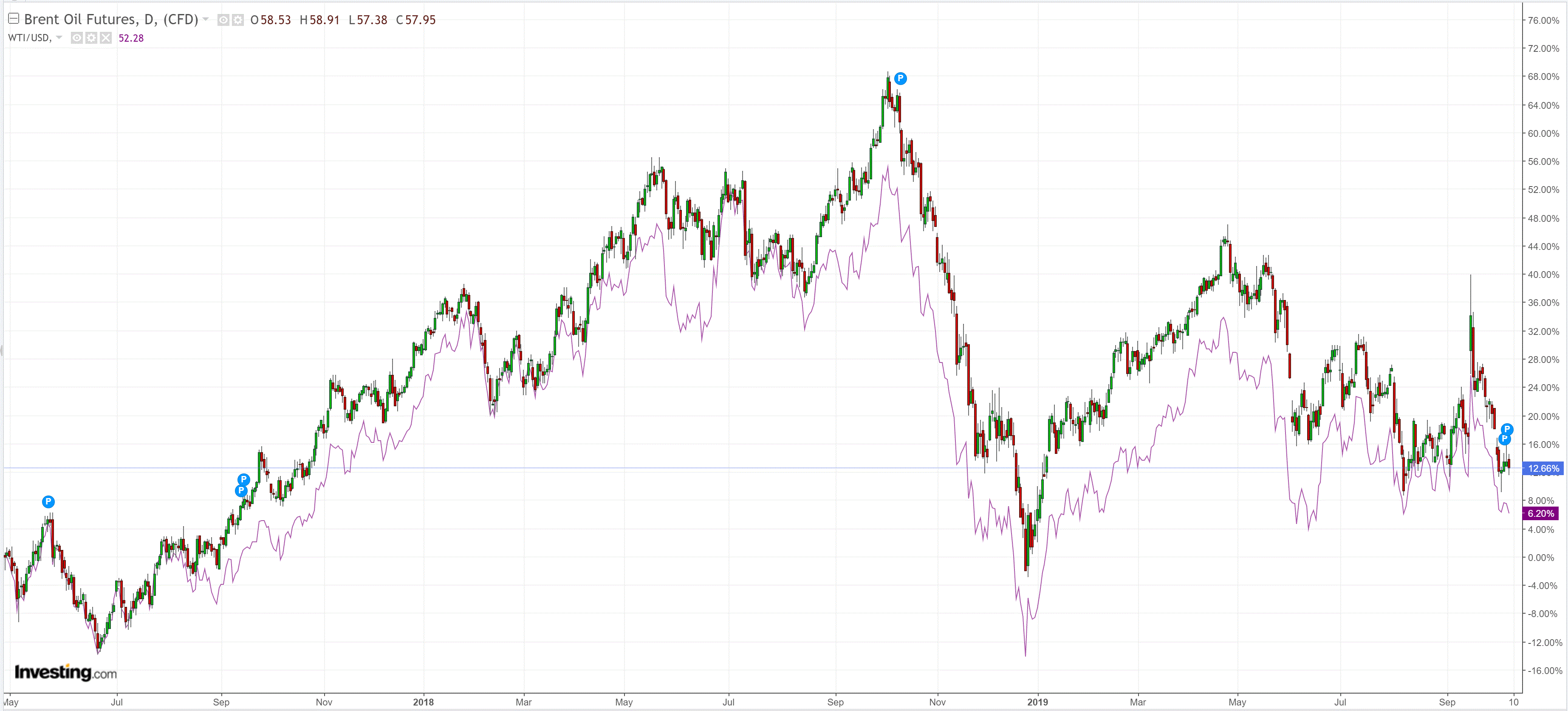 And metals: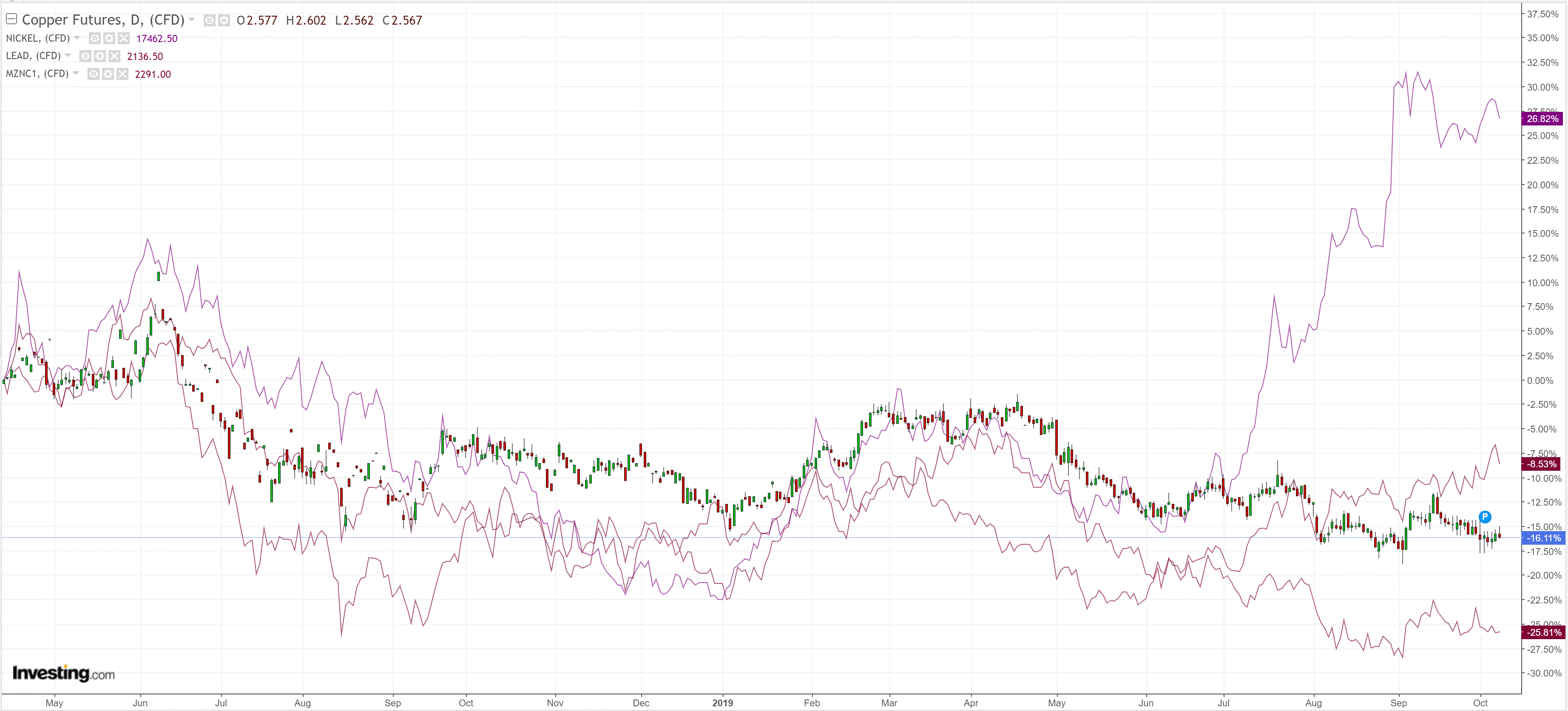 Big miners look cooked: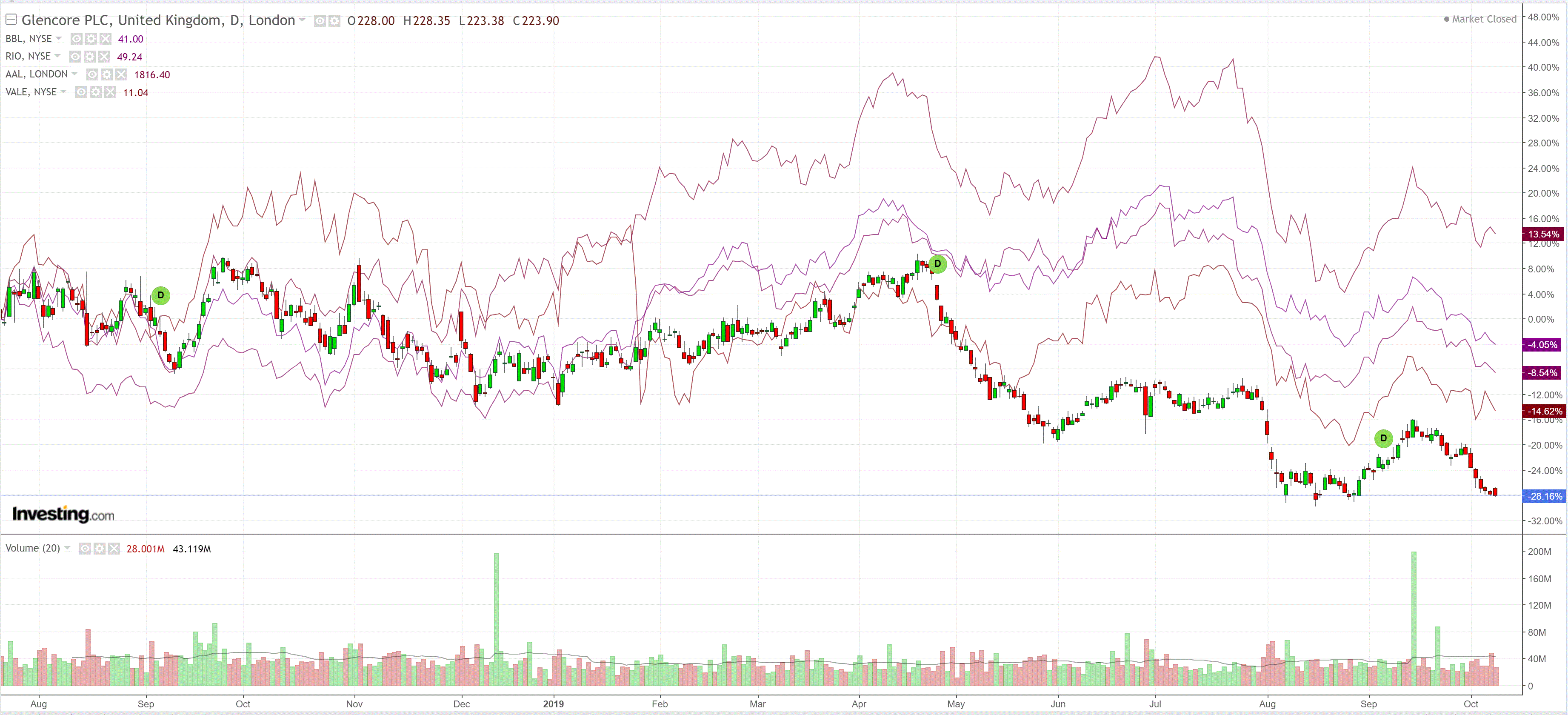 And EM stocks: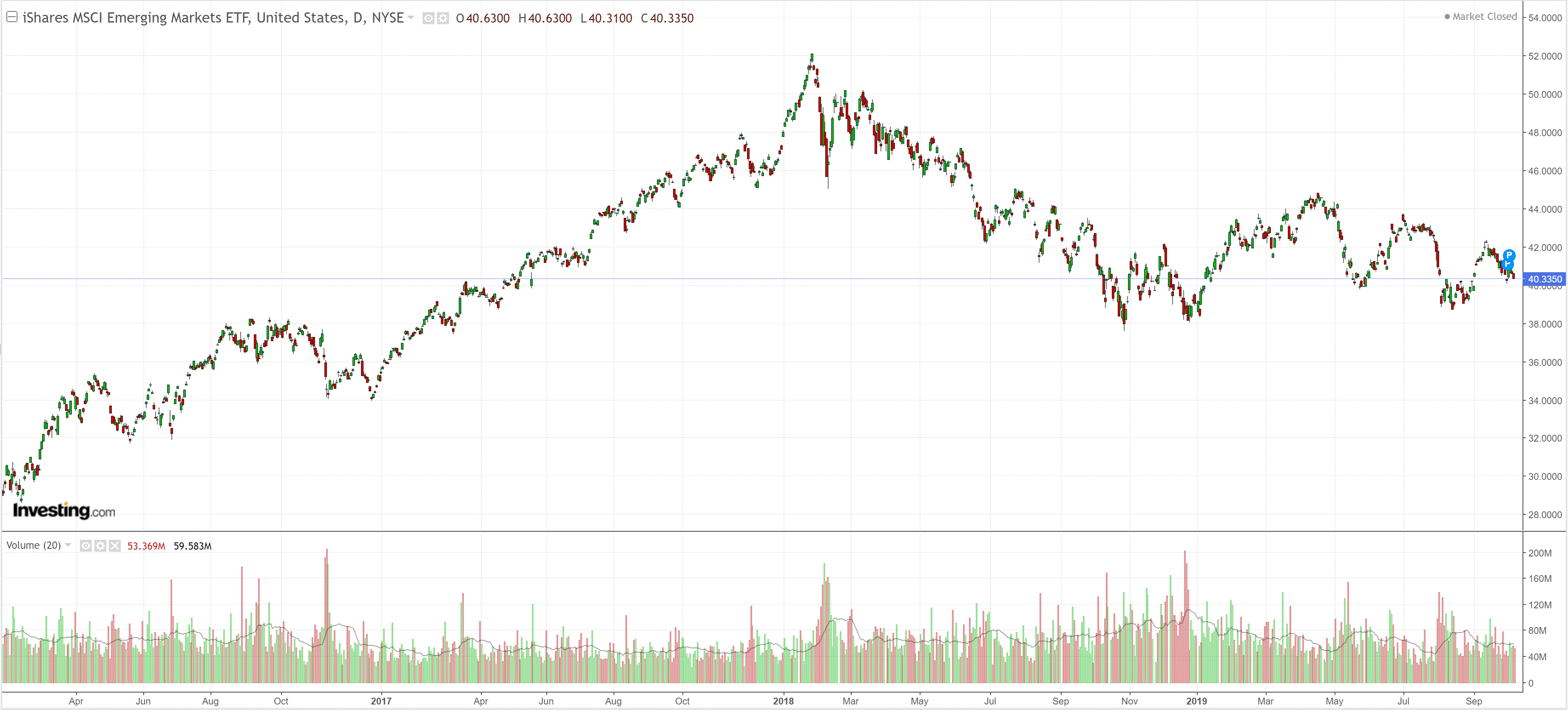 Junk bifurcated: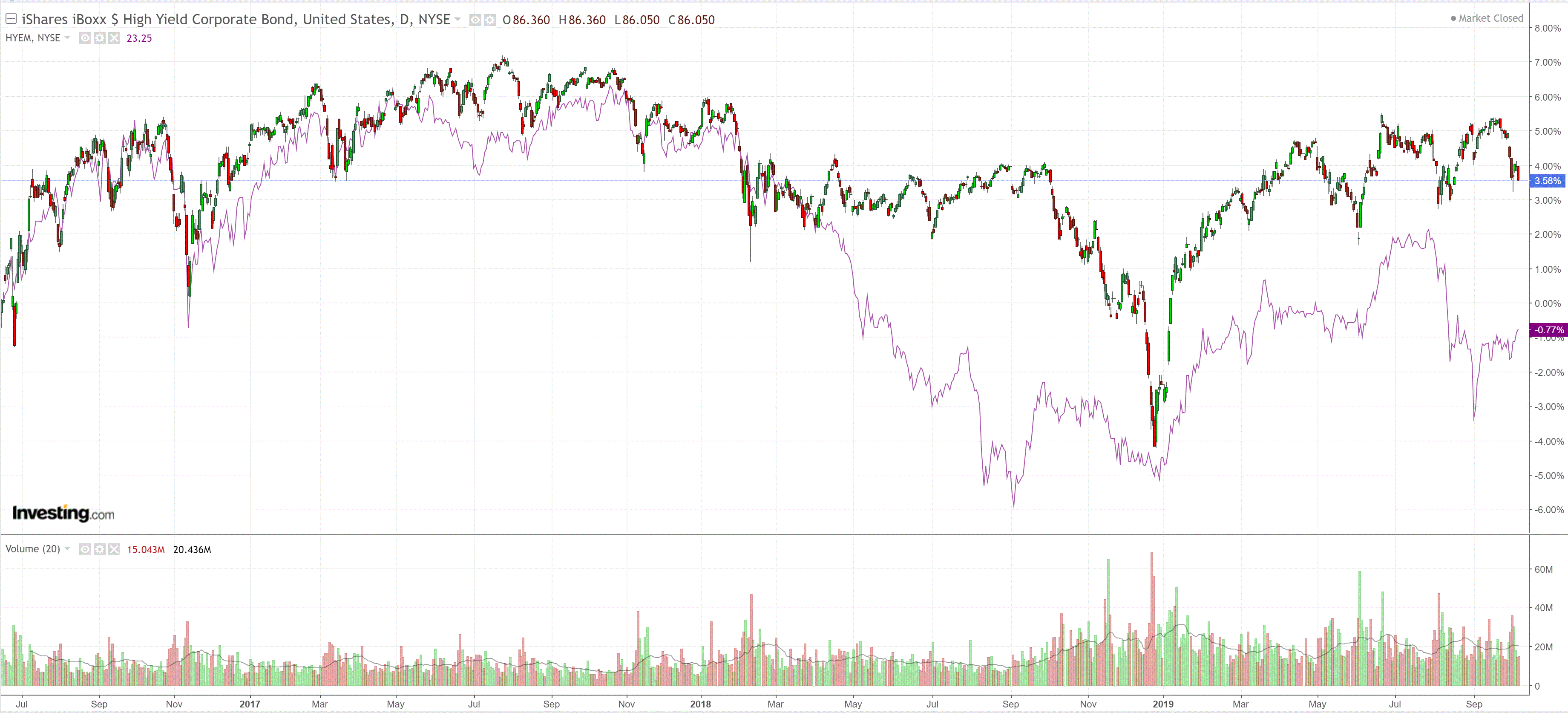 Treasuries were bid: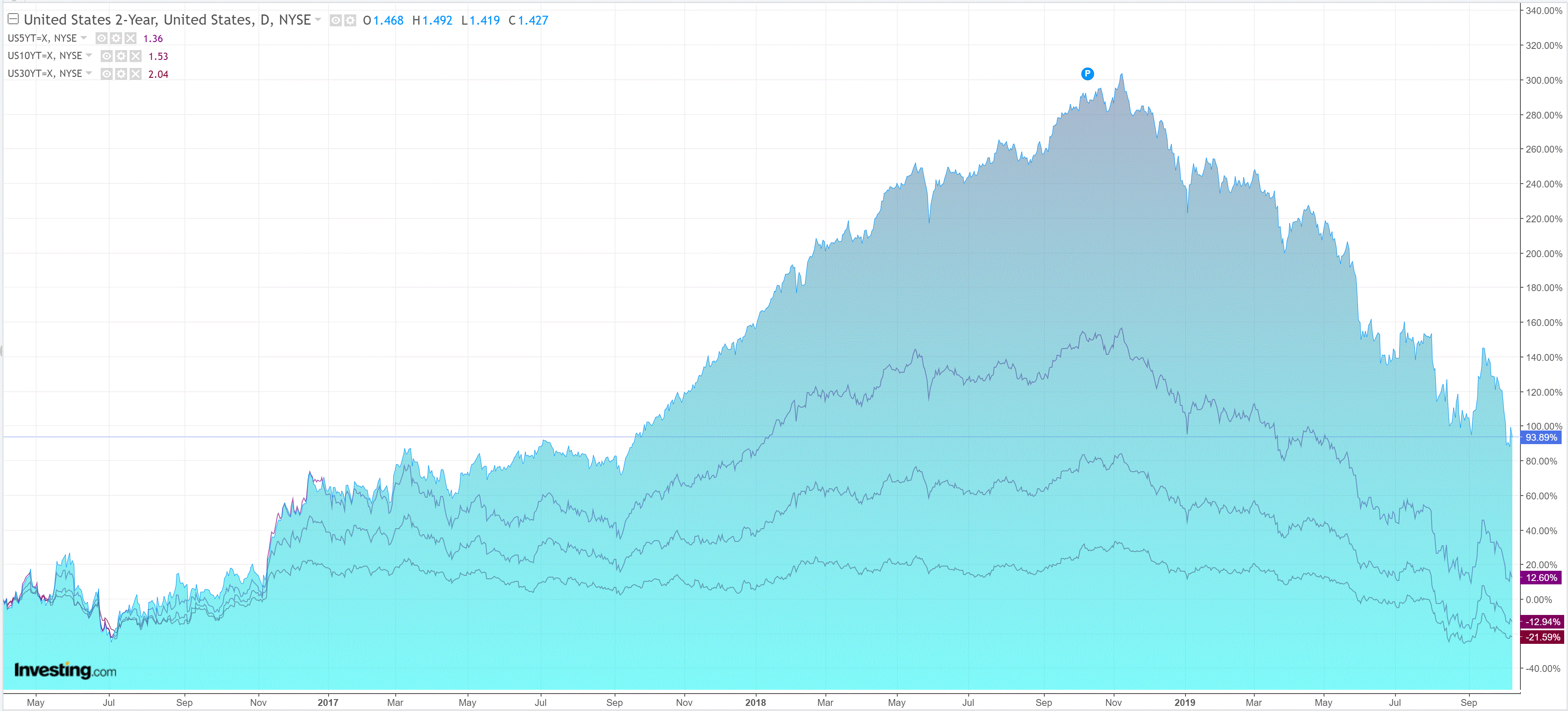 And bunds: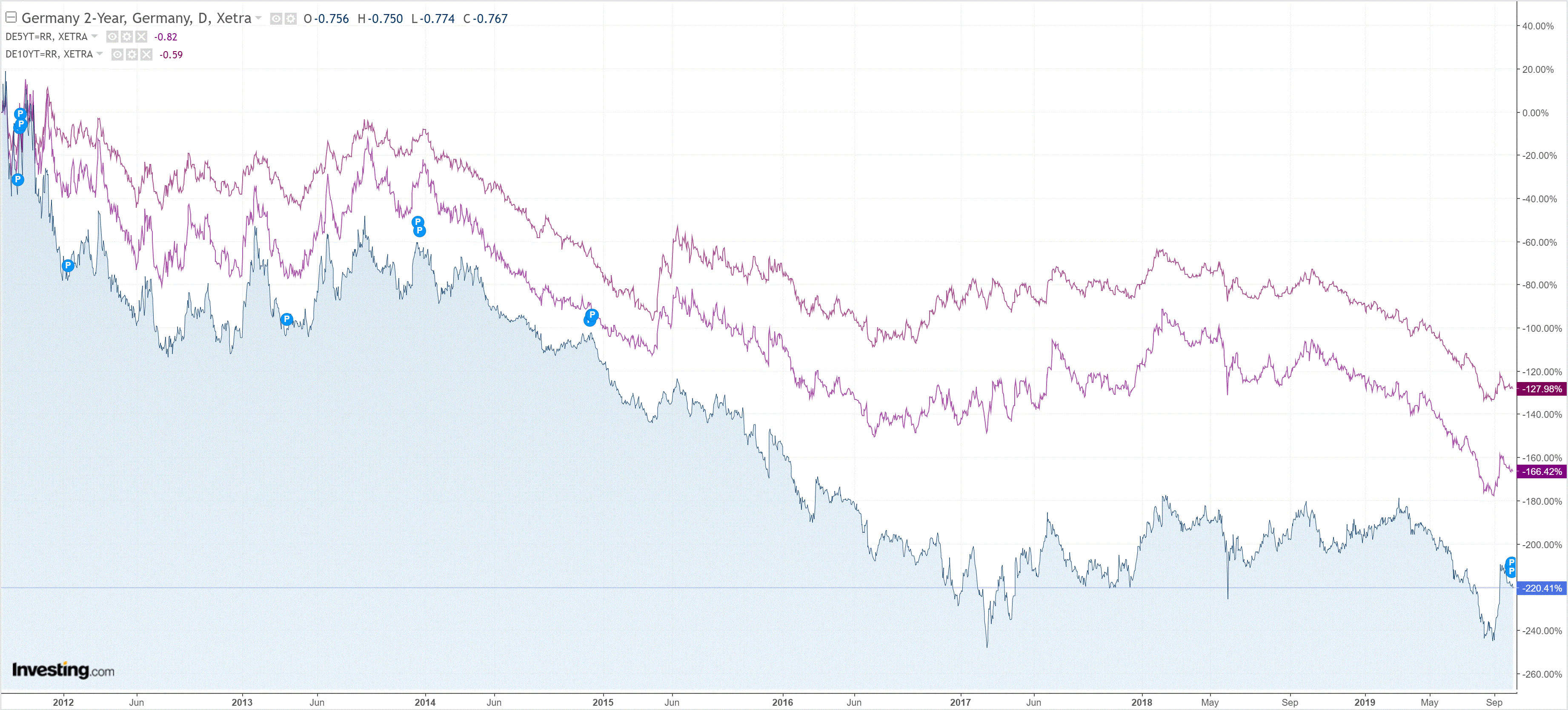 Not Aussie: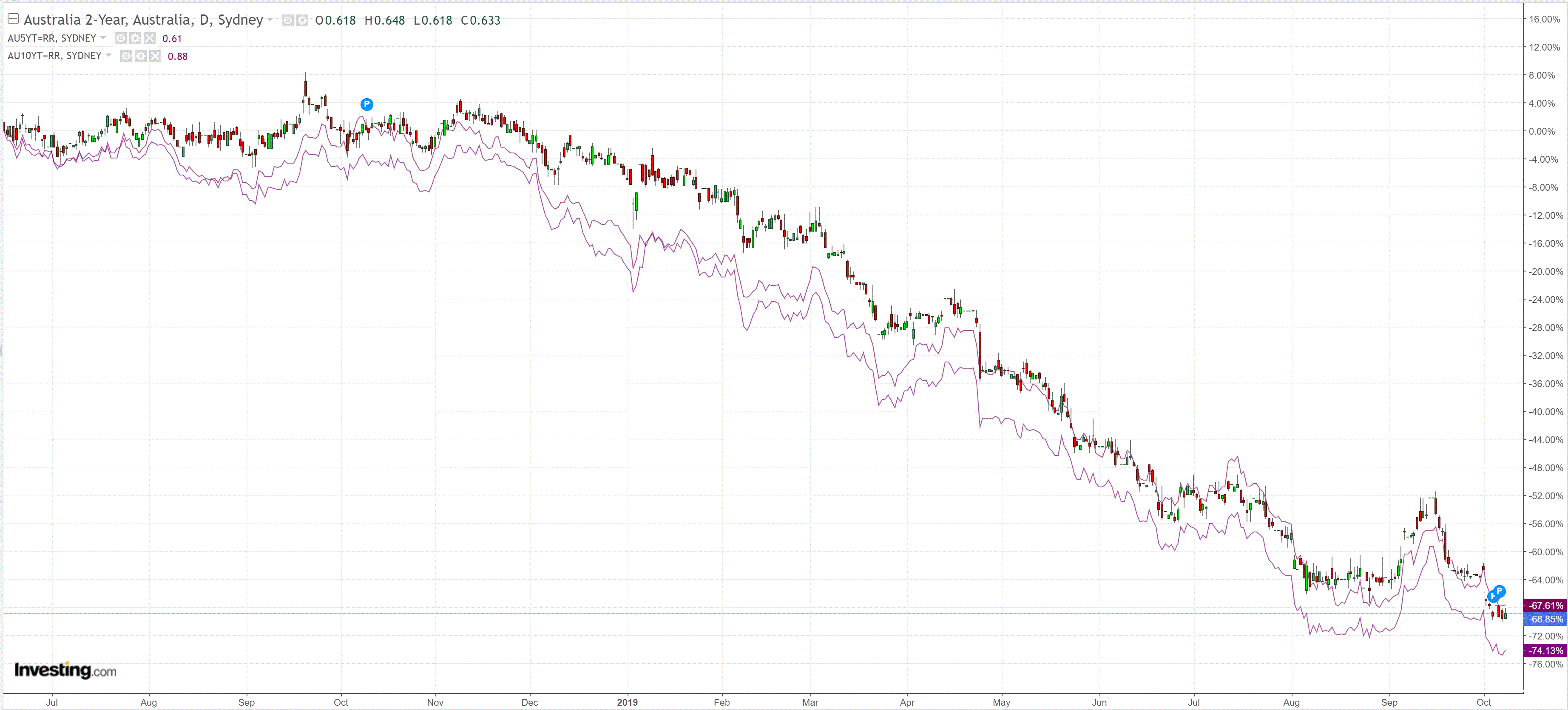 Stocks got flogged late: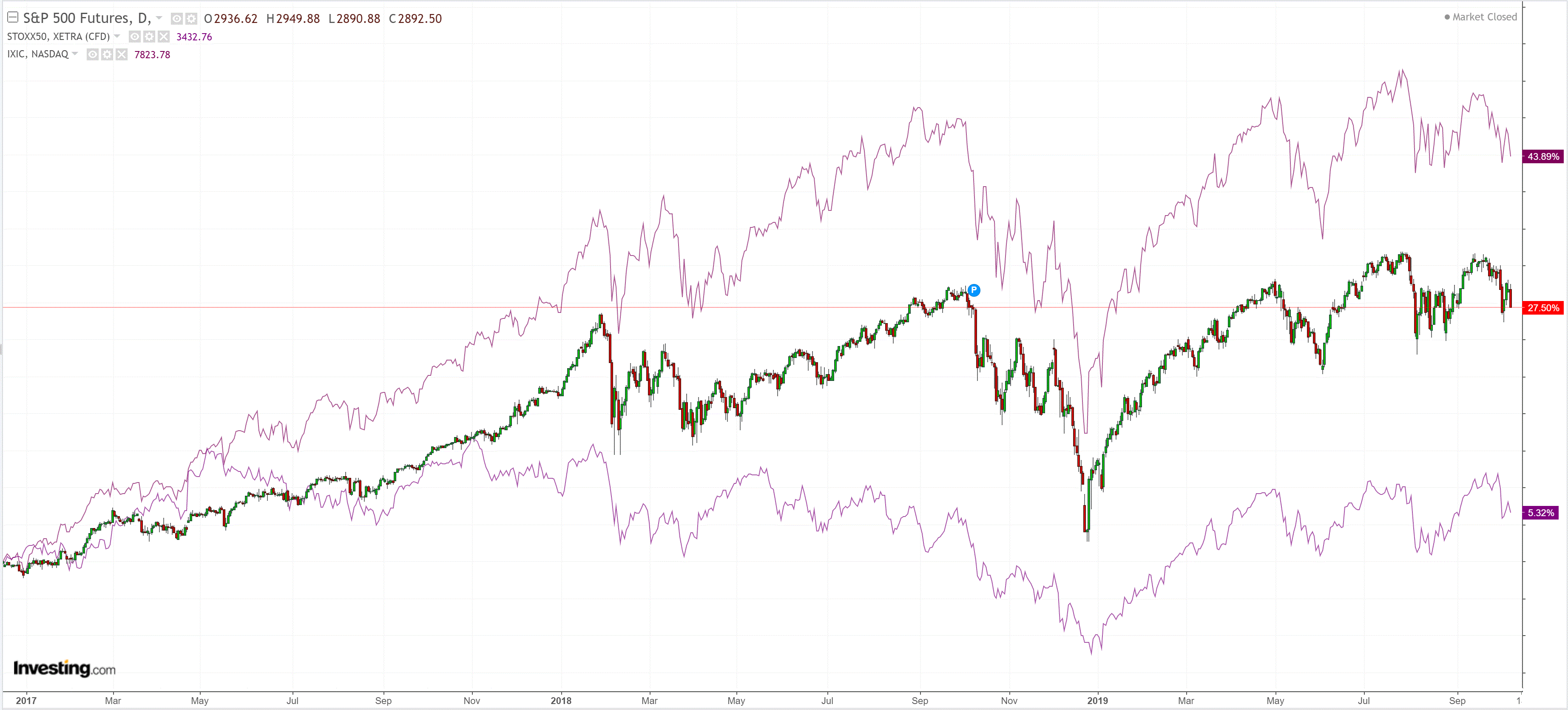 Westpac has the event wrap:
Sentiment soured around this week's planned US-China talks, as news broke that the Chinese delegation now plan to leave on 11th rather than 12th Oct. In addition, there were strongly worded official Chinese comments decrying the US placing Chinese firms on a blacklist.

EU-UK negotiations on a potential Brexit deal appeared to collapse after "frank discussions" between Merkel and Johnson led UK officials to state that a deal was "essentially impossible" due to EU's insistence that N. Ireland remain within the EU's Single Market. UK published their "No-Deal Readiness Report" outlining how it intends to conduct business in the absence of a deal with EU.

Fed Chair Powell reiterated the Fed will "act as appropriate" and is not on a "preset course," in a speech titled "Data-Dependent Monetary Policy in an Evolving Economy." He emphasized that monetary policy will be data dependent, confirmed the Fed will start expanding its balance sheet "soon," but stressed this growth will be for "reserve management purposes" and "should in no way be confused with the large scale asset purchase programs that we deployed after the financial crisis." There were few fresh policy clues. In contrast, Evans was more dovish, noting business investment has been weaker than expected, the recent ISM manufacturing report was "not a good sign" but the jobs report was "a good one". He saw a possible case for another insurance cut.

US Aug. PPI fell -0.3%m/m to +1.4%y/y (est. +0.1%, 1.8%y/y), ex-food and energy also falling -0.3%m/m to +2.0%y/y (est. +0.2%m/m, +2.3%y/y). Sep NAHB homebuilder sentiment dipped a touch more than expected to 101.8 (est, 102.0, prior 103.1).

German Aug. industrial production bucked the trend of undershooting expectations and rose +0.3%m/m (est. flat, prior revised to -0.4% from -0.6%), though it was still -4.0%y/y (est. -4.3%y/y). However, the rise was explained by capital goods rising, but that may well be unwound given recent weak factory orders and concerning weakness in consumer goods in today's release.

Event Outlook

Australia: Westpac-MI Consumer Sentiment is released.

UK: Aug GDP is anticipated to be flat after Jul's 0.3% increase. Note quarterly GDP contracted 0.2% in Q2.

US: Fed Chair Powell delivers opening remarks at a Fed Listens event in Kansas City. The FOMC minutes will provide detail on the range of opinions surrounding September's rate cut and the future policy stance. Other Fedspeak involves Kashkari (AEDT 8 am)
Trade war scuttlebutt was indeed negative, via Sinocism:
China tones down expectations ahead of US trade war talks as Vice-Premier Liu He leads team to Washington | South China Morning Post

A source, who has been briefed on preparations for the trade talks, also told the South China Morning Post on condition of anonymity that the Chinese delegation may cut short their stay in Washington, removing the possible chance of the talks extending into Friday evening as the delegation would be expected to head to the airport instead of departing at some point on Saturday.

Chinese chief trade negotiator invited to hold new round of trade consultations in U.S. – Xinhua

Key members of the Chinese delegation includes Minister of Commerce Zhong Shan, Governor of the People's Bank of China Yi Gang, Vice Chairman of the National Development and Reform Commission Ning Jizhe, Deputy Director of the Office of the Central Commission for Financial and Economic Affairs and Vice Finance Minister Liao Min, Vice Foreign Minister Zheng Zeguang, Vice Minister of Industry and Information Technology Wang Zhijun, Deputy Director of the Office of the Central Agricultural Work Leading Group and Vice Minister of Agriculture and Rural Affairs Han Jun, and Vice Minister of Commerce and Deputy China International Trade Representative Wang Shouwen.

Xinhua announcement of the trip and delegation – 刘鹤应邀赴美举行新一轮中美经贸高级别磋商

陶然笔记:新一轮中美经贸高级别磋商 马上要开始|磋商_新浪新闻

A very interesting new Taoran Notes came out today, says talks will either result in a fair deal. will collapse completely, or the two sides will continue talking and fighting. It looks to be addressing what it (Liu He?) anticipates to be pushback from more hawkish elements if the talks this week don't result in the US pulling back on at least some of the threatened new tariffs, says if the US puts on more tariffs some will question why there is any point in continuing to talk. Taoran Notes says it still makes sense to talk, quotes Mao telling Zhou Enlai in 1952 that if the Americans are sincere then it makes sense to engage in Korean War ceasefire negotiations, then asks if Mao was admitting defeat and had lost the initiative? The answer of course is no, and the author goes on to state that in addition to deepening reform and opening and pursuing high quality development China will also continue to combine talks with countermeasures until the US side realizes the pain caused by the trade war…

China, US set for new talks amid tariff uncertainty – Global Times

Observers said that the composition of the Chinese delegation, one of the largest and broadest teams among the 13 rounds of trade talks, signaled that China is sincerely looking to reach a comprehensive trade deal with the US. Although it is not sure whether the US will hike tariffs on Chinese imports, which it is scheduled to do on October 15, some headway could be made this time concerning industrial policies and intellectual property rights (IPR) protection, they predicted.

Kudlow promises no connection between Trump's Biden request and China trade talks – POLITICO

White House chief economic adviser Larry Kudlow on Monday pledged that there would be no connection between President Donald Trump's request that China investigate the Bidens and this week's renewed trade deal talks between the two global superpowers.

China rejects US President Donald Trump's call to investigate Democrat rival Joe Biden and son | South China Morning Post

"China has long pursued the principle of non-interference in the internal affairs of other countries," foreign ministry spokesman Geng Shuang said on Tuesday.

"We have no intention of intervening in the domestic affairs of the United States. Our position is consistent and clear."

White House Zeroes In on Limit to Chinese Stocks in Pension Fund

The office of Larry Kudlow, director of the White House's National Economic Council, convened a policy-coordination committee meeting last Tuesday, which also included officials from the National Security Council and the Treasury Department, the people added…

According to people familiar with the meeting, the administration's focus is now on ways to further scrutinize index providers' decision to add Chinese firms they consider a material risk for American investors. It's still unclear what legal authority the White House would rely on to force major indexes to drop certain Chinese companies.
Not much to cheer about there.
Brexit is also getting uglier, at the FT:
Boris Johnson on Tuesday urged Leo Varadkar to keep faith with talks on a possible Brexit deal, despite Downing Street fears that the prospects for an agreement before October 31 are all but dead. Mr Johnson's allies said the British prime minister would meet the taoiseach later in the week to try to resuscitate the talks, after a day of acrimony in which Number 10 aides accused Mr Varadkar and Angela Merkel of blocking a deal. Donald Tusk, European Council president, retaliated by accusing Mr Johnson of engaging in a "stupid blame game", but both sides seemed determined on Tuesday night to cool tempers and avoid a complete breakdown.
Hong Kong is preparing to bring in the PLA, at DM:
Hong Kong's leader Carrie Lam warned today that the Chinese military could step in if an uprising for democratic reforms that has rocked the city for months 'becomes so bad', but reiterated the government still hopes to resolve the crisis itself.

Lam urged foreign critics to accept that the four months of protests marked by escalating violence were no longer 'a peaceful movement for democracy'.

Beijing's army stationed in the city gave its first warning to activists on Sunday, telling them that they could be arrested for targeting its barracks with lasers.
And the oil market is still getting worse, at MarketWatch:
The U.S. Energy Information Administration on Tuesday cut its growth expectations for global oil demand and lowered 2020 price forecasts on West Texas Intermediate and Brent crude oil prices. In its monthly energy outlook report, the government agency said it revised its expected global oil demand growth to 840,000 barrels per day this year, about 50,000 barrels per day lower than the September forecast. For 2020, it cut the oil demand growth estimate to 1.3 million barrels per day, down 100,000 barrels from the previous view. The EIA also forecast an average WTI price of $54.43 a barrel for 2020, down 3.7% from the forecast issued in September.
Good luck with that kind of demand growth.
MB's four horseman of the end of cycle shock is still in play:
no trade deal;
Hong Kong crackdown;
hard BREXIT, and
oil crash.
With the Australian dollar going down with it.
Latest posts by David Llewellyn-Smith (see all)