See the latest Australian dollar analysis here:
DXY fell last night as EUR lifted: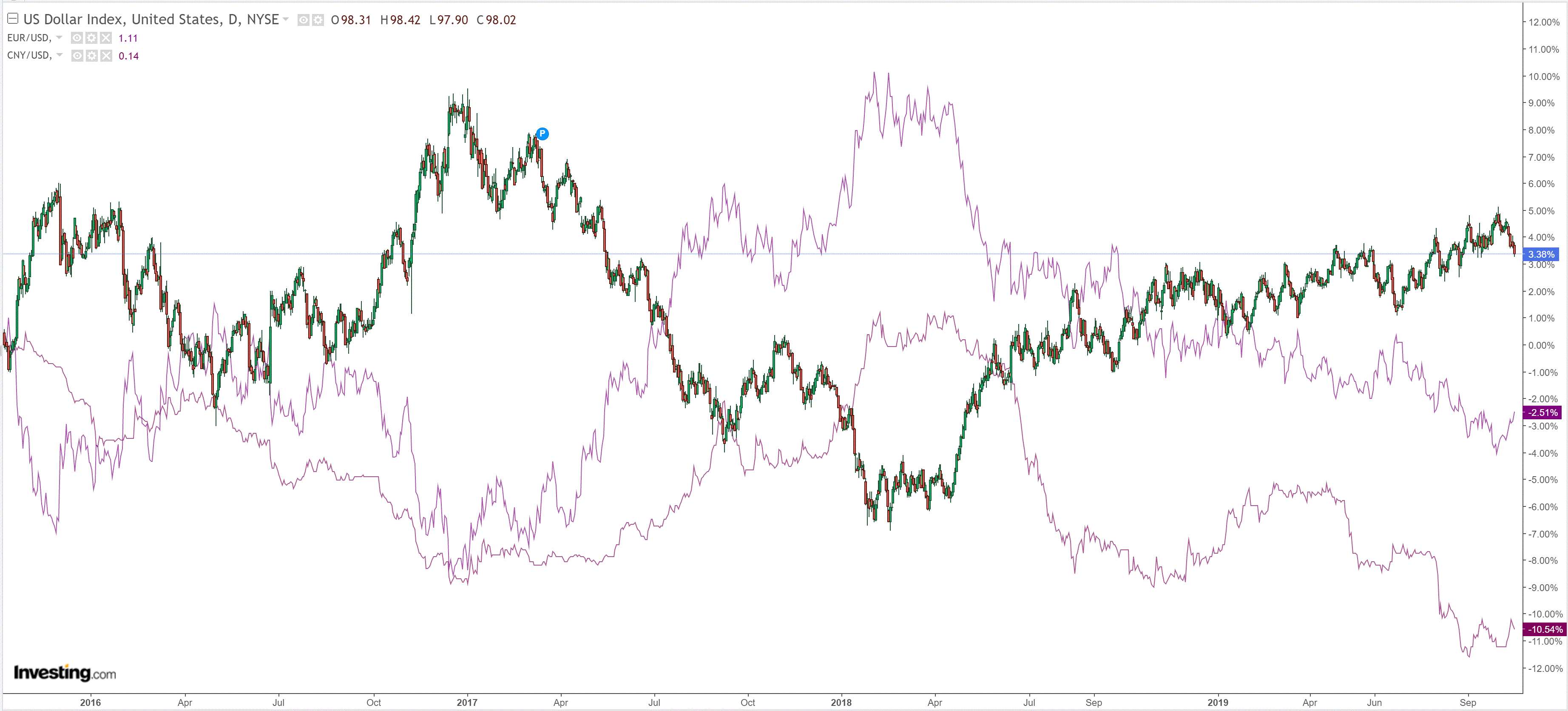 The Australian dollar was mixed against DMs: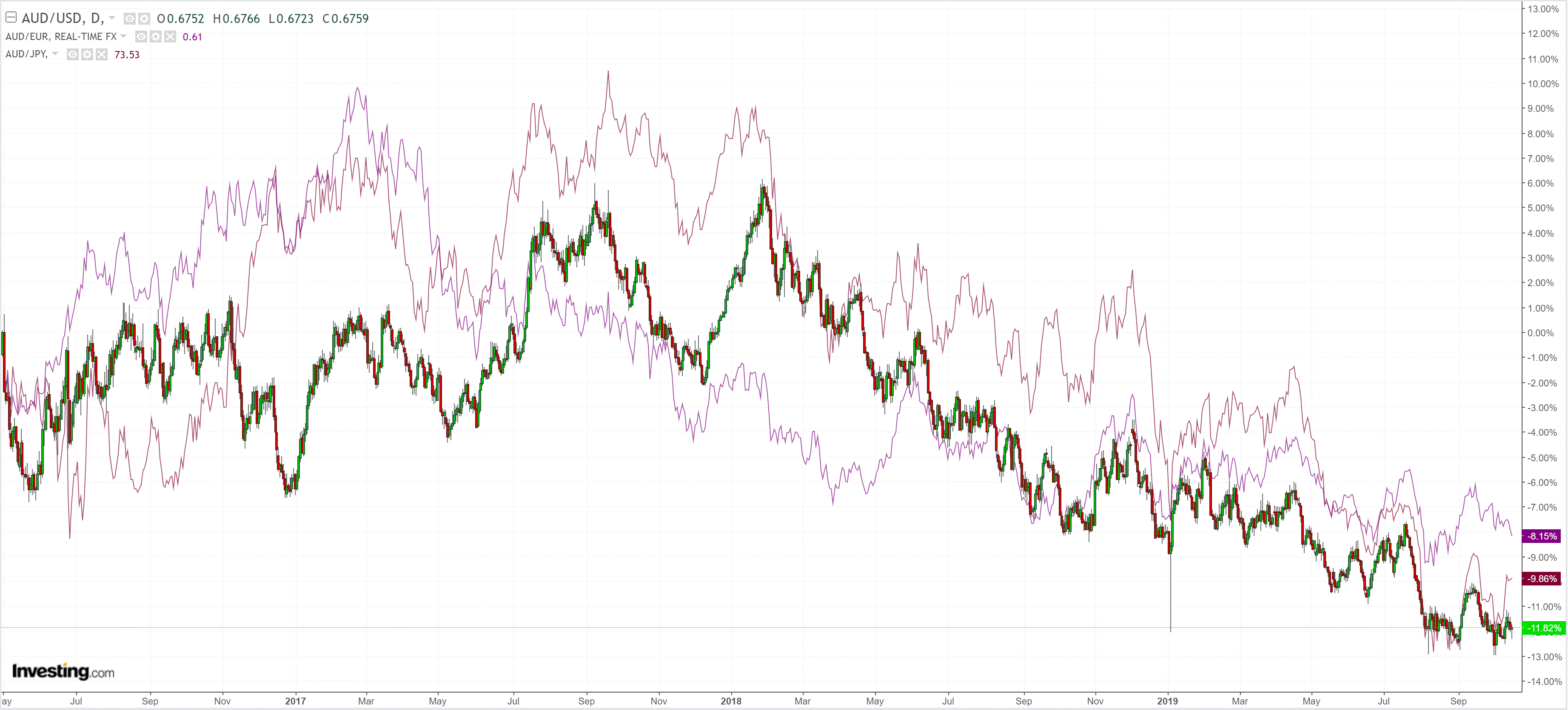 And EMs: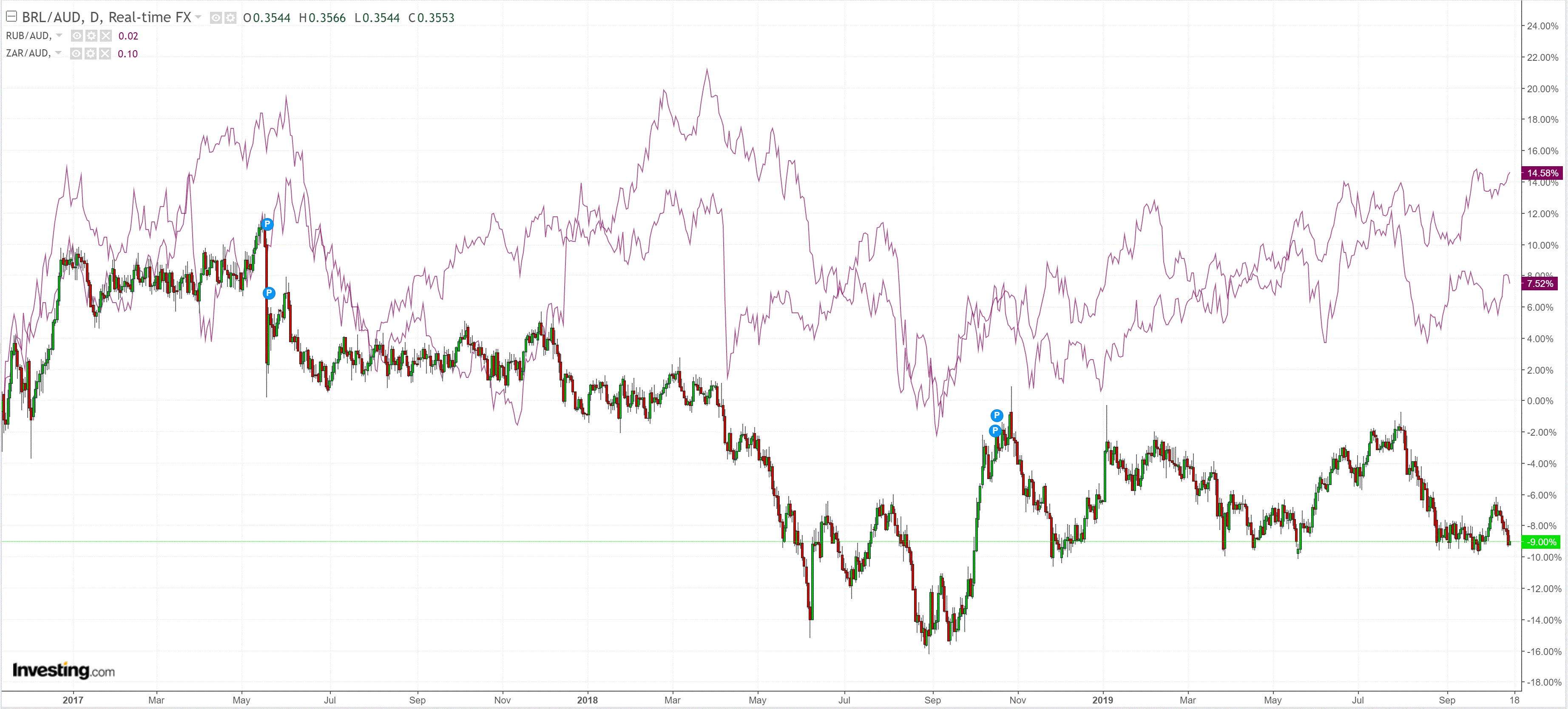 Gold firmed: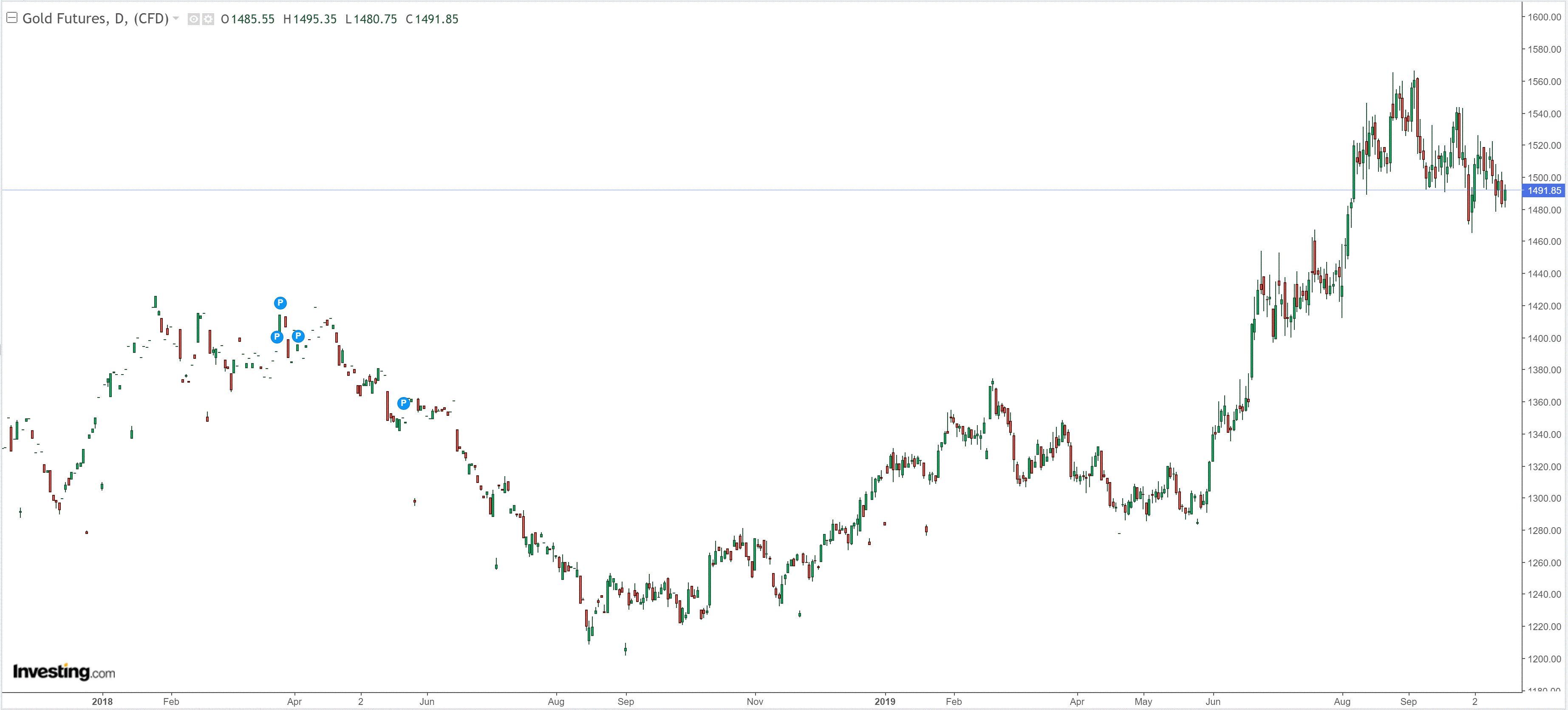 Oil too: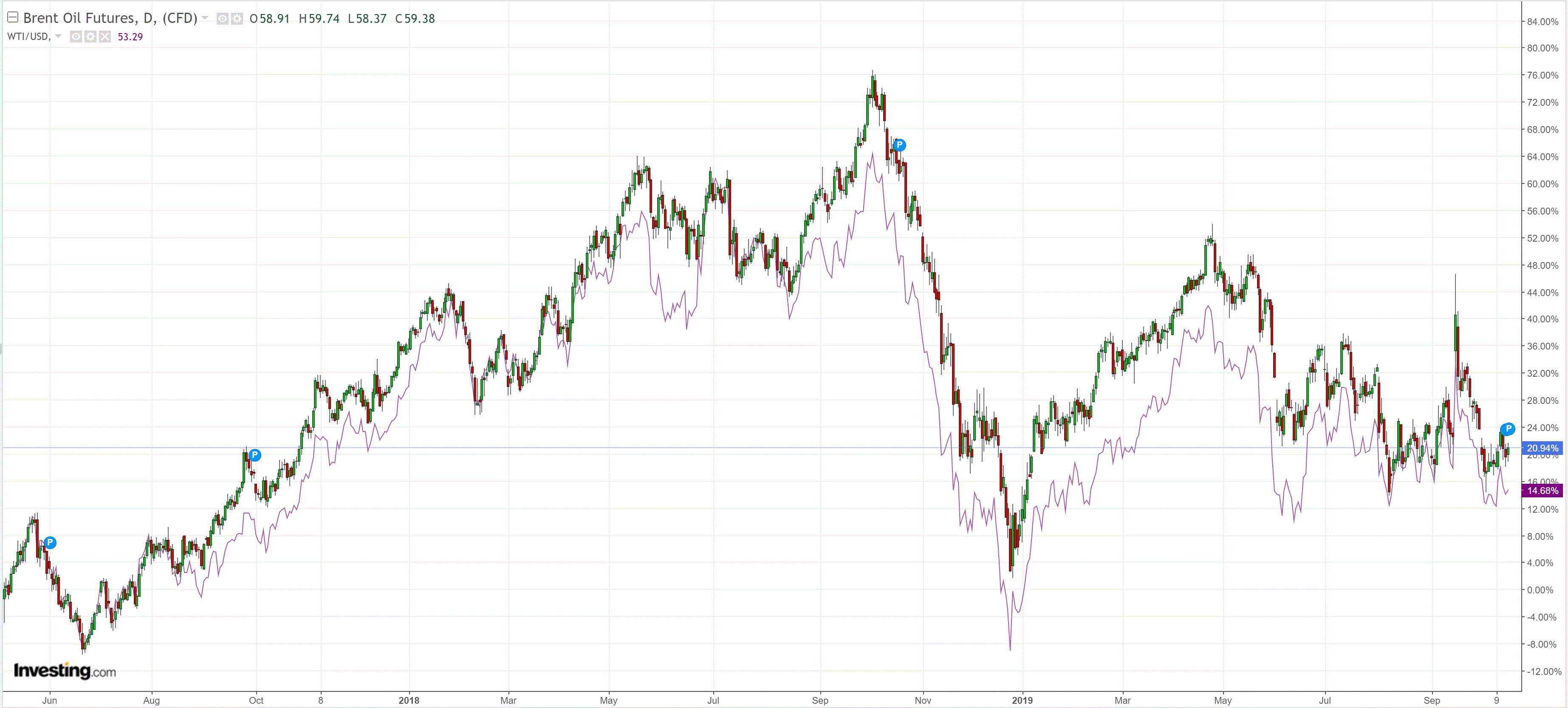 Not metals: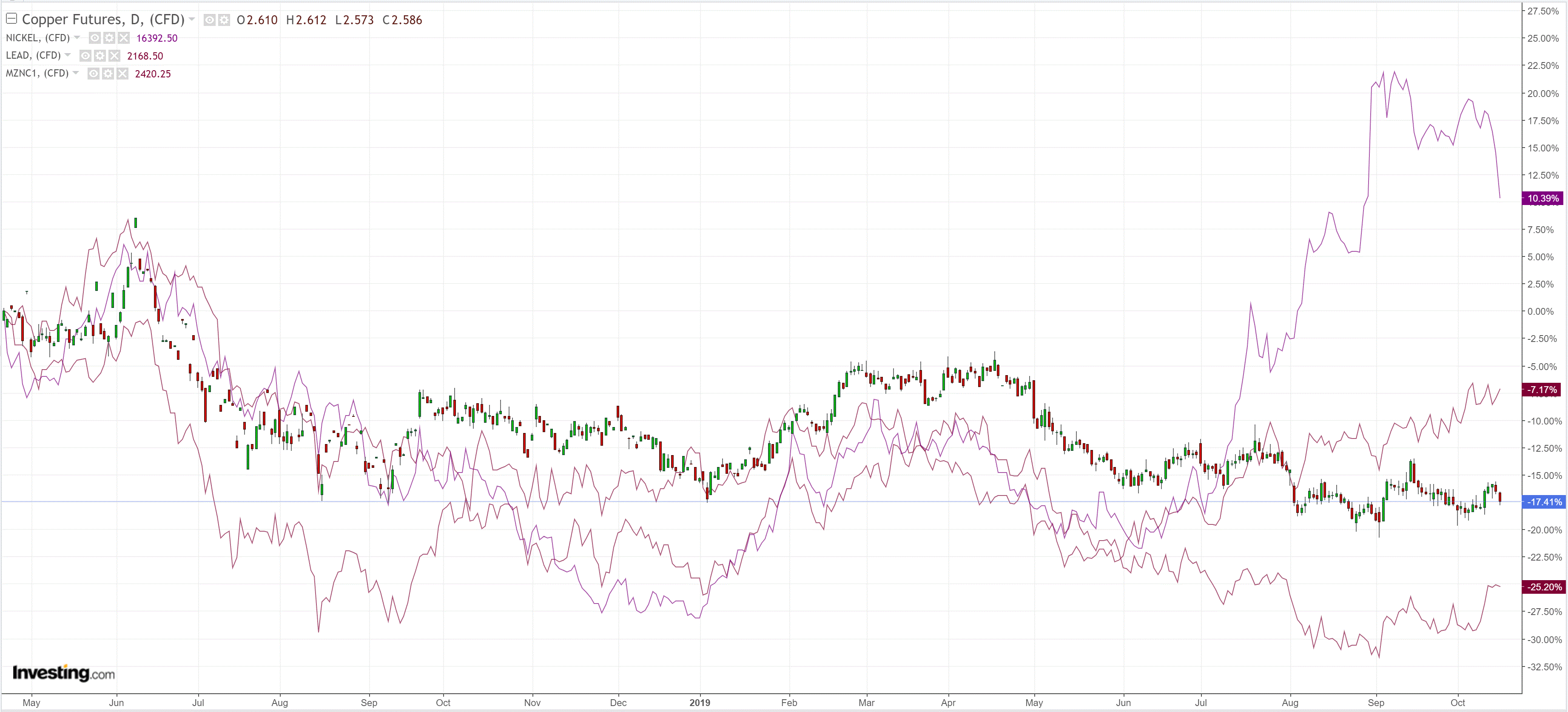 Nor miners: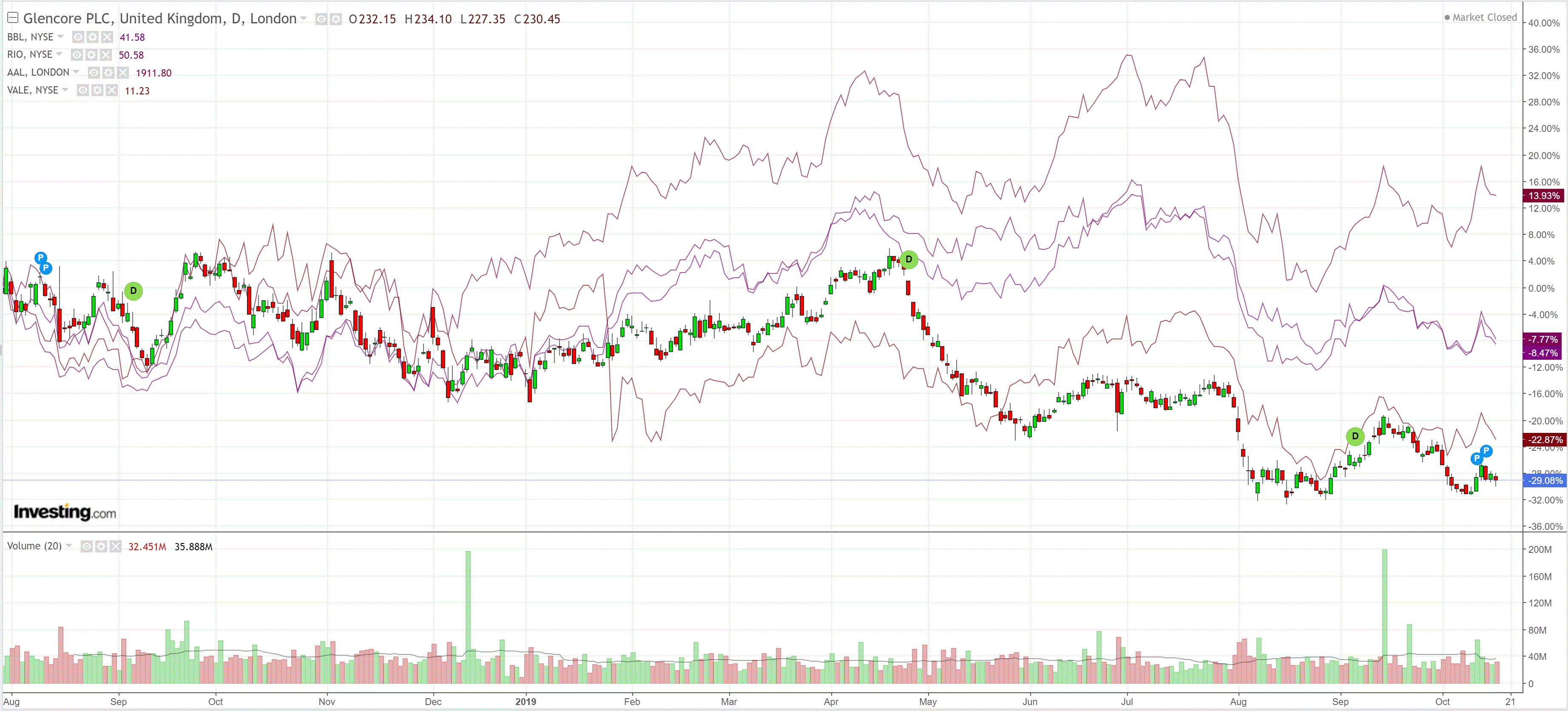 EM stocks are trying: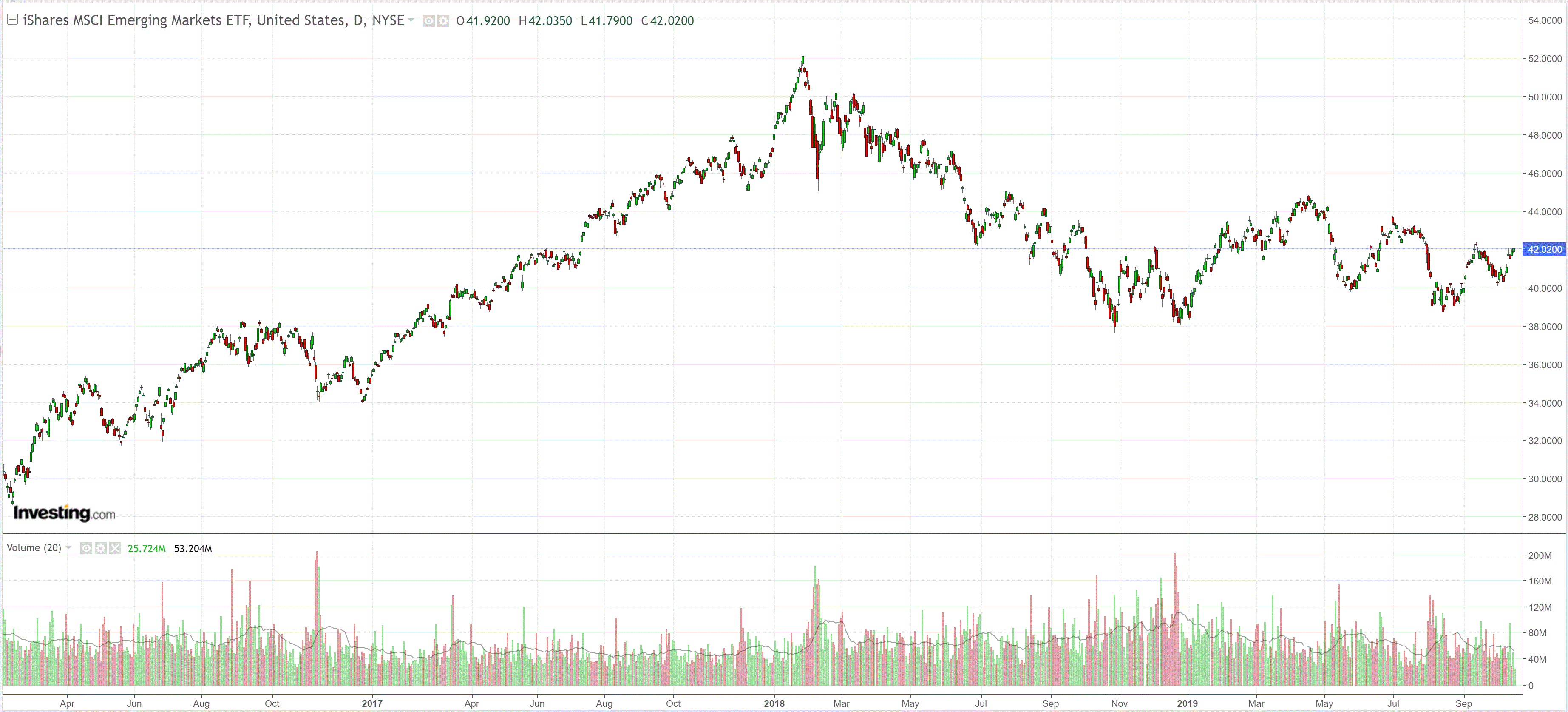 So is junk: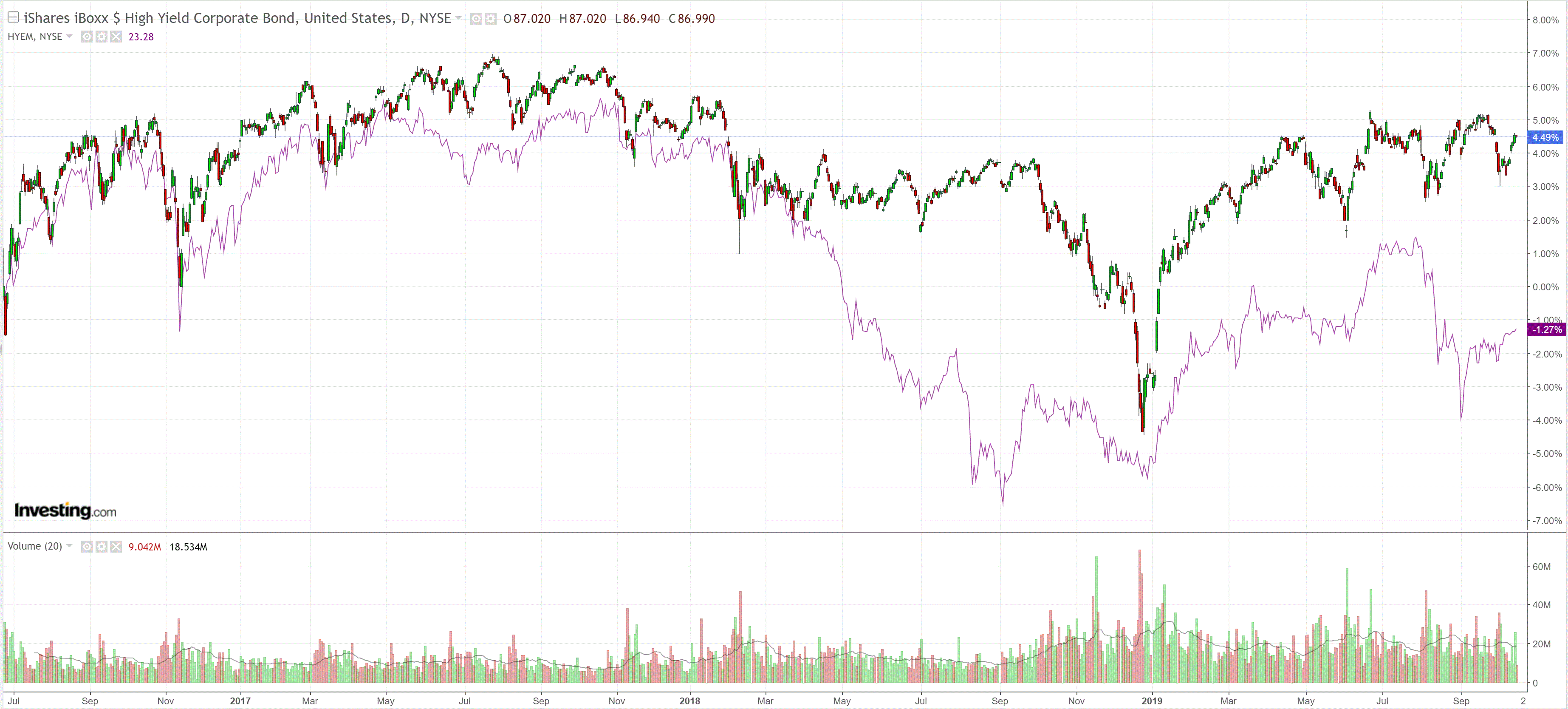 The Treasury curve flattened: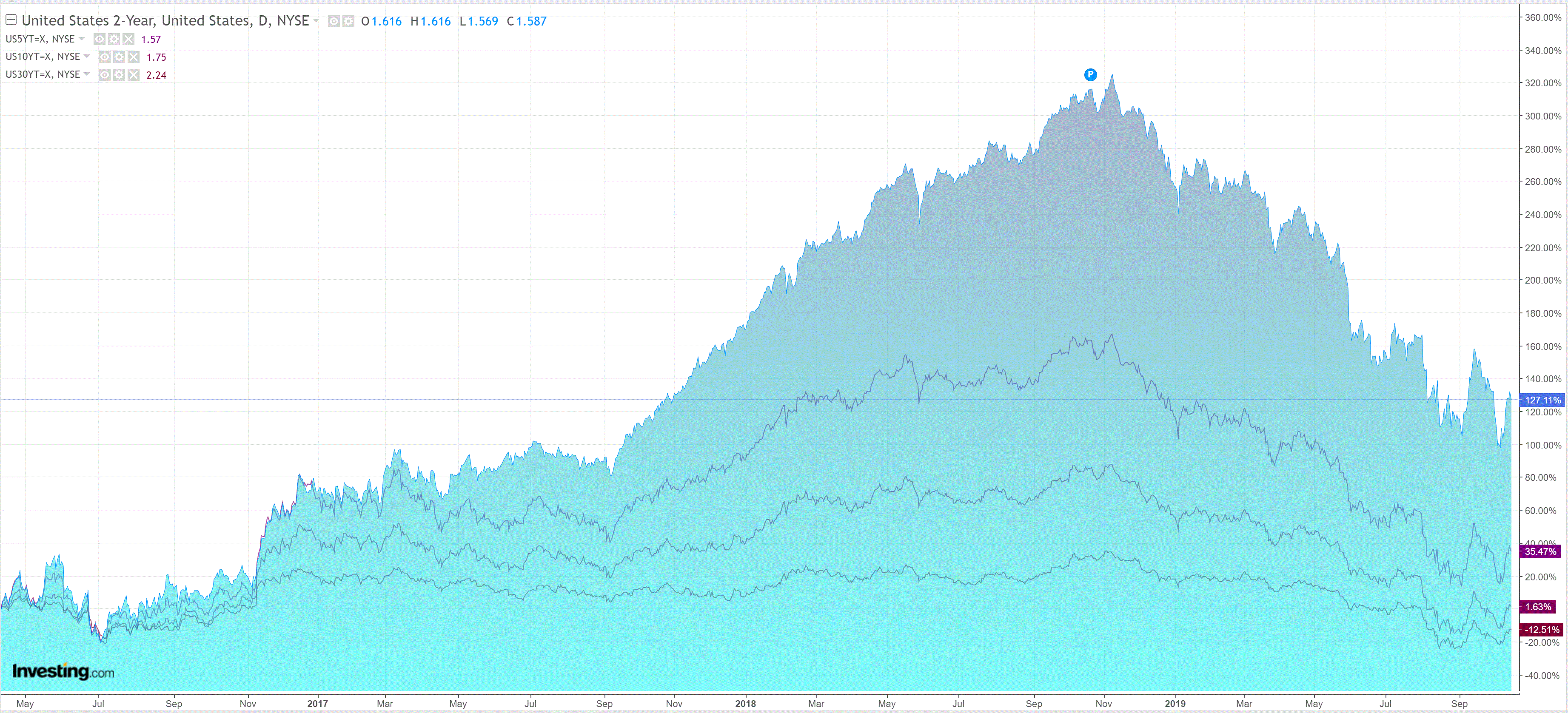 And bunds: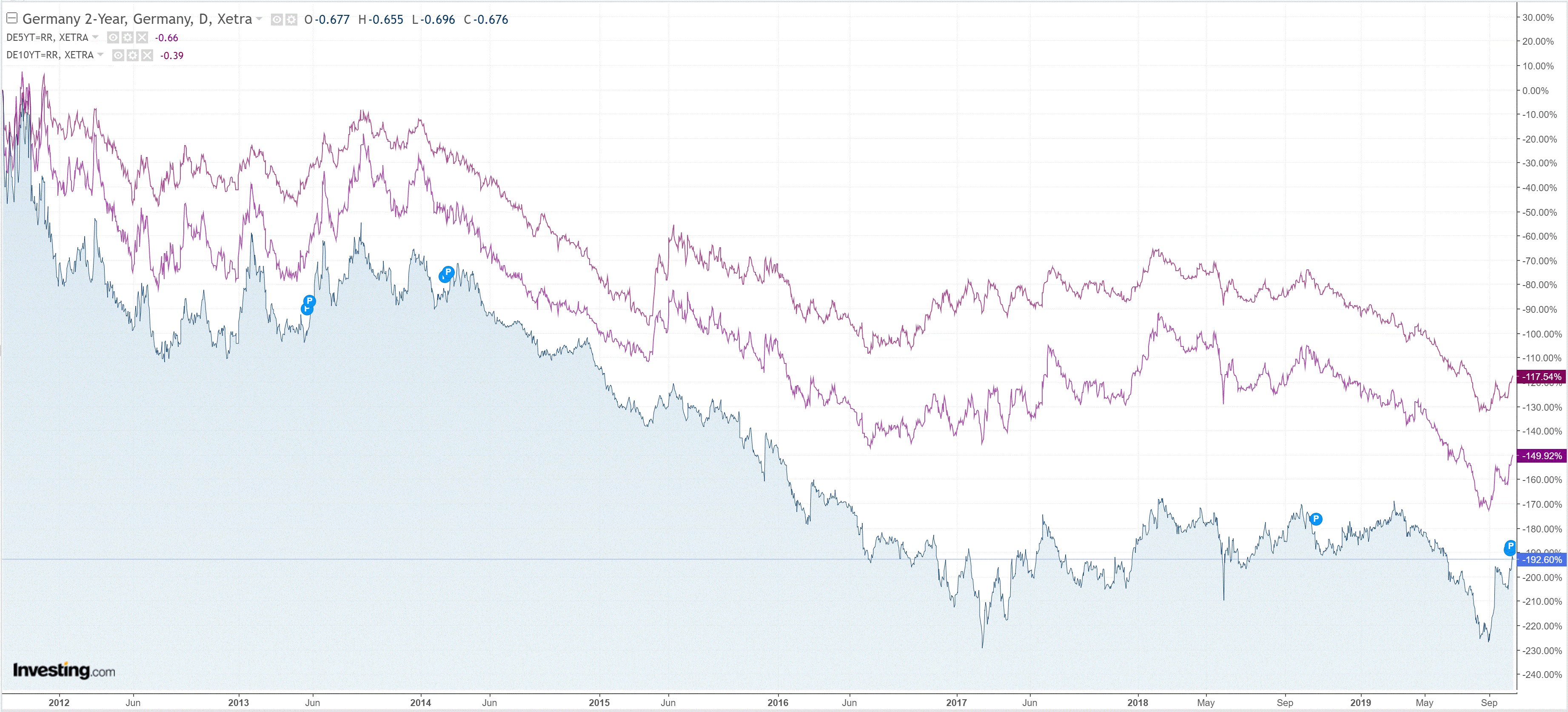 Aussie bonds copped it: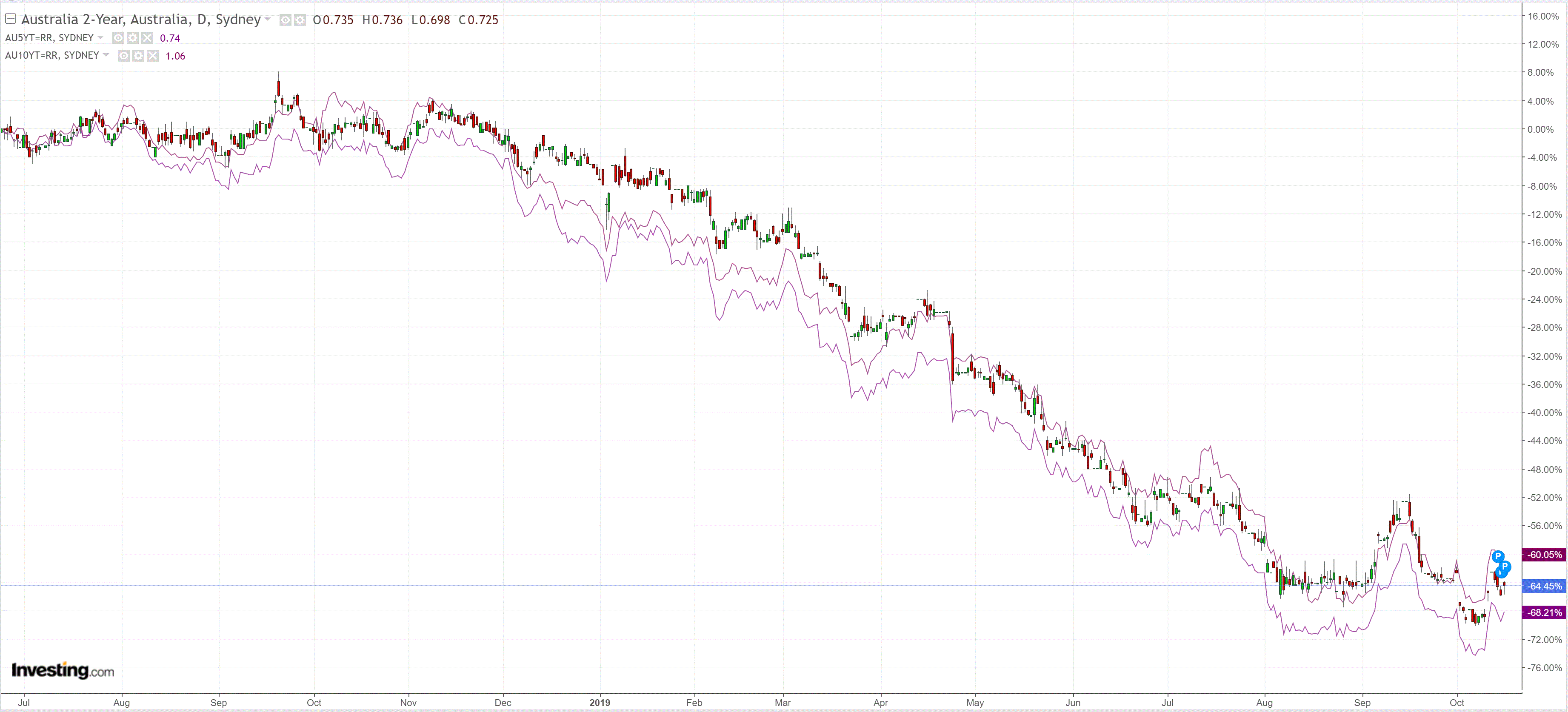 And stocks eased: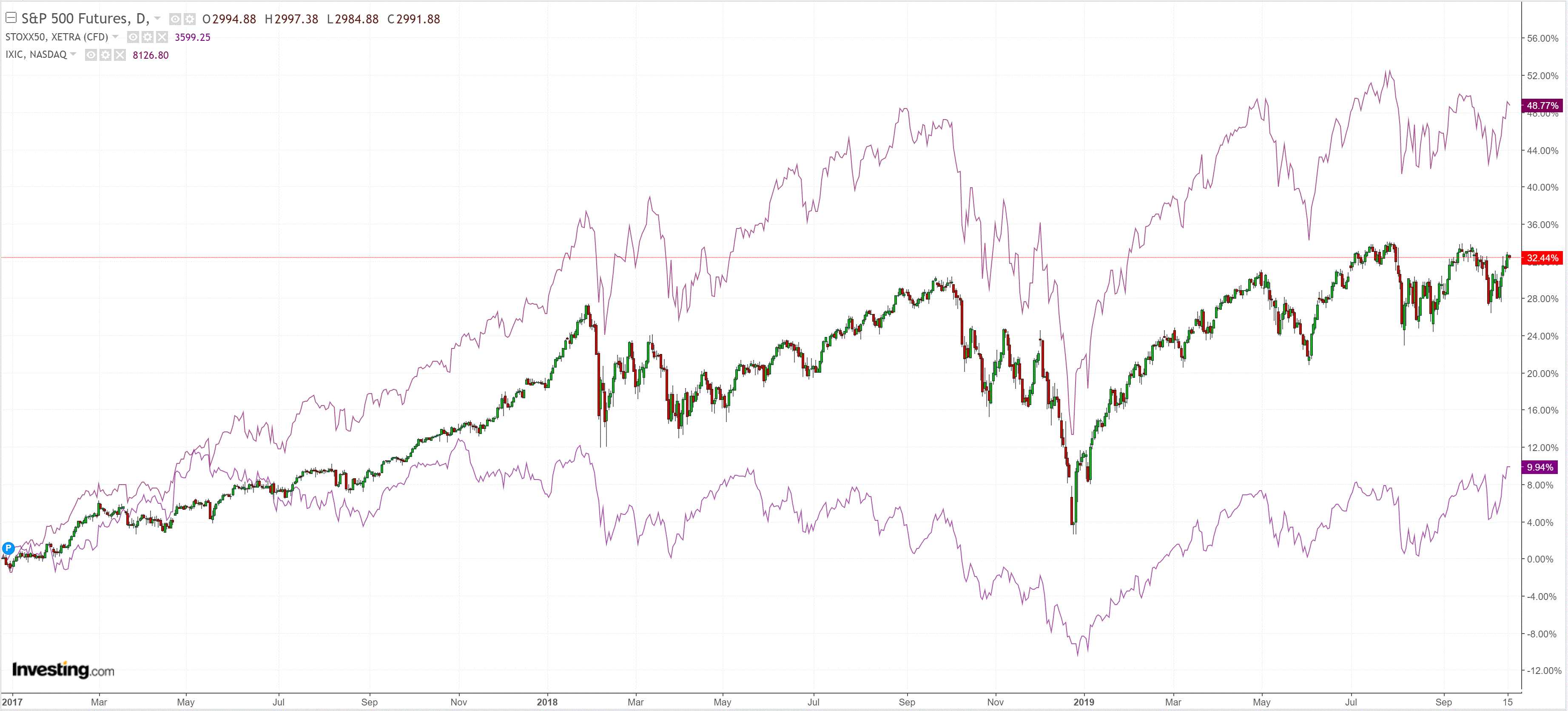 Westpac has the wrap:
Event Wrap

US Sep retail sales missed estimates, though this was partly offset by upwards revisions to the July release. Headline retail sales fell -0.3%m/m (est. +0.3%, prior revised from +0.4%m/m to +0.6%m/m). Ex-auto and gas retail sales were unchanged against estimates of +0.3%, though July was revised to +0.4%m/m from +0.1%m/m.

NAHB homebuilder sentiment rose 71, est. unch at 68, and is pushing back towards post crisis highs. Business inventories were unchanged m/m against an estimate of +0.2% (prior revised to +0.3%m/m from +0.4%m/m). The Fed's Beige Book of regional economic conditions characterised the expansion as running at a "slight to moderate pace" – slightly more tepid than its previous characterisation.

The Fed's Evans said that policy "probably is in a good place", but  another rate cut would lift his confidence that inflation was "well positioned to go up to 2%", whilst citing concerns over global growth, including Brexit.

Final Eurozone Sep core CPI was unchanged from the initial release at 1.0%y/y, but hadline CPI slipped to 0.8%y/y from its initial 0.9%.

UK Sep CPI, RPI and PPI had a softer than expected tone. Although core CPI was as expected at 1.7%y/y (and up from 1.5%y/y in Aug.), other measures were softer by -0.1% to -0.3%. Notably headline CPI remained at 1.7%y/y (est. 1.8%y/y) and headline RPI dipped to 2.4%y/y (est. 2.7%y/y, prior 2.6%y/y).

Tweeters have been working overtime around Brexit and although no breakthrough has occurred, the majority of updates do suggest that on the eve of the EU Summit there could still be the draft of a deal. This may be too late for full sign off at the EU Summit, but it may allow for EU-27 to return before the end of the month to sign off on a fully detailed Withdrawal Agreement.

Event Outlook

Australia: Sep employment is anticipated to rise 15k (Westpac fcs +17k) and see the unemployment rate hold at 5.3%. RBA Deputy Governor Debelle speaks on "Housing and the Economy" in Sydney, 9:10 am. Also note that early tomorrow morning, RBA Governor Lowe will speak at a 'Governor Talk' event at the IMF annual meeting (7:00 am AEDT).

Europe: The EU Summit, largely focussed on Brexit, takes place from today until tomorrow.

UK: Sep retail sales are expected to decrease 0.2% following a 0.2% decline in Aug. BOE Governor Carney speaks on a panel with Larry Summers.

US: Sep housing starts and building permits data are released. Sep industrial production is expected to decline 0.2%. Fedspeak involves Evans and Bowman at a Fed Listens event.
It was a US and Europe double bunger that lifted the AUD. DXY dropped on falling US retail sales:
Advance estimates of U.S. retail and food services sales for September 2019, adjusted for seasonal variation and holiday and trading-day differences, but not for price changes, were $525.6 billion, a decrease of 0.3 percent from the previous month, but 4.1 percent above September 2018.
One bad month does not a recession make. Especially when the bond market panic has already primed the housing market (given long bond set US mortgage fixed rates):
Builder confidence in the market for newly-built single-family homes rose three points to 71 in October, according to the latest National Association of Home Builders/Wells Fargo Housing Market Index (HMI) released today. Sentiment levels are at their highest point since February 2018.

"The housing rebound that began in the spring continues, supported by low mortgage rates, solid job growth and a reduction in new home inventory," said NAHB Chairman Greg Ugalde, a home builder and developer from Torrington, Conn.

"The second half of 2019 has seen steady gains in single-family construction, and this is mirrored by the gradual uptick in builder sentiment over the past few months," said NAHB Chief Economist Robert Dietz. "However, builders continue to remain cautious due to ongoing supply side constraints and concerns about a slowing economy."

…All the HMI indices posted gains in October. The HMI index gauging current sales conditions increased three points to 78, the component measuring sales expectations in the next six months jumped six points to 76 and the measure charting traffic of prospective buyers rose four points to 54.

Looking at the three-month moving averages for regional HMI scores, the Northeast posted a one-point gain to 60, the Midwest was up a single point to 58, the South registered a three-point increase to 73 and the West was also up three points to 78.
Things can only get so bad with the US housing fortress intact. And there is another reason to not get too bearish on the US. The long awaited fiscal cliff is also slowing growth: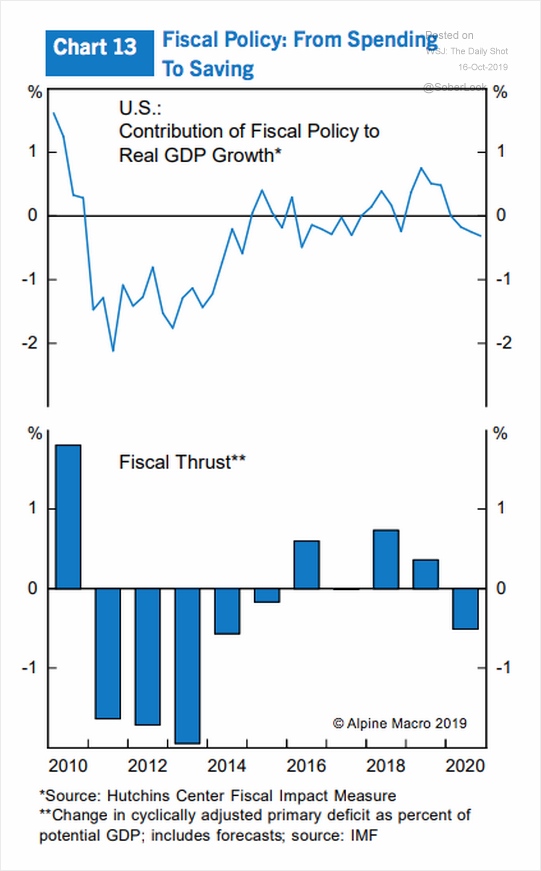 It will only last a few quarters then wash out of the data.
Still, it was enough to upset the USD apple cart for one night and Europe added more to that with Brexit, at the FT:
Negotiators in Brussels were racing to settle the terms of a revised Brexit deal on Wednesday, as Boris Johnson battled to win support from Northern Ireland's Democratic Unionist party and hardline Eurosceptic Conservative MPs.

By early evening EU and UK negotiators in Brussels had managed to resolve their differences on a host of issues related to the Irish border after Brexit, including customs rules, said people familiar with the talks.

But the British prime minister was still seeking backing from his parliamentary allies in the DUP for a deal that would see a customs and regulatory border introduced between Northern Ireland and the rest of the UK.

…In technical discussions on Wednesday evening, the key outstanding issue was how to prevent fraud involving value added tax.

An EU diplomat said it was possible for EU leaders to sign off a Brexit deal at the summit starting on Thursday, and for the UK to leave with a withdrawal agreement on the scheduled departure date of October 31, but that the accord would have to be ready by midnight.

…The diplomat said if this did not happen, the second option would be for EU leaders at the summit to "recognise that there are points that both parties need to continue to negotiate" and that a Brexit delay could be necessary.
Sounds like it's down to brass tacs. Any kind of deal will lift EUR in the short term on sentiment, though the opposite in the long given it will still weigh on growth and destabilise the EUR for other fiscally crushed members.
The same can be said for its influence over the AUD.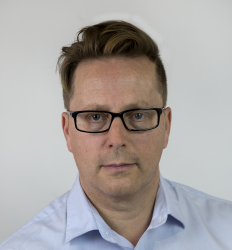 Latest posts by David Llewellyn-Smith
(see all)