A new study from the International Education Association of Australia (IEAA) has found that a large share of international students on subclass 485 (graduate) visas are struggling to find meaningful employment, with 22% not working and many more performing low-paid, unskilled work.
The study also found that the income profiles of these temporary graduate visa holders is similarly dismal to tourists working in Australia on working holiday visas:
Unfortunately, despite these visa holders being young and highly educated with strong English language skills, the report finds they are likelier to be working in low-skilled occupations after they transition from study into the fulltime workforce.

A large proportion (17 per cent) work in low-skilled jobs in retail, wholesale and hospitality. More than one in five are unemployed and looking for work (10 per cent), or are not participating in the labour market (12 per cent)…

Of equal concern is the report's finding that the income earned by temporary graduates is almost identical to the income profile of those on working holiday visas…

In other words, having paid tens of thousands of dollars for a globally recognised degree, they often are faring no better than backpackers picking fruit…
A quick examination of the Department of Home Affair's student visa data shows that the number of applications for subclass 485 (graduate) visas ballooned to a record high 70,000 in the year to June 2019: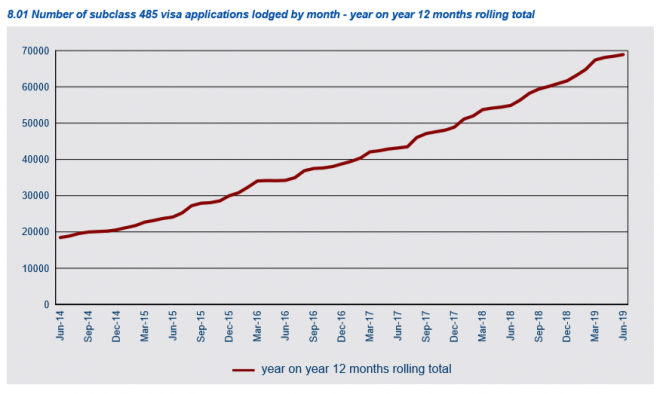 These visas are particularly attractive to prospective international students because they provide full working rights in Australia for between two years (undergraduate) to four years (postgraduate), without needing to have a job offer, without needing to meet a minimum salary level, and without needing to find employment in their field of study.
Australia's post-study work rights are also currently the most generous in the world: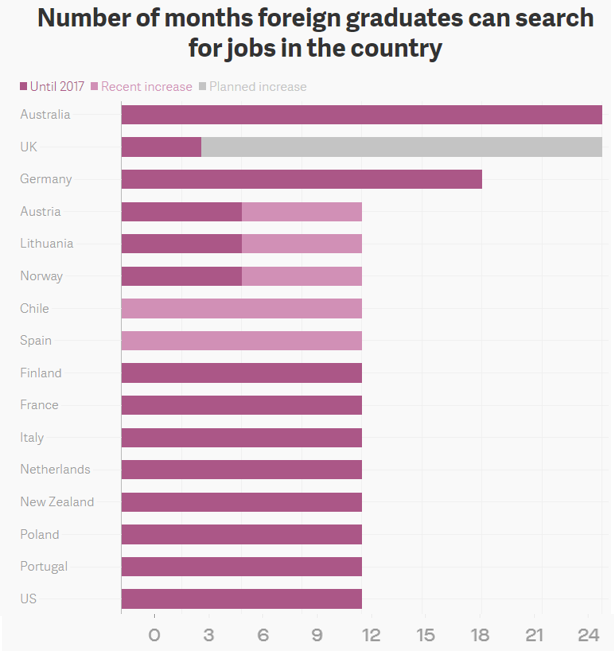 And this helps to explain why Australia has succeeded in gaining the largest concentration of international students in the developed world: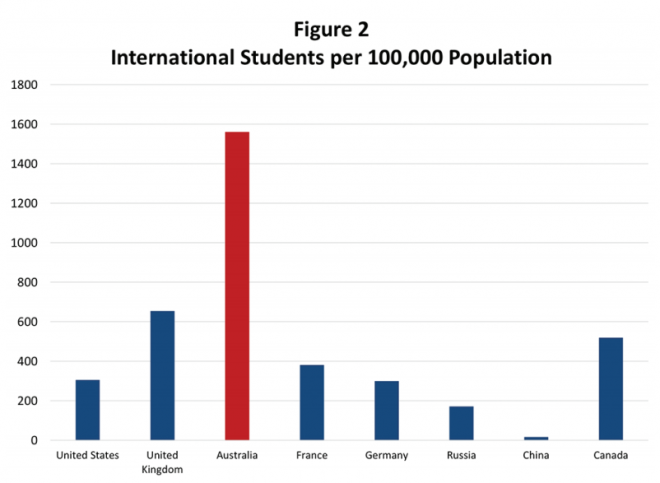 Of course, the international education industry has conveniently ignored the deleterious impacts of having so many international students and graduates.
As demonstrated clearly in the recent Four Corners "Cash Cows" report, as well as elsewhere, Australia's universities have badly lowered both entry and teaching standards in order to boost the inflows of non-English speaking international students.
Cheating and plagiarism has become widespread and domestic students have been forced to carry the load and cross-subsidise the marks of international students via group assignments.
The flood of international students and graduates into low-skilled jobs has also increased competition in the labour market and crushed wage growth, as noted recently by the Grattan Institute:
As the Productivity Commission noted, where migration does displace existing populations, it tends to affect people with low skills and youth most. That seems to be happening in Australia. And because international students and backpackers are primarily looking for part-time work, they may affect under-employment more than unemployment…

Low-skill migrants might also put downward pressure on wages (if accurately measured). The measured wages of those aged 20 to 34 have not risen as fast as the wages of older workers for some time (Figure 7)…

Australia is now running a predominantly low-skill migration system. People from this system form a material proportion of the younger workforce. Because of visa conditions, many of these migrants have incentives to work for less than minimum wages, and there is anecdotal evidence that many do.
If the education industry and federal government truly cared about the welfare of domestic students and young job seekers, it would not allow this situation to persist. It would clamp down on the international student trade by dramatically lifting English-language (entry) standards, as well as requiring graduates to have a job offer from within their field of study.
However, we all know that the situation is unlikely to change. The reality is that the education industry and federal government has become addicted to the fee revenue on offer from international students, which hit a record high $15 billion in 2018: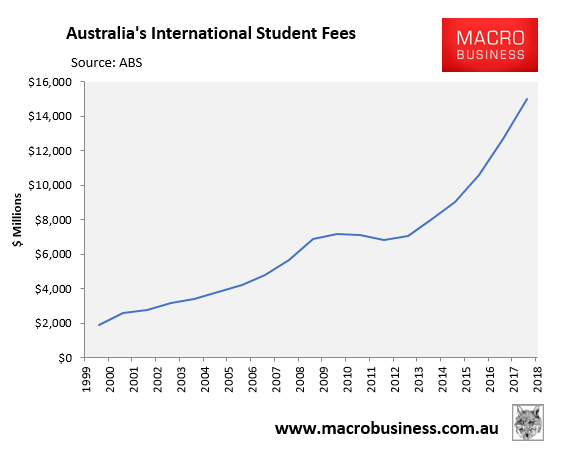 No amount of scandals and malfeasance will cause a shift in policy that would put at risk this fee revenue.
When it comes to international students, money talks, public policy walks.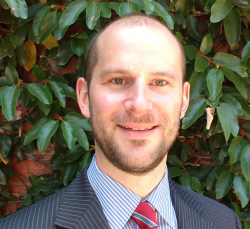 Latest posts by Leith van Onselen
(see all)