The newly established Victorian Independent Remuneration Tribunal has handed down its first determination regarding the pay of Victorian MPs. Victorian MPs will now receive a base salary of $182,413, up 3.5% per cent. Victorian Premier Daniel Andrews was given a $46,522 pay increase that sees him become the highest-paid state leader, while ministers and the Opposition leader will receive an 11.8% pay rise. The increases come as the Victorian government seeks to limit pay rises for public servants to 2%. From The ABS:
The pay rise comes as the Andrews Government holds firm on its policy to only offer 2 per cent increases to public sector unions, which has enraged the labour movement…

Tribunal chair Warren McCann said the changes simplified the system…

"Many of the MPs reported in their submissions that a high work load meant they are completing tasks after hours and on weekends."

The Andrews Government, which enjoyed widespread union supporter at the election, has angered the labour movement by saying it could not afford to offer more than a 2 per cent pay rise because of the tight budget.

The tribunal's report noted the Treasury's constraints.

"The tribunal has considered, but sees no need to alter, the decisions it has reached in light of the financial position and fiscal strategy of Victoria, or current and projected economic conditions or trends," it said…

The 11.8 per cent rise will be delivered with a 7 per cent pay rise from today and another 4.8 per cent on July 1, 2020…

The Australian Services Union's branch secretary Lisa Darmanin demanded the Victorian Government reject the pay rise.

"We think that the Government should reject this pay rise if they want to continue with their 2 per cent wages policy for our members who work in the public service," she said.

"We think it's only fair they should apply the same standards to the public sector workforce, to themselves.
The ABS' latest Jobs in Australia, 2011-12 to 2016-17 survey revealed that median incomes in Victoria are badly lagging the national average, with Victoria having the second lowest median income on the mainland – only just beating out lowly Adelaide: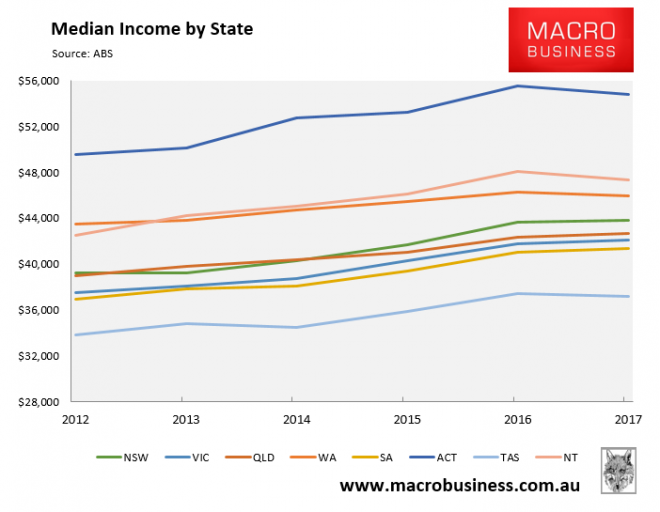 The story is similar at the capital city level, with Melbourne also having the second lowest median incomes on the mainland, only beating lowly Adelaide: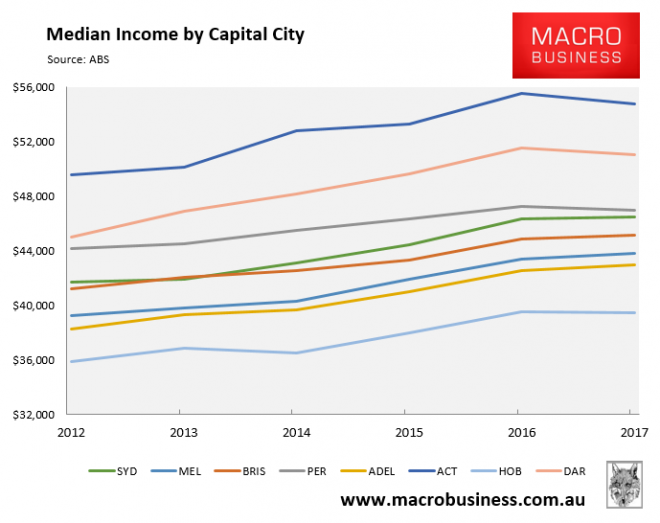 The annual state accounts from the ABS paint an even worse picture, with Victoria's household income growth badly lagging behind the other jurisdictions: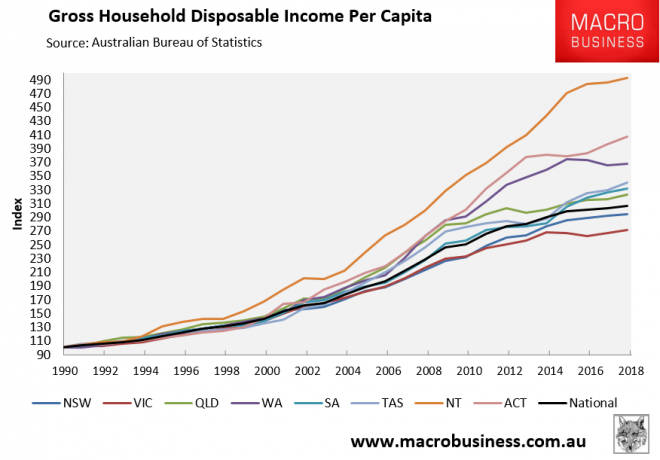 And Victoria having the lowest gross household disposable income in the nation, even lagging behind Tasmania: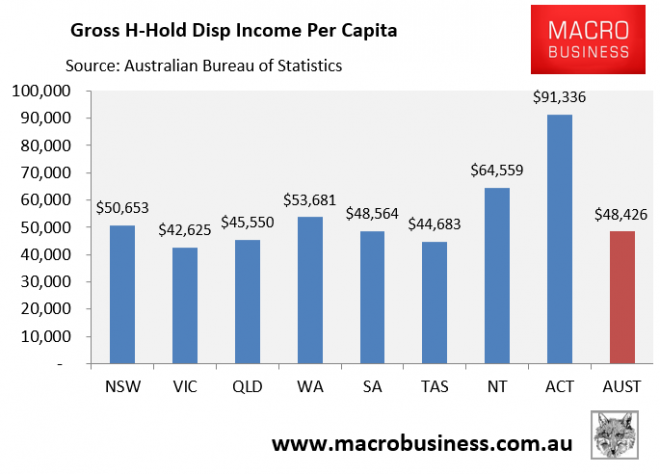 One rule for politicians, one rule for everyone else.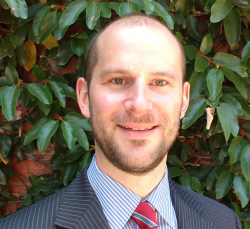 Latest posts by Leith van Onselen
(see all)