The CEO of the International Education Association of Australia, Phil Honeywood, ran a infomercial yesterday on the purported enormous benefits accruing to Australia from our universities' enormous dependence on international students:
Last week, in Nine Entertainment newspapers, ­respected political editor Chris Uhlmann decided to weigh into the media tsunami that had been building up about overseas students in our universities.

In attempting to find a new angle to this story, Uhlmann referred to the "mess" that vice-chancellors had made "as they built gilded palaces on rivers of gold flowing from full-fee paying foreign students"…

The pedagogical framework that our academics have put in place encourages critical thinking, creative learning and team-based project work. Given that many students from Asian countries have been educated in systems reliant on rote learning, our universities are often opening their eyes and minds to what is possible…

What is therefore missing from Uhlmann's analysis is the incredible soft power benefit that our nation has accrued by teaching students from around the world…

Of course, like all countries, Australia must address the potential for macro political issues to affect the integrity and autonomy of our education institutions.

But it is another thing entirely to conflate these concerns with the assumption that there is a lack of due diligence on course entry standards…
In writing this dross, Phil Honeywood failed to address any of the key concerns surrounding Australia's world-beating concentration of international students, which dwarfs any other developed nation: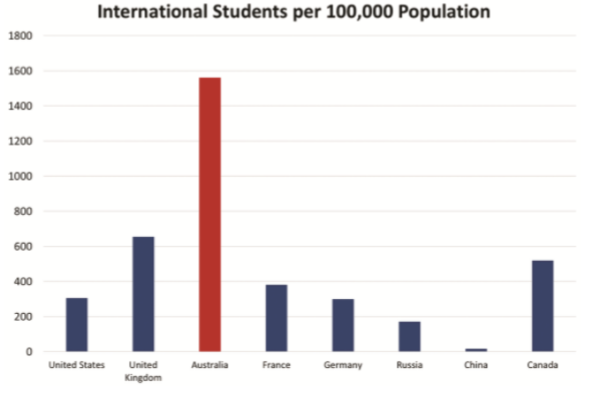 In particular, where is Honeywood's acknowledgement that Australia's universities have badly degraded English-language and teaching standards to maximise the volume of full-fee paying international students washed through Australia's universities?
As we know, the top three sources of international students are all non-English speaking background (NESB) nations, and their numbers have skyrocketed over recent years: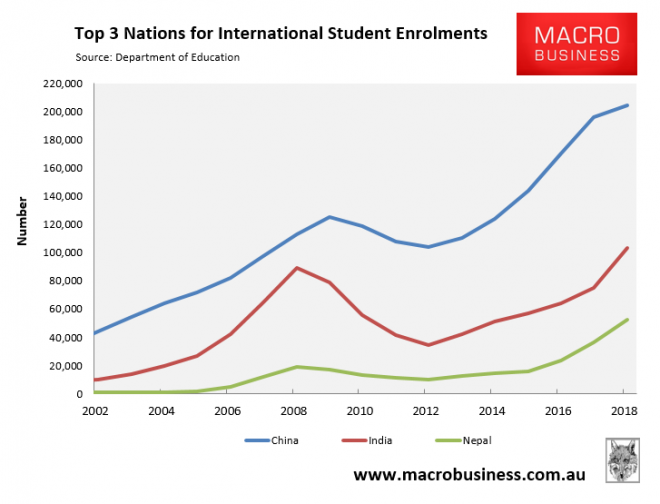 This explosion in enrolments has been achieved by cratering entry standards, as explained last month by the Centre for Independent Studies (CIS):
Australian universities routinely compromise admissions standards to accommodate international students. Preparatory programs for students with lower English language test scores function as a paid work-around for international students who do not meet admissions standards. By prominently marketing such alternative pathways, Australian universities are in effect taking actions that reduce their financial risks by increasing their standards risks…

The fact that international students pay much higher fees than domestic ones for the same courses strongly incentivises universities to reduce admissions and academic standards to accommodate international students. Alternative admissions routes that allow international students to circumvent English language requirements and the widespread use of commission-based brokers invite willful negligence and outright abuse, as reported in the ABC Four Corners program 'Cash Cows'…
Warwick Lough – a former Monash College English language teacher and a former examiner for the IELTS English language test – noted similar concerns over the weekend:
[Lowe] said the university's intensive English courses for international students did not give them enough language proficiency and left them struggling in university study. "This is not a grey area. It is an absurdity that they can enter with language which is wholly inadequate," he said…

Mr Lough said most students who completed the English bridging courses at the college did not reach the standard of a 6.5 score in the IELTS English test that is the usual benchmark for international students to get entry to most ­degrees.

"In my view, most students at the end of the course appear to be well below 6.5"…

"The assessments are carefully crafted to allow about 90 per cent of students to pass." He said speech and writing components of the internal test were often "very carefully rehearsed"…

"My view is that all but a tiny minority of former bridging students, on completion of their university degree, would have no chance of surviving a job interview or functioning in a workplace."
To add insult to injury, universities have restructured their entire assessment criteria toward group assignments in order to pair NESB international students with locals. This effectively forces local students to act as unpaid tutors, carrying the load in assignments, and ensuring international students pass their courses.
This scam was highlighted by the explosive testimony of journalist and mature age Masters student, Meshel Laurie:
It's a neat trick: group assessment (with groups allocated by instructors) in courses overloaded with full-fee-paying, non-English speaking students means the English speakers bear the burden of catching the others up, translating the course content for them and helping them pass…

The workload is overwhelming enough without having to piggyback someone else through it too… The university assessment process is heavily weighted towards group activities…
Subsequent Letters to the Editor elaborated on the group assignment farce:
As a mature-age student, I also returned to study and found the "group assessment" diabolical… One student, apart from barely turning up to group meetings and expecting us to explain and do everything for her, plagiarised my work. (It was for a group presentation). When I confronted her about this, she said it was normal to copy in China…

At the end of the semester, I asked our tutor if he was going to pass her as she contributed barely anything. He said as she was a foreign, full-fee paying student, he was obligated to pass her….

Russell McGilton, Coburg North…

During her degree, my daughter often found herself in the situation where the only hope she had of passing group assignments was by doing most of the work herself. In a group of five or six, there would usually be three or four Chinese with unacceptably poor English comprehension. They barely understood what they were being asked to do, much less have the capacity to help formulate responses. How shockingly unfair was that on my daughter and other locals who were dumped with this responsibility? How dare our universities dole out degrees to students who only pass because other students have effectively hauled them through by doing the work for them?…

Kay Buckeridge, Mosman, NSW
Of course, industry lobbyists like Phil Honeywood would never acknowledge these serious shortcomings because it would compel universities to raise standards, thereby resulting in fewer international student enrolments and placing their entire business models at risk.
Latest posts by Leith van Onselen (see all)