It is fair to say that India has become Australia's key growth market for international students. In 2018-19, Indian student enrolments at Australian educational institutions surged by 29,000 (39%), easily surpassing student enrolments from China (8,400) and Nepal (16,000) over the same period: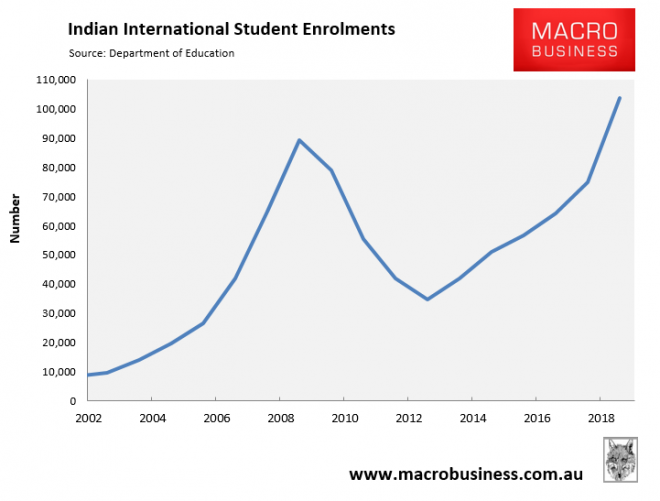 India has also led growth in student visa applications, according to the Department of Home Affairs.
In the 2018-19 financial year, the number of student visa applications granted to Indians surged by 34%, compared against a 3.3% decline in Chinese student visa applications: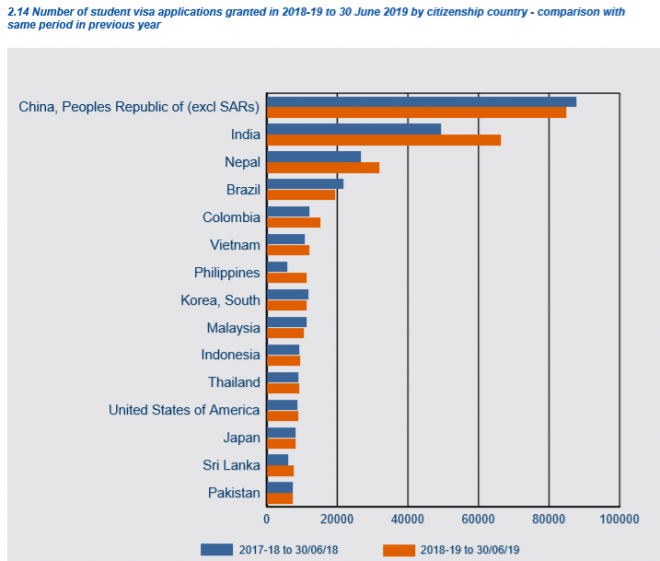 One of the key reasons why Australia has experienced such explosive growth in Indian international student enrolments is because Australia offers relatively generous post-study work rights compared to other Anglosphere nations of between two to four years via the temporary graduate (485) visa.
These 485 visas give holders unrestricted working rights, and are commonly perceived to be a key pathway to permanent residency.
Indeed, the attractiveness of graduate (485) visas has seen visa numbers balloon to record highs: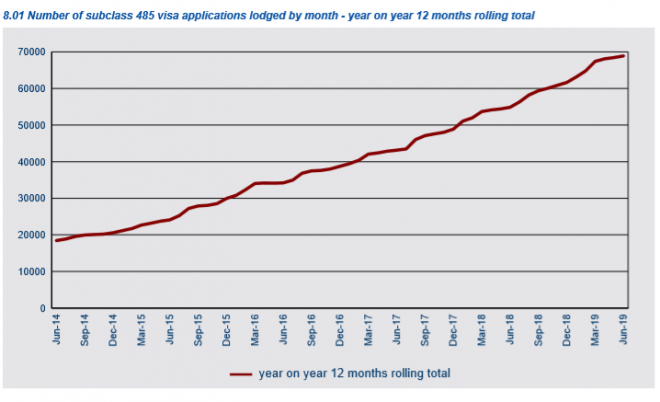 With Indians dominating visa numbers: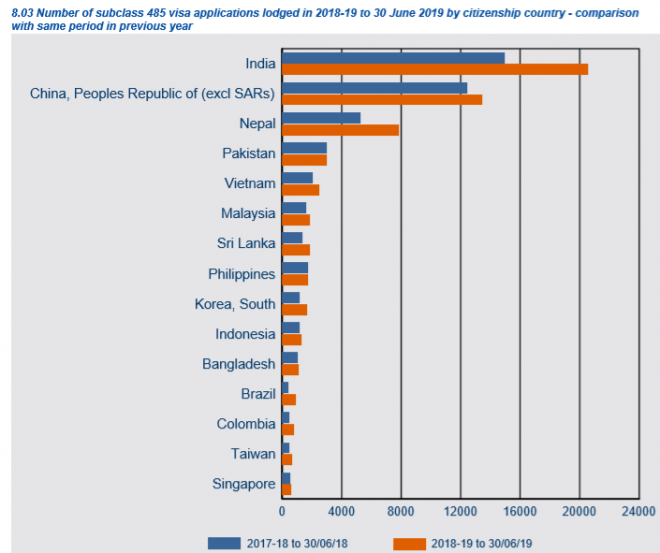 In the 2018-19 financial year, the number of graduate (485) visas lodged by Indian international students surged by 37%, from 15,000 to 20,600, dwarfing applications numbers from China and Nepal.
Australia's bubble in Indian international students visas is set to burst, however, following the United Kingdom's decision to match Australia by extending post study work rights to two years from four months currently:
Boris Johnson's government said it would bring back the two-year post-study work visa that David Cameron's Conservative government walked away from in 2012 amid rising concern about immigration levels…

It will allow them to work in any job for two years after completing their studies and no restrictions will be ­placed on the number of graduates holding the visa…

The visa will be particularly ­attractive to Indian students, who deserted Britain and flocked to Australia after 2012 when then home secretary Theresa May abolished the previous post-study work visa.

To add to the UK's attractiveness the pound has been substantially lower since the 2016 Brexit referendum.

Indian students are now the most important driver of growth for Australia's $38bn education export industry…

Phil Honeywood, chief executive of the International Education Association of Australia, said Britain's reintroduction of a two-year post-study work visa "could be a game changer for a number of markets we have taken for ­granted"…

International education expert Rahul Choudaha said… "Students will be very likely to switch over to the UK"… He said the British visa would be particularly attractive to students because it offered a pathway to permanent residency.
United Kingdom university chiefs and representatives are already talking up the visa changes, claiming they will entice many more Indian international students:
The government's latest announcement was widely welcomed by university chiefs and representatives, who highlight that Indian students were particularly prone to make their higher education choices based on being able to gain some work experience at the end of their degree.

"Although 82 per cent of our Indian graduates are satisfied with their careers wherever they are working, we know that they value the opportunity to spend some time in the UK working after their degree. This visa will make it significantly easier for them to do that," said Vivienne Stern, Director, Universities UK International, which has been lobbying for such a visa for many years.

"The UK ranks first for international student satisfaction overall, compared to other major study destinations, but having a more attractive post-study work offer will open the UK up to even more international students…

This exciting announcement will help ensure that the UK remains one of the best destinations for students across the world," said Sir Dominic Asquith, British High Commissioner to India.
In short, the United Kindom has just popped Australia's Indian international student bubble.
Leith van Onselen is Chief Economist at the MB Fund and MB Super. Leith has previously worked at the Australian Treasury, Victorian Treasury and Goldman Sachs.
Latest posts by Leith van Onselen (see all)