New dwelling approvals in Victoria in the year to June were at 59,719, according to the Urban Development Institute of Australia (UDIA), which compares to 75,613 in the previous year.
With the UDIA estimating that 78% of approvals become completed homes, this would mean completed dwellings fell from 58,978 to 46,581. UDIA Victoria CEO Danni Hunter says between 66,000 and 68,000 new homes a year need to be built in Victoria to meet forecast population growth, while she called on the Victorian government to relax development controls so as to encourage more construction in Melbourne's CBD. From The AFR:
"With Victoria's population growth expected to continue at record levels in the coming years, we need to be delivering around 66,000 to 68,000 new houses every year," the UDIA's Victorian chief executive, Danni Hunter, said.

"The approval numbers and the construction pipeline flowing from approvals in the 2019 financial year reveals a complete drought of new housing which will hit the market in the next 18-24 months."
The latest dwelling supply and population growth figures confirms these trends, with dwelling supply crashing at the same time as population growth continues at near record levels: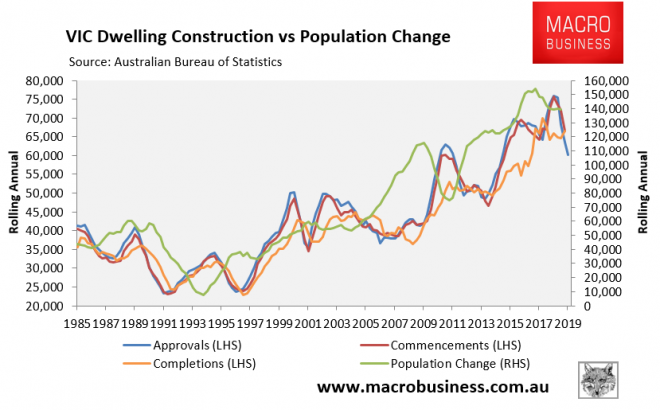 With Melbourne's population projected to more than double over the next 48 years, driven almost entirely by mass immigration, housing supply will forever remain under pressure: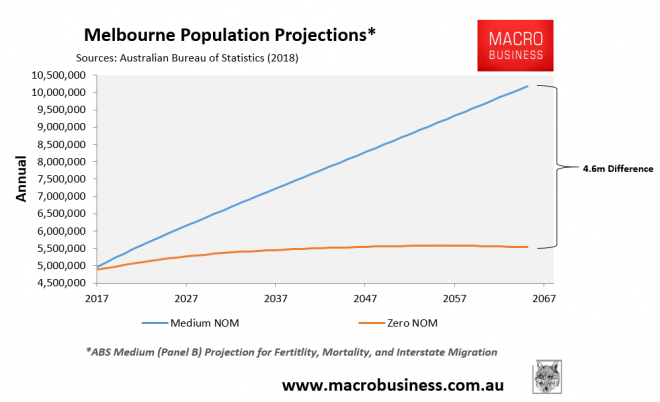 Cut immigration, or future young Melbournians will forever be locked-out of housing.
Leith van Onselen is Chief Economist at the MB Fund and MB Super. Leith has previously worked at the Australian Treasury, Victorian Treasury and Goldman Sachs.
Latest posts by Leith van Onselen (see all)