One of the biggest myths surrounding Australia's international student industry is the claim that it is Australia's fourth biggest export and worth more than $35 billion in 2018, as illustrated in the next table from the Department of Foreign Affairs and Trade (DFAT):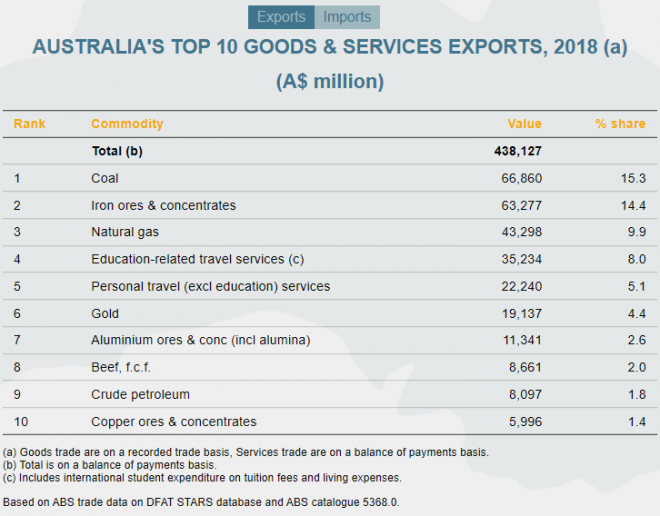 In a recent speech, Australia's trade minister, David Coleman, spruiked the immense export benefits arising from the international student trade, repeating the claim that it is Australia's fourth largest export:
Let's be clear: international education is extremely good for Australia. It's a $35B export industry, which employs more than 200,000 Australians. It is one of our largest export markets, behind only iron ore, coal and natural gas. To put that $35B in perspective, last year our total wheat exports were worth $4B a year, our total beef exports were worth $8.5B.
As noted previously, this $35 billion 'export' claim is highly dubious because it "includes international student expenditure on tuition fees and living expenses" (footnote C above).
Therefore, to the extent that this export figure counts expenditure by international students from income generated while working in Australia, it is not actually an export, but rather economic activity.
Remember, international students are permitted to work 20 hours a week, and many also work extra hours illegally. However, when this income is spent it, is erroneously counted as an 'export' by the Australian Bureau of Statistics (ABS).
Such spending is actually no more an 'export' than expenditure by domestic students living away from home that is paid for via income earned through paid employment.
Professor Salvatore Babones' excellent paper, released last month by the Centre for Independent Studies, also debunked this $35 billion 'export' claim:
International students are clearly important for Australia's universities, but their importance to the economy as a whole is frequently overstated. One oft-quoted statistic is that educational exports have risen to become Australia's third-largest export after iron and coal. That doesn't really capture the full story, since exports in different sectors are reported at different levels of granularity.

Figure 5 compares the size of Australia's educational exports to that of other major sectors from across the economy, using data from the Australian Bureau of Statistics (ABS). Additional historical data going back to 2002 are reported in Table 5 in the Appendix. Educational exports overtook receipts from all other travel (tourism, family, and business combined) in 2008, but are still smaller than Australia's exports of agricultural or manufactured goods. Moreover, more than half of Australia's reported educational exports (53.7% in higher education and 57.2% for the education sector as a whole) consists not of student fees, but of goods and services bought by students while in Australia. Since this spending is at least partly generated by income that students earn from working in Australia while studying, the true net value of education exports to the Australian economy is likely lower than the headline figures reported by the ABS and DET…
The below charts derived from ABS data hammers the above points home. As you can see, spending on "goods & services" by international students ($20 billion in 2018) outweighs spending on enrolment fees ($15 billion in 2018):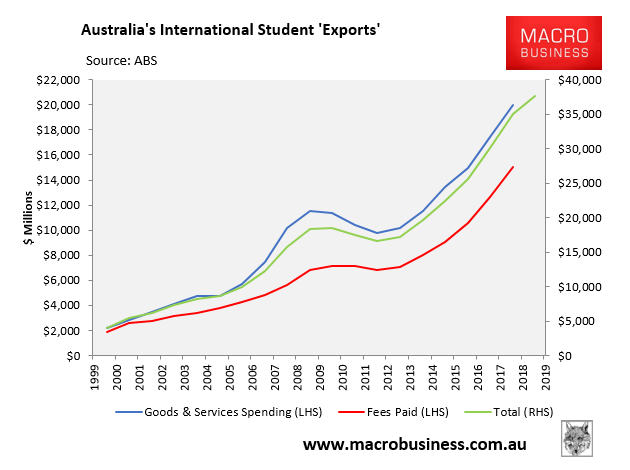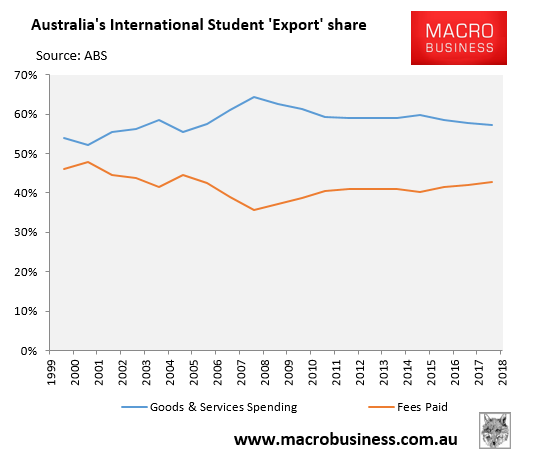 Again, much of this spending would have been earned through paid work within Australia, which is not actually an export. A significant share of this spending would also have been on imported goods, which actually worsens Australia's trade balance.
There's one final point that should be acknowledged by those making this false $35 billion export claim: that any money earned in Australia and sent home by international students represents an import and should also be deducted from the export count.
In 2017, there was a US$5 billion net outflow of migrant remittances from Australia, according to the World Bank, a share of which would have originated from international students studying in Australia: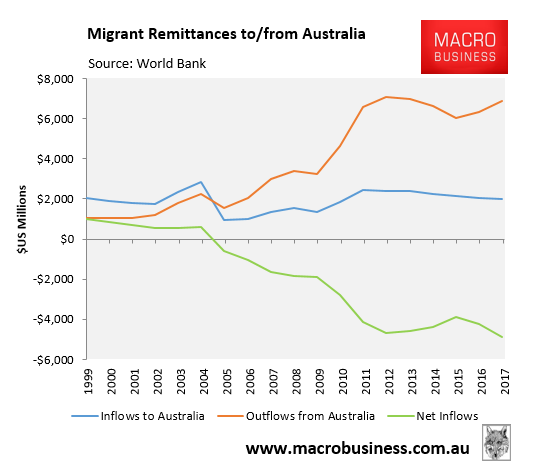 Like many of the arguments used to support Australia's world-beating concentration of international students, the $35 billion 'export' claim is unambiguously false. The true value, while unknown, is likely much lower, and so too are the benefits.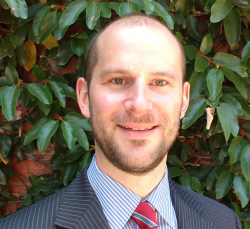 Latest posts by Unconventional Economist
(see all)