I has been dubbed the "latte line" – the divide between poorer disadvantaged Sydney residents living in the West and their wealthy counterparts in living in the East.
Christopher Brown, Chairman of the Western Sydney Leadership Dialogue (WSLD), explained the "latte line" recently:
"As much as we are strong advocates of western Sydney, we need to be realistic that too many times we are on the wrong side of that line. In terms of per capita lower incomes, below average NAPLAN results and school attendance, higher unemployment and higher rates of preventable disease and hospital admissions.

"Western Sydney is the diabetes capital of the country," he said.

"There are also higher rates of domestic violence which is the shameful secret of western Sydney. We still keep beating up our loved ones more than anywhere else and we have to stop it"…
Nowhere is this East-West divide more evident than with property values, as noted today by Domain:
As new Domain research shows, many suburbs below the $1 million mark – and by extension, below Sydney's house price median of $1.032 million – are located west of the A6 roadway, which runs from Carlingford to Heathcote…

Domain research analyst Eliza Owen… said this came down to more than proximity to the CBD and to the coast.

"It's important to think about employment opportunities, infrastructure, migration, and how that reinforces what makes a high value or low value area," she said…

"If you look at density in the lower north shore … residents tend to be quite successful in negating new high-density developments," said Ms Owen. "You see generally poorer areas taking on a greater density burden."

Ms Owen said policy change was needed to make Sydney a fairer housing market, focusing on equal distribution of higher density housing, decentralised employment hubs and transport infrastructure.
If anything, the East-West divide is likely to worsen.
In July, the head of the Greater Sydney Commission (GSC), Lucy Turnbull, outlined an "exciting" future for Western Sydney, which involves being crush-loaded with another 1.2 million people:
GSC's chief commissioner Lucy Turnbull… said places such as Parramatta and Bankstown represented the "future of Sydney and Australia" with a youthful and diverse population making them "exciting" corners of the wider city…. "1.2 million people in western Sydney in the next 20 years is a reasonable forecast"…
But while Western Sydney is being crush-loaded by migrants, the wealthy elites in the city's East have put up walls to keep the migrant riff-raff out:
The beautiful suburb that provides homes for many of the men and women who run the Australian economy is fighting for over-priced cherries, tomatoes and avocados…

Now Tony Abbott has been dispatched from public life, the Mosman peninsula on Sydney's lower north shore has shifted focus. Not to the problems of low wages growth, housing affordability or Indigenous recognition. But the horror of a Woolworths…

With the aid of a professional public relations firm, a local pressure group, Mosman Village Community, is leading a fight against a Woolworths outlet, which it argues will increase traffic and drive artisan shops broke. About 1500 residents have signed up for the campaign…

"This is one of the few remaining village-type high streets in Sydney," says Colin Gunn, a spokesman for the group. "A major shopping centre would change the nature of the village."

Underlying the opposition is a form of retail snobbery and resentment towards outsiders…

At the same time, the council is seeking community input on its long-term plan for the suburb, which keeps its population low and prices high by limiting housing growth.
As shown in the chart below, Mosman's projected population growth is the second lowest in Sydney behind Lucy Turnbull's wealthy enclave of Woollahra: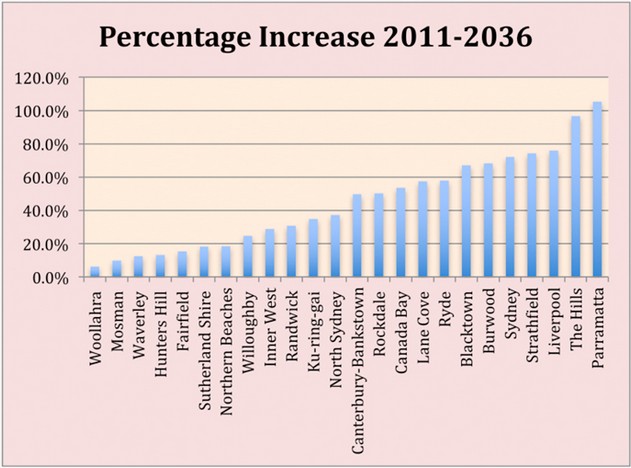 So basically, the GSC is running a form of economic apartheid whereby Western Sydney shoulders the lion's share of immigration and population growth to provide cheap foreign labour and inflated demand to the wealthy barons in the East.
This model enables the Elites in the East to profit from the rentier services of over-priced ghetto apartments and postage stamp houses, inflated land banks, as well as higher volumes of mortgages and retail sales, while not having to share in the downsides of congestion and eroded amenity.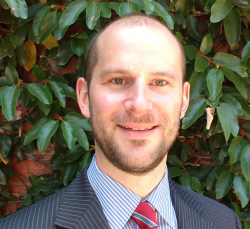 Latest posts by Leith van Onselen
(see all)