Josh Recessionberg collects his Golden Turd award at The Australian today:
The principal driver was a record number of Australians in work, with 300,000 people finding a job, 100,000 more than Treasury forecast. This has the effect of increasing tax receipts and decreasing payments as people move from welfare to work.

Export earnings in the year also were up, led by increases in the volume and price of key commodities such as iron ore, our largest export. The price of iron ore averaged $US72 a tonne in 2018-19; the budget had assumed $US55.

However, with Labor unwilling to give the government any credit for the balanced budget, it would have you believe all the improvement is due to iron ore. It's not only wrong but fails to recognise Labor enjoyed an iron ore price as high as $US185 a tonne and still could not deliver a surplus.

In Labor's last three years of government, the price of iron ore averaged $US125 a tonne compared with only $US65 for the past three years of this Coalition government.
True but what Recessionberg doesn't say is that:
this boom was just as profitable owing to crashed production costs, and
Labor was dealing with a GFC!
That said, Recessionberg has a slim basis for his claims. Income tax was up $3bn on forecast:

But note that booming company tax receipts (read mining owing to 300 dead Brazilians) made a much bigger contribution at $4.5bn and a mysterious $5bn dividend (RBA and other public corporations?) also helped by just as much.
On the costs side, welfare was slashed:

And that all came down to one thing:

There was a $6bn under-spend on the NDIS, which is not to say that it was not warranted in some measure, given problems with the roll out.
These various swings and roundabouts offset the Government's woeful misses on GDP (1.4% versus 3%) and wages growth (2.2% versus 2.75%).
So, what fixed the Budget?
the mysterious growthless jobs boom added a little;
the commodity boom thanks to 300 dead Brazilians and coking coal accidents added a lot;
whatever that dividend is added even more, and
starving the disabled and children of promised cash added the most of all.
Not exactly the marvel of good management claimed but there you go.
Whether or not Recessionberg should crow about it remains to be seen. If his gambit to force the RBA to crater interest rates to re-ignite the housing bubble is sufficient to produce new growth and lift incomes then he'll be a hero.
If not then the Recessionberg Stupidity Index will hit all new lows: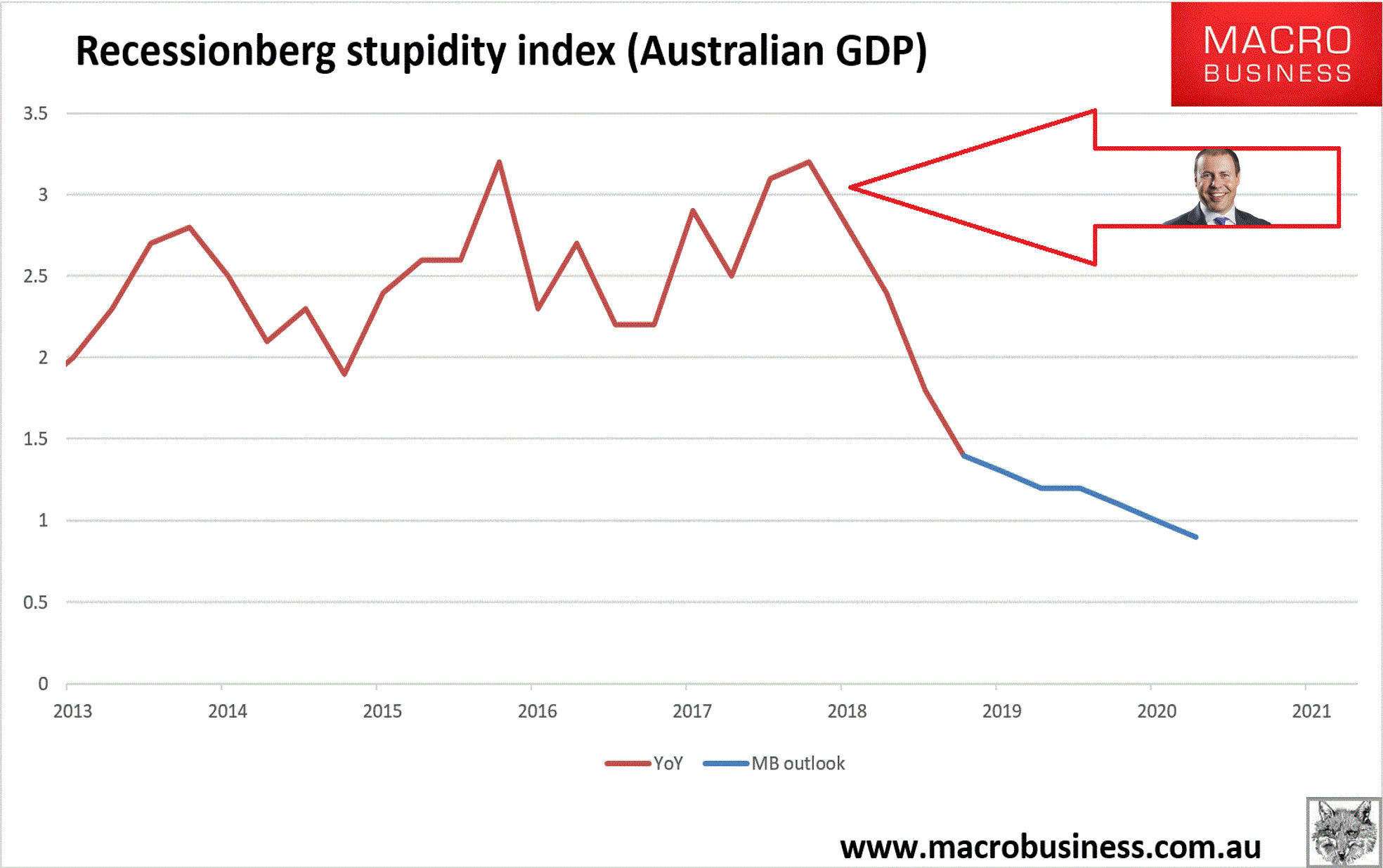 I am not hopeful.
David Llewellyn-Smith is Chief Strategist at the MB Fund and MB Super. David is the founding publisher and editor of MacroBusiness and was the founding publisher and global economy editor of The Diplomat, the Asia Pacific's leading geo-politics and economics portal.

He is also a former gold trader and economic commentator at The Sydney Morning Herald, The Age, the ABC and Business Spectator. He is the co-author of The Great Crash of 2008 with Ross Garnaut and was the editor of the second Garnaut Climate Change Review.
Latest posts by David Llewellyn-Smith (see all)