The Victorian Government and the Melbourne City Council are at war over whether congestion charging should be implemented across the inner-city in a bid to improve traffic flow. From the Herald-Sun:
Lord Mayor Sally Capp has renewed her push for congestion pricing — a new charge based on distance travelled or roads used, replacing existing car fees including registration — ahead of the imminent release of the council's 10-year transport strategy.

The radical overhaul is expected to be a key plank of the plan, but while it is backed by leading economists and infrastructure experts, the state government has flatly refused to support it and would be able to veto any new taxes.

The government would also reject any council bid to slash speed limits to 30km/h on arterial CBD streets.

Council insiders realise there is "no political appetite" within the government to introduce congestion pricing, but they are keen to force the debate, believing the reform will eventually be inevitable…

Ms Capp said last week it was "a concern" that the state and federal governments were pumping more money into the Monash Freeway which would bring more cars into the city.

"We have to start talking about things like congestion pricing because the use of our roads is so important. We just can't keep building more roads," she said on 3AW.
Personally, I think that direct road user charges are inevitable as revenue from fuel excise continues to collapse, brought about by the shift to both more efficient conventional vehicles as well as electric vehicles: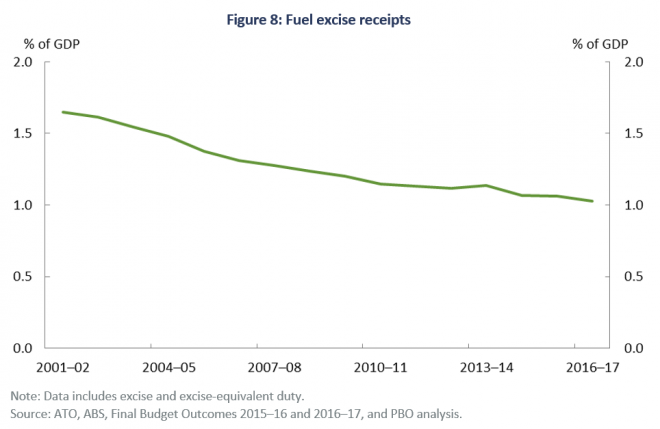 The economic arguments for shifting to direct road user charges in place of fuel excise are also sound.
First, if road user charges vary by location, time of day and distance travelled, they would encourage people to take non-essential trips at a different time, or not at all, thus improving efficiency through better managing congestion.
Second, the ability to observe road users' willingness to pay for road space will give better signals to transport authorities of where additional road capacity should be built.
Finally, with an effective road charging scheme in effect, there would be less need to regulate to prevent sprawl, and people would be freer to make trade-offs between housing cost and location.
That said, congestion charging won't magically create more road space to cater for Melbourne's ballooning population, which is projected to double beyond 10 million people over the next 48 years: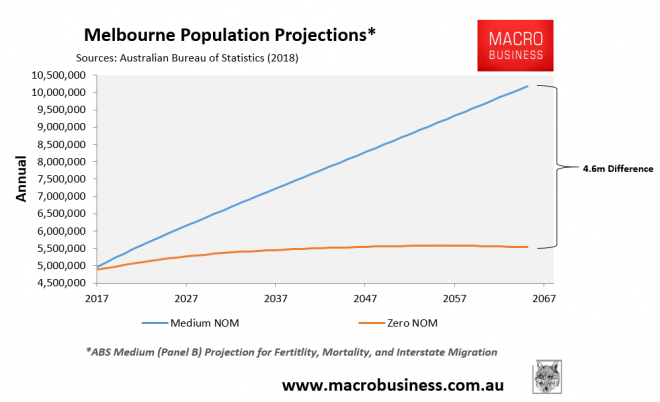 Nor will congestion charging magically fix Melbourne's congested and deficient public transport networks. All it will do is give people less choice, especially those living in outer suburban areas like Western Melbourne. They will simply pay more for less amenity, as they have experienced with the proliferation of toll roads.
Blind Freddy can see that the simplest and best solution to mitigate the liveability problems afflicting our major cities is to lower immigration back to historical levels (see next chart) and prevent the pressures from building in the first place.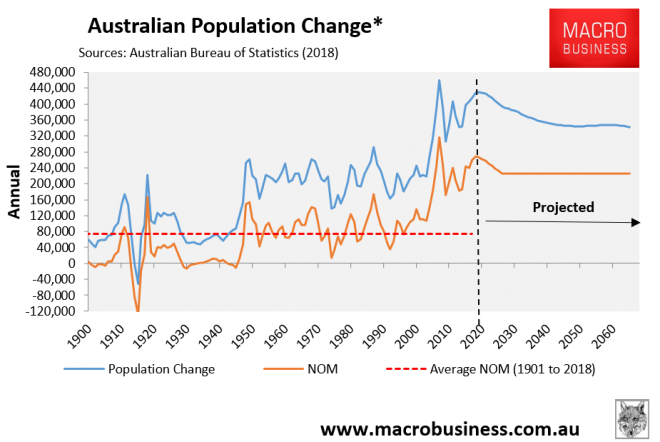 Policy makers cannot possibly hope to ameliorate the many problems caused by excessive population growth while having net overseas migration running at more than triple the historical average.
Latest posts by Leith van Onselen (see all)