After spending years in the doldrums, whereby rental prices fell by 22% peak-to-trough: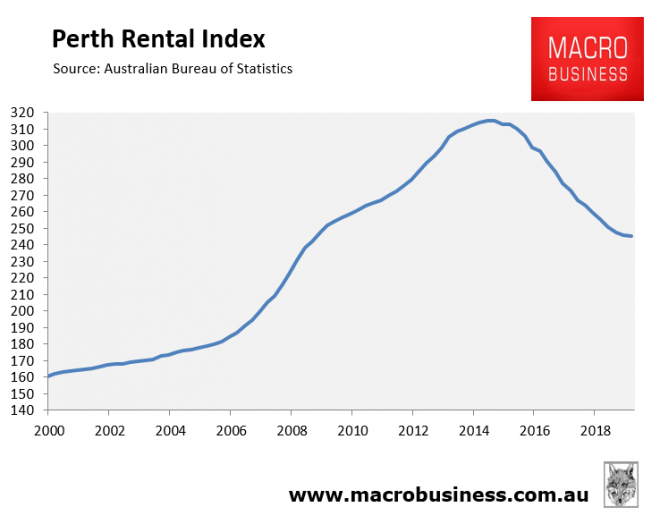 SQM Research claims that Perth rents are "in a strong recovery phase":
After an extended housing downturn, it appears that Perth's rental market is in a strong recovery phase. While rental vacancy rates are elevated at 2.9% the trend has been down since the start of 2017 where they peaked at 5.5% on our numbers. The lowest rental vacancy rate recorded on our numbers for Perth was just 0.5% in March 2012, which was at the peak of the Western Australian mining boom.

As a result of the tightening rental vacancy rate, asking rents have been rising again. Perth asking rents bottomed out at $410 a week for a house and $310 a week for a unit. That occurred in October 2017. Asking rents for houses has since risen and now stands at $440 a week for a house and $337 a week for a unit.

At the peak they were $628 for a house and $476 for a unit (Feb-Mar 2013), so there is still quite a way to go yet before Perth rents hit new highs. And given the peak, it does go to show how much of a rout the market was in.
"Strong" does not seem to be the quite the right word.
Leith van Onselen is Chief Economist at the MB Fund and MB Super. Leith has previously worked at the Australian Treasury, Victorian Treasury and Goldman Sachs.
Latest posts by Leith van Onselen (see all)