Owners of apartments in the Mascot Tower, which was evacuated in mid-June after experiencing severe cracking, have been left destitute and facing potential bankruptcy because they cannot afford to pay a special levy to fund remediation works:
Apartment owners in Sydney's cracked Mascot Towers have asked for the NSW government to help fund remediation works because a third of them can't afford to pay a special levy.

…in late August owners passed a motion to raise a special levy worth $7 million plus GST for stage one rectification works.

But now the strata committee has written to the state's better regulation minister arguing a survey of owners suggested 35 per cent wouldn't be able to pay their $60,000 share.

Applications to extend mortgages have been declined and the owners said they couldn't obtain a personal loan, borrow the money from friends, refinance using another property or rely on savings.

Stage one works are due to begin on September 30 but the strata committee says the contract can't be signed due to the shortfall in funds…

The committee implored Mr Andrews "to find a solution where the government can assist the owners' corporation with its current cash flow problem".
This comes after residents of the Opal Tower, which was evacuated on Christmas Eve amid severe cracking, were told they face a ten-fold increase in insurance premiums:
Karl Sullivan, head of risk and operations for the Insurance Council of Australia, revealed the grim picture for the owners of 172 apartments at the Homebush building who were told on Christmas Eve that all residents must leave…

As he gave his evidence, Mr Sullivan said local insurers had assessed the risk for Opal Tower and other apartments found to have structural damage or defective materials such as combustible cladding…

He said he was aware that no Australian insurer was prepared to offer coverage to Opal Tower owners. Those wanting coverage were forced to "go offshore" and pay annual premiums that were "tenfold increases" on previous years.
These residents in July launched a multi-million dollar class action lawsuit against the NSW Government.
As I keep saying, this is likely only the tip of the iceberg given the unprecedented boom in high-rise apartment construction over the past decade: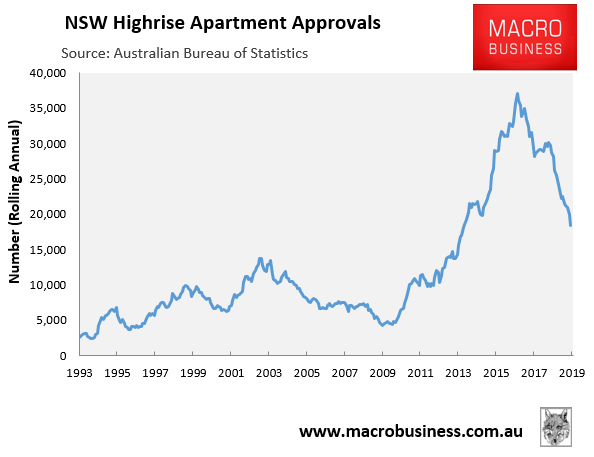 According to the ABS, around 200,000 high-rise apartments were approved across NSW over the past decade, many of which likely contain significant faults.
The cost of rectification will be massive and will likely fall on both apartment owners and taxpayers alike, with most developers getting away scot-free.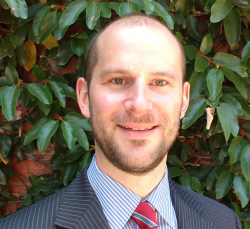 Latest posts by Leith van Onselen
(see all)