Despite the massive ramp-up in domestic student university enrolments over the past decade: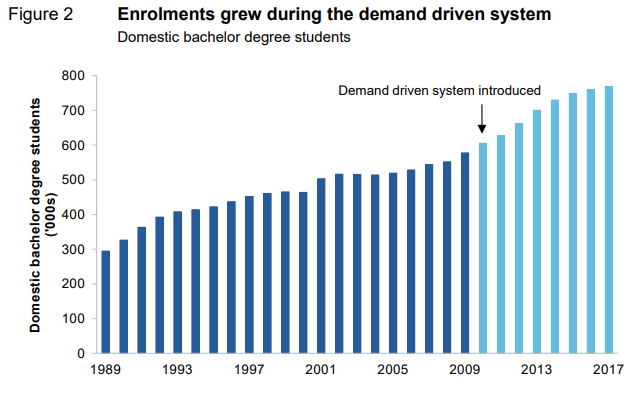 Education Minister, Dan Teehan, has directed universities to grow their student numbers:
Universities have been told by federal Education Minister Dan Tehan to increase their student numbers to cope with the coming demographic bulge in school-leavers and says he will push his cabinet colleagues to come up with the extra funding needed.

"If I can put a compelling case to my colleagues that we are absolutely instrumental in driving productivity in this nation for the next decade, then I think we can get the support we need to grow the sector, and we have to grow the sector," Mr Tehan said in a speech at Victoria University last Friday…

Mr Tehan told the symposium he was well aware that the population of young adults aged 18 to 24 was going to peak in 2024, a result of the early 2000s baby boom.

"We've got to make sure that our higher education system will be there to deal with, to cope with, and to educate that increased ­cohort of young Australians," Mr Tehan said.
This is crazy stuff. Instead of pumping more Australians through university, which is way oversupplied, the government should prioritise vocational education and training (VET), whose enrolments have plummeted and are projected to continue to do so: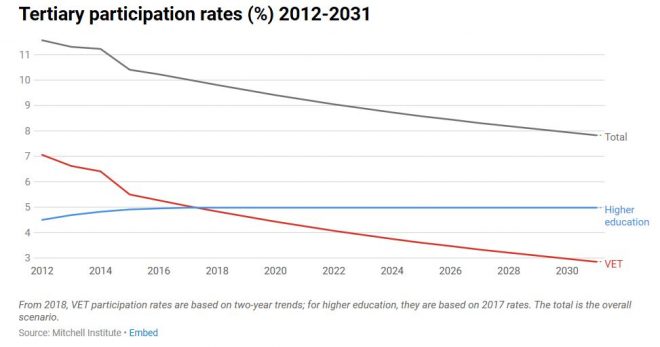 Accordingly, reported skills shortages for managers and professionals are running near recessionary levels, according to the Department of Jobs & Small Business: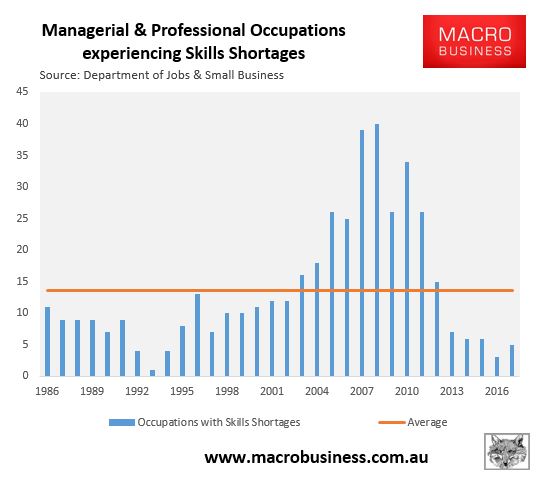 By contrast, shortages among technicians and trades are running well above-average levels: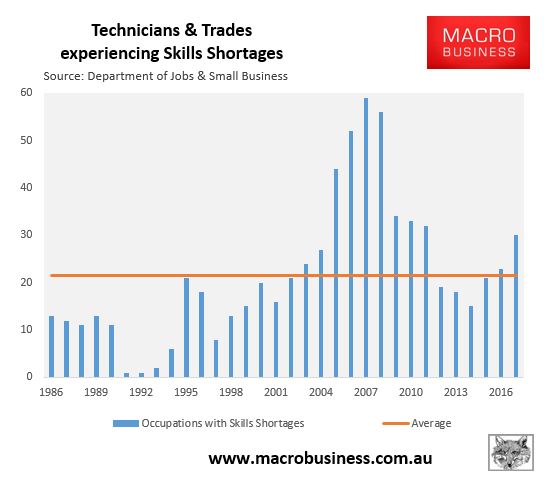 Wage growth was also much stronger among VET qualified people than the university educated between 2010 and 2015, which further suggsets an oversupply of university graduates: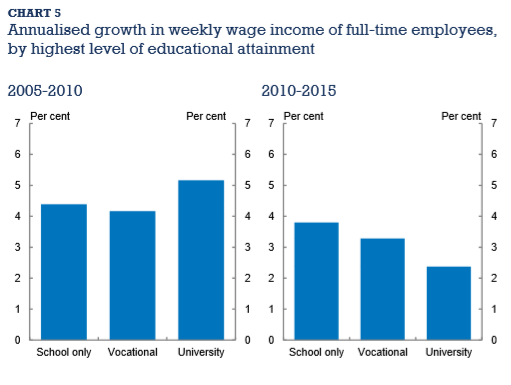 Let's also not forget that employers frequently complain of 'skills shortages', which partly reflects huge mis-matches in skills across the economy, with far too many people holding useless university qualifications and too few with trade skills. For example:
Employers have warned Scott Morrison that the nation's ­training system is "bedevilled by inconsistency" and urgently needs "bolder reforms" to tackle growing skills shortages that are threatening the delivery of an ­unprecedented pipeline of infrastructure projects.

Ahead of a Council of Australian Governments meeting in Cairns tomorrow, Australian Industry Group chief executive Innes Willox has written to the Prime Minister detailing how ­increasing demand for skilled workers is occurring as apprenticeship and traineeship numbers fall to a 10-year low, while the number of workers aged older than 65 has doubled in a decade…

Apprenticeship and traineeships numbers have fallen from 446,000 in 2012 to 259,385 last year…
Funnelling more students into worthless university degrees is a retrograde step that will make the skills mis-match worse.
Latest posts by Leith van Onselen (see all)