Via Damien Boey at Credit Suisse:
Overnight, ECB President Draghi launched his "bazooka" stimulus option – but markets experienced some highly counter-intuitive moves. Specifically, bond yields rose in response to the resumption of ECB quantitative easing, while the EUR/USD strengthened on ECB rate cuts. Equities responded favourably to these developments, although interestingly, momentum and bond proxy stocks outperformed value stocks, slightly unwinding some of the seismic moves we have seen from the past week.

ECB bazooka

Firstly, on the ECB. President Draghi announced:

The resumption of asset purchases, at a pace of €20 billion per month. The expectation is for purchases of €5 billion per month of corporate paper, and €15 billion per month of sovereign paper.
Rate cuts. The ECB's sight deposit rate was cut by 10bps to -0.5% from -0.4%. Other policy rates (the main refinancing rate and marginal lending facility rate) were unchanged.
Tiering of negative interest rates across banks, to mitigate some of the deflationary effects of the "tax".

Interestingly, in the ECB's press conference Draghi was questioned on:

The likely duration of the quantitative easing program. He did his best not to discuss limits, hinting that the program's resumption is open-ended.
The extent to which ECB members agreed on the easing measures. He suggested that no vote was required, because the decision was unanimous.

However, some commentators have suggested that under the ECB's capital key, planned purchases will cause the ECB's holdings of German bunds to rise above threshold levels. As such, the program may not actually be "open-ended", and could even be limited to twelve months. Also, it later emerged that ECB members were far from unanimous on the decision to extend quantitative easing. There was "unprecedented" dissension, with France, Germany and the Netherlands opposing the plan. The risk is that dissension could become mutiny once Draghi leaves the ECB, and Lagarde takes over.

We highlight that concerns about the capital key and dissension are only really material if the German government decides to issue debt at its current pace. But if the Germans choose to launch fiscal stimulus, as they have been hinting at in the press, everything changes. More stimulus means more issuance, and more issuance dilutes the ECB's holdings, enabling it to buy more bunds than first thought. Also, more fiscal stimulus may cause Bundesbank officials to acquiesce to quantitative easing extension, as they cede responsibility for "monetization" to a higher power – their own government officials.

In response to the ECB announcement, bund yields and the EUR/USD experienced "knee-jerk" movements lower, before eventually rising. US 10-year Treasury yields also ended higher on the day. Peripheral European sovereign spreads closed narrower. Many commentators are trying to explain these reactions as a "buy the rumour, sell the fact" trade, or that Draghi disappointed in some way. Our explanation is more fundamental:

German, US, Japanese, Swiss, Nordic, UK, Canadian, Australian and New Zealand government bonds have all benefited from safehaven flows bid in recent years, because they are truly default risk free instruments. The safehaven bid has emerged, because peripheral European debt has from time to time become uninvestable as an asset class. In contrast to other monetary systems, in the European monetary union, member state governments need to raise funds first before spending them. Government borrowing is a risky – not risk free business. And peripheral European governments have moved to the riskiest end of the sovereign credit risk in the post-financial crisis world. But whenever the ECB commits to purchasing peripheral European bonds, it removes the credit risk on these bonds, making them investable again. On the flipside, safehaven flows into other core sovereign bonds, unwind, causing their yields to rise.
Negative interest rates are an unavoidable tax on the banking system. Banks have excess reserves in a post-quantitative easing world, and the only entity that can drain these excess reserves from the system is the central bank. Banks as a whole cannot shed reserves, even as they try to pass of excess reserves between each other. Nor can banks lend out their reserves, because reserves are interbank money – not publicly usable money, and in any case, bank loans create deposits. If banks cannot shed excess reserves, they also cannot do anything collectively to avoid the effects of negative interest rates on these reserves. They end up paying "tax" to the ECB, which they compensate for by lowering deposit rates and hurting savers. The only question is whether or not lower interest rates stimulate borrowing. But in a post-financial crisis, demographically-challenged macro-environment, the "bang for buck" in lowering rates is very small. So savers are hurt more than borrowers benefit, and negative rates usher in deflation. In turn, deflation can put upward pressure on the currency via the channel of scarcity.

Offsetting this, is the ECB's attempt to tier negative interest rates, to minimize the concentration of risk from the negative rate "tax". If investors have interpreted this step as effective, perhaps EUR/USD appreciation can be explained simply as a "risk-on" movement, because central bankers are underwriting risk, and supporting risk appetite.

Quant reversal reversal – the "trace buster" buster?

Interestingly, value underperformed overnight despite higher bond yields and curve steepening. Momentum and quality factors outperformed, again despite higher bond yields. Overnight movements fractionally unwound some of the seismic rotation we have seen over the past week, where investors have aggressively shifted out of momentum and quality and into value.

In truth, the overnight reversal actually started in the Asia Pacific time zone yesterday. Europe and the US were merely playing catch up in their time zones. And intra-day, as bond yields rose, value started to recover, while momentum and quality started to fade. This morning in Asia Pacific, it would not surprise us to see value factors respond favourably to higher bond yields.

There are a number of commentators suggesting that style rotation has been so sharp and sudden, that it will soon come to an end. These commentators expect quality (incorporating growth) to outperform value through to the end of the year. However, we have serious issues with these points of view:

Shell-shock from the failure of multiple dispersion to predict anything. Over the past few years, many quantitative strategists have presented charts showing the enormous, and growing multiple dispersion between the "haves" (ie growth) and "have nots" (value). With multiple dispersions wide, the claim has been that value was destined to outperform, because growth and quality stocks had simply become too expensive. But the obituaries for this argument have been written on almost a daily basis for the past few years, causing even the most hardened of strategists to give up on it. Now the claim is that multiple dispersion is valuable for longer-term forecasting purposes – but not short-term factor timing. For what it is worth, even after the reversals we have seen over the past week, multiple dispersion between quality and value stocks is still extremely wide. Now that the rotation  has started, who is to say that it cannot continue?
The key reason why multiple dispersion has not been able to add value to multi-factor portfolios, is because value is already present in the optimization process. We cannot time value, with value – nor any other style with value, because we have already diversified our factors and included it in the equation. In order to time factors, we need to incorporate information from outside the "bottom-up" universe, and this inevitably requires us to go one-step higher into asset allocation land. In actual fact, there are two questions to answer. The first is whether, from an asset allocation perspective, value matters at all. The second question, from a stock-pickers perspective, is how much does value matter. The first question is an inverse function of de-leveraging risk perceptions. The second question is a function of multiple dispersion.

Right now, our signals suggest that de-leveraging risk is a serious problem longer-term, because asset valuations are so stretched across the board. But our signals also suggest that de-leveraging risk is not an immediate problem, because central bankers deserve credit for holding down volatility for so long, and there is evidence that monetary policy is working to stimulate borrowing in the US. On balance, our signals suggest that de-leveraging risk is not so high as to undermine value factor performance. And at the same time, multiple dispersion is very wide. So if value matters (which it does), it matters a lot.

We are surprised to see that very few strategists are trying to quantify conventional and alternative risk premia in forward-looking ways. Many are still thinking that diversification of risk – minimization of volatility, and maximization of non-correlation between factors, is the be all and end all. But in any portfolio optimization process, we need to have the full set of information to do the optimization properly. We need to have forward-looking estimates of return, correlation and risk. But what we have is history instead. Herein lies the challenge – to make history great again. To be sure, there are always wide uncertainty bands surrounding any estimate of expected returns. But some attempt to quantify future returns is better than no attempt. Indeed, our backtesting suggests that even the noisiest of expected return estimates adds value in asset allocation and style rotation.

Overall, we think that bond yields can continue to rise, the yield curve can continue to steepen, and that value can continue to climb off the canvass. We are not concerned about overnight movements, as counterintuitive as they may seem.

Inflation and trade war risks are still not priced properly

In all of the chaos from overnight, it would have been easy to overlook two other significant developments:

US core CPI came in above expectations, rising by 0.3% in August. Year-ended core inflation picked up to 2.4% from 2.2%.
US-China trade negotiations are taking on a more conciliatory tone, especially after US President Trump's dismissal of National Security Advisor, and China hawk, Bolton.

We think that neither inflation, nor trade war risks are properly priced by the market. In August, investors "doubled down" on the view that trade wars would be outright deflationary, and that trade wars would escalate. While we have no particular insight into how trade wars will evolve, we note that:

Weak pricing power from a soft growth environment can only hold back "cost push" inflation from supply-chain disruption for so long. It is far from clear that the trade war must be deflationary.
The evolution of US-China trade talks seems to evolve with the strength of financial markets. US President Trump seems to take on a far more conciliatory tone when the US equity market is under pressure.
The trade war seems to have exacerbated concerns about a global USD shortage, which has been the real driver of deflationary pricing in bonds. At Jackson Hole a few weeks ago, Fed Chair Powell suggested that there was only so much that monetary policy could do when the rules of international trade were being re-written. But hours later, BoE Governor Carney went a big step further, by highlighting that trade protectionism could rapidly diminish the significance of the USD as the world's "reserve currency", with the implication that someone will need to fix the global USD shortage if trade wars escalate. Fed currency intervention could be the monetary response to Trumps' trade war, and if investors can price this, perhaps fat tail risks from a trade war can become less fat.

Over the next 10 years (ie abstracting from short-term cyclical factors), economists are forecasting US inflation of 2.3%. But the bond market is pricing inflation of only 1.85%. In other words, the inflation risk premium – the compensation for getting one's mean inflation forecast wrong, is negative. Investors are paying for the privilege of expressing a deflationary view of the world, rather than being paid to do so. In our view, this is not an appropriate pricing of the balance of risks. And the recent acceleration of US inflation reinforces this point.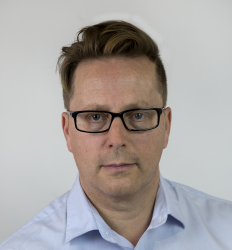 Latest posts by David Llewellyn-Smith
(see all)