Last year it became apparent that Melbourne's house and land market had become an giant bubble after the median price for a housing lot hit $339,000 – up 21% in only 12 months – with steeper rises in the cost per square metre: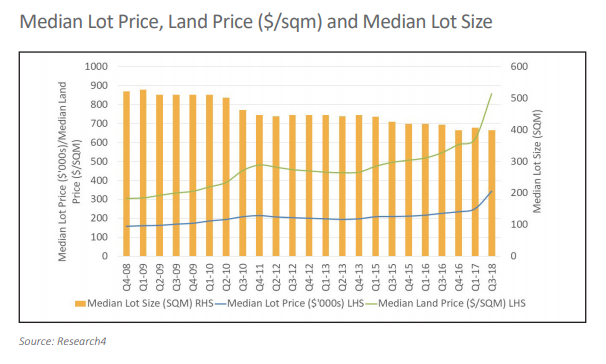 In August 2018, the panic began to set in with land speculators rushing for the exits.
In March, the Urban Development Institute (UDIA) reported the cancellation rate among lots had jumped from 5% in the three months to September to 12% in the three months to December, suggesting "a level of panic across builders and/or consumers", with the Melton growth corridor in Melbourne's West experiencing the highest cancellation rate.
This was followed in April by Research4, which reported that 27% of new-home buyers in Melbourne defaulted on their lot purchase in the March quarter, compared with 2% at the same time in 2018. Research4 also found that lot sales in Melbourne in the March quarter averaged just 539 a month, compared to the mid-2017 peak of 2,200:

Then in May, 7 News profiled land speculators facing financial ruin as Melbourne's outer-suburban house & land market imploded:
Hundreds of Melbourne families are panic selling housing blocks as they face financial ruin. @NickMcCallum7 #7NEWS pic.twitter.com/9ofC4RWWLx

— 7NEWS Melbourne (@7NewsMelbourne) May 20, 2019
Today, The AFR reports that real estate group Oliver Hume has reported that the median price for housing lots in Melbourne's growth corridors was down 4% to $312,000, while the median lot size declined to 339 square metres. In terms of individual growth corridors, Casey in the south-east recorded the biggest fall in price, down 7% to $330,000:
Discounting for incentives, which average between $15,000 and $30,000 per lot but are higher in some estates, the net median price of a typical lot is now well below $300,000…

Over the June quarter, the biggest price falls occurred in Casey in the south-east, where lot prices fell 7 per cent to $330,000 and are down almost 10 per cent over the past 12 months.

Other areas to record large quarterly price falls were the major western growth corridors of Wyndham (down 5.8 per cent to $307,000) and Melton (down 4.7 per cent to $281,000).
That said, the time taken to sell a typical housing lot in Melbourne's growth corridors fell to an average of 60 days in the June quarter, down from 87 days in the March quarter, suggesting tentative improvement.
Given Melbourne's dwelling values are experiencing a solid bounce, population growth remains strong amid falling construction rates, and the growing concerns over high-rise apartment faults, this should put a floor under Melbourne's house-and-land market.
Leith van Onselen is Chief Economist at the MB Fund and MB Super. Leith has previously worked at the Australian Treasury, Victorian Treasury and Goldman Sachs.
Latest posts by Leith van Onselen (see all)