Official data shows that Australia's gross expenditure on research and development fell to 1.79% of GDP in 2017-18, down from 1.88% in 2015-16. This compares with an OECD average of 2.37% for developed nations. Business expenditure on R&D fell from one per cent of GDP to 0.9% over the two-year period, while the OECD average was 1.49%. Universities Australia Catriona Jackson has warned of the economic implications of the decline in R&D spending. From The Australian:
According to universities, [Australia's R&D spending] is a "worrying portent for Australia's future economic growth".

"We know today's investments in research and development breakthroughs will determine the size of future dividends paid back into Australia's economy and living standards," Universities Australia chief executive Catriona Jackson said…

Go8 chief executive Vicki Thomson said it made no sense because investment in quality research was shown by evidence to have positive economic effects.

Total R&D expenditure is at its lowest level since 2005-06 and business R&D expenditure is lower than at any time since 2002-03.

"Governments ignore this at their peril," Ms Thomson said.
The collapse in R&D spending is hardly surprising given the death of manufacturing, most notably the car industry. R&D, after all, was a linchpin of the Australian automotive sector and provided important spillovers to other industries.
Budget cuts to organisations like the CSIRO have also contributed to the R&D demise. Indeed, last year it was revealed that federal government funding for science, research and innovation had been cut by 8% ($800 million), from $10.4 billion in 2017-18 to $9.6 billion in 2018-19: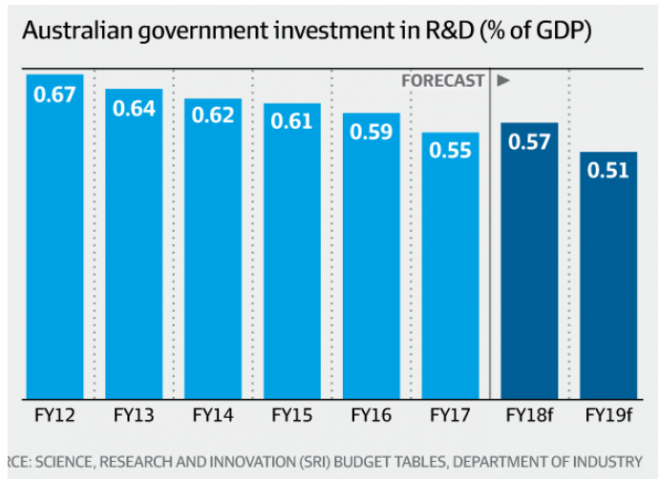 Let's also not forget that Australia's mass immigration 'Big Australia' policy force-feeds the economy with hundreds-of-thousands of new consumers and workers each year, thereby actively discouraging businesses from pursuing 'smart' productivity-driven growth.
Seriously, why would businesses bother to invest to boost their productivity and margins when they know full well that they can lazily grow their revenues and profits simply through quantity-based rapid population growth?
In short, entrepreneurship, innovation and productivity will remain stillborn as long as Australia's ponzi economic model of 'dumb growth' persists.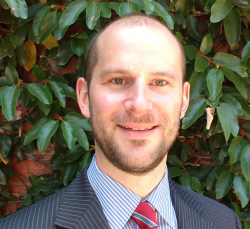 Latest posts by Leith van Onselen
(see all)