The latest student visa data from the Department of Home Affairs revealed that the number of temporary graduate (485) visa applications lodged surged to a record high 68,917 in the year to June 2019: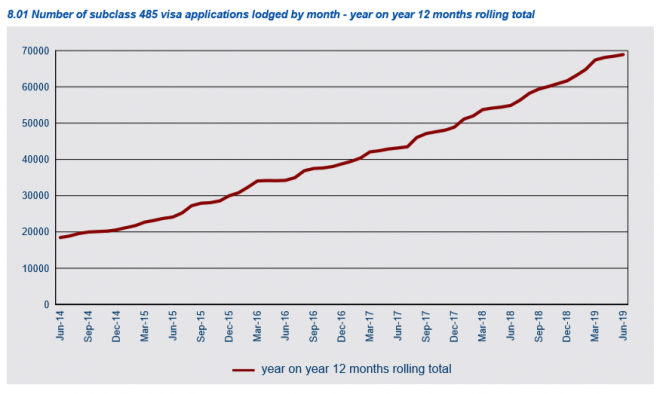 This surge has been driven by post-study work visas: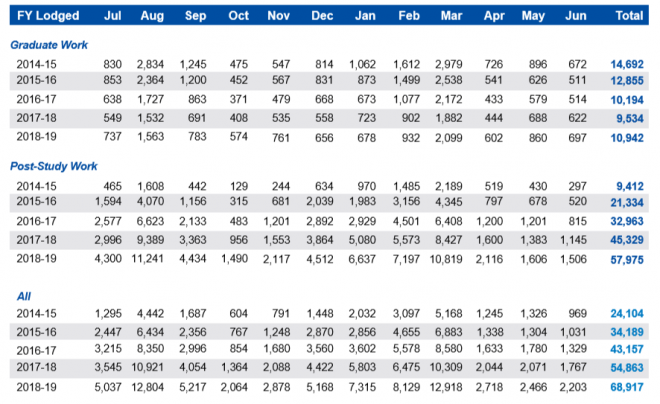 With Indians leading the applications lodged: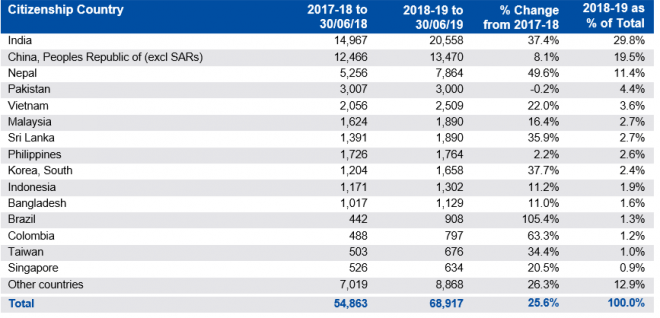 Graduate (485) visas are considered one of the most attractive of their kind in the world because they provide full work rights to international students and allow them to remain in Australia for 2 to 4 years following their studies.
They are also treasured by international students because they are widely perceived as a pathway to permanent residency.
Following a strategic review of the student visa program in 2011 ('the Knight review'), the Gillard Government liberalised graduate (485) visas in 2013. Specifically, 485 visa holders were excluded from needing to meet the Australian standard for an occupation on the Skilled Occupation List. They were also permitted to remain in Australia for between two and four years post study, rather than the previous 18 months.
The Knight review was strongly in favour of expanding post study work rights because of the significant benefits to Australian universities and Australian employers. That is, following these changes, international students would be more likely to choose to study in Australia because of more favourable visa arrangements.
Peter Mares explains:
Knight stated plainly that an expanded work visa was essential to "the ongoing viability of our universities in an increasingly competitive global market for students." Vice-chancellors also made the connection explicit. At the time, Glenn Withers, chief executive of Universities Australia, said that Knight's "breakthrough" proposal was as good as or better than the work rights on offer in Canada and the United States.
As usual, the deleterious impact on Australia's labour market from the expansion of graduate (485) visas was glossed over by the Knight Review.
While the Review did acknowledge that international graduates could find work in low-level jobs unrelated to their studies, it claimed that wages and other benefits would compare favourably against their home countries. Moreover, the Review ignored the deleterious impacts on local graduates, who would suffer from increased competition for jobs and lower wages.
Again, unlike temporary skilled shortage (TSS) visas, holders of graduate (485) visas are not required to be qualified for any of the jobs on the Skilled Occupation List. They do not need a firm offer of work from an employer. They are not required to be paid a minimum salary. Nor must they find a job related to their qualifications or require a certain level of skill.
Basically, 485 visa holders may work or study in any job, for any employer. And their visa remains valid even if they cannot find a job.
The explosion in graduate (485) visas, therefore, represents a positive labour supply shock that has lowered the bargaining power of younger Australians and local graduates, in turn placing downward pressure on wages.
But that is not the end of the story. As we already know, there were 690,000 international students enrolled in Australia's tertiary institutions as at June 2019: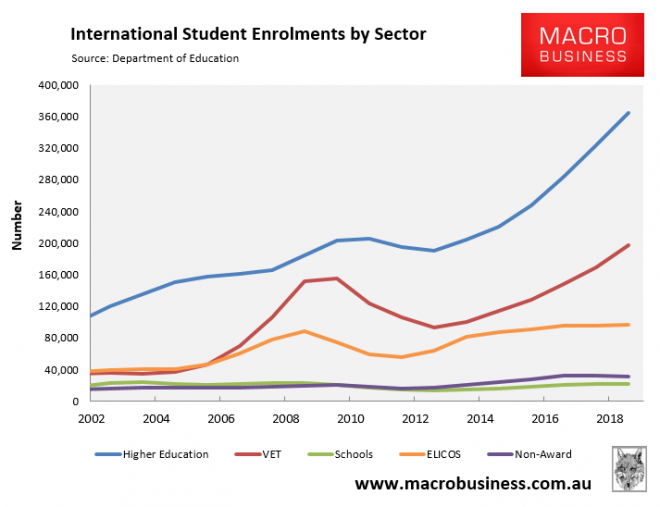 These students are permitted to work 20 hours per week, and some work more hours illegally.
As noted recently by the Grattan Institute, the flood of international students is also placing downward pressure on Australian wages, especially for those aged 20-34:
Of those temporary visa holders who do work, most (59 per cent) are in low-skill occupations. Of those with student and working holiday visas who work, even more (about 75 per cent) are in low-skill occupations…

Low-skill migrants might also put downward pressure on wages (if accurately measured). The measured wages of those aged 20 to 34 have not risen as fast as the wages of older workers for some time (Figure 7)…

Australia is now running a predominantly low-skill migration system. People from this system form a material proportion of the younger workforce. Because of visa conditions, many of these migrants have incentives to work for less than minimum wages, and there is anecdotal evidence that many do. It is impossible for data sources on the Australian labour force to pick up all of this phenomenon. It is possible that the scale of this influx to the labour market is depressing wages and increasing under-employment specifically for low-skill younger workers.
The biggest beneficiaries from this system are Australia's universities, which profit from the increased tuition fees, alongside employers, which benefit from lower wage costs.
The biggest losers are younger Australians, who are facing greater competition for entry-level and graduate jobs, lower wages, as well as greater competition for housing.
It is time to tighten the visa system up. Otherwise, wage growth will never recover.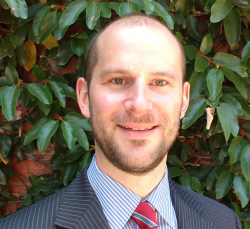 Latest posts by Leith van Onselen
(see all)