Higher education providers are panicking over the purported "substantial downturn" in international student enrolments across Western Australian colleges and universities:
Perth-based colleges and universities are reporting a substantial downturn in students opting to come to the state, with TAFE enrolments down nearly 60 per cent on 2015 and WA's intake of foreign fee-paying students dropping from 11 per cent of total market share to only 5 per cent.

Experts say the problem lies in the state's ineligibility to offer a new range of incentives under proposed changes to immigration and population policy changes, announced in March by Prime Minister Scott Morrison and due to be rolled out in November…

Study Perth chief executive Phil Payne said WA's education industry suffered its first blow in 2017 when the Labor government asked the commonwealth to remove the state from the Regional Sponsored Migration Scheme, upholding an election promise to protect jobs for local workers.

The removal of regional status denied foreign students access to five extra visa points that could be claimed for studying in a regional area.

Perth was trailing other states in its international student intake, Mr Payne said. "This commonwealth measure gives a further disincentive to choose Perth and puts it at a further competitive disadvantage," he said…

Principal of English language training college Phoenix Academy Robynne Walsh said she has slashed staff numbers by 20 per cent. She warned that enrolments in pre-university and language tuition would decline further unless realistic incentives were offered to students to remain in Perth post-study.

"This state is no longer attractive to international students," she said. "Studying in a region that provides a possibility of a migration pathway provides a great 'buy before you try' opportunity."
The last paragraph sums up the issue: international education is effectively an immigration scam, whereby students gain backdoor access to permanent residency for enrolling in courses, often of dubious value.
The latest enrolment data from the Department of Education also debunks the suggestion that Western Australian international students enrolments are suffering a "substantial downturn".
As shown in the next chart, there was an equal record high 39,400 international students studying in Western Australia as at June 2019: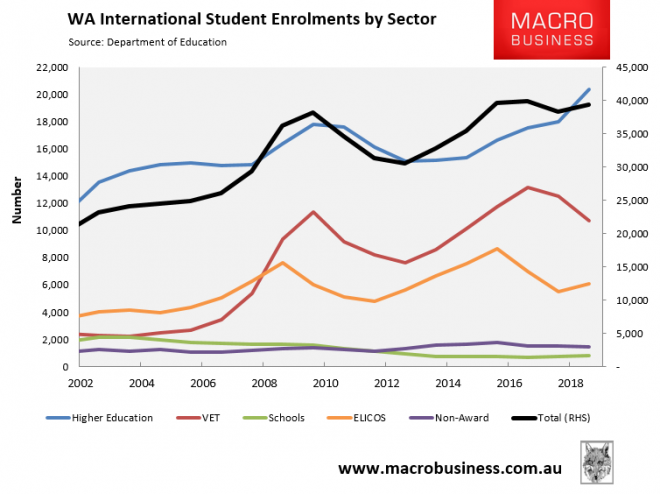 While TAFE enrolments have indeed been falling, this has been more than offset by higher education (university) enrolments, which hit a record high 20,400 as at June 2019.
Regardless, the panic over falling international student enrolments is fake and represents an attempt by industry rent-seekers to thwart the federal government's attempt to rightfully remove Perth from its regional migration list.
Perth is Australia's fourth largest capital city, not a regional city, therefore should never have been included on this list in the first place.
Sadly, the higher education rent-seekers appear to have the ear of the McGowan Western Australian Government, which last year sought to expand the skilled migration list to entice more international students into the state:
Premier Mark McGowan said the government would focus on marketing WA as an "international education destination" while adding dozens of jobs to the skilled migration list to allow more foreign students with degrees to stay in WA…

"Our new strategy sends a message to the world we are open for business as a world-class international education destination," Mr McGowan said. "We welcome international students, their families and friends…

Graduates must study in WA for two years to be eligible for the migration scheme…
However, independent Western Australian MP, Charles Smith, has pushed back, yesterday demanding that international student numbers be curbed:
"I urge the Federal Government to consider scrapping the regional study scheme, designed to lure international students to regional areas to help reduce population pressures in our major cities.

"Additionally, unemployment is huge at 6.8 per cent and wage growth is stagnant; it is clear the system cannot handle any more people which the Labor Government often dismiss as they continually cry skills shortages to legitimise the importing of cheap foreign workers," said Mr Smith.

According to the Independent MP, while importing extra students negatively affects wages and exacerbates unemployment, foreign students have also caused academic standards to plummet and universities dismiss intellectual ability in order to secure profits.

"WA Labor need to prioritise WA locals instead of pandering to the needs of universities who need to stop being back-door migration factories and stop selling degrees while destroying educational standards".
Charles Smith is correct. Perth's Murdoch University was criticised heavily in May's Four Corners report for achieving a 92% surge in international students numbers between 2017 and 2018. This explosion in student numbers was achieved by slashing English language standards and "dumbing down" courses in the pursuit of profit, leading to widespread plagiarism, academic misconduct, and high failure rates among international students.
Shortly after Four Corners' report aired, domestic students from Murdoch University confirmed "some international students were trying to circumvent the language gap by plagiarising their assignments or contracting outside sources for help".
Given the myriad of problems at Murdoch University, which have been replicated elsewhere, international student numbers should be cut from current levels, not lifted.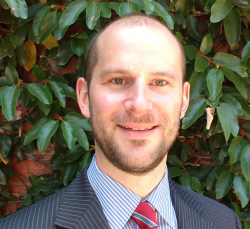 Latest posts by Unconventional Economist
(see all)