Water Minister, David Littleproud, has hypocritically attacked Australia's states for failing to build enough dams to provide for Australia's ballooning population:
The federal government has sounded a warning about falling water security, saying the states have failed to match water storage with population growth over the past two decades.

At the current rates, water storage per person in NSW, Victoria and Queensland will fall by more than 30 per cent by 2030, Water Minister David Littleproud says in a statement on Tuesday.

"The states have been responsible for urban water since Federation and should be taking the lead. They're just not keeping up with their growing populations"…

"If NSW, Queensland and Victoria don't start building dams, their water storage capacity will fall by more than 30 per cent by 2030."
This is hilarious stuff, given it is the federal government that has chosen the 'Big Australia' mass immigration policy, which has driven a 6.5 million (35%) increase in Australia's population over the past 20 years: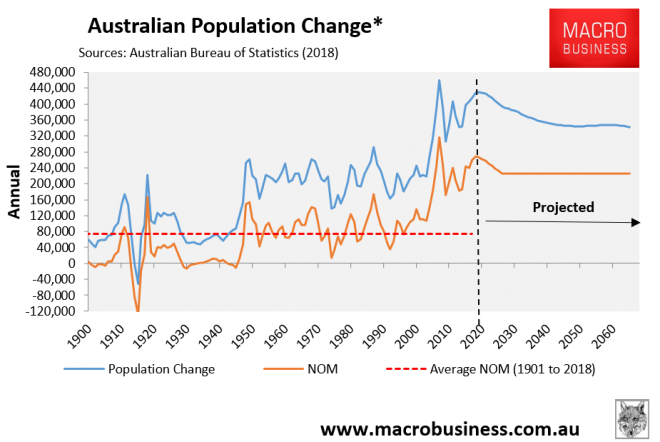 That's a heck of a lot of extra mouths to hydrate.
Moreover, water demand will increase inexorably as Australia's population grows to a projected 43 million over the next 48 years, driven almost entirely by mass immigration: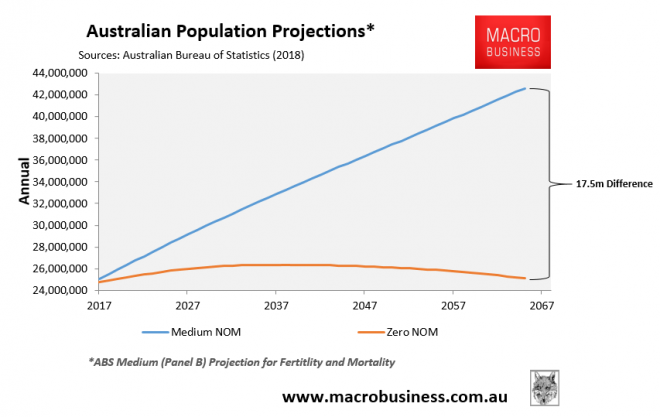 Without positive net overseas migration (NOM), Australia's population would barely grow and there would be 17.5 million fewer mouths to hydrate in 2066.
The federal government can bang on all it likes about boosting water supplies, but the fact of the matter is that it is the one that has stupidly decided to throw open Australia's borders and import many millions of extra water consumers.
Deep water restrictions, desalination plants, and higher water costs will be the inevitable outcome from this policy lunacy.
Leith van Onselen is Chief Economist at the MB Fund and MB Super. Leith has previously worked at the Australian Treasury, Victorian Treasury and Goldman Sachs.
Latest posts by Leith van Onselen (see all)