Friday's mortgage credit data from the Reserve Bank of Australia (RBA) revealed record low mortgage growth on both a quarterly and annual basis (see below charts).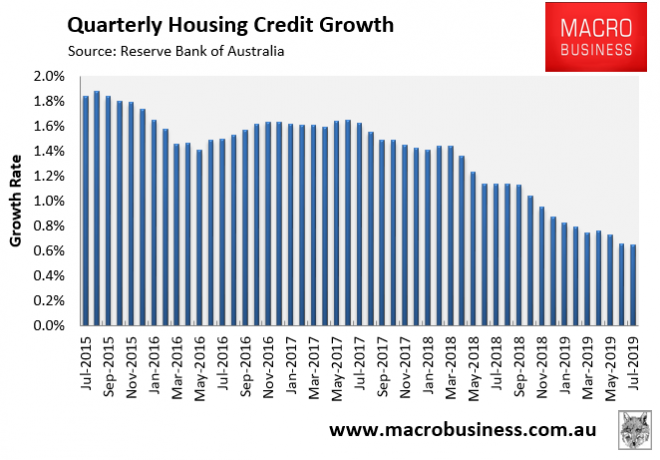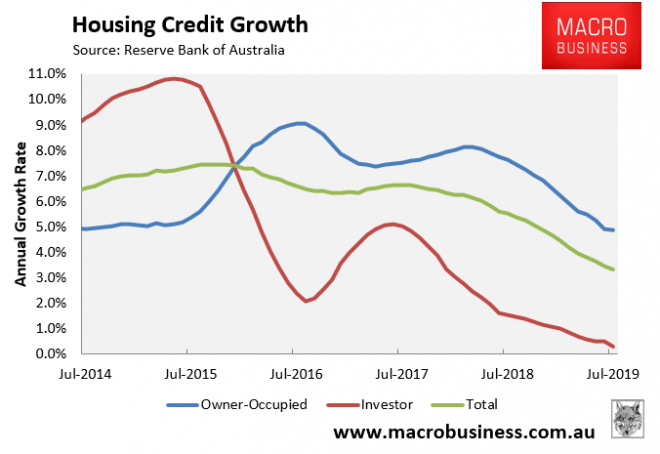 Following this post, several readers questioned how house prices can reportedly be rising when mortgage growth is crashing. Below is a sample of these comments:
AngryMan

How can house prices be booming if mortgage growth is declining. Seriously wtf is going on…

Arrow2

The serious question is whether these figures are a leading or lagging indicator.

Could be that they are leading – ie the current New Price Boom ™ is happening off very low volumes and there is no credit growth behind it to sustain it.

Or lagging – interest rate cuts and APRA loosening means these lending figures are about to go berko into Aug and Sept…

Even Steven

It would be good if MB can provide some analysis or comment on what is going on between the disconnect in mortgage growth (doldrums) and house prices (rocketing).

I think other posters on this thread have it right – it's a distorted bounce in price based on low volumes but would be nice to have some data to support that.
The below chart plots mortgage credit growth against CoreLogic's daily index and does show a huge disconnect: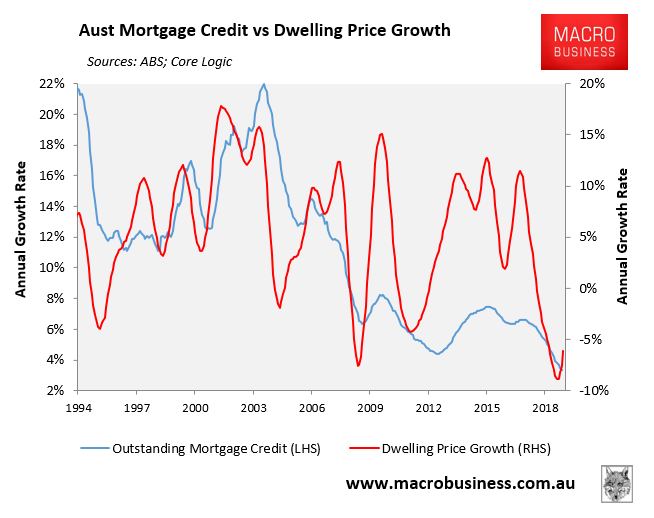 That said, the correlation between mortgage credit growth and house prices, while positive, is actually quite weak.
The reason why the correlation with mortgage credit is weak is because it measures two primary things: 1) the addition to the mortgage stock from new mortgages taken out by borrowers (increases the stock of debt outstanding); and 2) the repayment of mortgage debt by existing borrowers (reduces mortgage debt).
Only the first point – new mortgages created – actually impacts house prices. The second – mortgage repayments by existing borrowers – does not reflect new housing demand and does not impact prices.
Indeed, when interest rates are at record lows – as they are currently – we are likely to see mortgage repayments rise, which lowers mortgage credit growth, but doesn't actually impact house prices. Similarly, many investors have been forced to switch from interest-only mortgages to principal and interest, meaning they are now lowering the stock of mortgage debt outstanding (other things equal) without adding to housing demand.
For this reason, MB prefers to look at the value of housing finance commitments (excluding refinancings), which only measures new mortgages and leaves out the noise generated by repayments: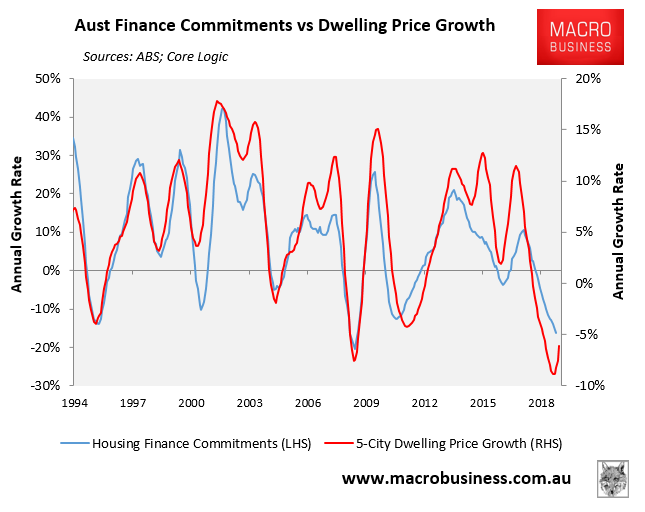 As you can see, the correlation between housing finance and house prices has historically very strong, but it too shows a disconnect currently.
I put this disconnect down to two possible factors: 1) the housing finance data is only current to June and might be a lagging indicator; and 2) the volume of sales has collapsed, meaning that mortgage credit is being funnelled into fewer properties, causing prices to rise off thin volumes.
Regarding the second point, both sales volumes and auction clearances have collapsed: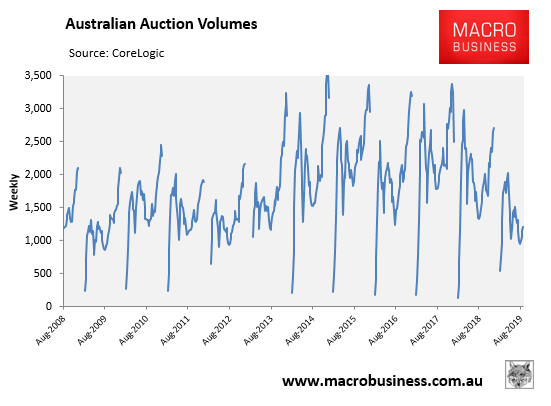 Accordingly, dwelling values are rising, but the thin volumes are masking underlying softness.
We'll have to monitor the situation over coming months to ascertain whether the housing recovery is likely to be maintained.
Latest posts by Leith van Onselen (see all)