The Australian's Adam Creighton penned a thought-provoking article yesterday, whereby he described Australia's "wide-scale immigration from poorer countries" both "low-skilled" and "lazy" policy:
Why worry about how to "engage" with Asia when we were becoming an Asian country?…

By 2023, the Chinese-born population of Australia — which grew by half to 650,000 across the five years to last year (more than eight times faster than overall population) — will likely exceed those born in England.

Last year, our Indian-born population, which grew even faster (nine times population growth) to 590,000, overtook the number of New Zealanders…

Meanwhile, the number of Brazilian-born residents is up 130 per cent to 46,500 in five years and the number of Nigerians has risen 95 per cent to 12,500. Migration from North Africa and the Middle East, especially Syria, Iraq and ­Afghanistan, has surged too, up 22 per cent to 469,000…

For these migrants from developing counties, coming to Australia can be a boon… For lower-skilled natives, improved cuisine notwithstanding, it may not be so beneficial…

The smaller number of hardworking, studious Asians who came to dominate the professions, especially medicine, are giving way to vastly greater numbers of temporary student migrants vying for low-skill jobs. The number of foreigners on student or post-­student work visas has exploded from 365,000 in 558,000, in just four years to June last year.

Despite all the rhetoric about skills and targeted occupation lists, our migrants are increasingly in low-skilled work, whatever their visa might say.

"Of the one million temporary visa holders — a number that's almost doubled since 2007 — almost 60 per cent of the 600,000 who are in work are in low-skill occupations," Grattan Institute chief executive John Daley says. "Everyone thinks we're running a high-skill migration program, but it's low-skilled in reality," he adds.

Remarkably, 24 per cent of workers with temporary skilled visas are in low-skilled occu­pations, he finds…

Overseeing wide-scale immigration from poorer countries is a lazy achievement. In 1980, Lee Kuan Yew, Singapore's longstanding leader, quipped that Australia would become the poor white trash of Asia. He was wrong, but he could end up being half right if we continue to depend on massive, lower-skilled immigration from Asia to paper over our economic problems.
Various academics have raised similar concerns about Australia's visa system becoming increasingly low-skilled and deleterious for Australian workers.
For example, Chris Wright and Stephen Clibborn from the University of Sydney published the following last year in a report entitled Back Door, Side Door or Front Door? An Emerging De-Facto Low-Skilled Immigration Policy in Australia:
Our analysis identifies that the gradual opening of 'side door' visa schemes that fall outside of the formal scope of official skilled immigration policy, such as student and working holiday visas, and the growing number of 'back door' unauthorized migrants without any right to work, have allowed some employers in certain sectors to develop a reliance on large migrant workforces engaged to perform low-skilled, low-paid occupations…
Iain Campbell noted likewise in the recent book, Wage Crisis in Australia:
This chapter argues that the expansion of temporary labour migration is a significant development in Australia and that it has implications for wage stagnation…

Three main facts about their presence in Australia are relevant to the discussion of wage stagnation. First, there are large numbers of TMWs in Australia, currently around 1.2 million persons. Second, those numbers have increased strongly over the past 15 years. Third, when employed, many TMWs are subject to exploitation, including wage payments that fall below — sometimes well below — the minimum levels specified in employment regulation…

Official stock data indicate that the visa programmes for international students, temporary skilled workers and working holiday makers have tripled in numbers since the late 1990s… In all, the total number of TMWs in Australia is around 1.2 million persons… TMWs now make up around 6% of the total Australian workforce…

Most international students and temporary skilled workers, together with many working holiday makers, see themselves as involved in a project of 'staggered' or 'multi-step' migration, whereby they hope to leap from their present status into a more long-term visa status, ideally permanent residency…

Though standard accounts describe Australian immigration as oriented to skilled labour, this characterisation stands at odds with the abundant evidence on expanding temporary migration and the character of TMW jobs. It is true that many TMWs, like their counterparts in the permanent stream, are highly qualified and in this sense skilled. However, the fact that their work is primarily in lower-skilled jobs suggests that it is more accurate, as several scholars point out, to speak of a shift in Australia towards a de facto low-skilled migration programme…

Increases in labour supply allow employers in sectors already oriented to flexible and low-wage employment, such as horticulture and food services, to sustain and extend strategies of labour cost minimisation…
So too has the Grattan Institute:
The FWO investigation of horticulture and viticulture businesses along the Harvest Trail found serious underpayment at 130 of the 836 businesses investigated. And a series of other FWO investigations suggest that underpaying of low-skill migrant workers is widespread…

Australia is now running a predominantly low-skill migration system…. Because of visa conditions, many of these migrants have incentives to work for less than minimum wages, and there is anecdotal evidence that many do… It is possible that the scale of this influx to the labour market is depressing wages and increasing under-employment specifically for low-skill younger workers.
Even the ACTU acknowledges the problem:
The relatively recent availability of a large and vulnerable pool of temporary migrant workers has undoubtedly contributed to current record low levels of wages growth and a growing reluctance by employers to train local workers…

While there are approximately 1.5 million temporary entrants with work rights, the overseas worker team at the Fair Work Ombudsman consists of only 17 full time inspectors to investigate cases of exploitation – over 80,000 visa workers per inspector. Inadequate enforcement and penalties act as an incentive for employers to exploit temporary workers when the benefit from doing so outweighs the cost of the penalty. or where the probability of being caught is sufficiently low….

Migration intermediaries have a vested interest in inflating demand. Australia has created a massive industry with many migration agents outside of our jurisdiction who cannot be prosecuted for breaches. This mushrooming "migration industry"- a complex and transnational web of agents, lawyers, labour recruiters, accommodation brokers and loan sharks – is currently largely unregulated.

The growth of labour hire operators alongside the migration industry has led to companies seeking to sell temporary migrant workers to employers, creating a fake "Job Network" which preferences temporary workers over Australians.
The evidence is overwhelming, and yet the tsunami of temporary migrants into Australia has continued unabated and hit another record high in trend terms in June 2019: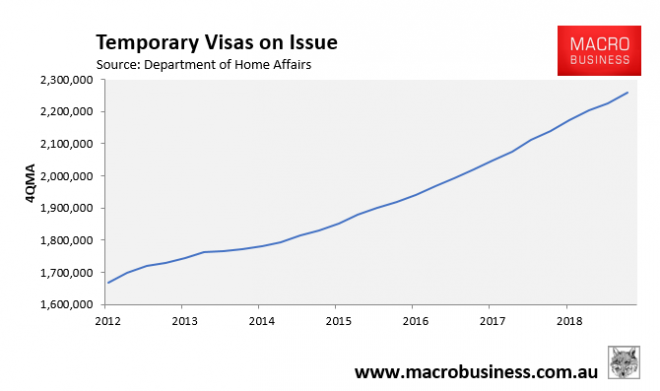 Wage theft and Australia's stubbornly low wage growth will not improve until the visa tap is turned-off.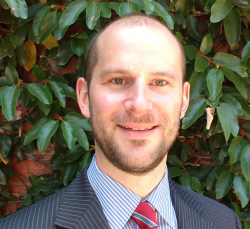 Latest posts by Leith van Onselen
(see all)