The June quarter international student enrolment data, released by the Department of Education, revealed a slowdown in enrolments from China: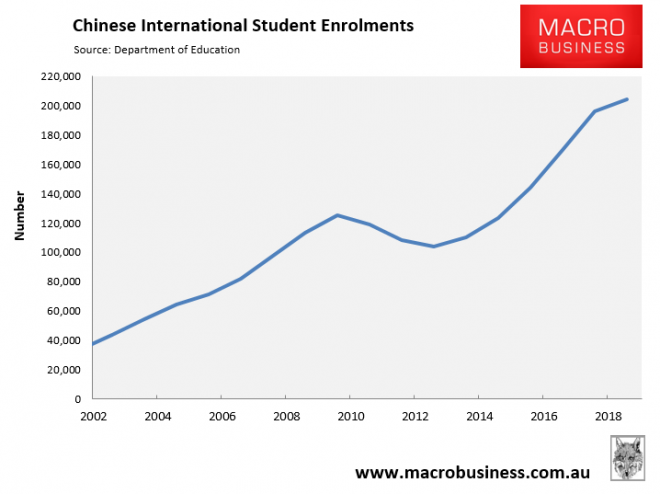 Chinese international student enrolments increased by only 8,400 (4.3%) in 2018-19, a sharp slowdown from the 25,700 (15.1%) increase recorded in 2017-18.
As shown in the next chart, the slowdown in Chinese international student enrolments was driven by schools (-9.4%), ELICOS (-7.9%) and Non-Award (-7.4%), which each recorded falling enrolments in 2018-19. However, these falls were more than offset by ongoing rises across Higher Education (universities) and Vocational Education & Training, which recorded increases in enrolments of 8.6% and 12.6% respectively in 2018-19.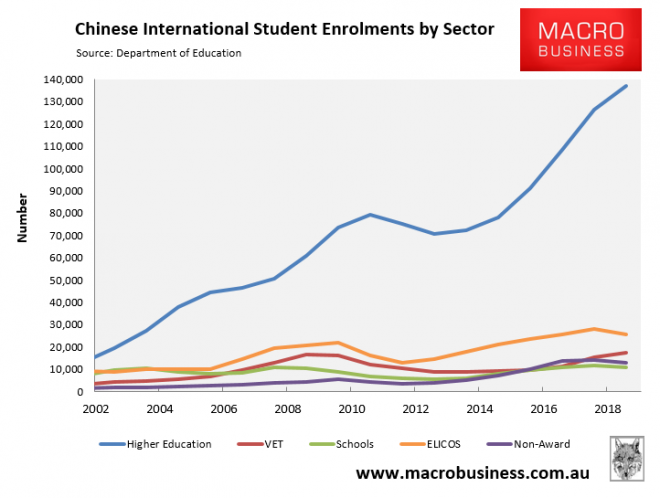 While the Department of Education's enrolment data shows that Chinese international student numbers have increased to record highs, the Department of Home Affairs' student visa data recorded falling applications from China for the second consecutive half.
As shown in the next table, visa applications granted to Chinese students fell by 3.3% in the second half of 2018 versus the same period in 2017: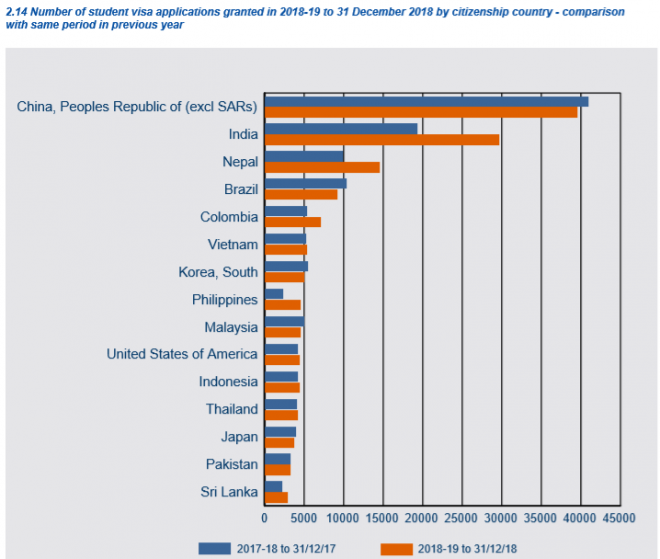 The falls continued in the first half of 2019, with visa applications granted to Chinese students falling a further 3.3% compared with the same period last year: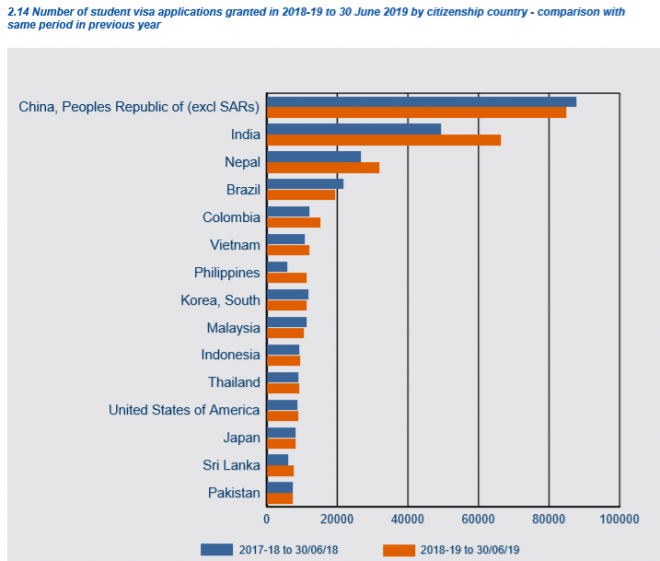 While the falling visa applications from Chinese students is yet to be captured by the enrolment data, it is a leading indicator that points to enrolment numbers peaking.
This view was echoed in Salvatore Babones' explosive paper, released last month by the Centre for Independent Studies (CIS), which noted that outbound Chinese student enrolments have slowed globally, which will soon impact upon Australia:
China has consistently been the world's largest source of international students for the last twenty years, with numbers increasing six-fold over this period. It thus comes as no surprise that the largest source of inbound international student numbers in Australia has been from China. However, global outbound Chinese student numbers have flatlined since 2016, with the rapid growth in Chinese enrolments in Australia slowing dramatically in 2018 and now levelling off. It therefore seems safe to say that Australian universities may have reached 'China max'.
Babones also noted that Australian universities' reliance on Chinese students is world-leading, raising significant risks to both university finances and standards:
International comparisons reveal the excessiveness of this China exposure. All seven have higher proportions of international and Chinese students than any university in the entire United States. Indeed, all seven appear to be more dependent on feepaying Chinese students than just about any other universities in the English-speaking world…

Australia's universities do not seem to understand the high levels of financial risk inherent in their overreliance on the Chinese market…

Approximately 10% of all students now attending an Australian university hail from China. More than 40% of all onshore international students (and almost certainly the majority of international student fee revenue) come from China…
When viewed alongside the growing concerns surrounding Chinese influence, a sharp contraction in Chinese international student numbers should be welcomed.
Leith van Onselen is Chief Economist at the MB Fund and MB Super. Leith has previously worked at the Australian Treasury, Victorian Treasury and Goldman Sachs.
Latest posts by Leith van Onselen (see all)