You have got to love the clowns at the business lobby, the Committee for Economic Development of Australia (CEDA), which continues to contradict itself on the 'benefits' arising from the "Big Australia" mass immigration policy.
In 2015, CEDA released a report estimating that in the next 10 to 15 years, more than five million jobs – almost 40% of the current Australian workforce – have a moderate to high likelihood of disappearing due to technological advancements. CEDA also called for governments to reconsider how we deal with reskilling workers as particular fields of employment disappear.
Shortly afterwards, CEDA released another report calling for Australia to increase its skilled immigration intake – a policy that would unambiguously increase labour supply and worsen any future labour glut arising from automation.
Clearly, CEDA could not see the inherent contradiction in demanding more skilled migrants at the same time as artificial intelligence and automation displaces huge swathes of Australia's workforce.
CEDA has obviously not learned from its past mistakes. This week it released 'analysis' contradictorily arguing that regional migration is bad, but at the same time, migration to Australia (that small region of the world) is amazing. CEDA also mentions displacement of locals in regional towns by migrants, but fails to mention the massive displacement and loss of amenity of locals in Sydney and Melbourne by extreme levels of immigration:
Despite widespread support for these policies, there is little evidence that moving migrants to regional areas is good for regional economies in the long the run. A study from researchers at Victoria University found that regional migration programs have some short-term economic benefits, but that these benefits peter out over the long term. This is because regional migration policies can have displacement effects and migrants who are drawn to regional areas by policy incentives only stay for short periods of time…

Online job vacancy data from the Department of Employment, Skills, Small and Family Business shows that there are approximately 45,000 jobs available in regional areas. However, only 37 per cent of these roles are in the professional and managerial fields that, according to the 2016 Australian Census and Migrants Integrated Dataset, employ over 70 per cent of Australia's skilled migrants…

Moving migrants to regional areas where there are not enough high-skilled roles will force them to remain unemployed or work in lower-skilled occupations. The cost of this skill mismatch is significant. According to a Deloitte study, skill mismatch costs the Queensland economy approximately $250 million…

Migration policy is often reluctant to acknowledge that migrants are usually best placed to make decisions regarding where their work will be most highly rewarded and where they will be most likely to make good lives for themselves and their families. Regardless, migrants make decisions about their careers and lifestyles based on any number of factors and migration policy should not needlessly limit their autonomy.
As you can see, CEDA notes that over 70% of 'skilled' migrants are employed "in the professional and managerial fields", but conveniently fails to acknowledge that skills shortages among professionals and managers are running at below historical averages, according to the Department of Jobs and Small Business: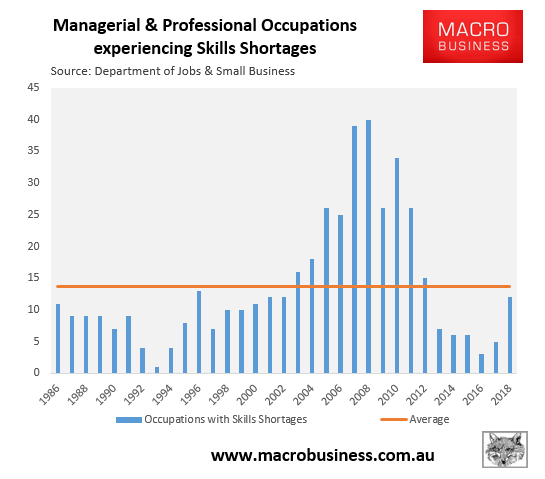 Nor has CEDA acknolwedged that 'skilled' migrants are actually paid less than the population average, thus inferring that a massive "skills mismatch" already exists under the current mass immigration policy.
That is, across all skilled visa categories, the median full-time salary 18 months after being granted a skilled visa was $72,000 in 2016, which was below the population average of $72,900 (which comprises both skilled and unskilled workers), according to the Department of Home Affairs.
So here we have more crazy inconsistent reasoning by this mob. But hey, CEDA is a big business lobby after all, so why should we expect otherwise?
Latest posts by Leith van Onselen (see all)