Another bogus report has emerged claiming that 60% of NSW businesses are experiencing "skills shortages":
THE NSW Business Chamber says its latest workforce skills survey has revealed a substantial increase in the number of jobs being left unfilled because of a lack of applicants skilled enough to undertake the work.

While the chamber says some measures have improved since the previous survey, the numbers of "skills shortage" vacancies have risen from 54,000 in 2017 to 82,000 this year, an increase of more than 50 per cent.

Statewide, more than 60 per cent of businesses had trouble recruiting suitably skilled staff, while one in five reported receiving no applications whatsoever for advertised jobs.

Complaints about schools and universities turning out students who are not "job ready" has been a perennial complaint from employers.
Question: How can we have chronic and systemic skills shortages when wage growth is running near historical lows? Shouldn't an undersupply of labour be driving up wages?
Moreover, if firms are having trouble finding suitable staff "job ready" staff with the right blend of skills and experience, this is likely because they are not offering high enough wages and/or are unprepared to provide training.
That said, there are definitely mis-matches in skills across the economy, with far too many people holding useless university qualifications and too few with trade skills.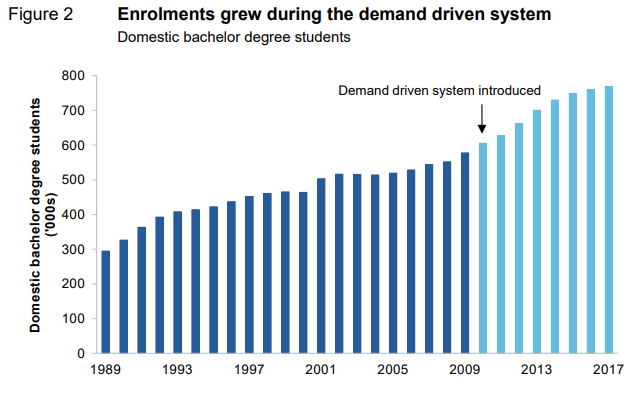 This is reflected in skills shortages for "managers and professionals" running near recessionary levels, according to the Department of Jobs and Small Business: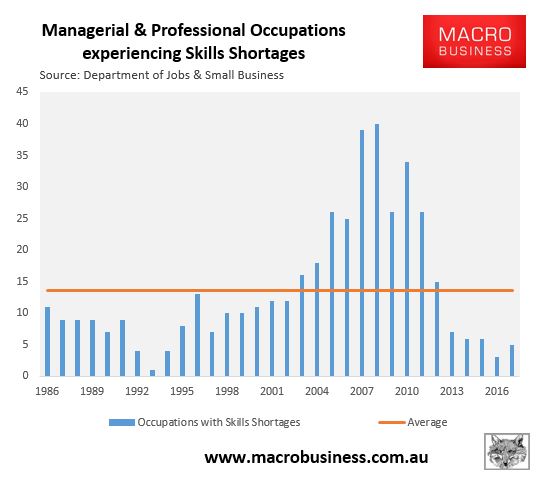 Whereas skills shortages for technicians and trades is running well above average levels: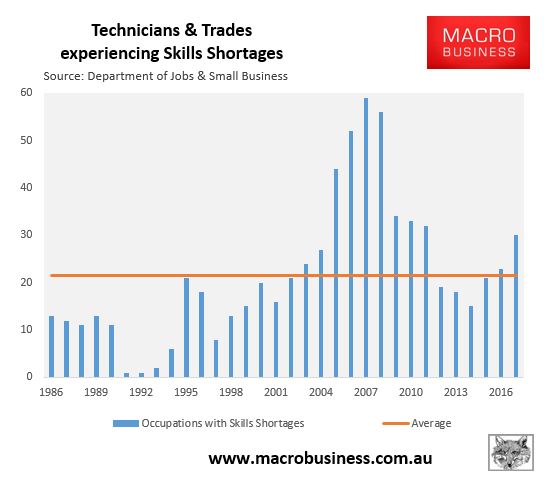 The situation is made worse by Australia's immigration system, with around three-quarters of 'skilled' migrants going to already oversupplied "managers and professionals" jobs.
The solutions are obvious. Instead of opening up the immigration floodgates even wider, Australia's governments must shift funding away from the oversupplied university sector towards publicly run TAFEs.
Businesses must also offer higher wages to attract talent, as well as provide training. They shouldn't expect to employ ready trained workers on the cheap.
Leith van Onselen is Chief Economist at the MB Fund and MB Super. Leith has previously worked at the Australian Treasury, Victorian Treasury and Goldman Sachs.
Latest posts by Leith van Onselen (see all)