Chinese international students are by far the biggest contributor to Australia's education export industry.
As at June 2019, there were 204,000 Chinese students enrolled in Australian educational institutions, comprising 29% of total international student enrolments.
The number of Chinese international students studying in Australia is also roughly double second placed India (104,000) and quadruple Nepal (52,000), as illustrated in the next chart: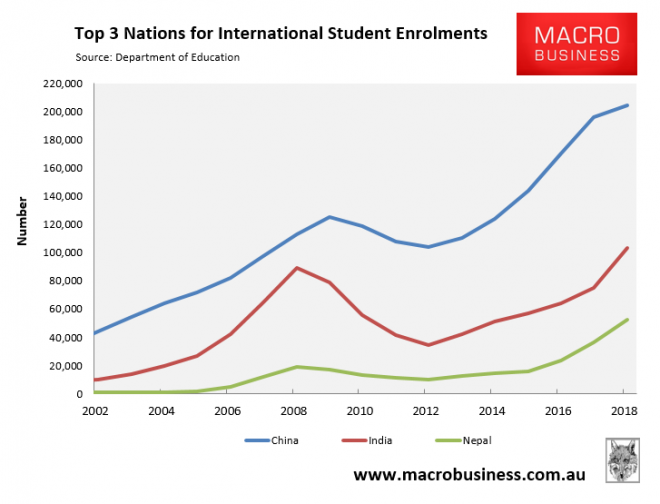 In terms of financial dependence, Australia's reliance on Chinese international students is even greater, accounting for 40% of Australia's $35 billion international student market in 2018, according to the Department of Education.
Late last month, the Centre for Independent Studies (CIS) sounded the alarm on this dependence, warning that a sharp pullback in Chinese student numbers could severely damage the finances of Australia's tertiary institutions:
International comparisons reveal the excessiveness of this China exposure. All seven [major universities] have higher proportions of international and Chinese students than any university in the entire United States. Indeed, all seven appear to be more dependent on feepaying Chinese students than just about any other universities in the English-speaking world.

Australia's universities do not seem to understand the high levels of financial risk inherent in their overreliance on the Chinese market…

Approximately 10% of all students now attending an Australian university hail from China…

Chinese enrolments are particularly unstable because of macroeconomic risk factors such as the slowing of China's economy, the lack of full convertibility of the Chinese yuan, and fluctuations in the value of the yuan versus the Australian dollar. Of the nine potential risk factors identified in this report that could adversely affect Chinese student numbers, macroeconomic risks are by far the most serious (from a financial perspective) because they could lead to a sudden and severe fall in Chinese enrolments.
On Monday, Alan Kohler joined the procession warning that the US-China trade war could lead to a sharp fall in Chinese international students, which would smash Australia's universities:
…the most significant threat is not to resources exports, which China needs, but to Australian education, which it doesn't…

There are currently more than 150,000 Chinese students in Australia… They could easily be accommodated in China's burgeoning universities.

One vice-chancellor told me last week that for his university the yield (profit margin) from domestic students was 22 per cent, whereas for international students he gets to keep 62 per cent to spend on infrastructure…

If Chinese students stopped coming because of Australia's alliance with the United States, there would be no fallback and the effect on university funding would be devastating.

…all [vice chancellors] are worried. They remember too clearly the 50 per cent drop in Indian students in 2009 caused by a small but high-profile spate of attacks on them as well as a change to visa policy.
Kohler is right. Unlike commodities, Australia has no genuine comparative advantage in education, other than offering residency, and China's students could easily be accommodated either domestically or within other developed nations.
As shown by the first chart above, Chinese student enrolments are already slowing, whereas official student visa data from the Department of Home Affairs recording a 3.3% fall in visa applications from China in the second half of 2018: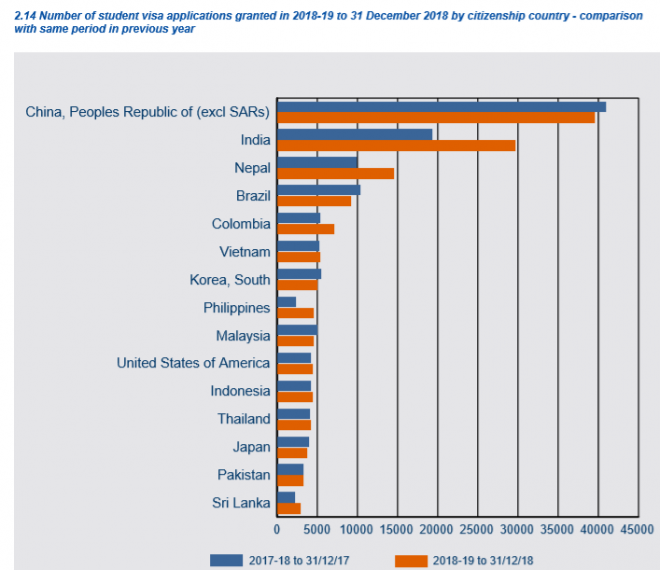 And China just choked capital flows to international students, via Nikkei:
As China allows the yuan to depreciate to a level not seen in 11 years, financial authorities have rolled out measures to stem capital outflows from the mainland.

The new rules include stricter oversight of banks in times of capital flight and restrictions on real estate developers' access to foreign currency bonds. If the financial system is judged to be on the brink on instability, the State Administration of Foreign Exchange, or SAFE, will declare the situation "abnormal."

Under that assessment level, banks will be evaluated on the amount of yuan wired offshore and the volume of foreign currency sold. If the levels stray too far from the national average, the bank's grade will diminish. Such lenders will then face limits on banking activities.

China is tolerating the softer yuan to ease the impact on domestic exporters during the prolonged U.S. trade war. But the government looks to avoid a repeat of 2015, when currency traders dumped the yuan after authorities lowered the reference rate.

…SAFE has also ordered lenders to request extra documentation before signing off on offshore remittances. If a parent wishes to pay school expenses for a student studying abroad, an acceptance letter must be presented. To transfer money for other reasons, documents such as a work permit must be furnished.

…"Wiring money overseas is not allowed for the purposes of purchasing real estate or insurance products," said a representative at a second-tier Chinese bank.
With more such controls ahead as the yuan falls.
Whether it comes by geopolitical fiat, or by the insurmountable laws of economics, Australia's tertiary institutions must ready themselves for the inevitable crash in Chinese international student enrolments.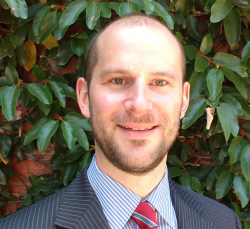 Latest posts by Unconventional Economist
(see all)