Over the past five years, Australia has experienced an unprecedented boom in international student enrolments, which hit an all-time high 712,000 as at June 2019: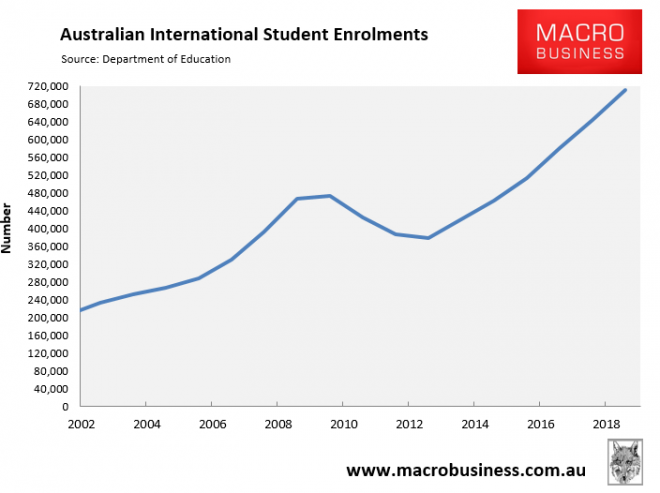 Moreover, Australia now has by far the highest concentration of international students in the developed world, with per capita enrolments roughly 2.5 times second-placed United Kingdom and three times third-placed Canada:

One of the main reasons why Australia has been able to attract so many international students is because it: 1) allows international students to work 20 hours per week in paid employment; and 2) it offers international students the most generous post-study work rights in the world, as well as a relatively easier opportunity to become permanent residents.
In 2013, Australia's graduate (485) visa was liberalised to give international graduates full work rights and allow them to remain in Australia for 2 to 4 years following their studies, without needing to have a job offer or work in an area deemed to be experiencing perceived 'skills shortages'.
The Knight review, which recommended these changes, claimed that international students would be more likely to choose to study in Australia because of more favourable visa arrangements. As explained by Peter Mares:
Knight stated plainly that an expanded work visa was essential to "the ongoing viability of our universities in an increasingly competitive global market for students." Vice-chancellors also made the connection explicit. At the time, Glenn Withers, chief executive of Universities Australia, said that Knight's "breakthrough" proposal was as good as or better than the work rights on offer in Canada and the United States.
The policy worked, with the number of graduate (485) visa holders exploding to record highs: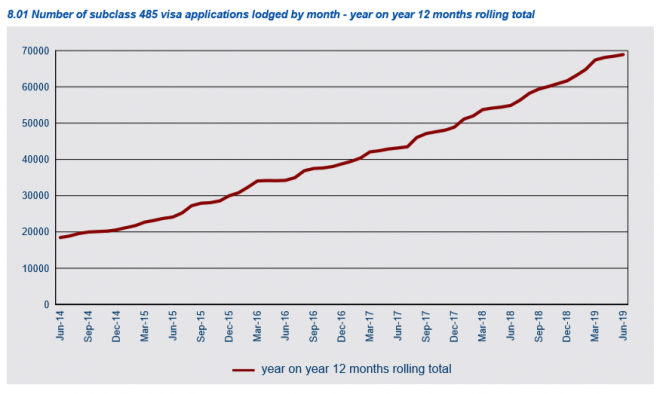 A recent survey by Deakin Univer­sity's Li Thi Tran found that many international students move to graduate (485) visas because they are seen as a key pathway to permanent residency:
In terms of the usefulness of the post-study work visa, around 62 per cent indicated that they agree/strongly agree that the visa was useful in providing them with a pathway to permanent residence…
Australia's dominance of the international student market will fade, however, with the United Kingdom last week following Australia's lead and announcing that it will extend post-study work rights to two years from four months currently:
International students are to be offered a two-year work visa after graduating from a British university…

Currently, graduates with bachelors or master's degrees are allowed to look for work for only four months. From next year all international graduates could qualify for a two-year period to work in the UK, increasing their chances of finding long-term employment after studying…

It is a return to the policy that was scrapped by the coalition government in 2012. May as home secretary said the two-year post-study work visa was "too generous". That move was blamed for a drop in international student enrolments…

The announcement was greeted with enthusiasm by Universities UK, which represents 130 institutions… Alistair Jarvis, the chief executive of Universities UK, said the previous visa regime put the UK at a "competitive disadvantage" in recruiting international students.
Canada, too, has taken steps to expand its presence overseas to attract more international students:
In 2000, federal numbers show there were 122,665 valid study permits in Canada — a number that hit 572,415 last year for an increase of 467 per cent. Numbers compiled by Universities Canada say full-time international student enrolment at universities rose by about 15 per cent across Canada between 2017 and 2018…

Denise Amyot, president and CEO of Colleges and Institutes Canada, said… immigration policy changes in Canada have helped it compete with other countries in attracting the world's increasingly mobile post-secondary students. The policies, she added, have sped up visa processing times, permitted foreign students to work in Canada while they study and improved a graduate's chance of obtaining permanent residency.
Ultimately, Australia has no natural competitive advantage in education. Rather, the key drawcard to choosing Australia is its easier pathway to permanent residency, as well as employment.
The Australian's Judith Sloan encapsulated this reality with the following statement:
To sell overpriced degrees to overseas students, it is necessary to be able to offer the byproduct of permanent residence for graduates. Any reduction in the immigration numbers would make that sell quite a bit harder. No doubt, there was a bit of wink-and-nod between the government and the vice-chancellors on this topic.
However, with rival countries like the United Kingdom and Canada competing harder for international students by loosening visa requirements, Australia's competitive advantage will soon evaporate.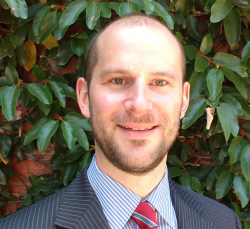 Latest posts by Leith van Onselen
(see all)