See the latest Australian dollar analysis here:
DXY took off last night as EUR sank. CNY was up too: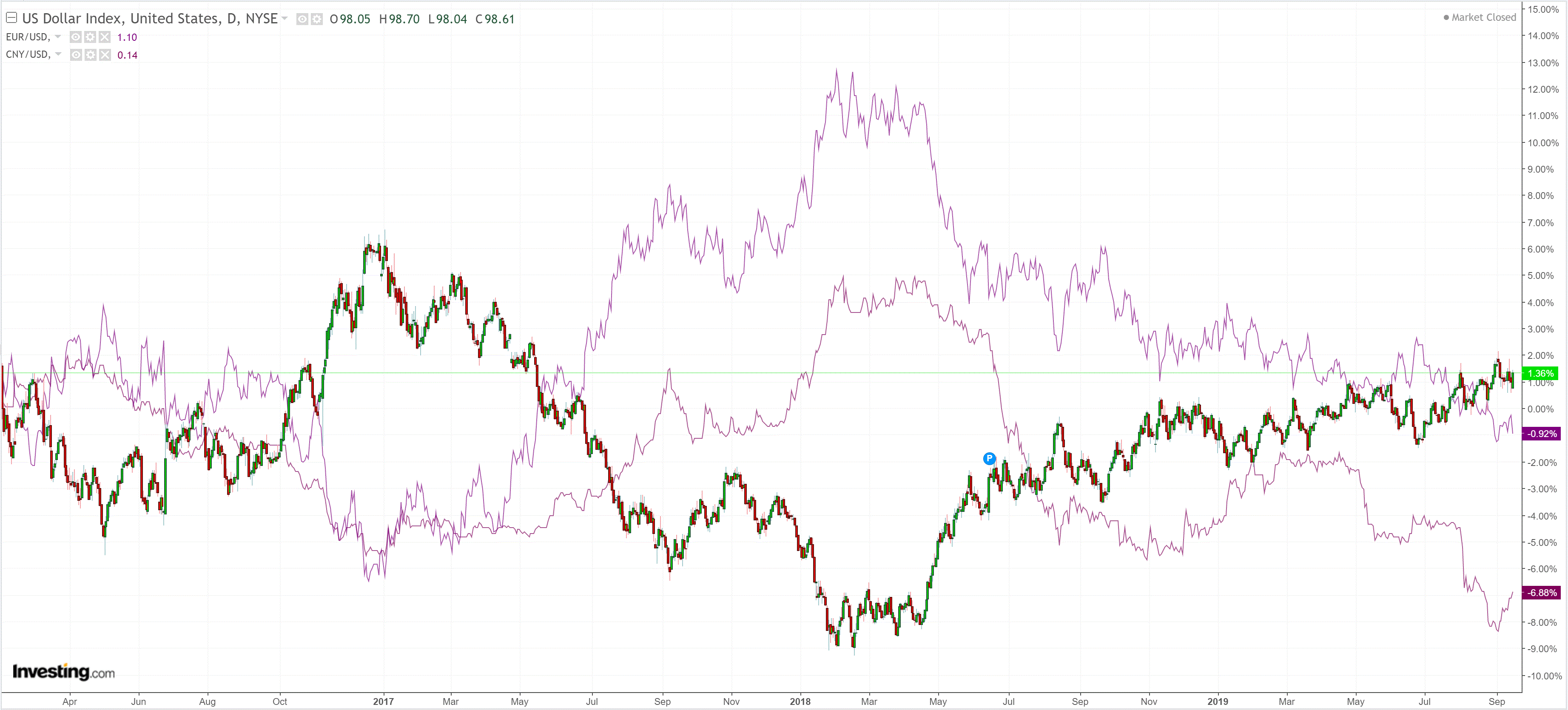 The Australian dollar fell against EMs: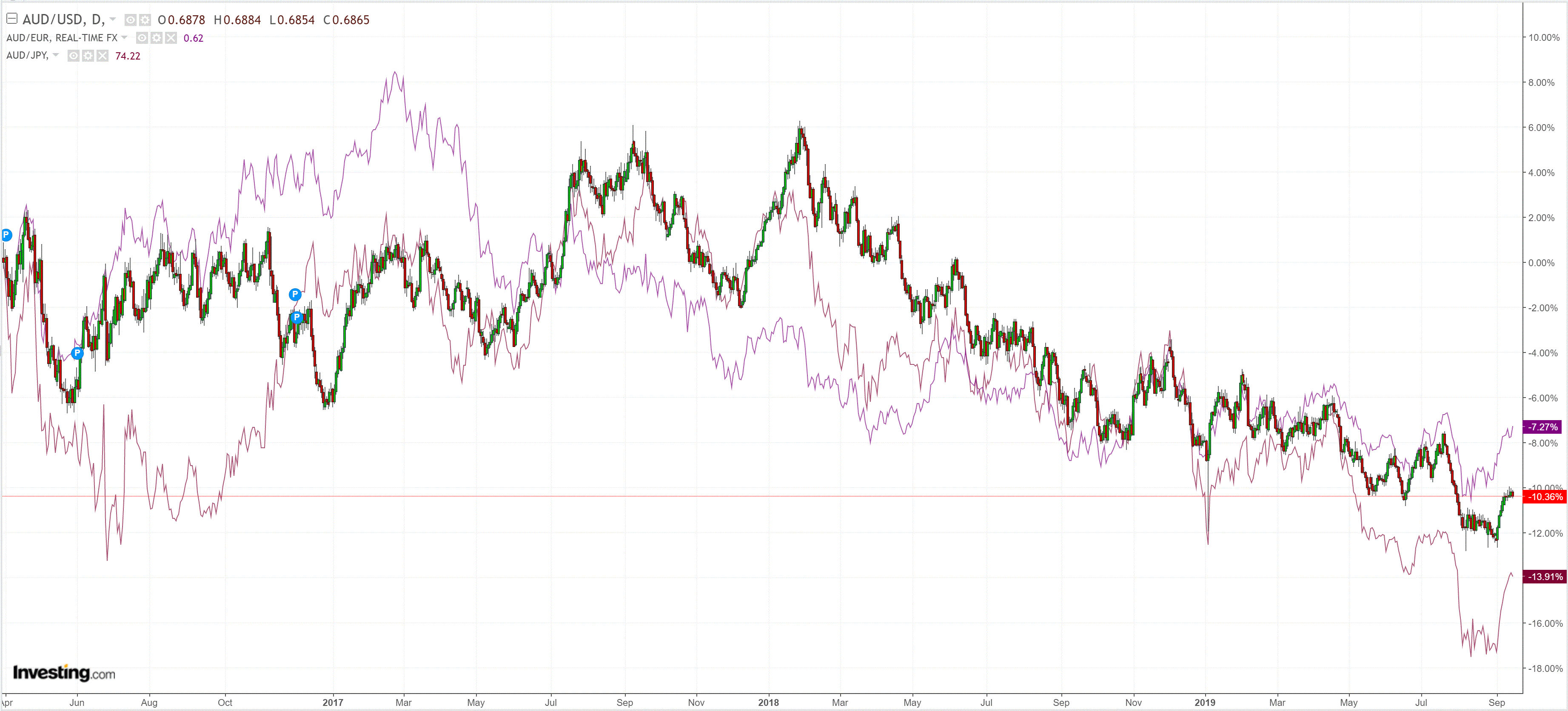 And EMs: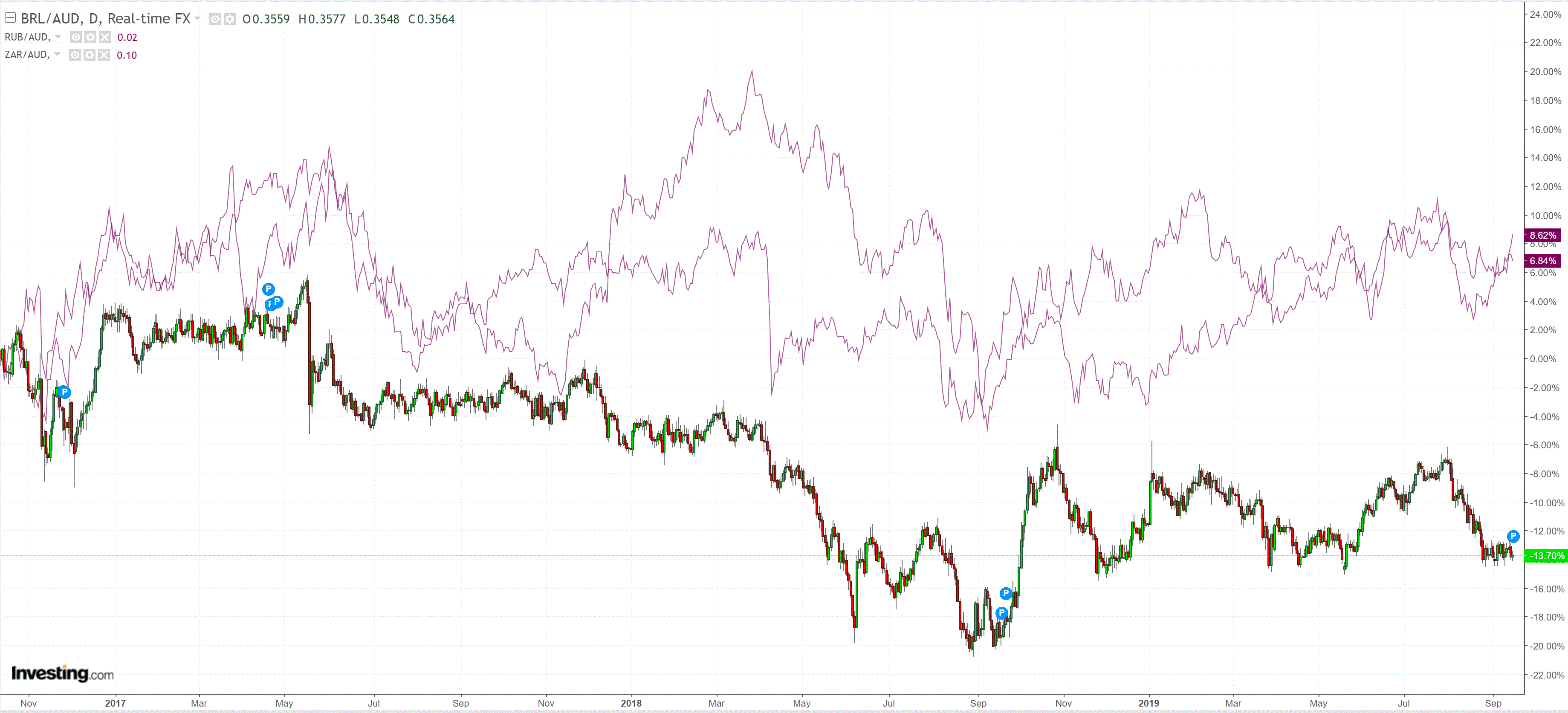 Gold was up modestly: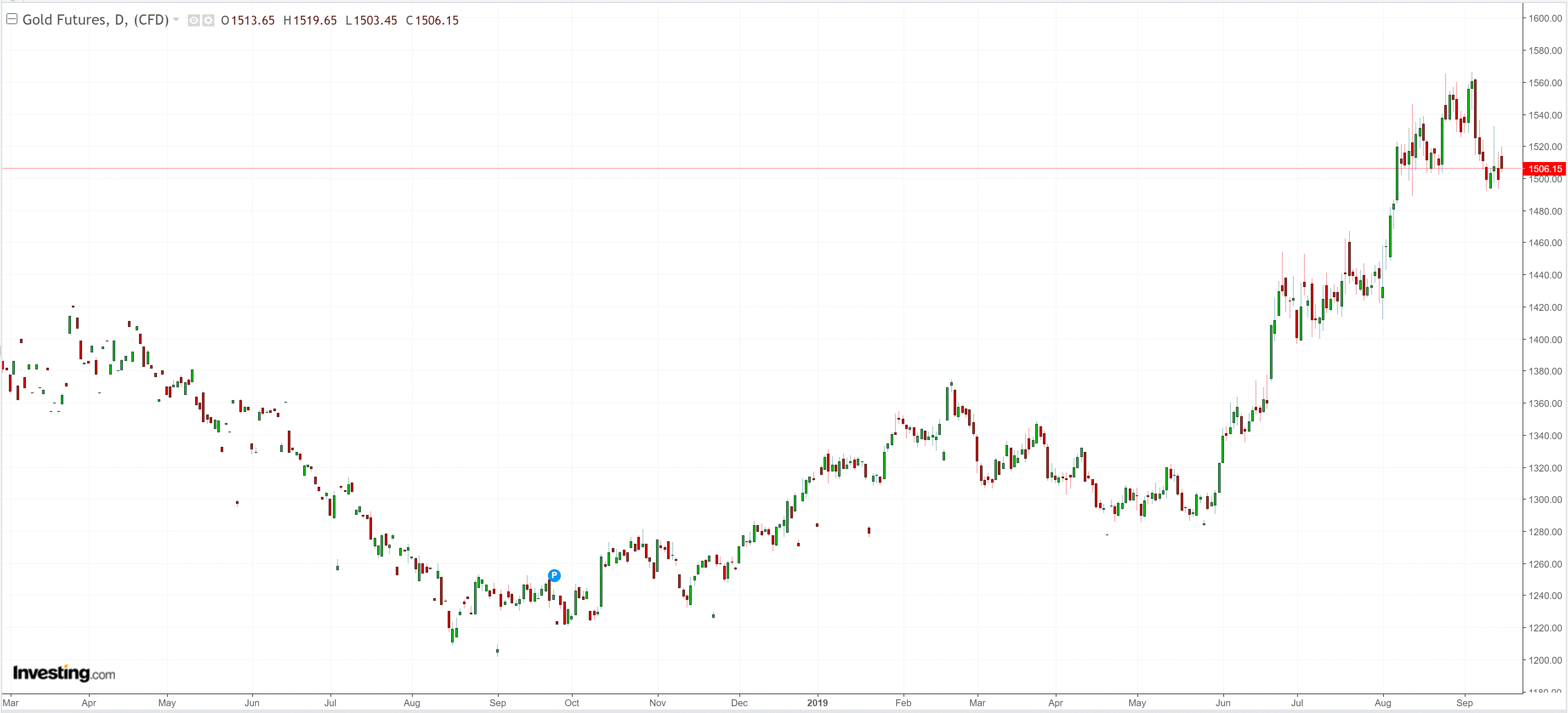 Oil monstrously: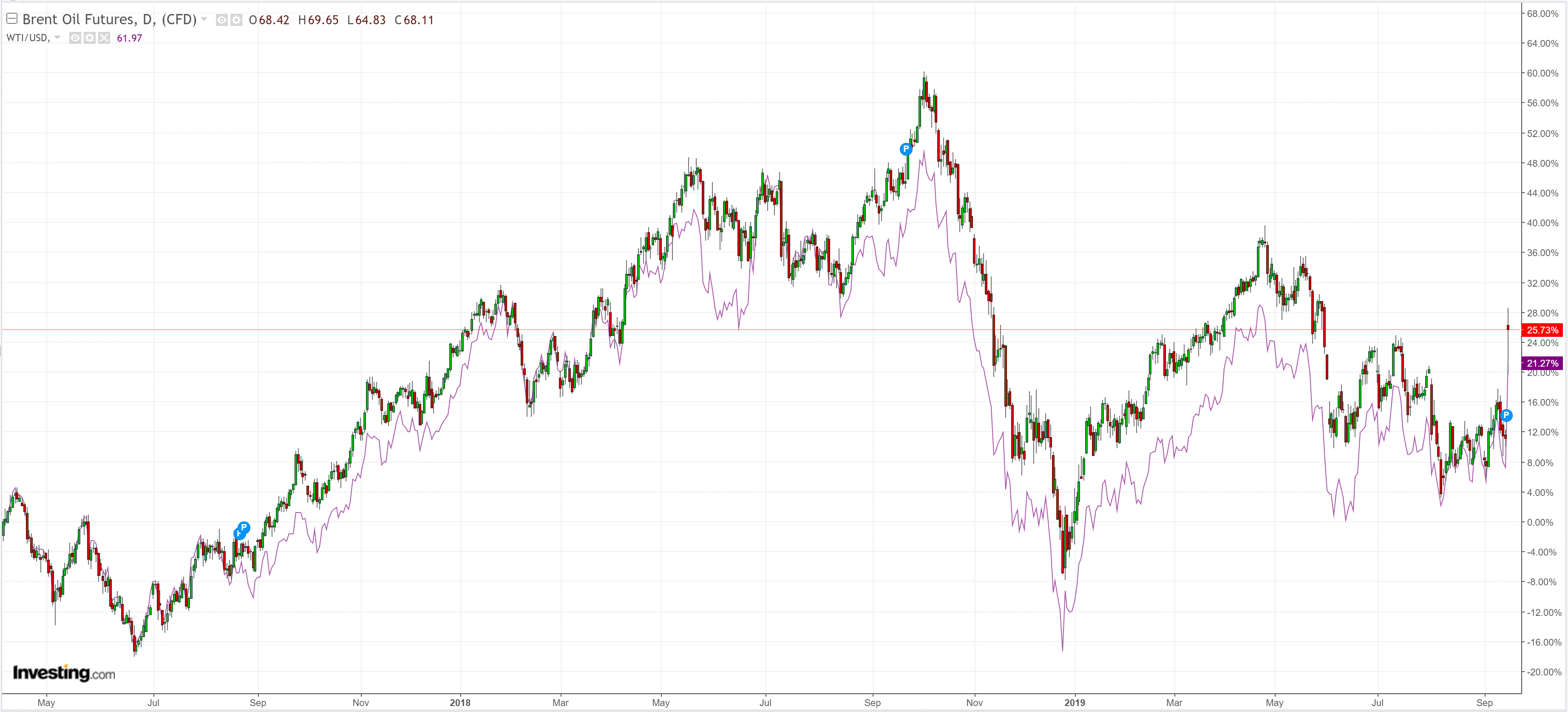 Base metals fell: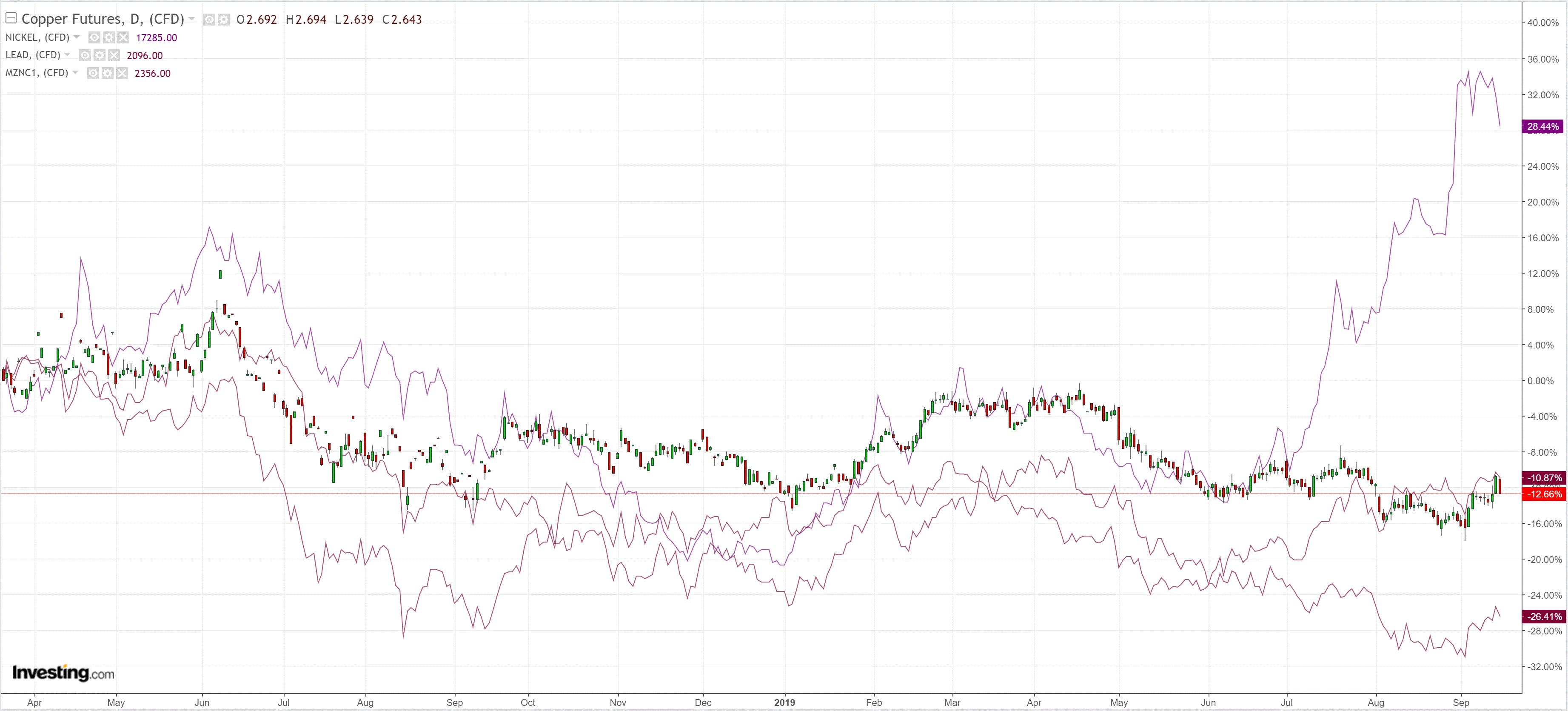 And big miners: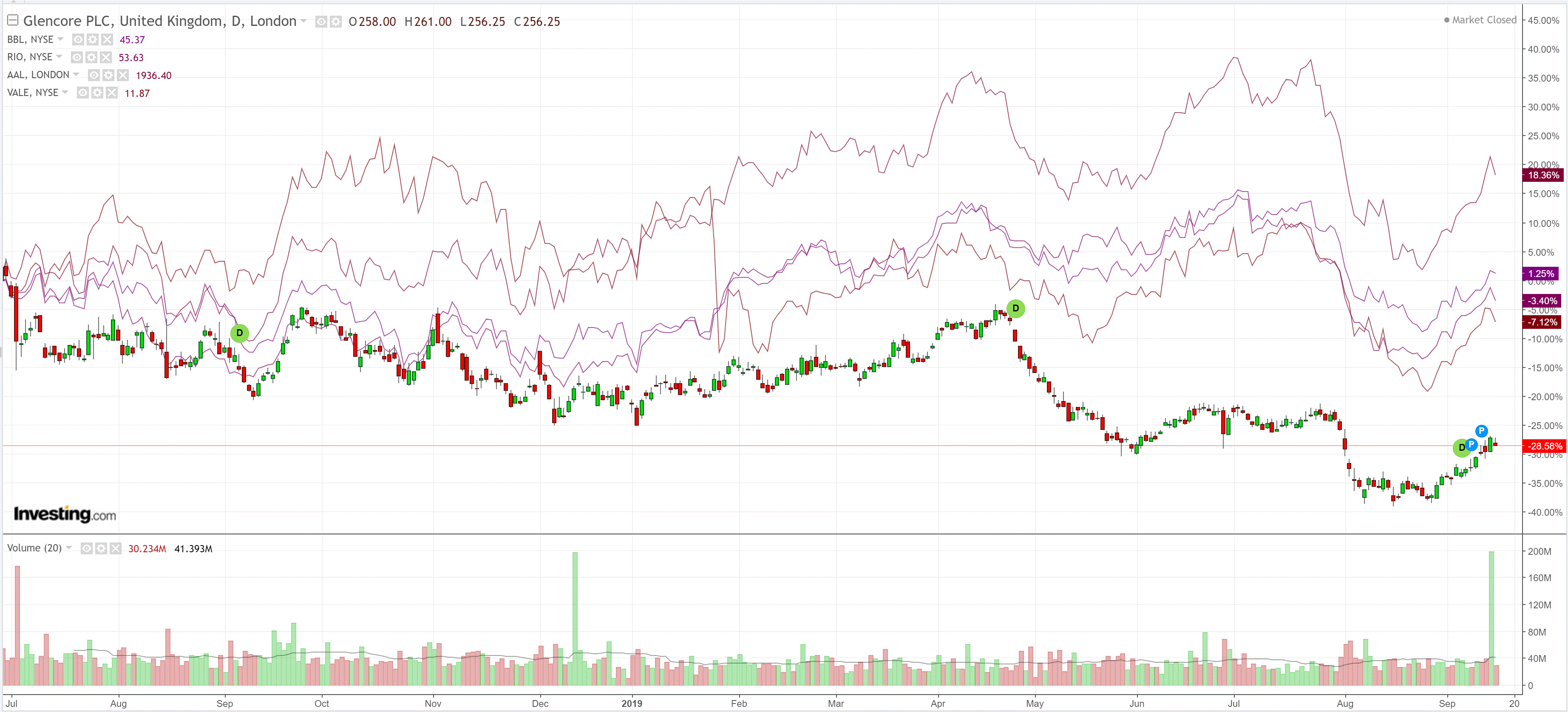 Plus EM stocks: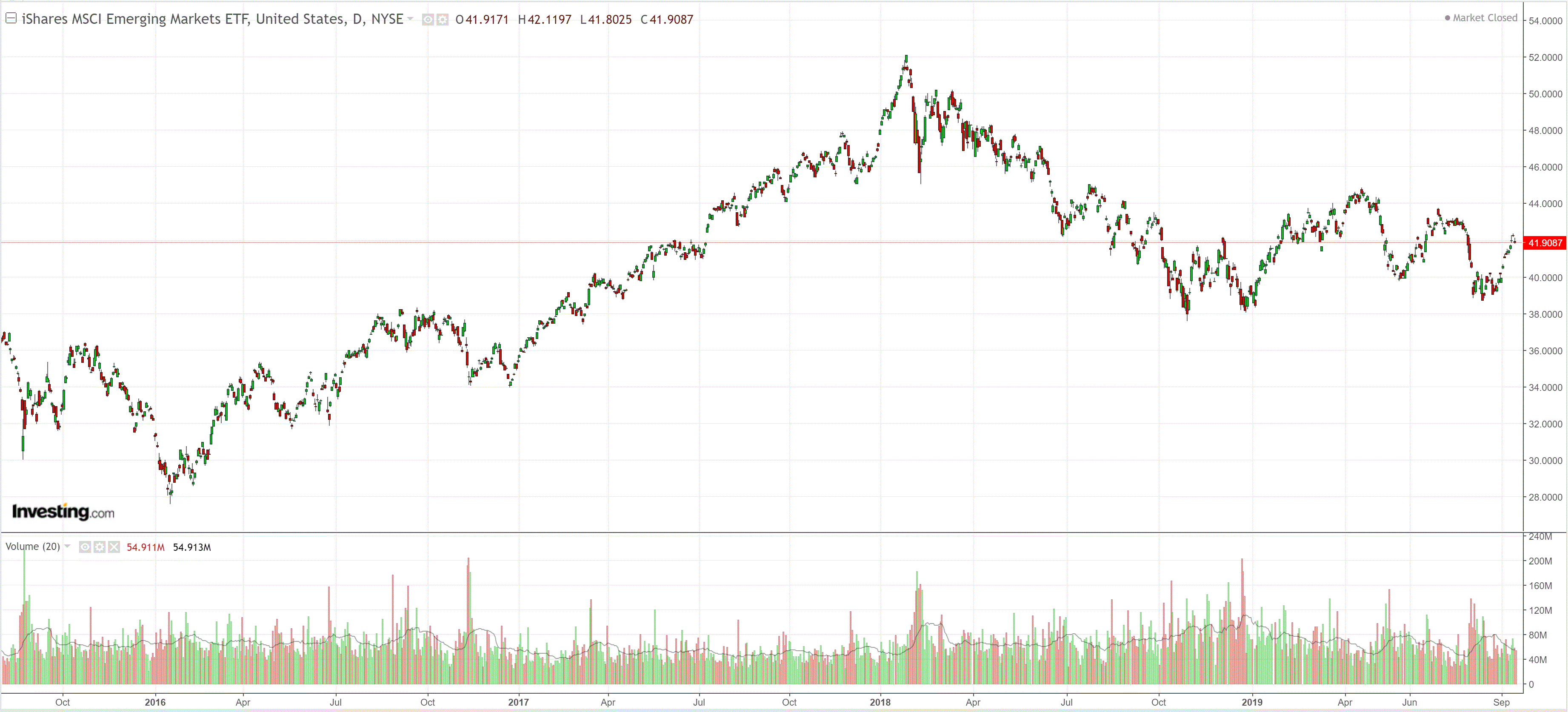 US junk lifted with shalers. EM junk was belted as DXY rose: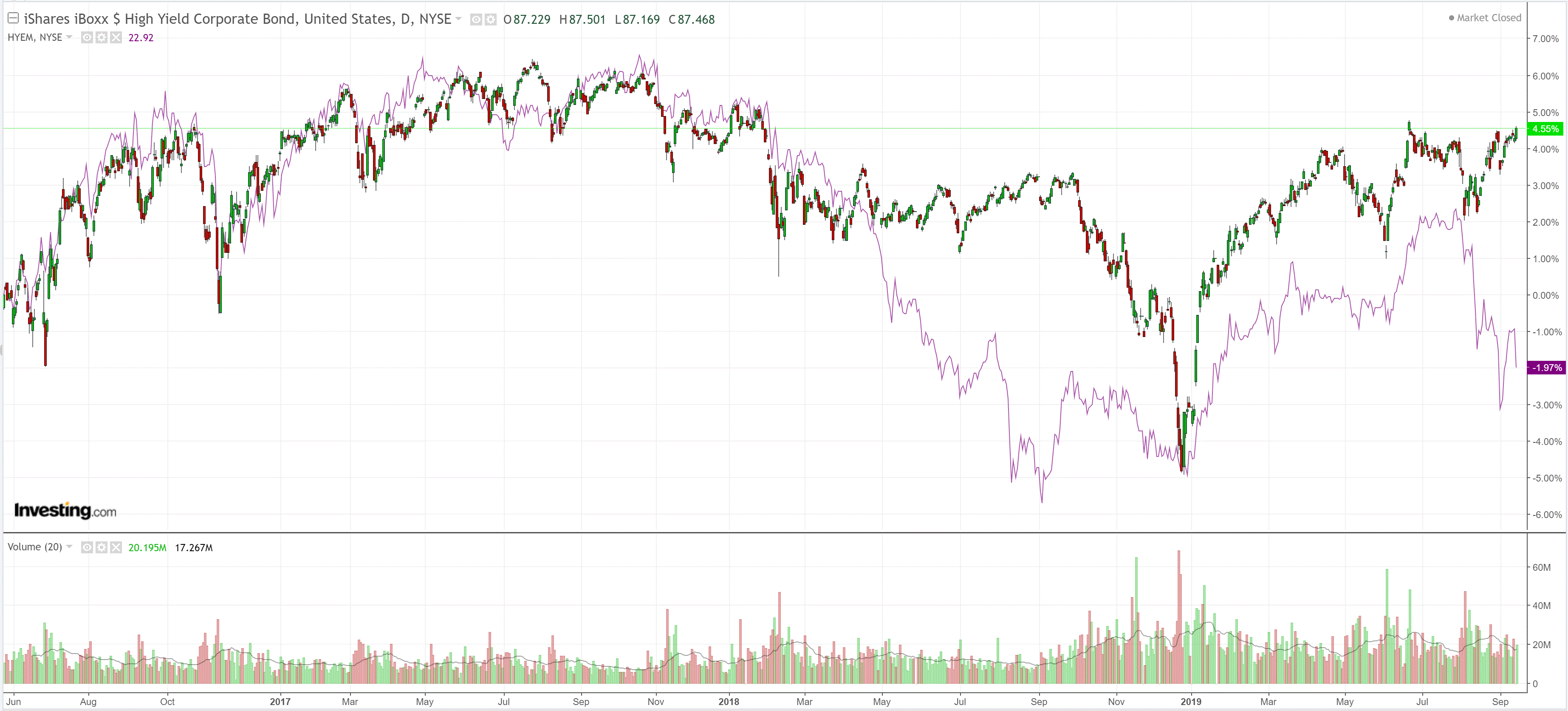 But Treasuries were mildly bid: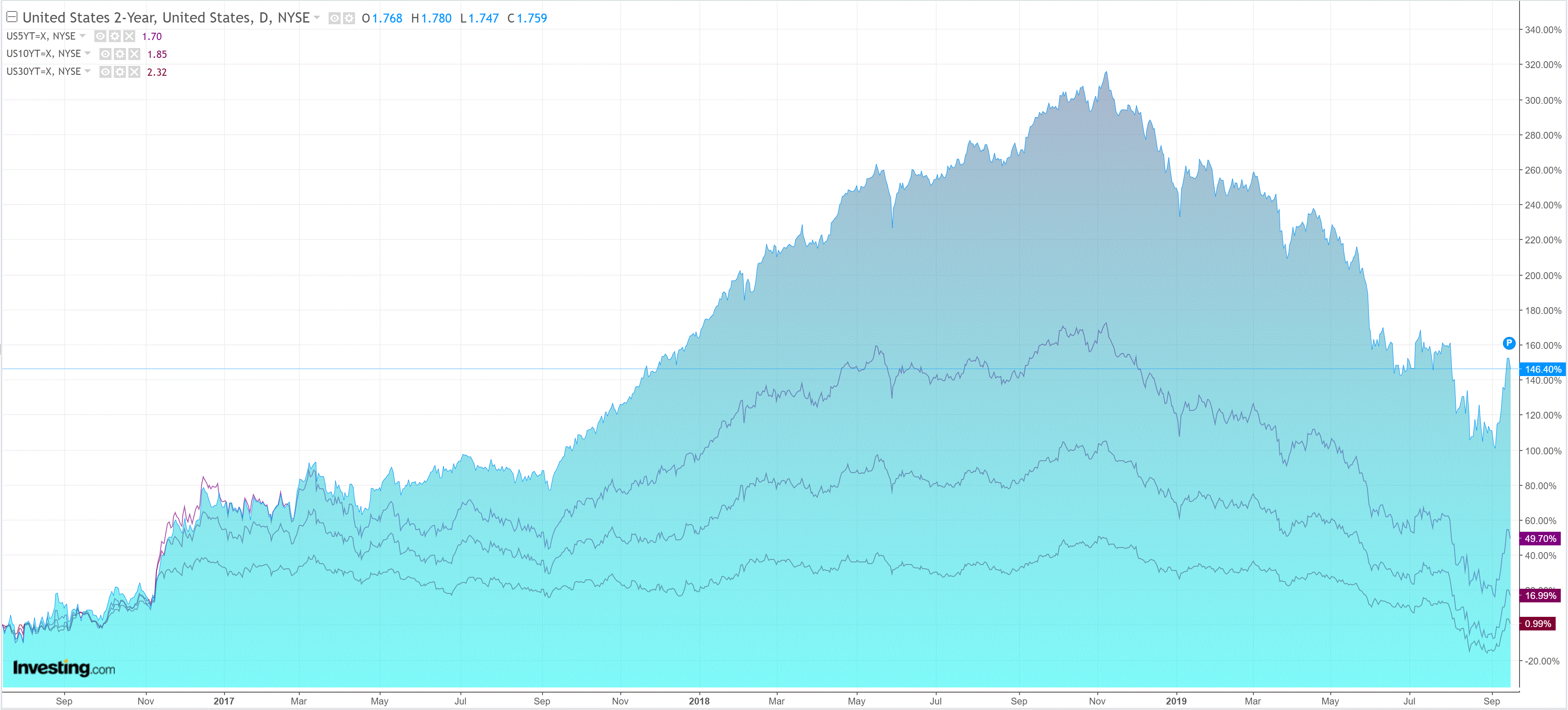 Bunds too: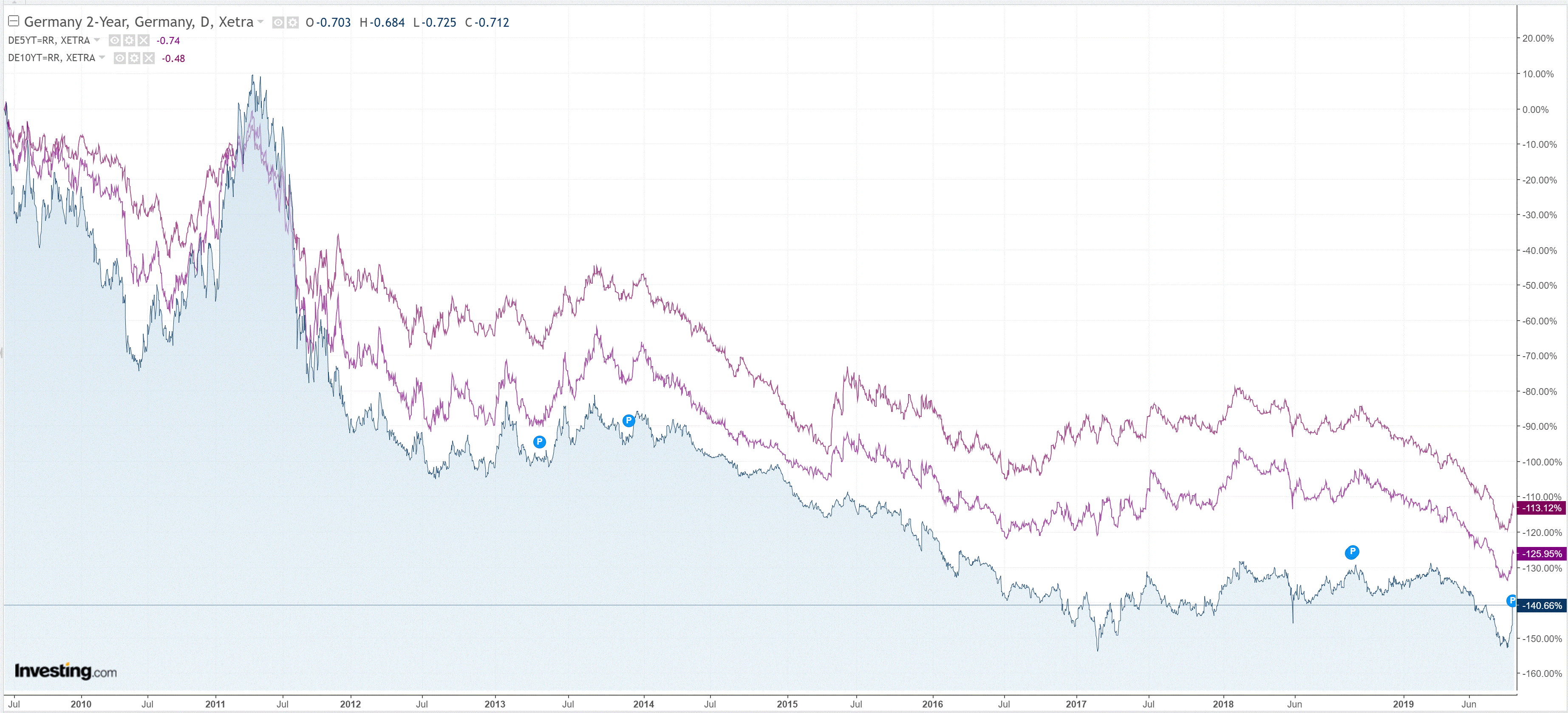 And Aussie bonds: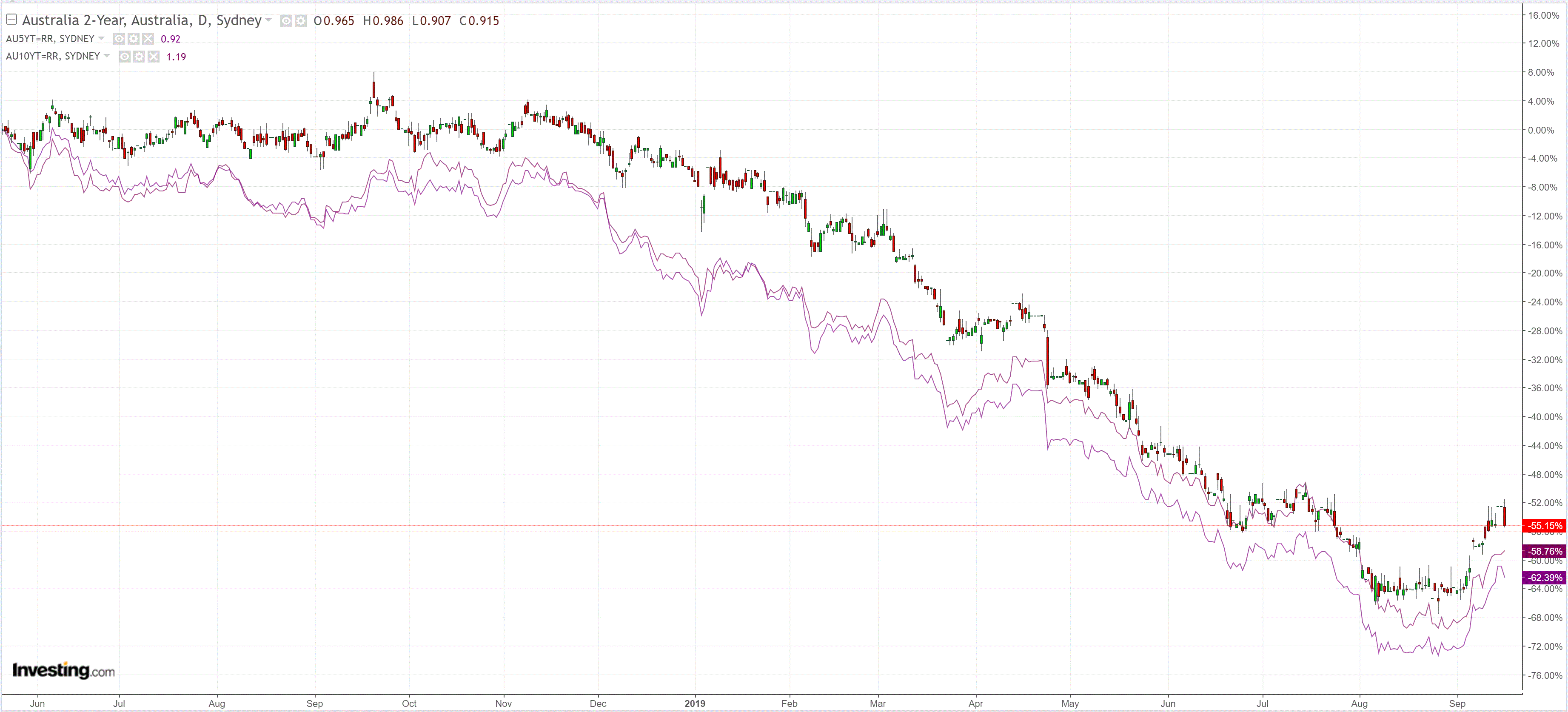 Stocks eased: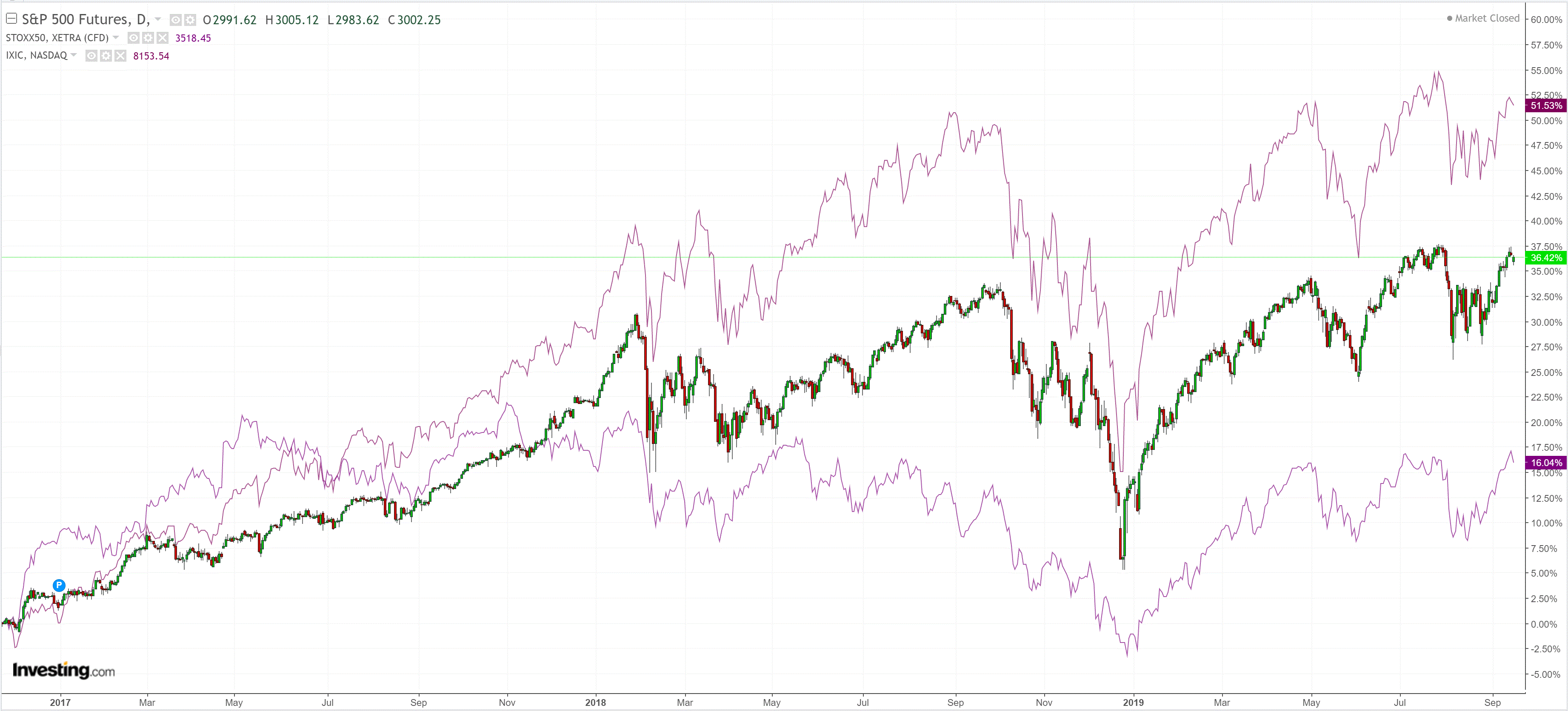 So, much as expected in terms of Saudi attack reactions with DXY the major beneficiary. Bonds were bid as markets looked through inflation to growth worries. The outlook for oil is cloudy, via FT:
Oil prices spiked as much as 20 per cent on fears of prolonged supply disruption following attacks in Saudi Arabia that knocked out more than half of the kingdom's production.

Brent crude prices posted their biggest percentage gain since Saddam Hussein invaded Kuwait as traders fretted that production in the world's biggest oil exporter would stay below maximum capacity for an extended period.

Four people briefed on the latest damage assessments told the FT that the kingdom's oil production could take months to return to normal, potentially thwarting efforts to calm the market.
Saudi has most of OPEC's spare capacity: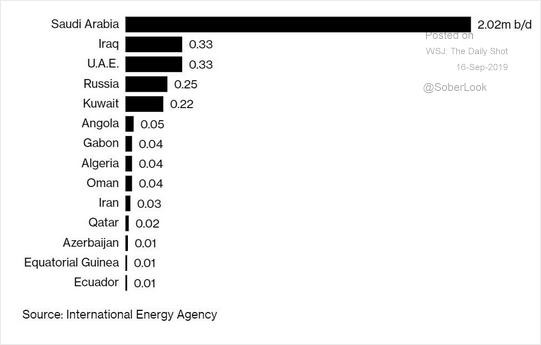 There is Russia which could help. But it's still a reasonable bet that shale will need to be switched back on which will mean current oil prices for while: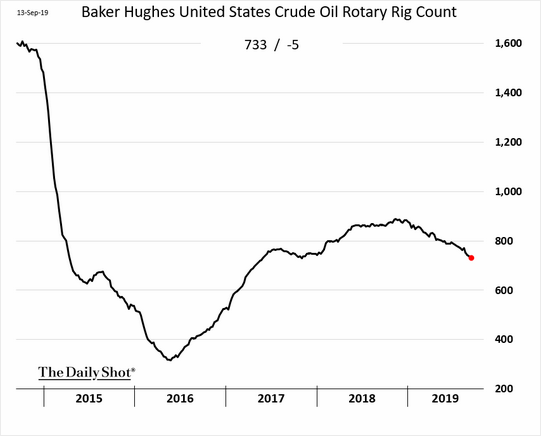 The upside risk for prices case is war:
BREAKING: US Officials tell Fox News (after ABC) that attack on Aramco #Saudi came from #Iran soil / territory.

If true, this is a whole different situation now. Raises stakes of response, culpability. Pompeo expected to release more evidence https://t.co/2giQ25ydki

— Joyce Karam (@Joyce_Karam) September 16, 2019
News has more scuttlebutt:
Drones didn't attack Saudi Arabia's oil facilities. They were guided cruise missiles and initial examinations of their remains indicate — Iran made them.
As the aftermath of the attacks unfolded on Saturday afternoon, pictures began circulating among military and open source intelligence analysts.

They purported to show the wreckage of one of the "drones" successfully shot down by Saudi defences.

Those analysts immediately noted: That's no drone.

Its shape was much sleeker. More complex.

The Arms Control Wonk website, made up of academics and analysts from a variety of international institutions, has pulled together the available — but tentative — evidence and reached a disturbing conclusion.

It is a cruise missile.

And it was made by Iran.
And Bloomie:
Saudi Arabia said preliminary findings show Iranian weapons were used in the attack on one of its key oil installations, but stopped short of directly blaming the Islamic Republic for the strikes that cut its crude output by half and rattled oil markets.

Ongoing investigations of "debris and wreckage" show "it belongs to the Iranian regime," Turki al-Maliki, a spokesman for the Saudi-led coalition in Yemen, told reporters in Riyadh on Monday. He said initial findings suggest the attack was not launched from Yemen, contradicting claims by Iranian-backed Houthi rebels that they carried out the attack using a swarm of long-range drones with more sophisticated engines.

"We are working right now to spot the launch point of those attacks," he said.
I'm skeptical of US involvement in any counter-strike. The last thing a Jacksonian Trump needs to hand his supporters is another mid-east war. But proxy war on Iran is still a high risk, via Saudi or Israel or both in some bizarro unity pushed by the US, with China backing Iran.
That said, given the state of US/Iran negotiations ex-Bolton, this could all just be tactics for forthcoming deals.
The market response is probably about right on the balance of probabilities.
So, that will mean the US is the largest beneficiary but also that the Fed is pushed back. US inflation is much warmer than elsewhere already: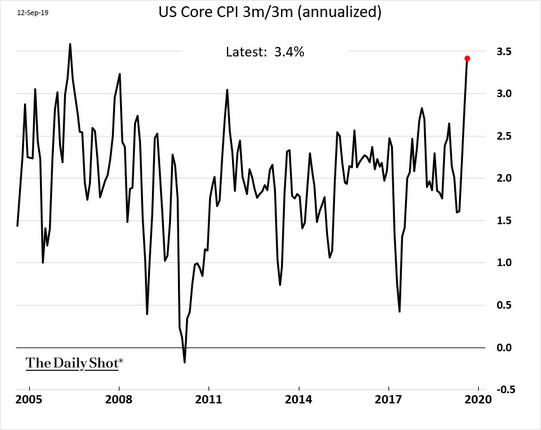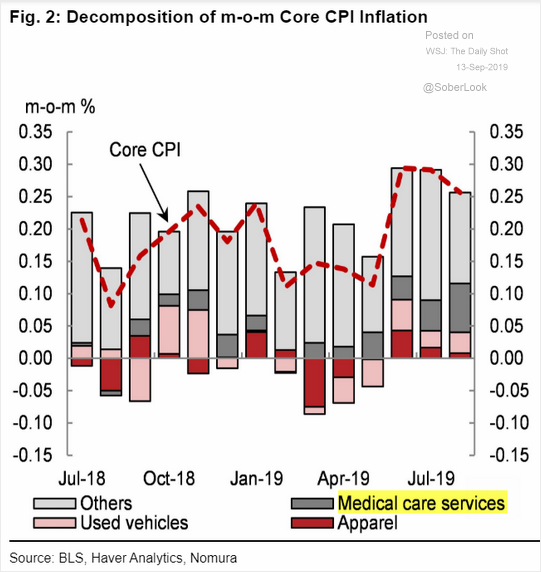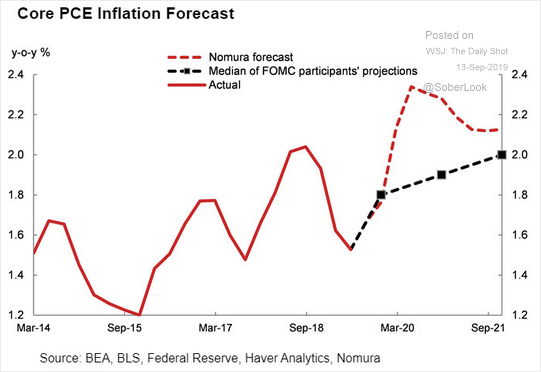 Which puts a rising DXY front a centre of the forex responses to the oil shock. That will exacerbate the negative growth impact of rising oil prices everywhere else.
Oddly, MB's four horseman of the end of cycle apocalypse thesis is still in play with:
an unlikely trade deal;
Hong Kong getting worse;
Brexit stalled but still on;
and an oil shock, only prices rising instead of falling, the reverse of the expected.
If oil keeps rising driving DXY gains then other commodities and the AUD will keep falling as growth is crushed everywhere else.
David Llewellyn-Smith is Chief Strategist at the MB Fund and MB Super. David is the founding publisher and editor of MacroBusiness and was the founding publisher and global economy editor of The Diplomat, the Asia Pacific's leading geo-politics and economics portal.

He is also a former gold trader and economic commentator at The Sydney Morning Herald, The Age, the ABC and Business Spectator. He is the co-author of The Great Crash of 2008 with Ross Garnaut and was the editor of the second Garnaut Climate Change Review.
Latest posts by David Llewellyn-Smith (see all)