See the latest Australian dollar analysis here:
DXY held its ground last night as CNY rolled and EUR slowed: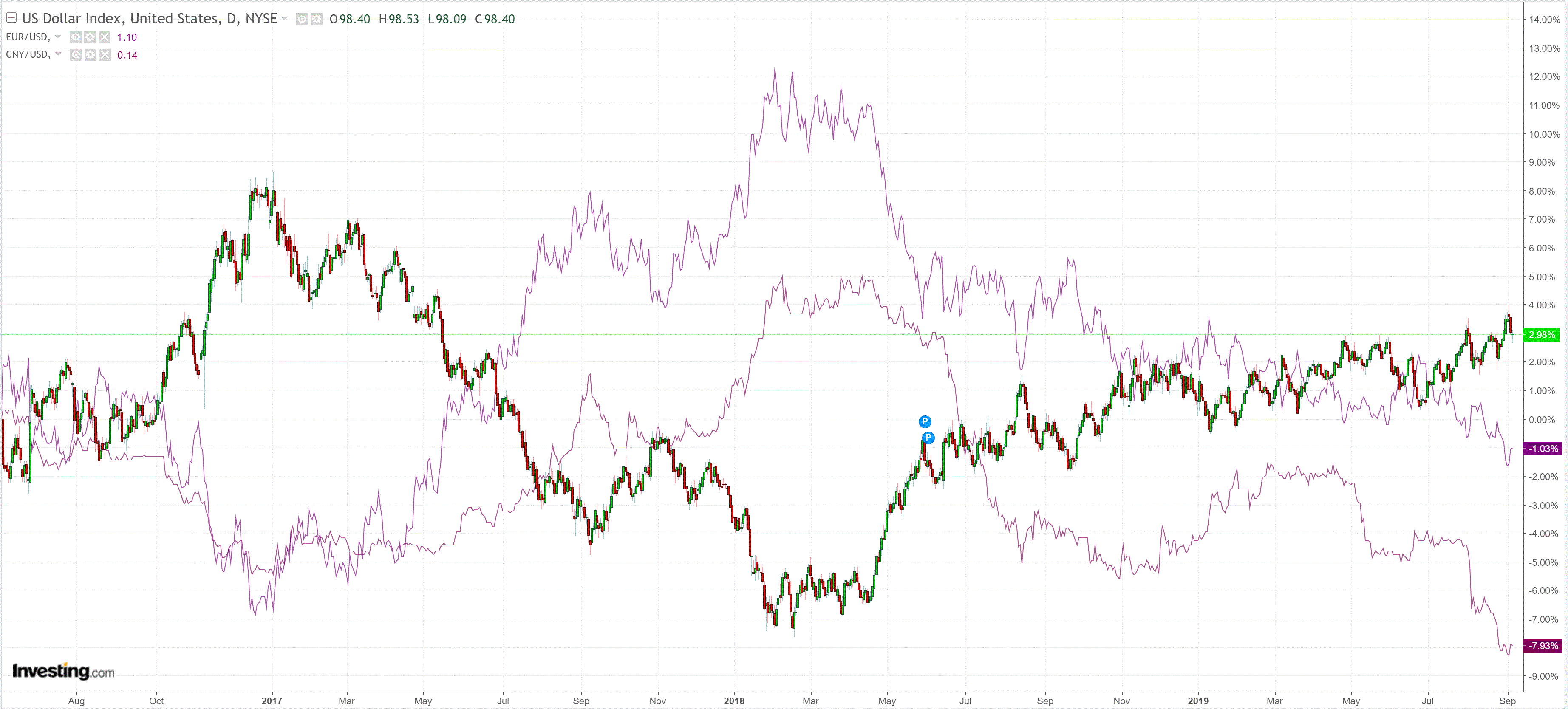 The Australian dollar skyrocketed against DMs: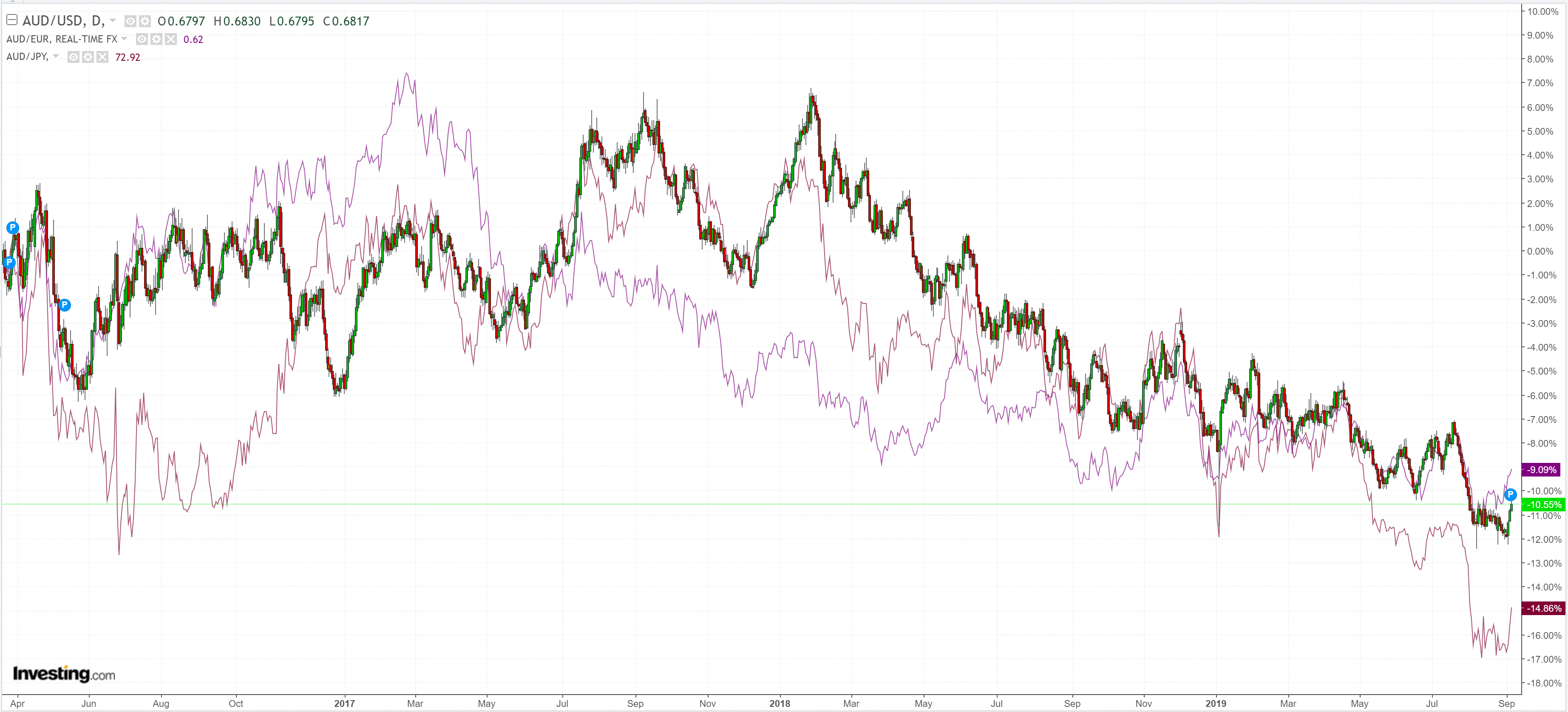 And EMs: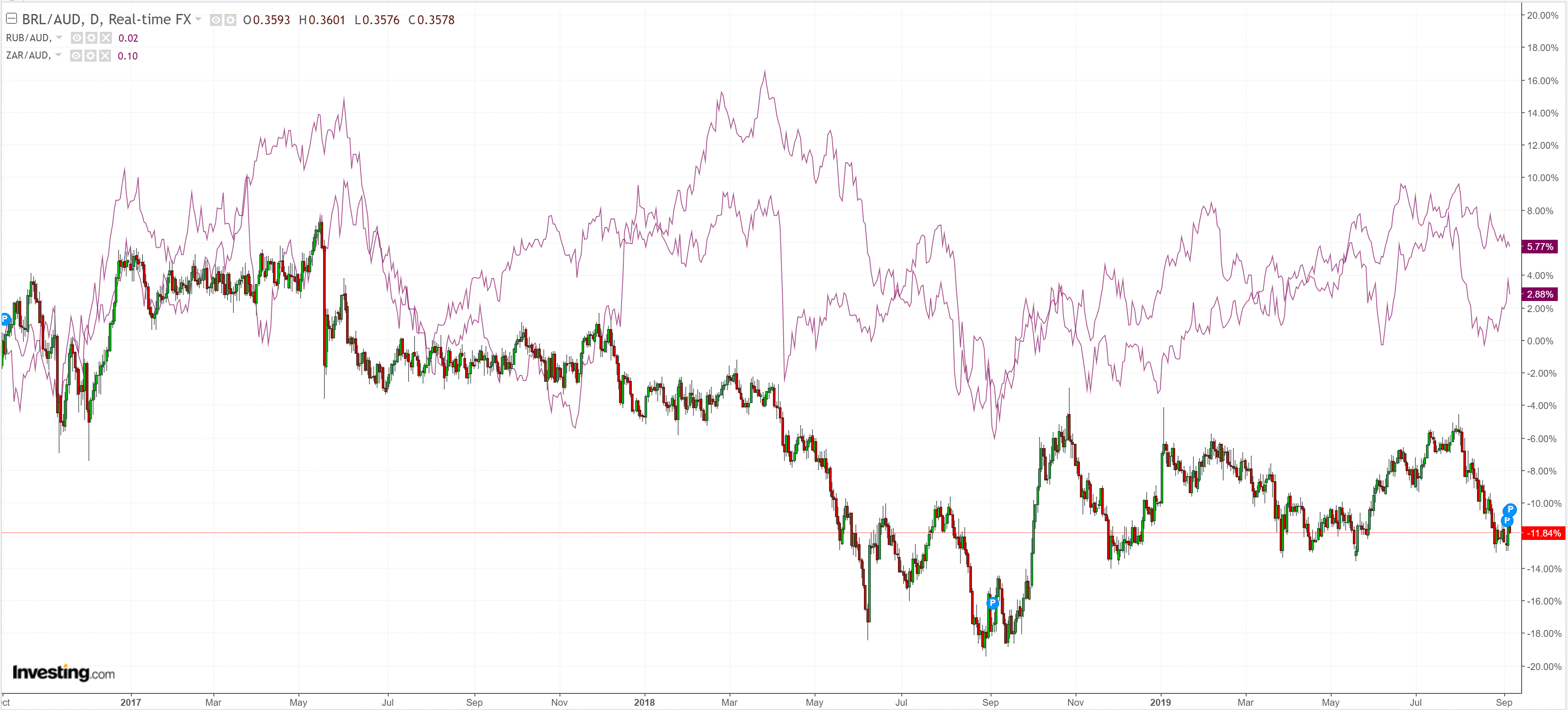 Gold was hosed: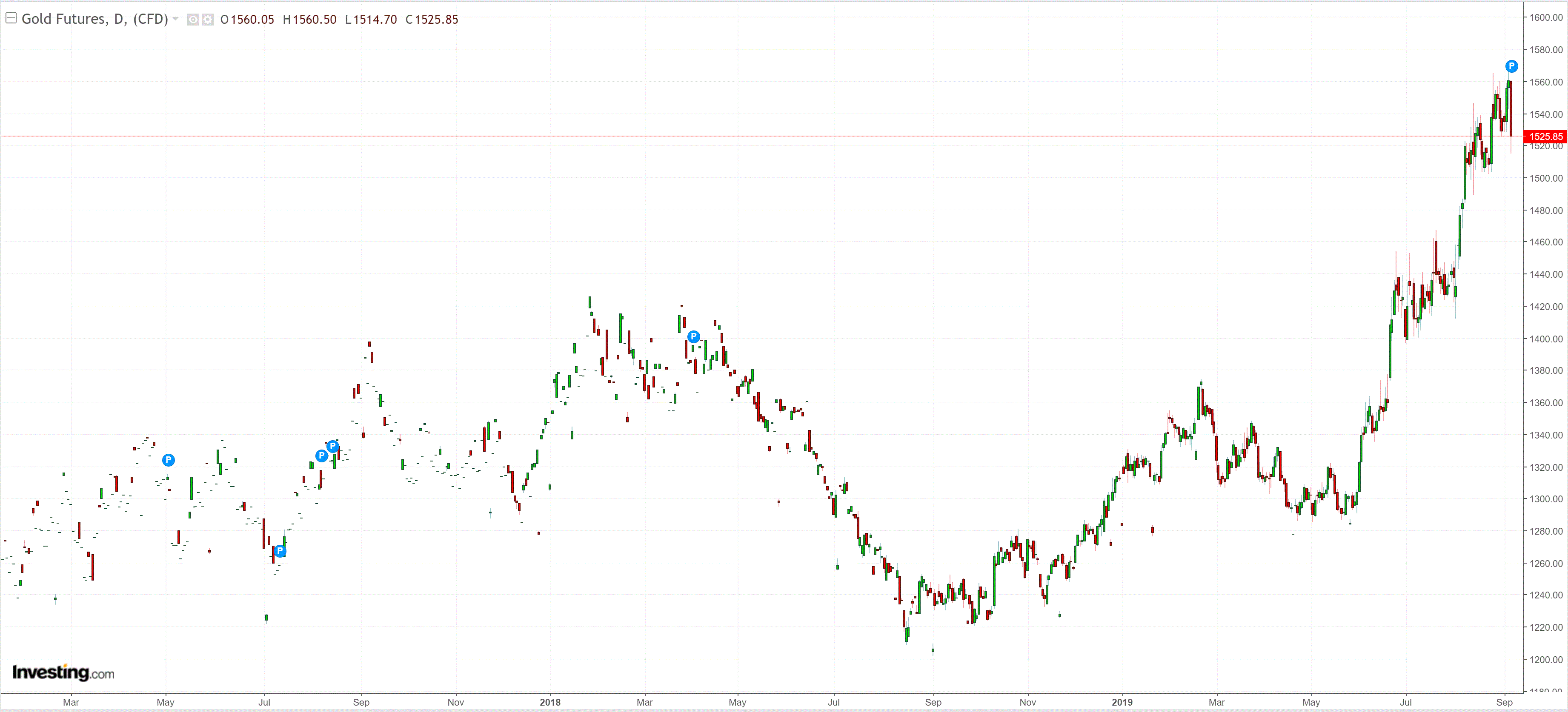 Oil was firm: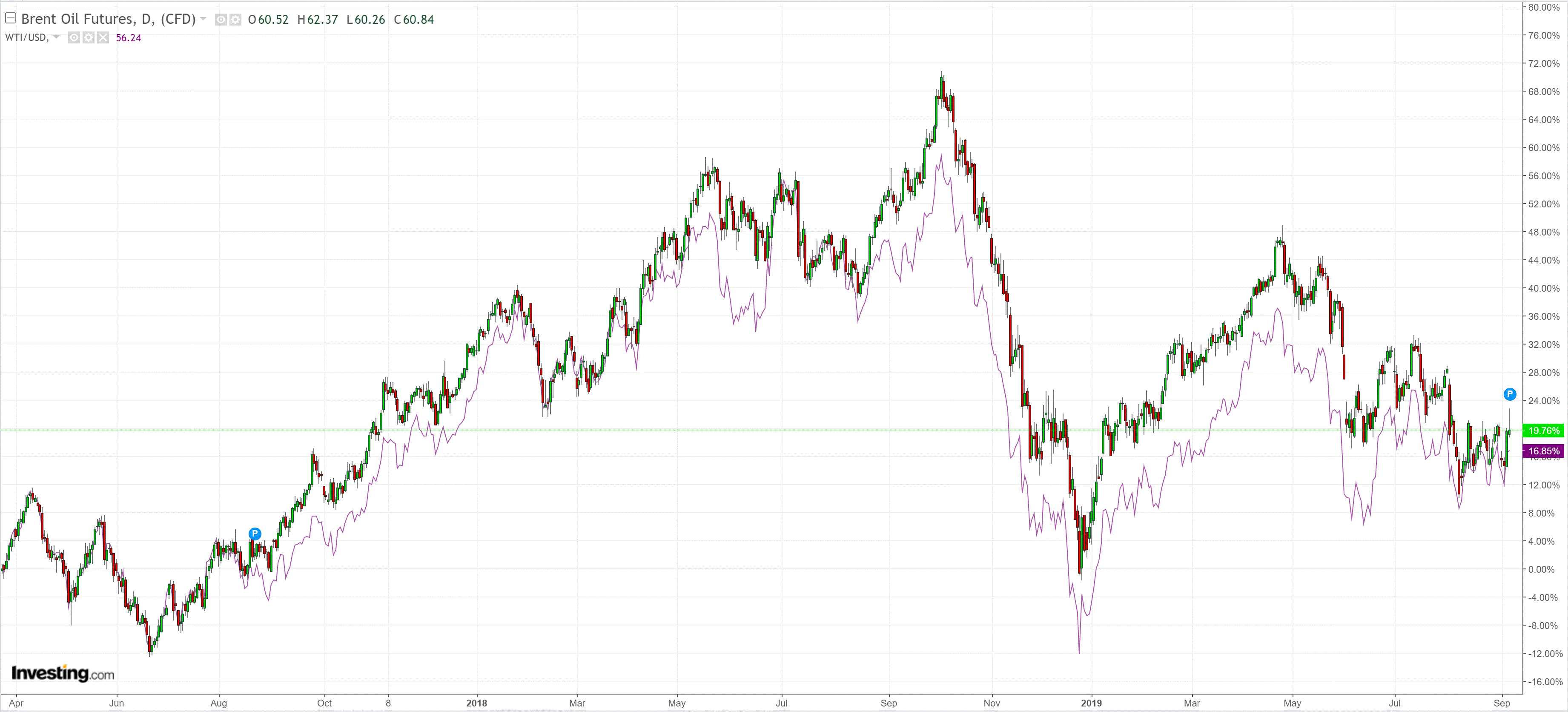 Metals jumped: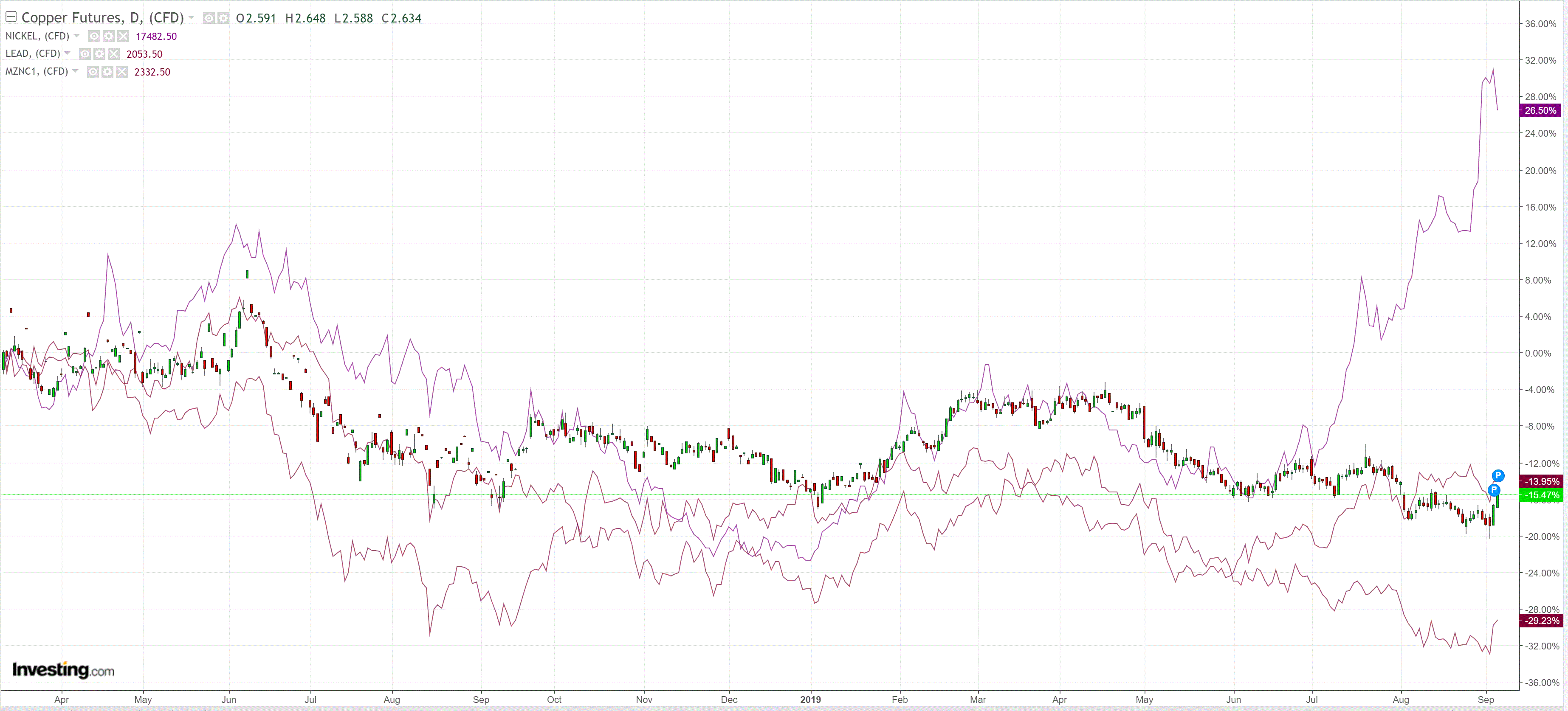 Big miners too: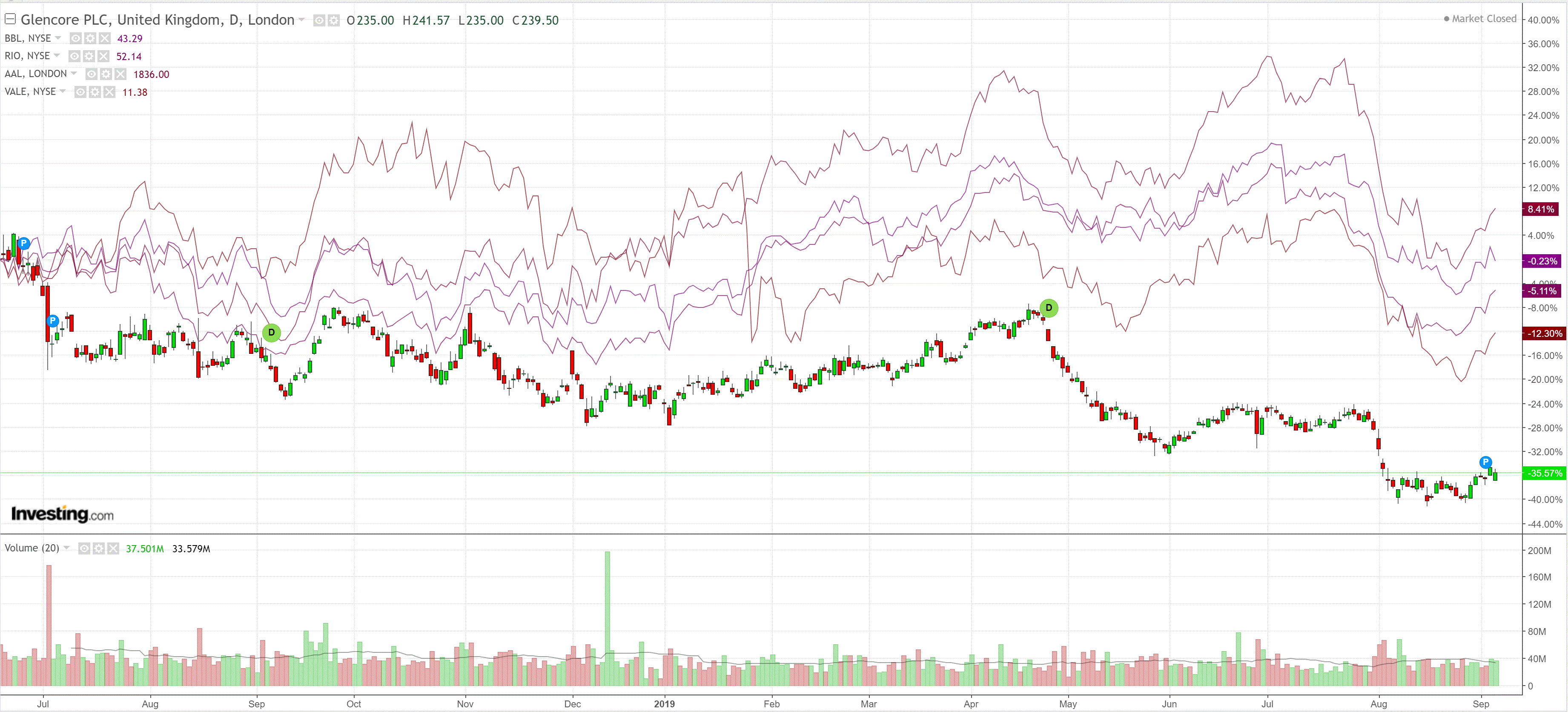 EM stocks gapped higher: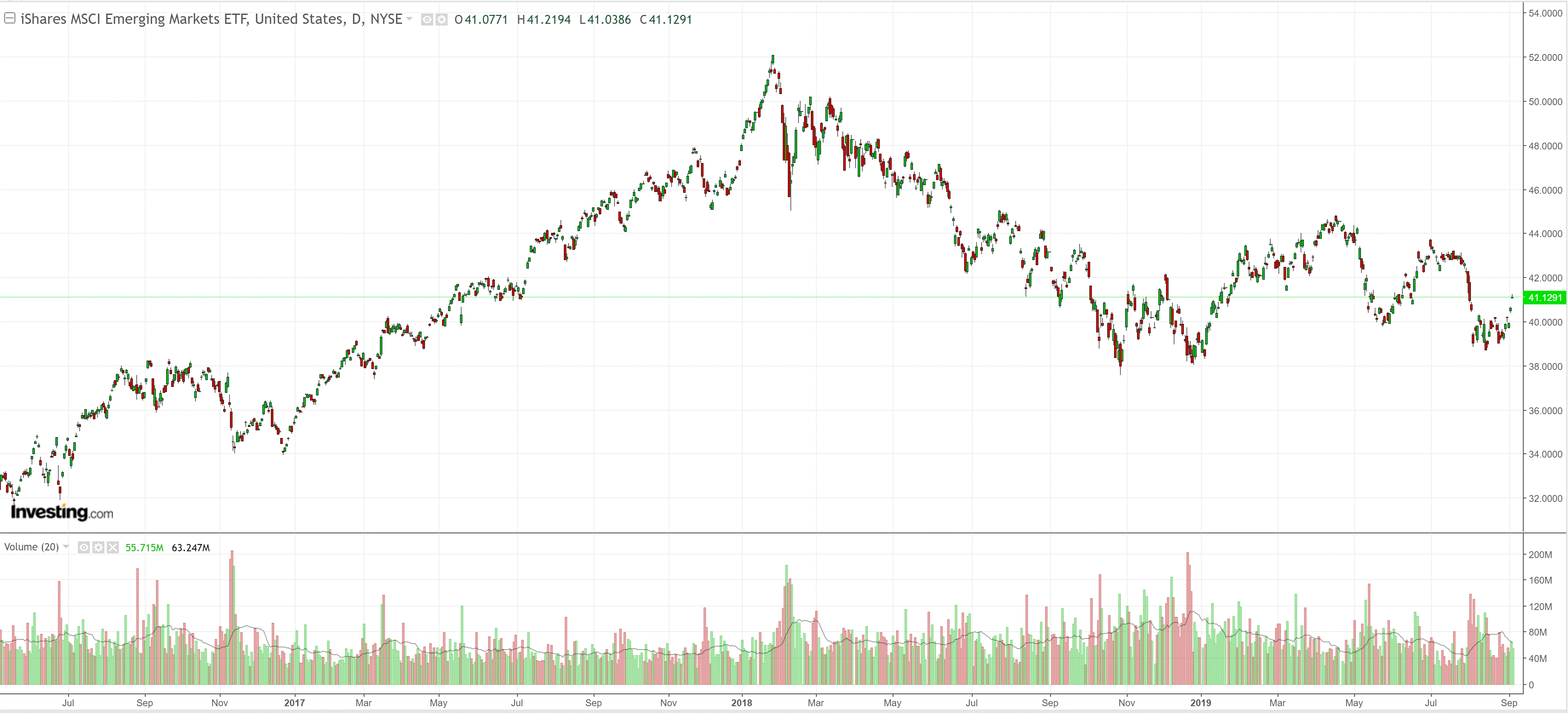 Junk took off: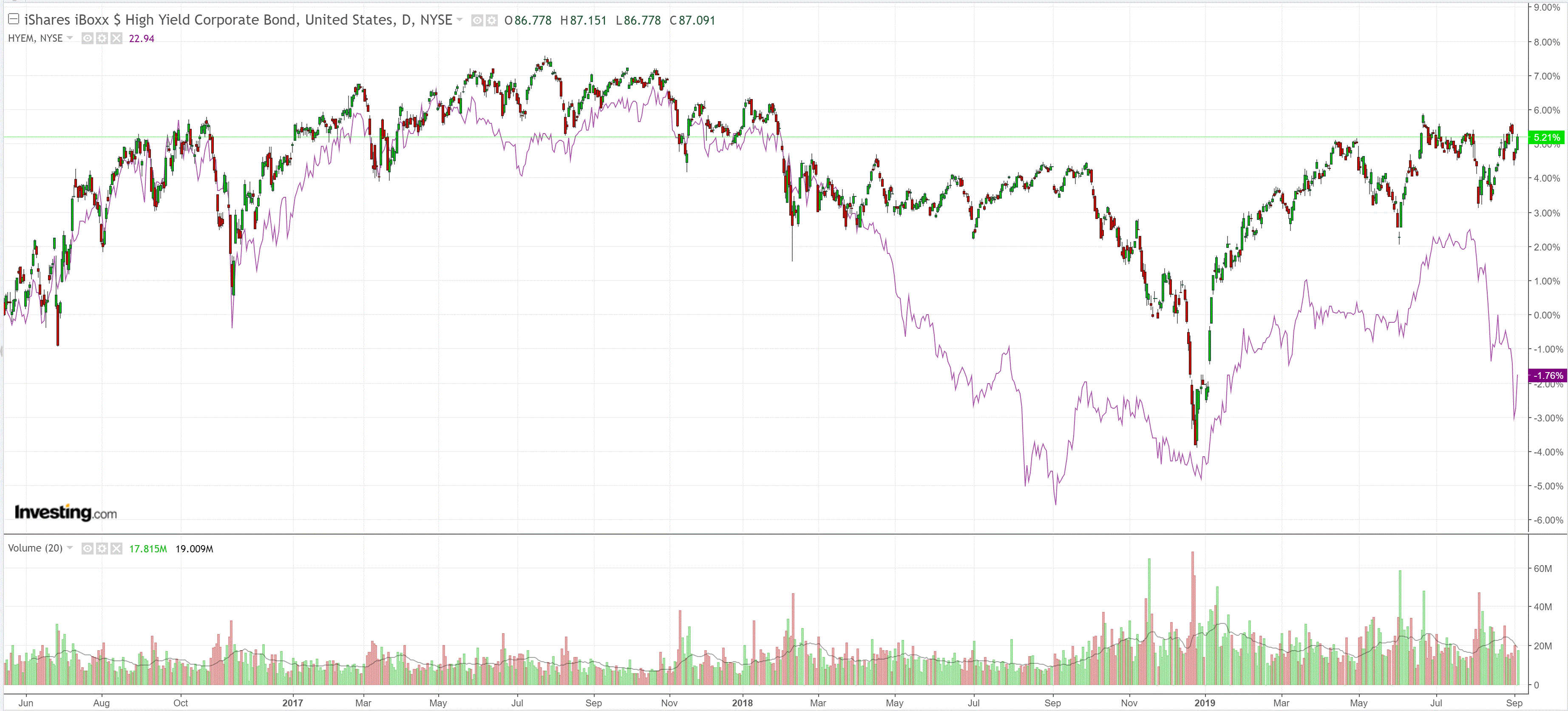 Treasuries were a bath of blood: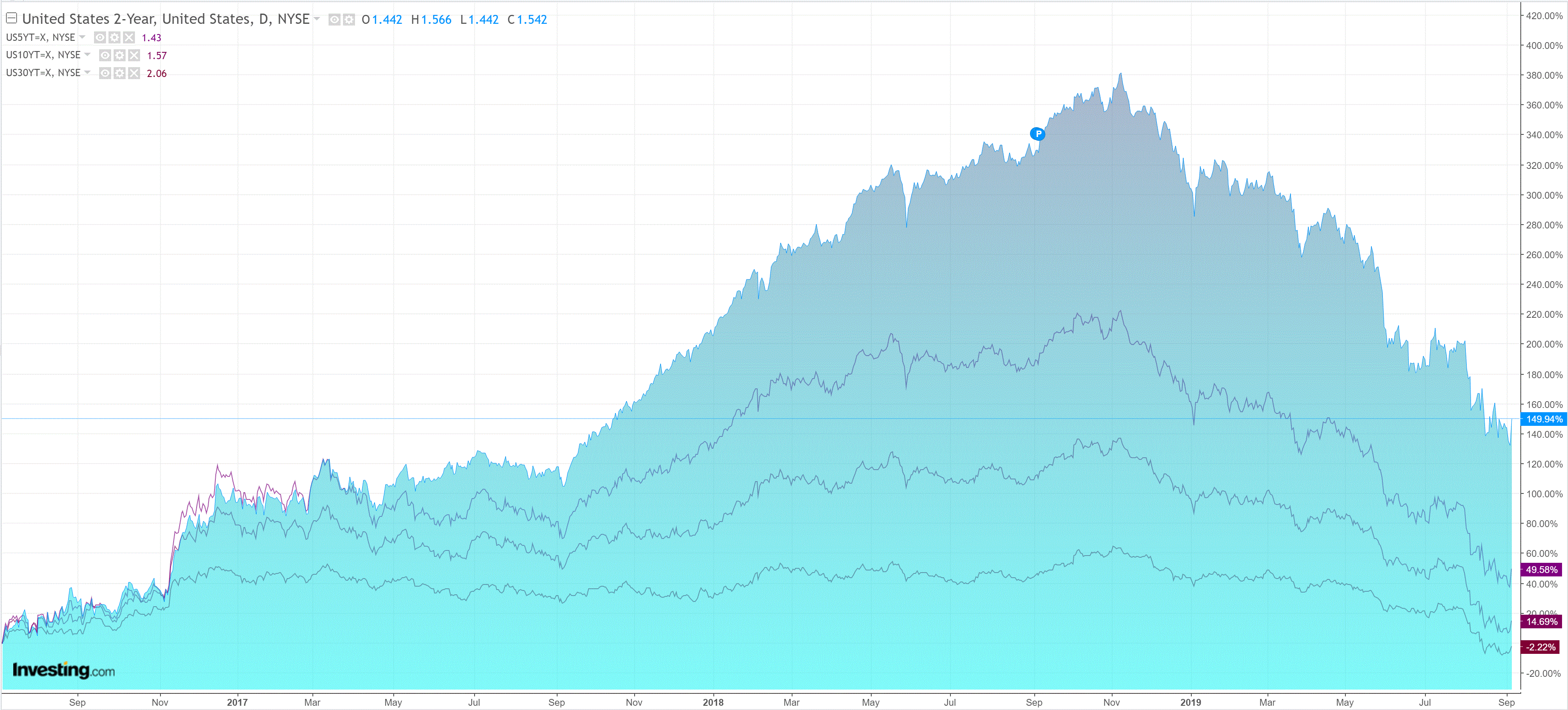 And bunds: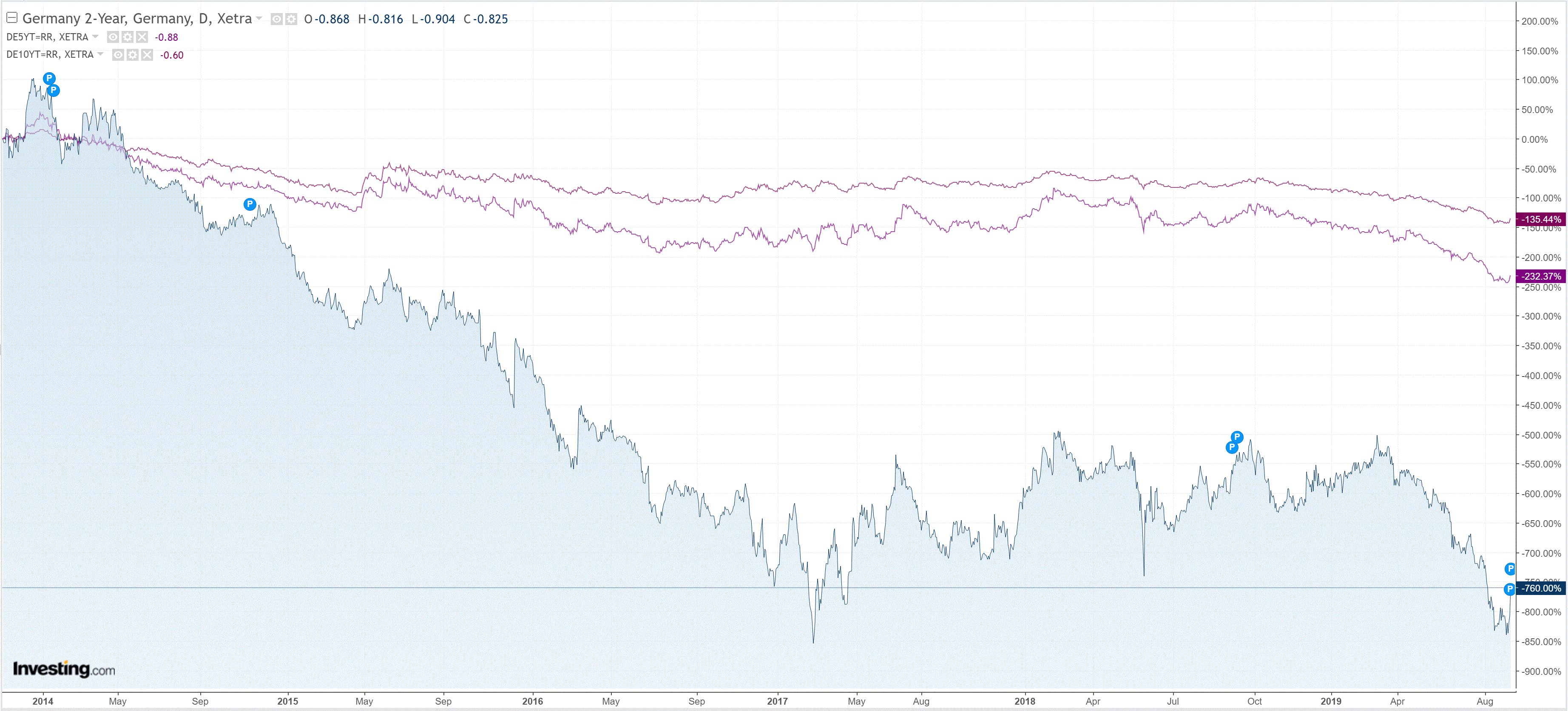 Plus Aussie debt: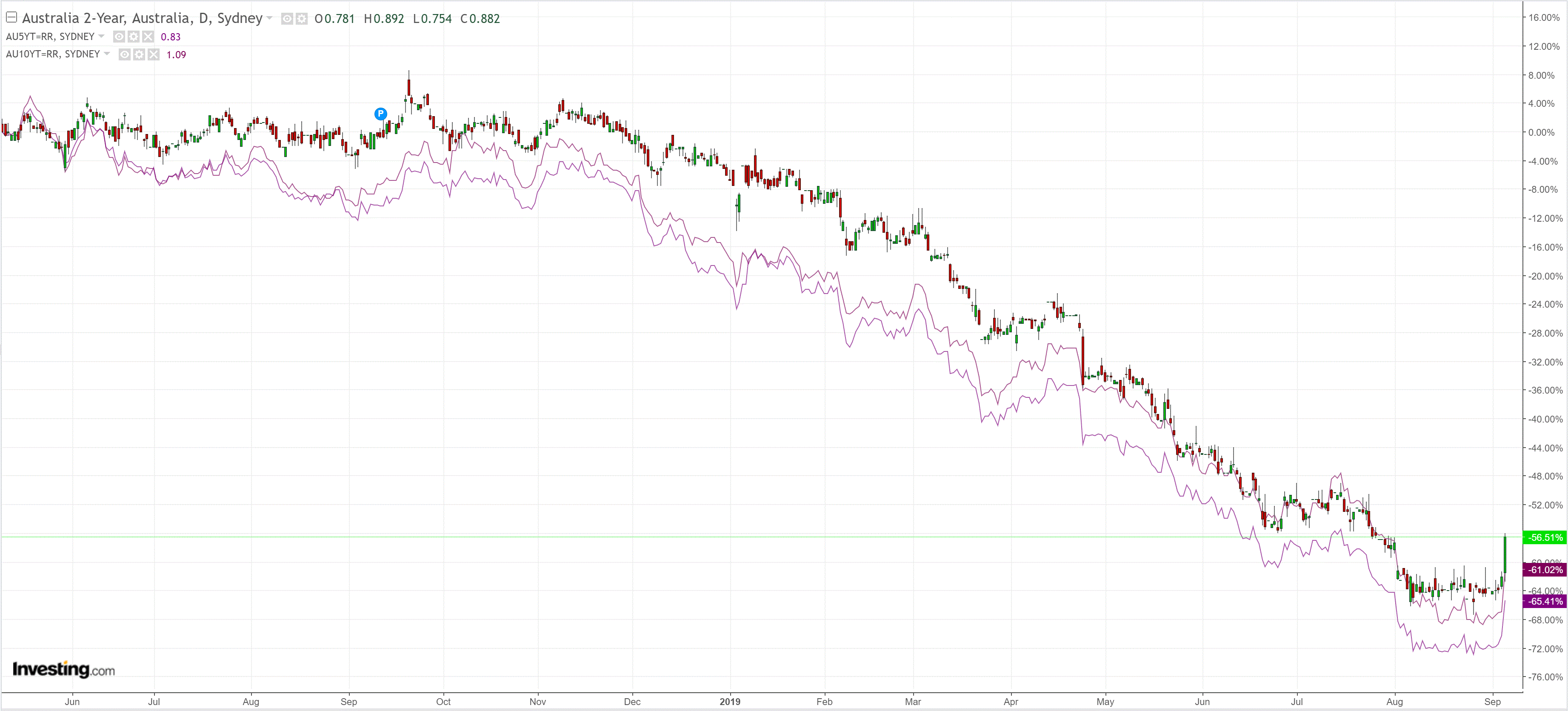 Stocks to the moon!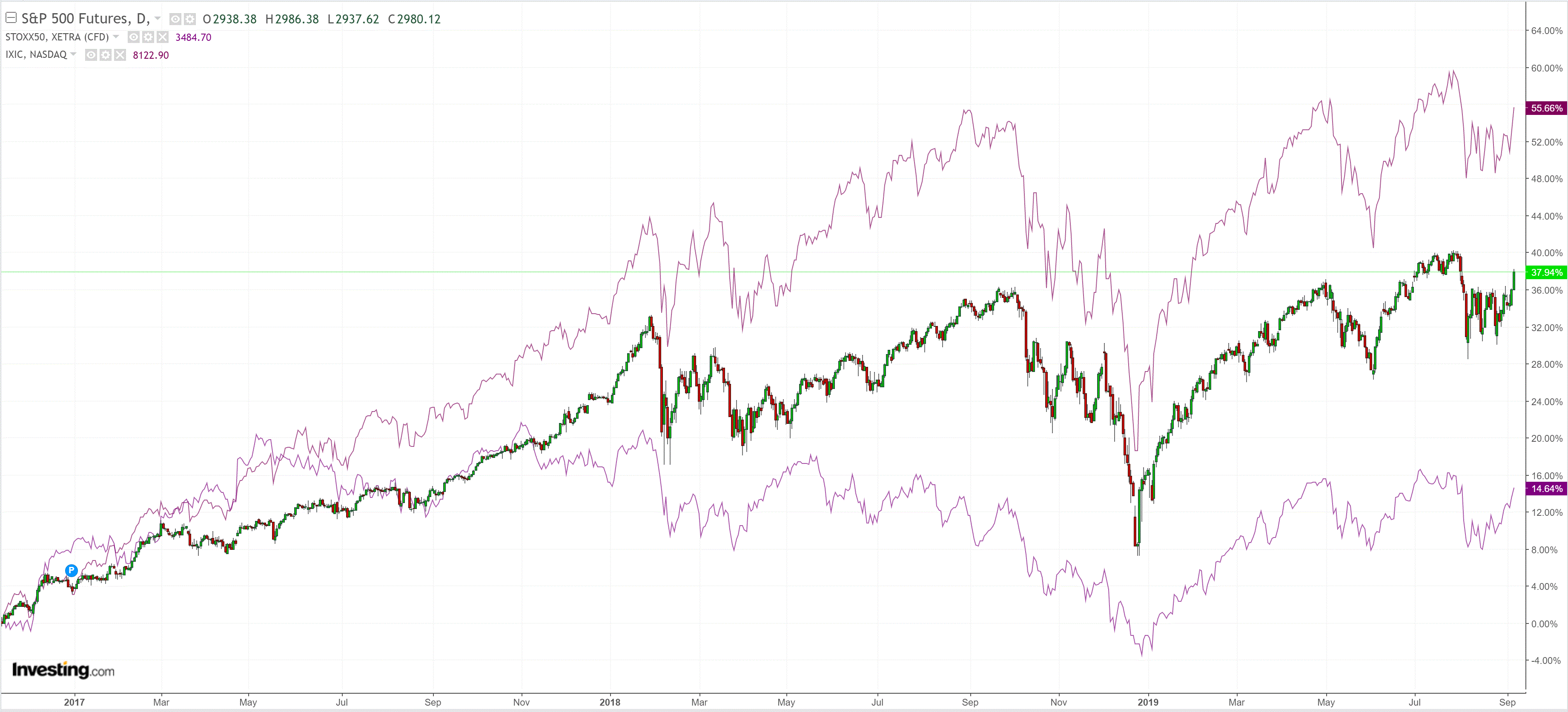 Wrap from Westpac:
Event Wrap

Upbeat US data boosted sentiment. The Services ISM index easily topped expectations in August rising to 56.4 from 53.7, a welcome beat after the lousy sub-50 ISM report for the manufacturing sector earlier this week. New orders rose back above 60 but export orders and employment both cooled. On a more cautious note, Markit's Services sector PMI for August was revised lower to 50.7 from an earlier preliminary read of 50.9. The ADP private payrolls survey showed +195k new jobs in August, comfortably outpacing expectations (+148k) and underscoring ongoing US labour market resilience. US factory orders rose 1.4% in July, slightly above expectations; the detail was a touch more cautious; core capital goods orders were revised to show a smaller 0.2% from a preliminary estimate of +0.4%.
German July factory orders fell -2.7%m/m (est. -1.4%, prior +2.7%m/m), taking the annual pace down to -5.6%y/y (est. -4.2%y/y, prior -3.5%). Although volatile of late, the sharp fall is more consistent with the marked weakness seen in order components of survey data and provide further evidence of a potential slide into recession.

Brexit took a slight backseat as the extension bill progressed in the Upper House (of Lords).

Chinese Vice Premier Liu held a phone call with US trade representative Lighthizer and Treasury Secretary Mnuchin on Thursday morning Beijing time, upon the U.S.'s invitation, the Chinese Ministry of   Commerce said in statement. Work-level negotiations will be held mid-September to prepare for senior trade talks in early October in Washington.

Event Outlook

Europe: Q2 GDP 3rd estimate is likely to be confirmed at +0.2%. Jul German industrial production is released.

US: Aug non-farm payrolls are anticipated to rise by 165k. The unemployment rate is expected to hold at 3.7% and average hourly earnings are seen to rise 0.3% (but due to base effects, the annual rate would slow to 3.0%yr from 3.2%yr). Fed Chair Powell speaks on an "Economic Outlook and Monetary Policy" panel in Zurich.
Quite a 24 hours period. MB's four horsemen of the apocalypse have all turned tail and run together!
First, Brexit is in serious doubt, via the FT:
Boris Johnson on Thursday threw down the gauntlet to Labour to vote for a snap election next week, but party leader Jeremy Corbyn appears increasingly likely to reject what he regards as a trap.

Some of Mr Corbyn's senior aides have been keen to trigger an election as soon as possible, worried that Labour will look cowardly if it refuses to back an early poll.

But Mr Corbyn is increasingly sympathetic to Labour MPs — including shadow ministers — who do not want to have an election until after October 31, the scheduled date for Brexit.

These MPs fear that Mr Johnson could win an election on his preferred date of October 15, and then take Britain out of the EU without a deal.

This view is shared by the Liberal Democrats, Plaid Cymru, the Independent Group and some — if not all — Scottish National Party MPs.
There is also the new Italian Government deal which has put MS5 together with a less eur0-skeptical party. It was a good day for Brussels.
Second, Hong Kong has its offer, HKFP:
Chief Executive Carrie Lam has said the extradition bill can be withdrawn from the legislature with "no debate and no voting," in a bid to reassure the public a day after she announced the decision.

Netizens on Wednesday noted that Lam said her security chief will "move a motion" in the legislature to formally withdraw the controversial bill. Sceptics — including the protester-organised Citizens Press Conference — said that the motion could be blocked by the pro-Beijing majority in the Legislative Council, meaning the bill would not be axed.

Speaking to the press on Thursday, Lam tried to dispel speculation about ulterior motives behind her move.

"Since my announcement, I noticed that there are still some worries about this particular procedure. I want to reiterate here that the sole purpose of the LegCo procedure is to withdraw the bill," she said.

"This involves the Secretary for Security, as the responsible government official, to announce in the Legislative council that the bill will be withdrawn. There will be no debate and no voting."
Adding to a clear sense that the Chinese tyrant, Xi Jinping, has had a sudden realisation that he's overreached on all fronts, there's a trade war thaw, via Bloomie:
China and the U.S. announced that face-to-face negotiations aimed at ending their tariff war will be held in Washington in the coming weeks, amid skepticism on both sides that any substantive progress can be made.Chinese Vice Premier Liu He agreed to a visit in "early October" during a telephone call on Thursday morning Beijing time with U.S. Treasury Secretary Steven Mnuchin and U.S. Trade Representative Robert Lighthizer, according to a statement from China's Ministry of Commerce.

A cautious statement from the USTR's office confirmed that ministerial-level discussions will take place in "the coming weeks," without specifying when.

…"Neither China nor the U.S. want to be blamed by the rest of world for escalating the trade war and damaging the world economy," said Zhou Xiaoming, a former commerce ministry official and diplomat. "But the talks don't mean the two sides will inch closer or that their stances soften."
This is what Xi Jinping should have done from the beginning of both issues. Taken his medicine then gone back to thin-slicing over the long run. Or is it all just bluster and bull? Probably. That said, the combined easing of HK and trade tensions is interesting.
Finally, oil is improving, for now, with US inventories breaking lower for both crude and gas: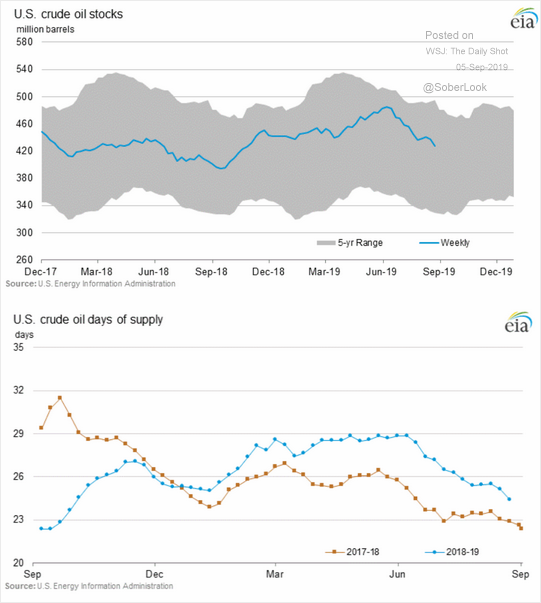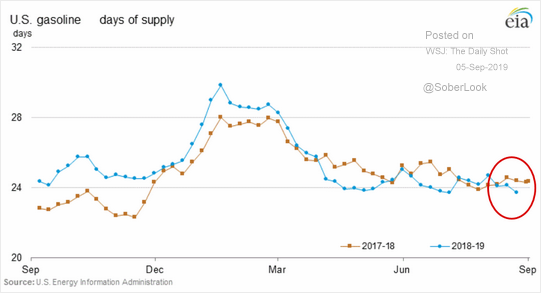 It may well be seasonal but it is what it is.
With all four of MBs horsemen of the apocalypse turning tail and running, the reversal in markets and the Australian dollar makes plenty of sense.
Whether it marks a genuine turn only time will tell.
David Llewellyn-Smith is Chief Strategist at the MB Fund and MB Super. David is the founding publisher and editor of MacroBusiness and was the founding publisher and global economy editor of The Diplomat, the Asia Pacific's leading geo-politics and economics portal.

He is also a former gold trader and economic commentator at The Sydney Morning Herald, The Age, the ABC and Business Spectator. He is the co-author of The Great Crash of 2008 with Ross Garnaut and was the editor of the second Garnaut Climate Change Review.
Latest posts by David Llewellyn-Smith (see all)