See the latest Australian dollar analysis here:
DXY was up last night despite a bouncing EUR but easing CNY: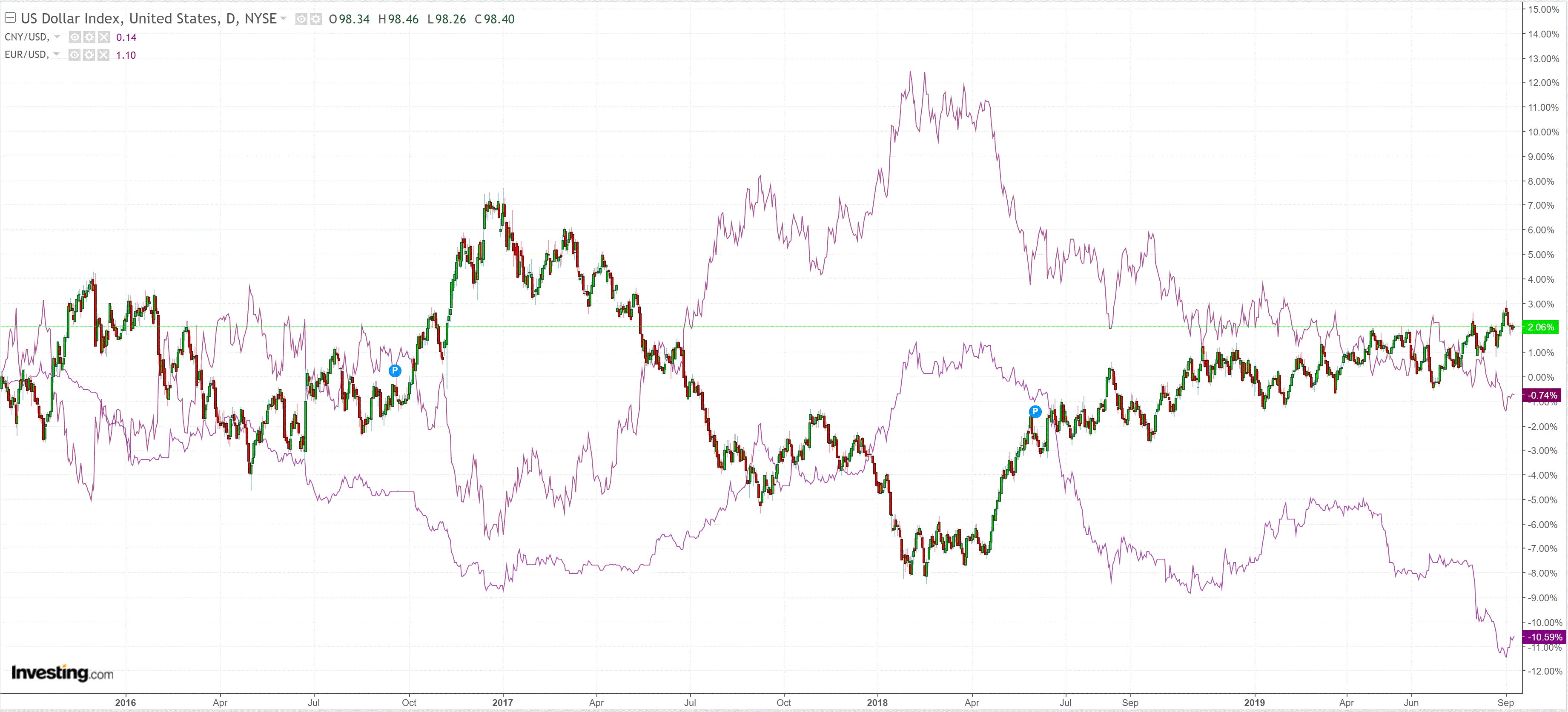 The Australian dollar flamed out versus DMs: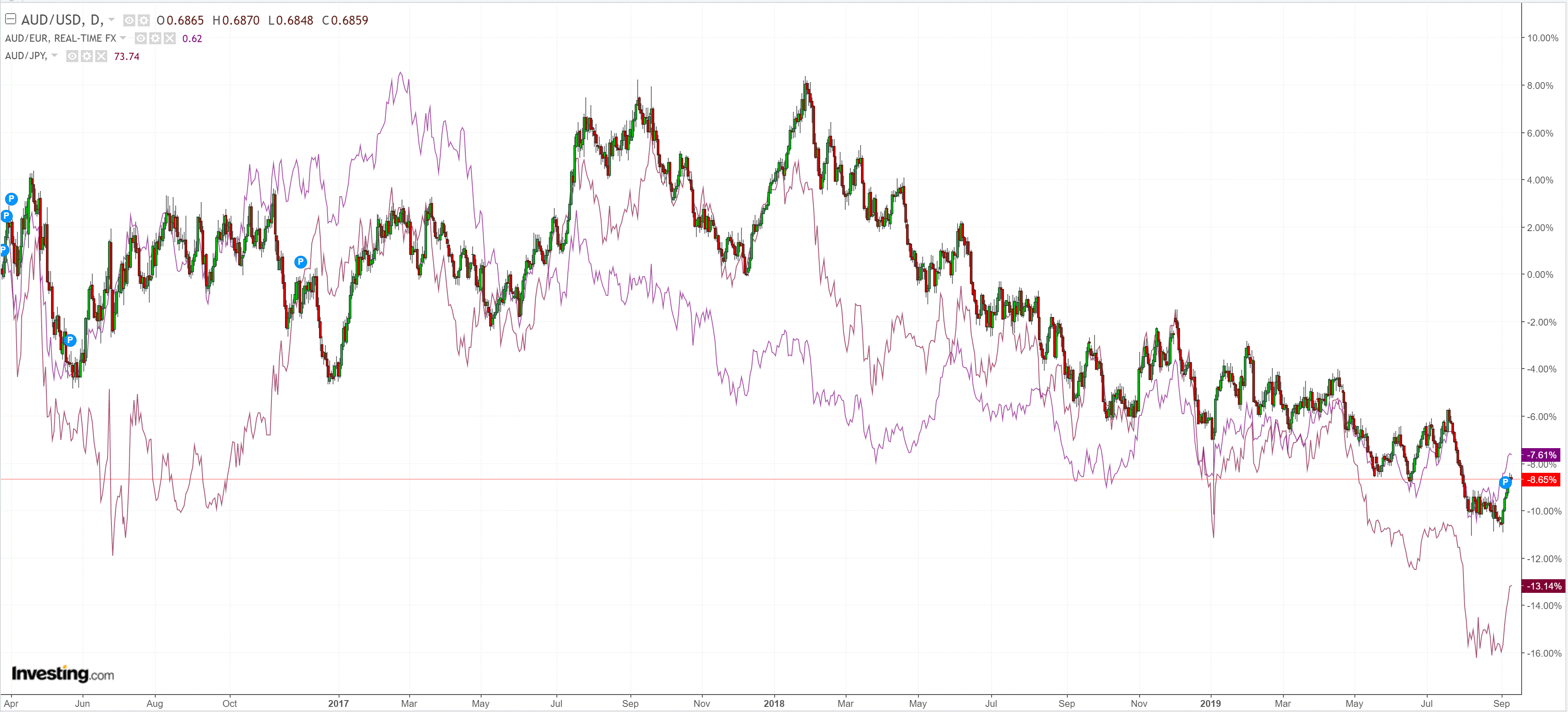 And EMs: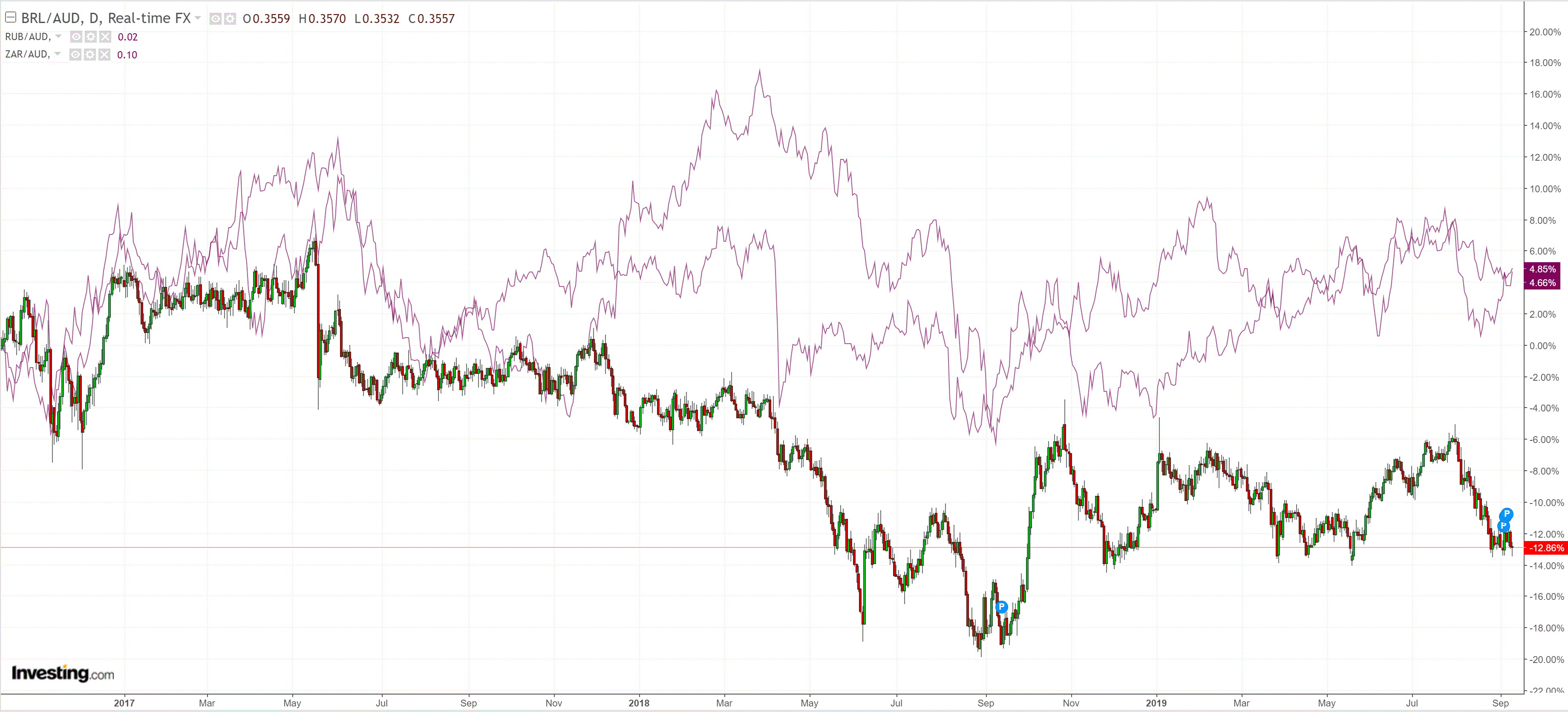 Gold is retracing as yields climb: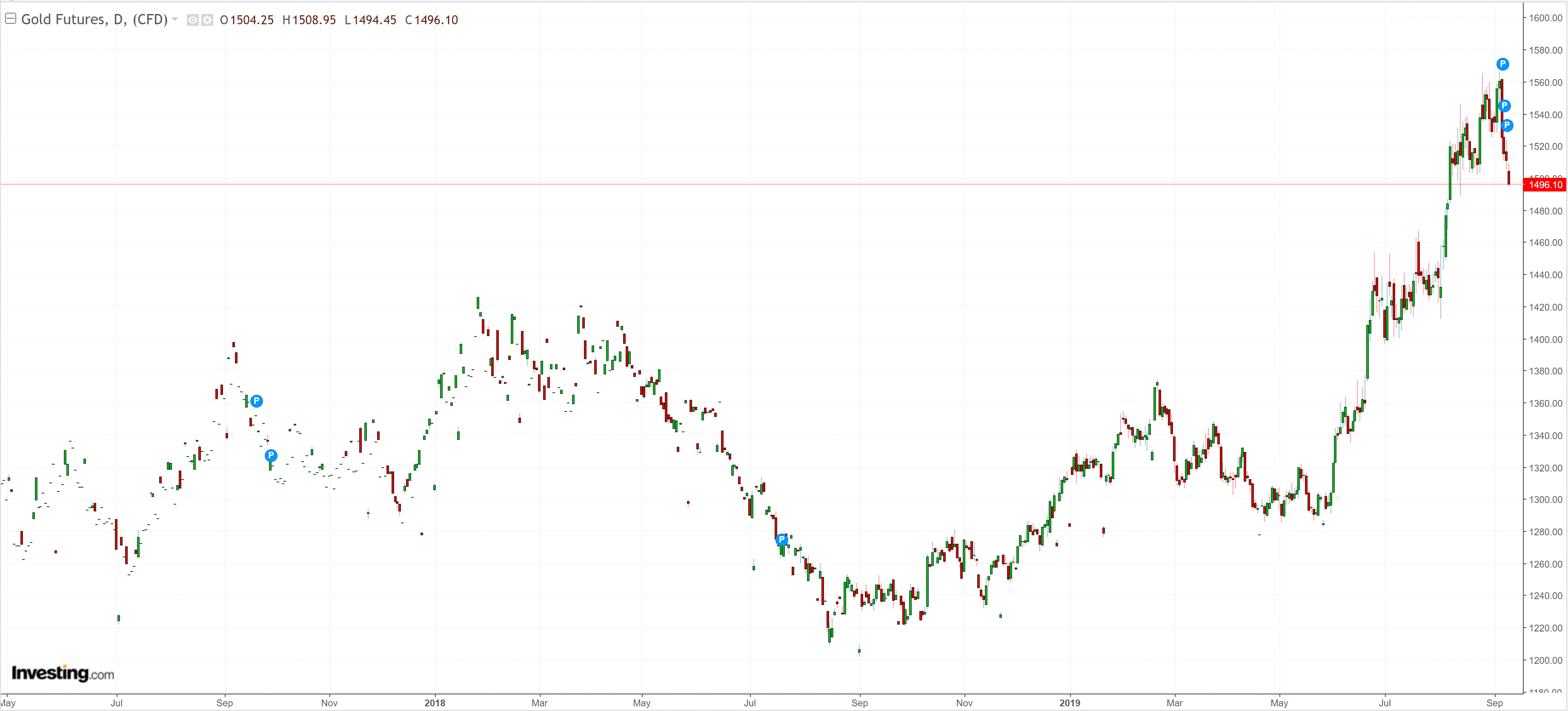 Oil fell: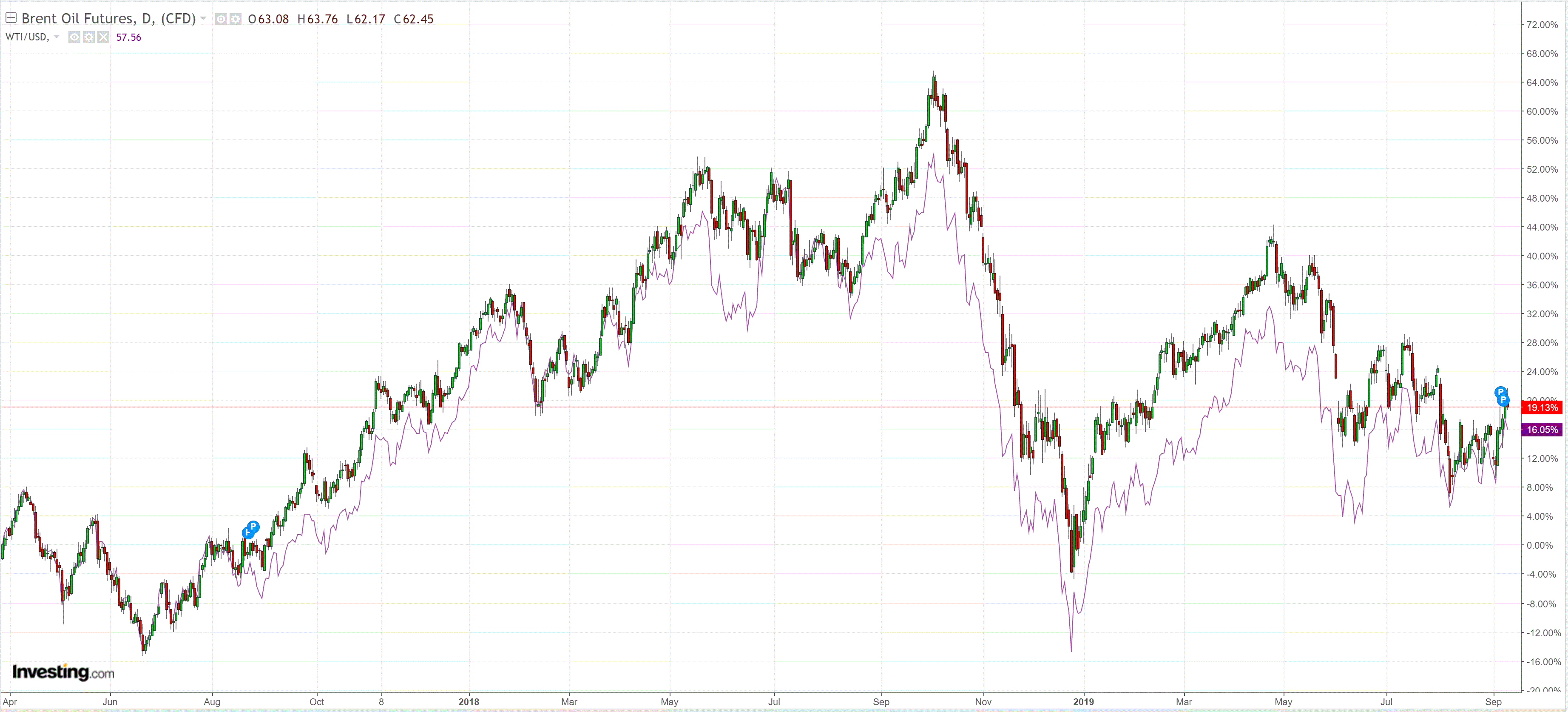 Metals were mixed: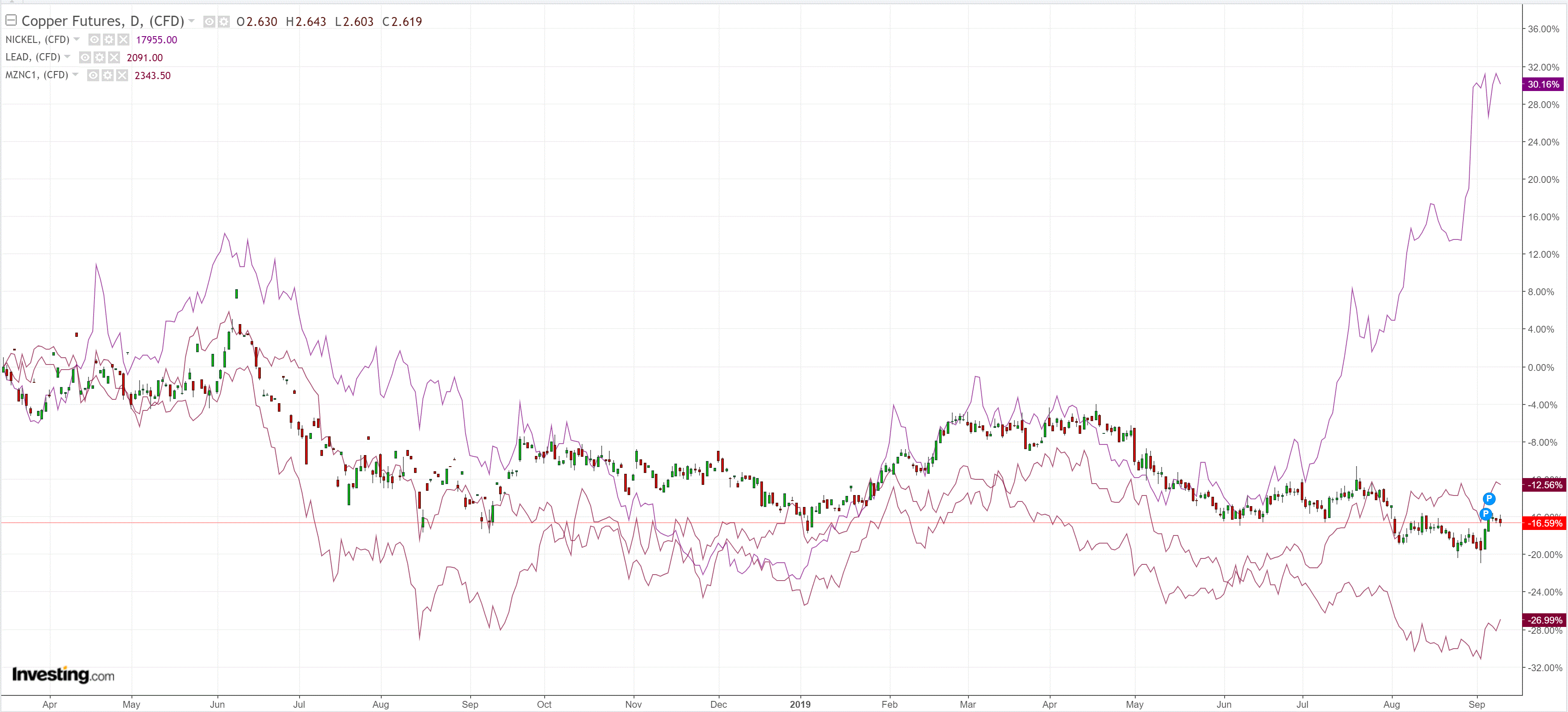 Miners up: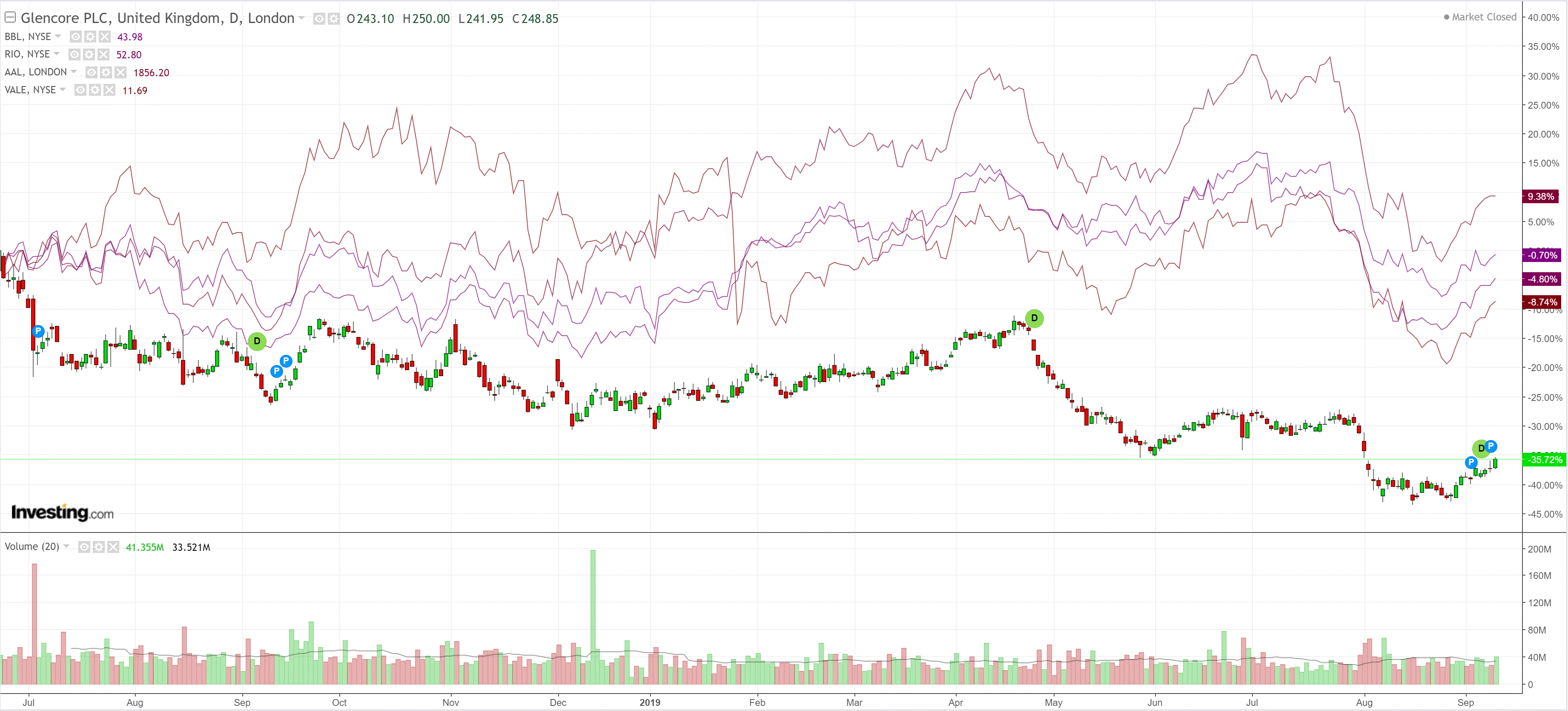 EM stocks stalled: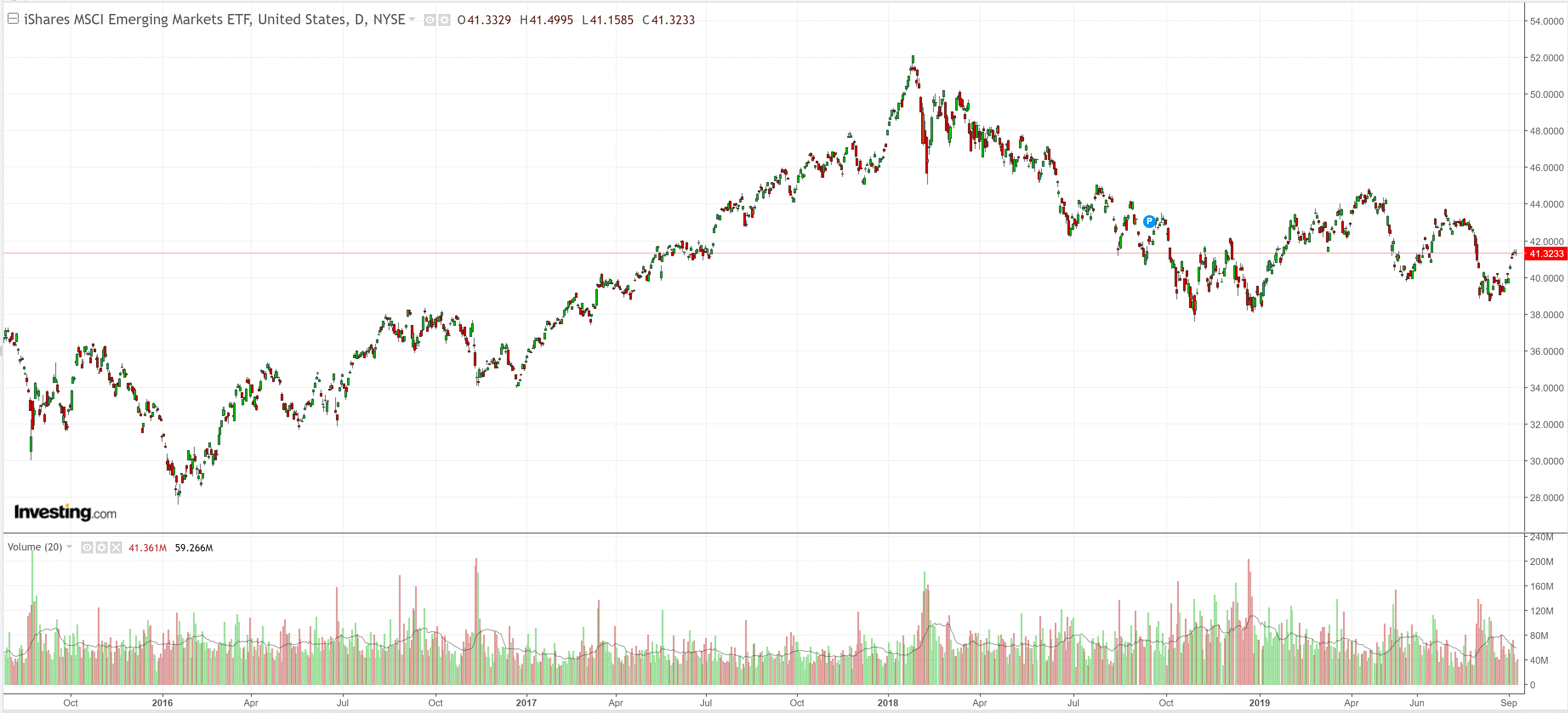 As did junk: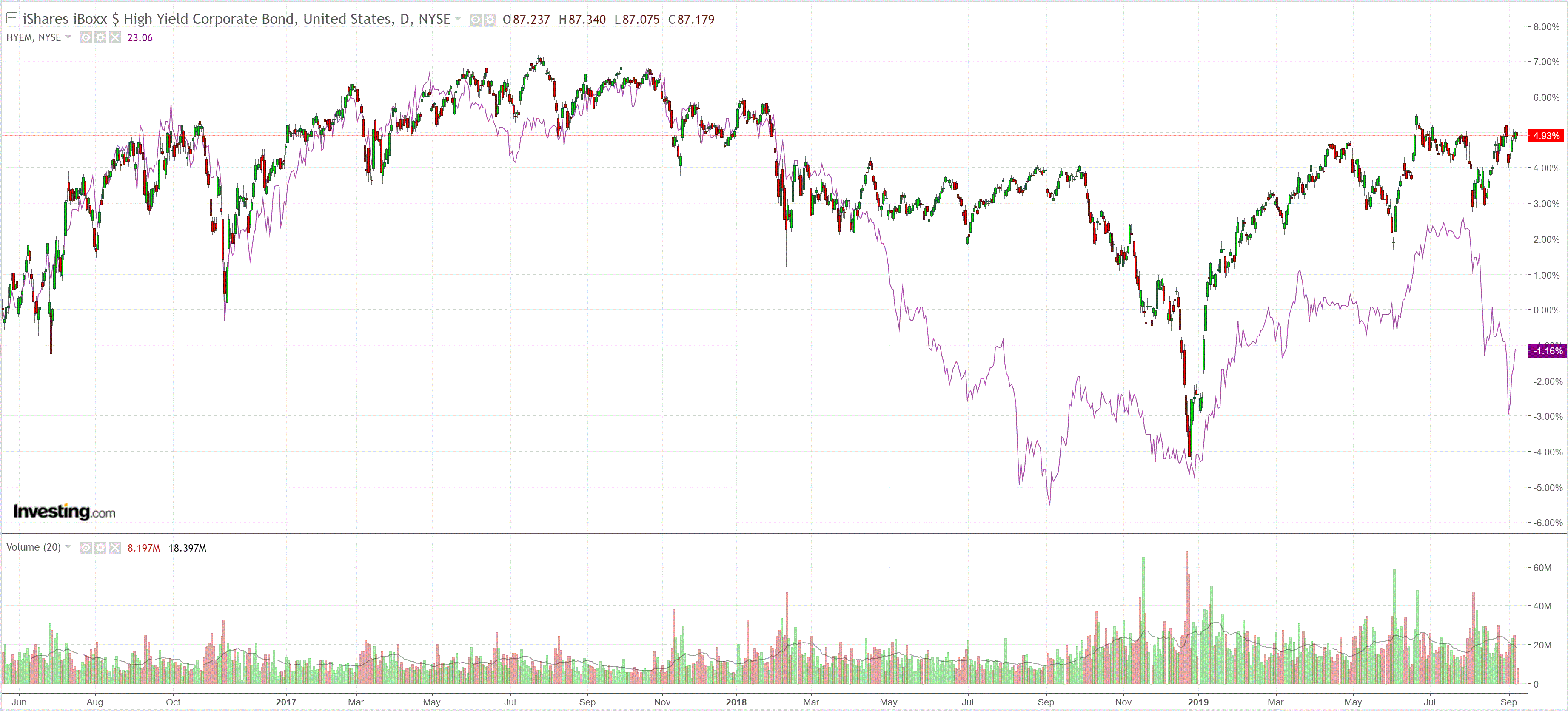 As all bonds got flogged: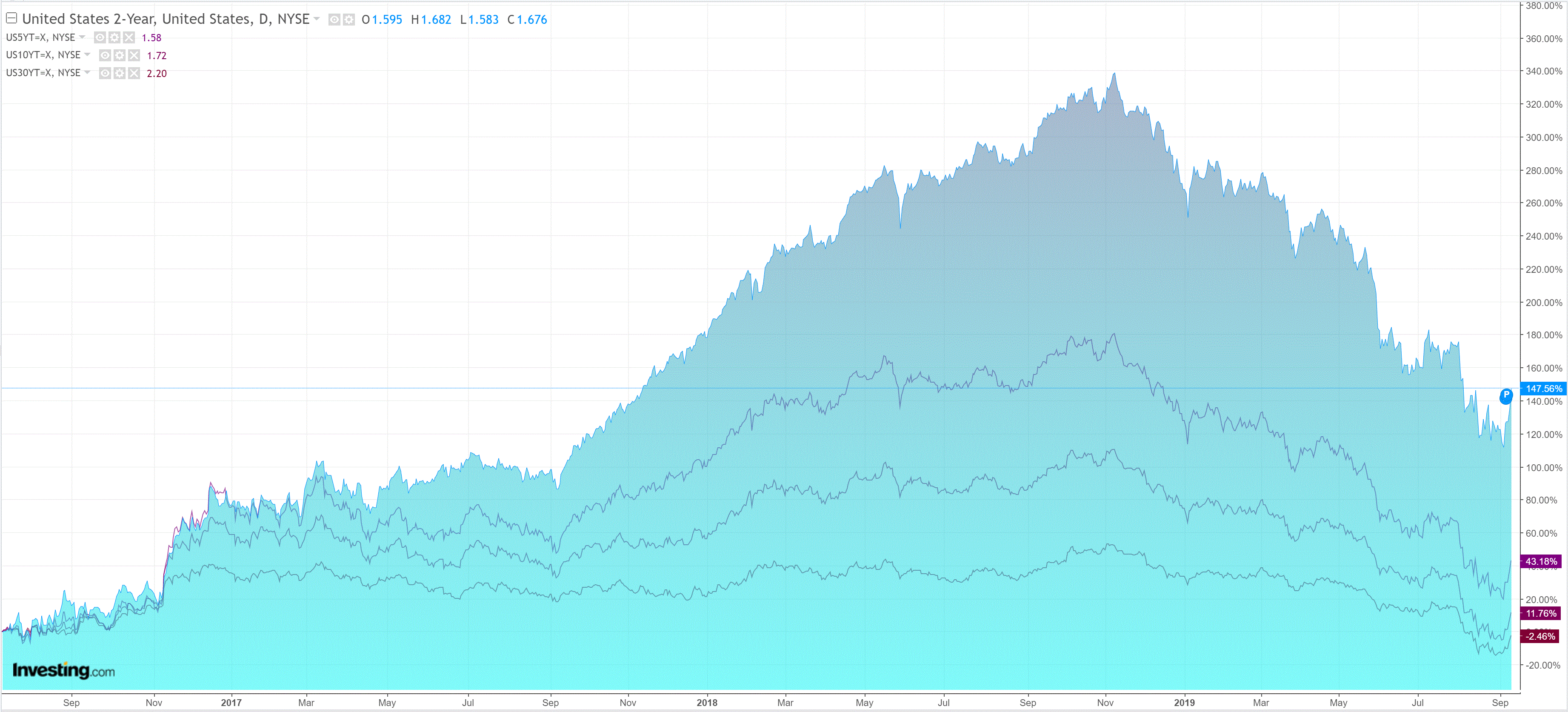 Stocks did not like it: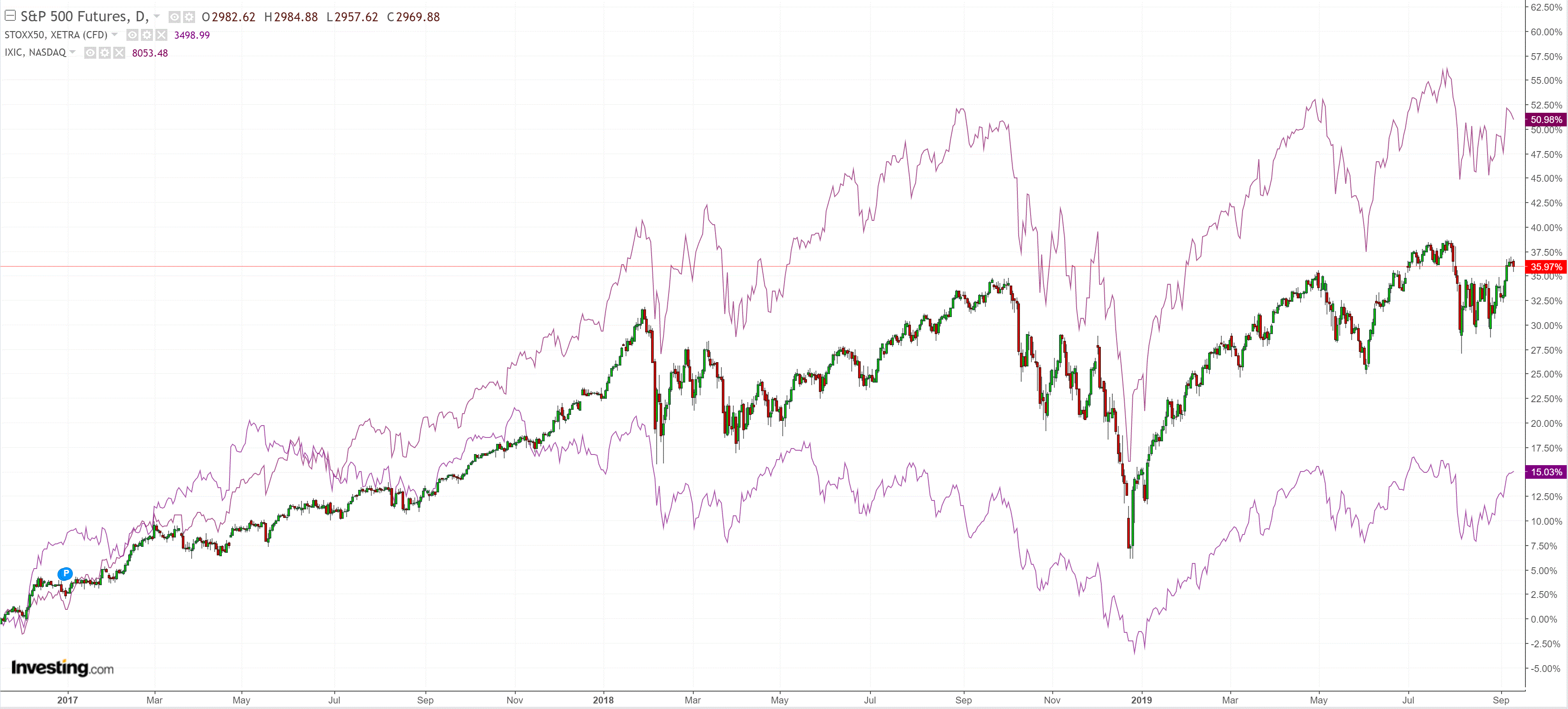 MB's four horseman of the end-of-cycle apocalypse were again riding but for now hope holds sway. Horseman one, the trade war, was mixed, Huawei stuck its nose in, via Bloomie:
The U.S. government will need to hold talks with Huawei Technologies Co. for there to be a trade deal with China, a top executive at China's largest technology company said.

"Can I imagine a trade deal where the U.S. government doesn't agree to talk to us? No I can't," Huawei Chief Security Officer Andy Purdy said at a briefing in Budapest on Tuesday.
Then there will be no deal. Xi says he can't trust Trump, via Kyodo:
Chinese President Xi Jinping voiced distrust of U.S. President Donald Trump during his meeting with the Japanese Prime Minister Shinzo Abe in June amid the U.S.-China trade dispute, a source close to the matter said Tuesday.

"I can't believe what President Trump says" concerning trade negotiations, Xi was quoted as telling Abe during a meeting on the fringe of the Group of 20 summit in Osaka.

Although Abe told Xi that Trump trusts the Chinese president, Xi continued to air his grievances about his U.S. counterpart, the diplomatic source told Kyodo News.
But we can all trust Xi. Sheesh. China might buy more seeds, via SMCP:
China is expected to agree to buy more American agricultural products in hopes of a better trade deal with the United States as the two nations prepare for a meeting between their top negotiators next month.

A source familiar with the situation said working-level officials were discussing the text of a deal, which would be reviewed when Chinese Vice-Premier Liu He met US Trade Representative Robert Lighthizer and Treasury Secretary Steven Mnuchin in Washington in October.

The text is based on a draft the two sides negotiated in April, the source said on condition of anonymity.
Yawn. Nothing much in the whole batch. Moreover, CNY still has work to do to offset tariffs to date: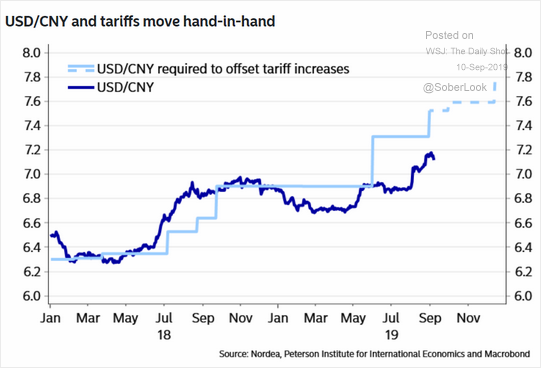 Horseman two, Hong Kong, wasn't so nice as Angry China threatened to crush it, via Reuters:
Hong Kong is an inseparable part of China and any form of secessionism "will be crushed", state media said on Monday, a day after demonstrators rallied at the U.S. consulate to ask for help in bringing democracy to city.

The China Daily newspaper said Sunday's rally in Hong Kong was proof that foreign forces were behind the protests, which began in mid-June, and warned that demonstrators should "stop trying the patience of the central government".

Chinese officials have accused foreign forces of trying to hurt Beijing by creating chaos in Hong Kong over a hugely unpopular extradition bill that would have allowed suspects to be tried in Communist Party-controlled courts.
As well as spraying Germany, via HKFP:
Hong Kong activist Joshua Wong has met Germany's foreign minister as he carries abroad his call to support the growing pro-democracy movement in the former British colony, a meeting slammed on Tuesday by China as "disrespectful".

Posting a photo of himself and Foreign Minister Heiko Maas on his Twitter account, the 22-year-old said they spoke on the "protest situation and our cause to free election and democracy in HK".

Beijing reacted angrily at their meeting during an event organised by Bild daily, saying "it is extremely wrong for German media and politicians to attempt to tap into the anti-China separatist wave".
This is a small taste of what will come if/when Beijing does crush HK. I expect the crisis would be enough to slam the door on China's global supply chains for a generation.
Horseman three, Brexit, BoJo has shut down parliament until mid-October and is pretending at finding a deal, via the FT:
Boris Johnson has vowed to double down on attempts to secure a new Brexit deal in the coming weeks, with Downing Street insisting the "priority" was to avoid leaving the bloc without a deal.

The prime minister is seeking a fresh solution to the Irish border issue, which derailed three attempts by his predecessor Theresa May earlier this year to push a deal through parliament.

Mr Johnson met Leo Varadkar, the Irish Taoiseach, on Monday and will hold talks with Arlene Foster, leader of Northern Ireland's Democratic Unionist party, and her deputy Nigel Dodds, on Tuesday afternoon in Number 10.
There's no chance of this coming together.
Horseman four, oil, probably saw the biggest news with Trump sacking  war-monger John Bolton, via The Guardian:
Donald Trump hired Bolton to break things, like the Obama administration legacy and the orthodox foreign policy establishment in general. Now, with the 2020 election coming, a downturn looming and a second presidential term in doubt, Trump is trying to build a foreign policy legacy of his own – or at least a reasonable impression of one.

For the president, that involves shaking hands with adversaries and announcing diplomatic breakthroughs with the likes of Tehran and the Taliban. Almost no one expected him to be able to make that hairpin pivot with someone as bellicose and determined as Bolton at his side.
As a Jacksonian, Trump was never going to let Bolton run wild but this does take heat off Iran so oil pulled back. The IEA also cut its demand outlook (as did Citi and Goldman):
There have been concerns about the health of the global economy expressed in recent editions of this Report and shown by reduced expectations for oil demand growth. Now, the situation is becoming even more uncertain: the US-China trade dispute remains unresolved and in September new tariffs are due to be imposed. Tension between the two has increased further this week, reflected in heavy falls for stock and commodity markets. Oil prices have been caught up in the retreat, falling to below $57/bbl earlier this week. In this Report, we took into account the International Monetary Fund's recent downgrading of the economic outlook: they reduced by 0.1 percentage points for both 2019 and 2020 their forecast for global GDP growth to 3.2% and 3.5%, respectively.

Oil demand growth estimates have already been cut back sharply: in 1H19, we saw an increase of only 0.6 mb/d, with China the sole source of significant growth at 0.5 mb/d. Two other major markets, India and the United States, both saw demand rise by only 0.1 mb/d. For the OECD as a whole, demand has fallen for three successive quarters. In this Report, growth estimates for 2019 and 2020 have been revised down by 0.1 mb/d to 1.1 mb/d and 1.3 mb/d, respectively. There have been minor upward revisions to baseline data for 2018 and 2019 but our total number for 2019 demand is unchanged at 100.4 mb/d, incorporating a modest upgrade to our estimate for 1Q19 offset by a decrease for 3Q19. The outlook is fragile with a greater likelihood of a downward revision than an upward one.
It will not take much to tip that year end surplus into a flood.
Bond yields are getting belted as hope holds sway over the four horseman risks for now. But it remains a bear market rally for global growth prospects and the Australian dollar with little sign of genuine progress in any of the big political headwinds.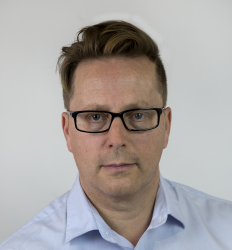 Latest posts by David Llewellyn-Smith
(see all)