See the latest Australian dollar analysis here:
DXY was up strongly last night as EUR fell with CNY: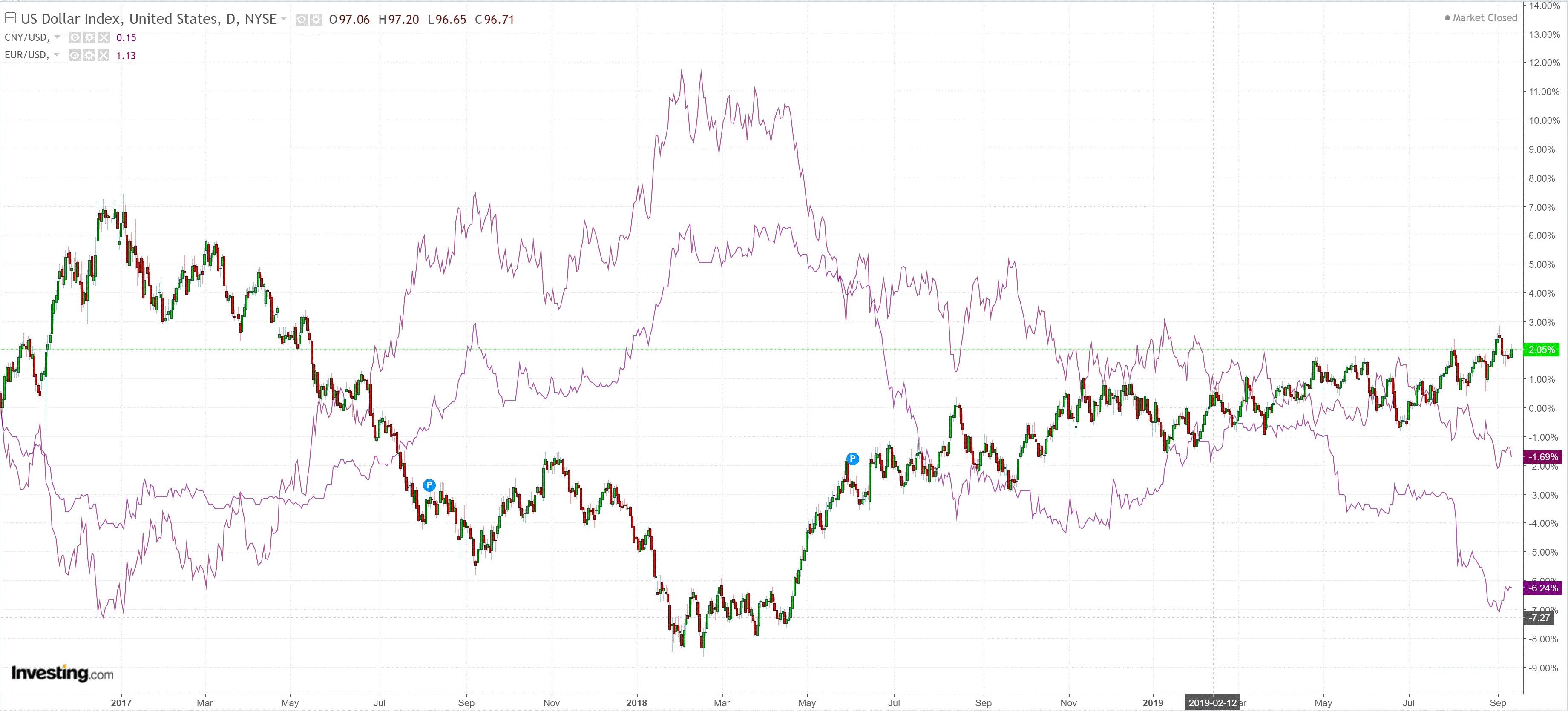 That capped the Australian dollar gains versus the USD but it ripped on versus other DMs: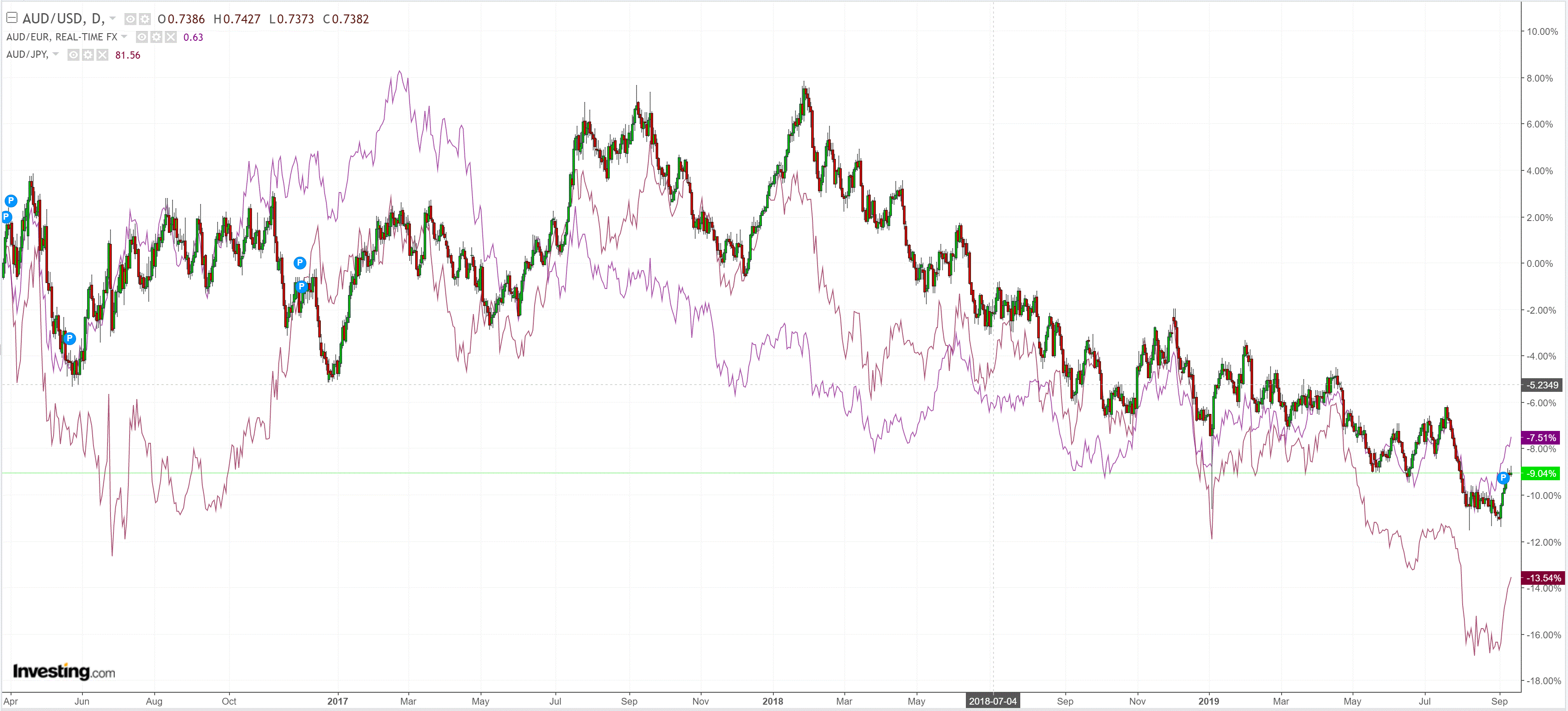 And EMs: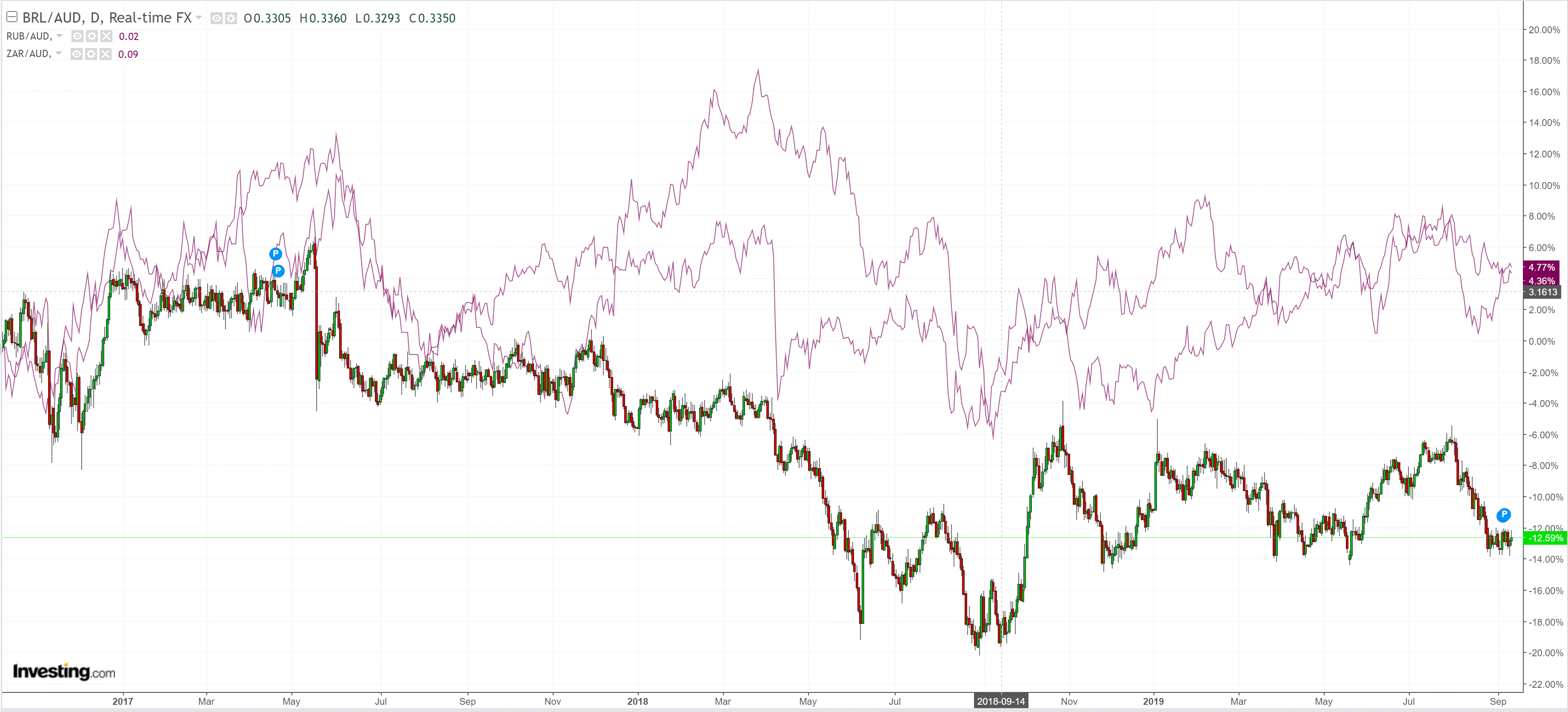 Gold stopped falling: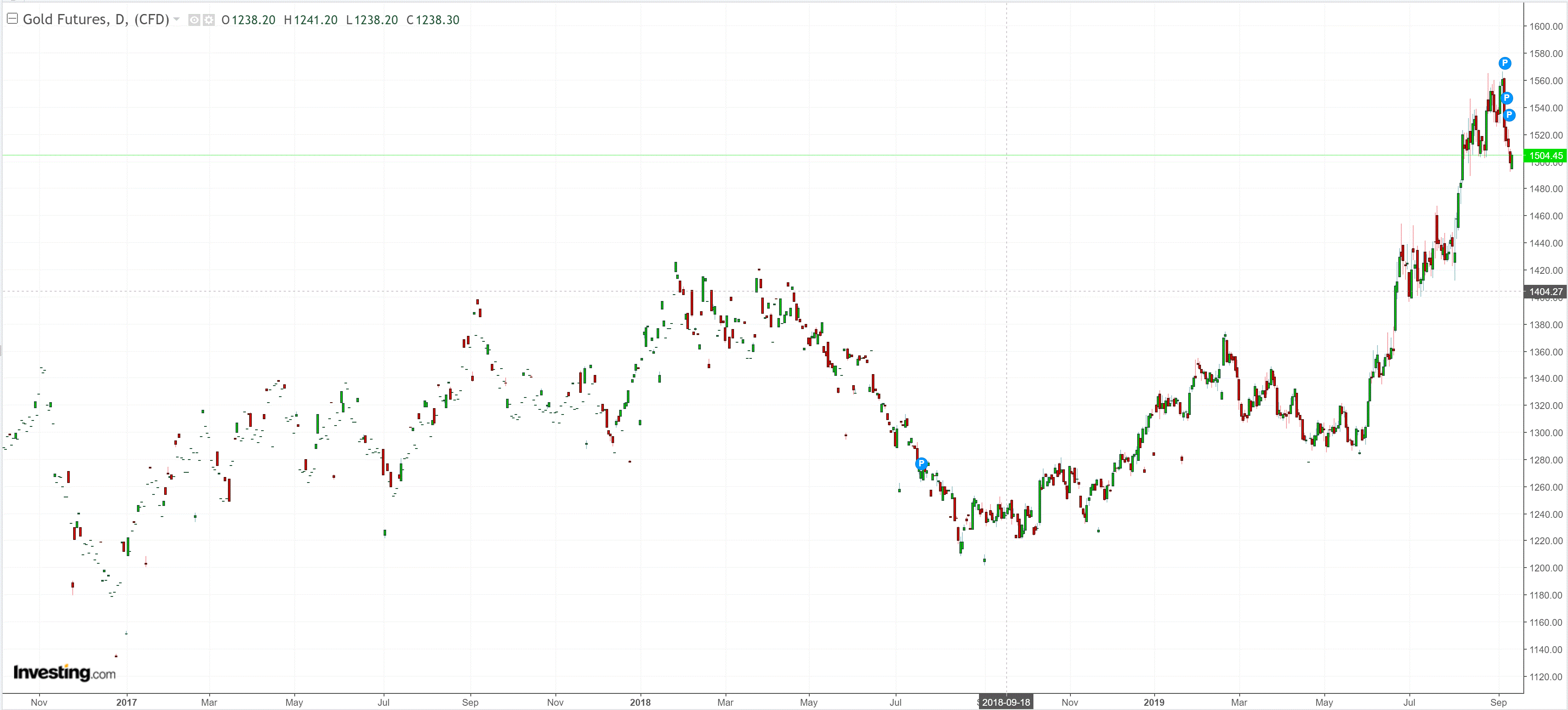 Oil resumed falling: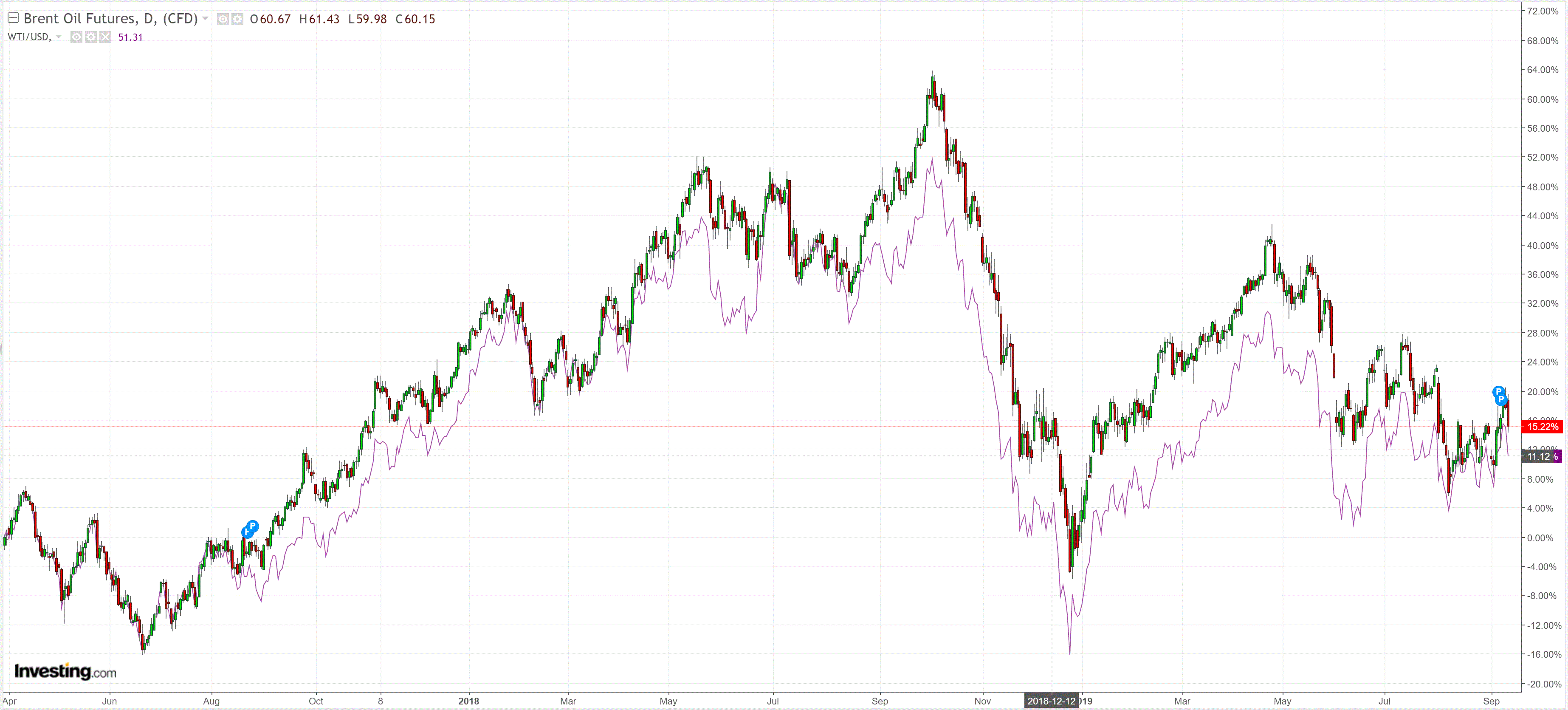 Metals too: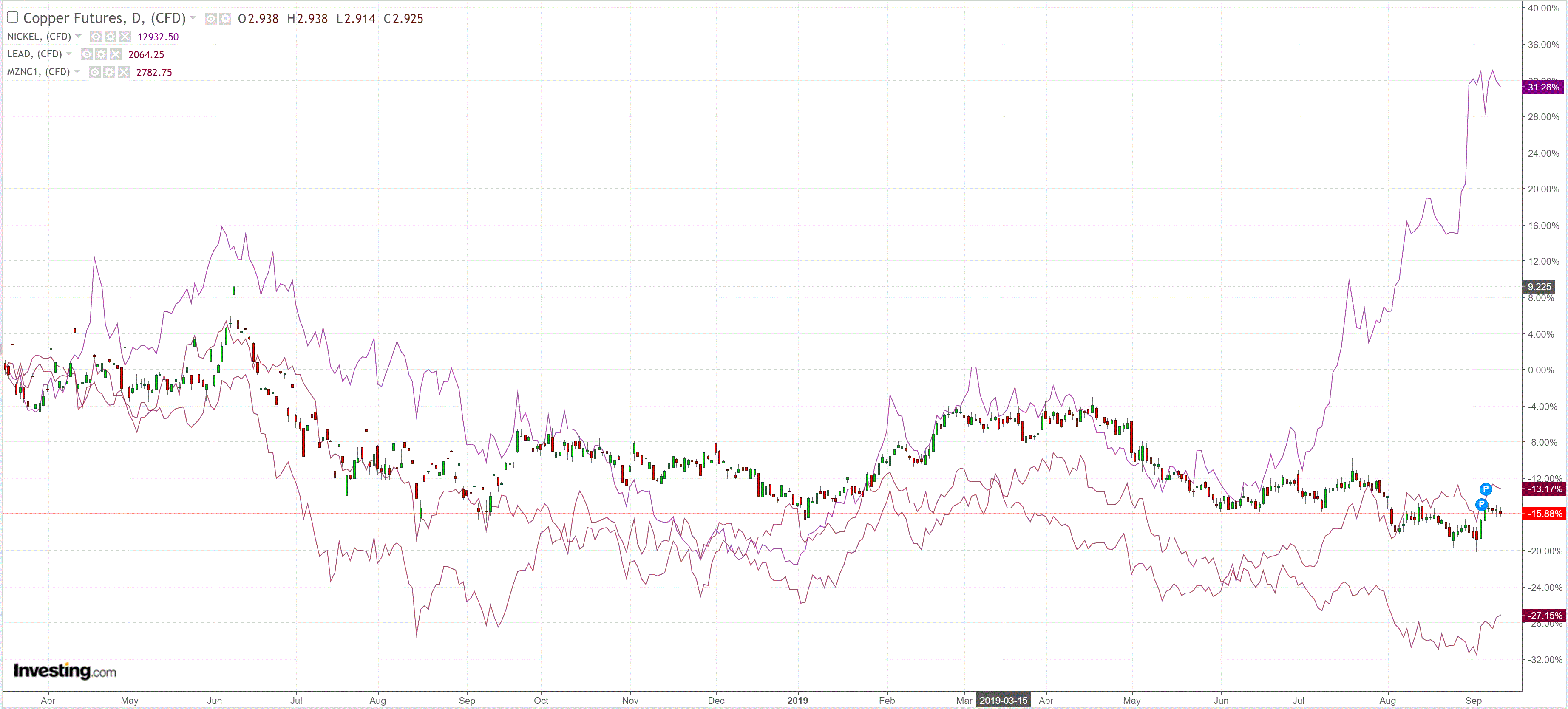 But miners are back!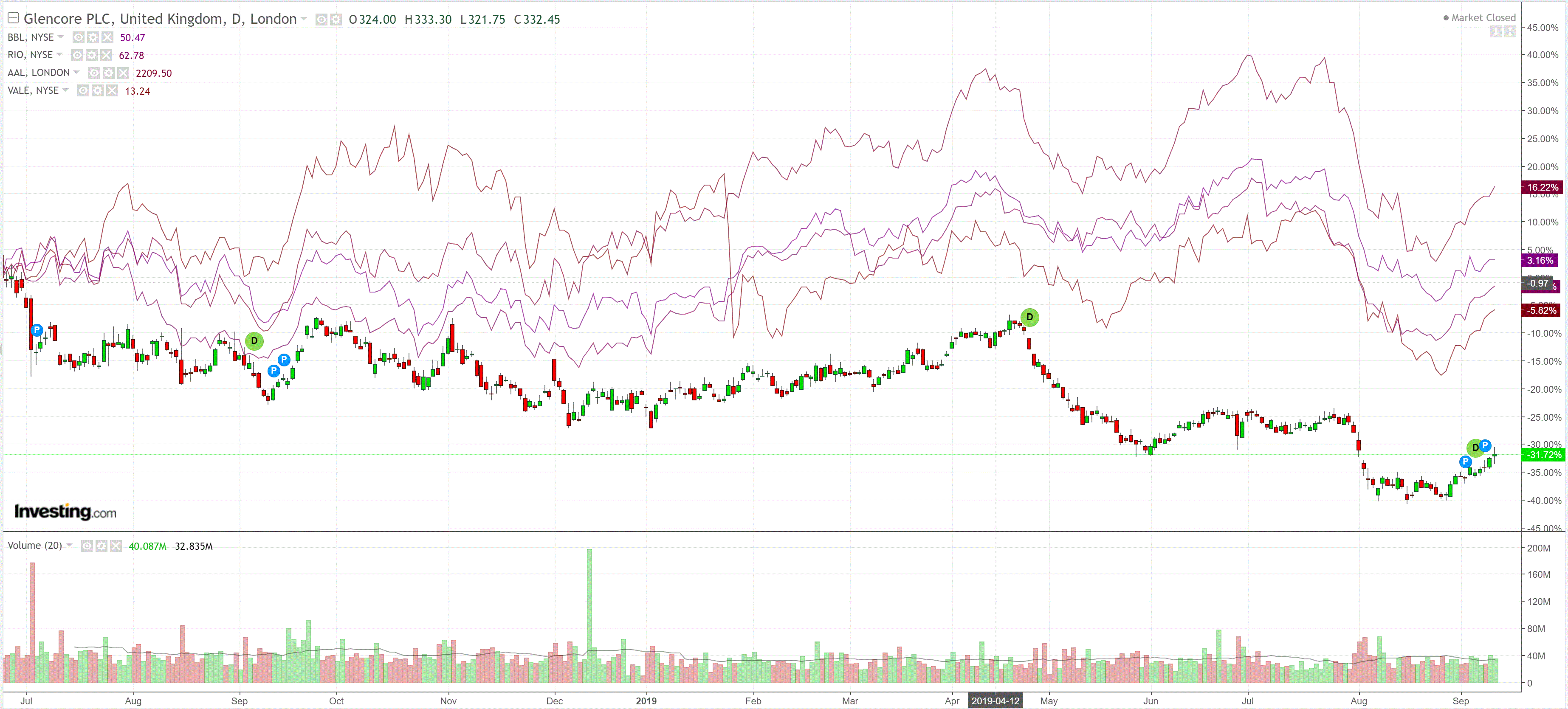 And EM stocks: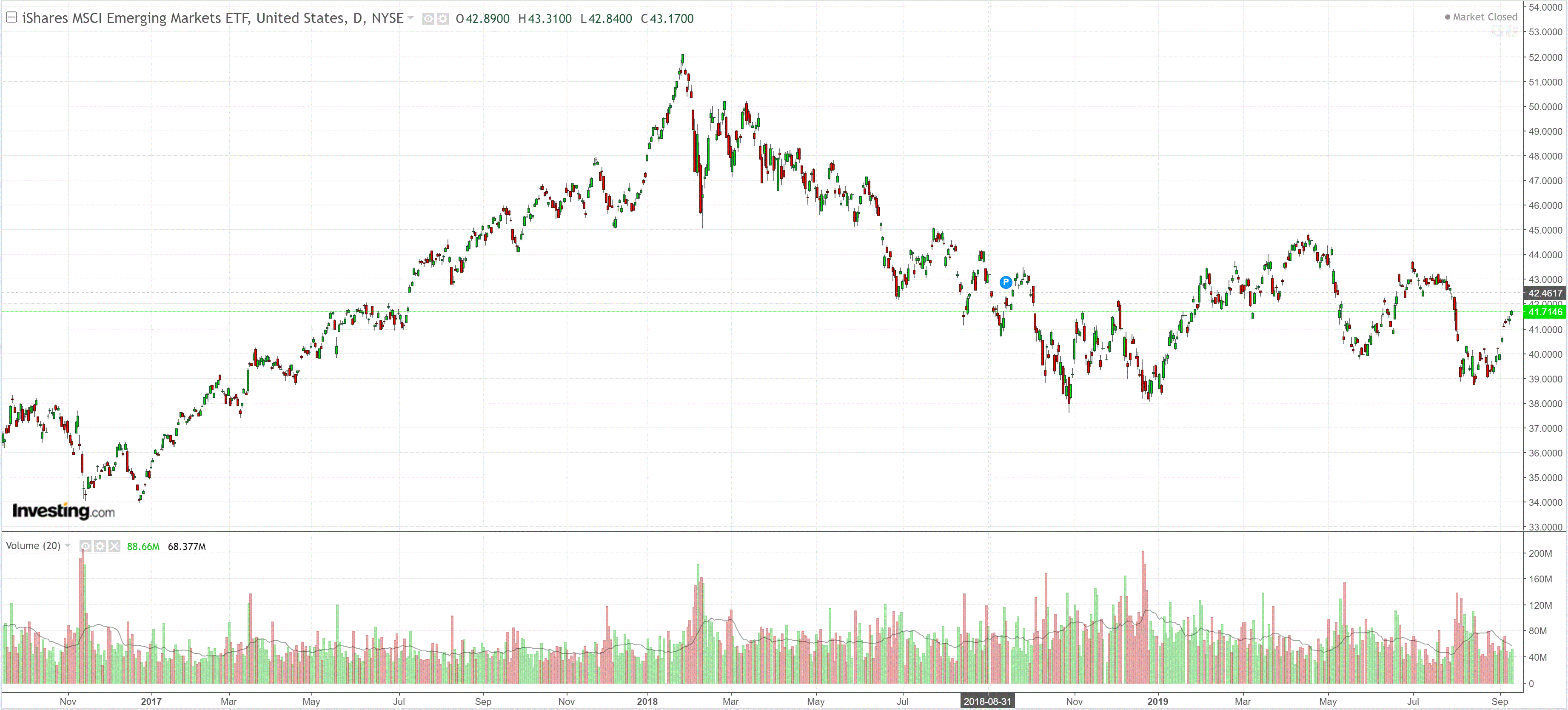 But junk fell: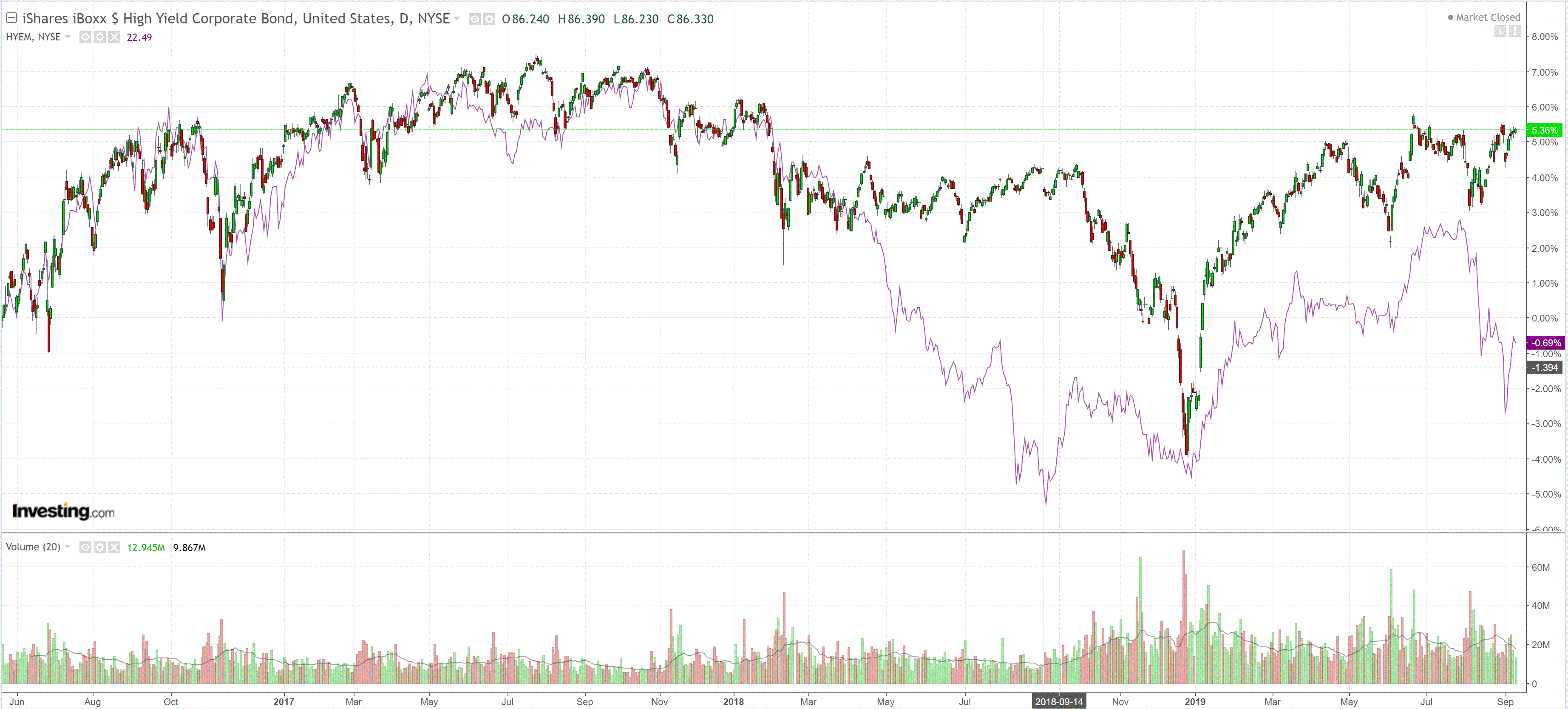 Treasuries were bid: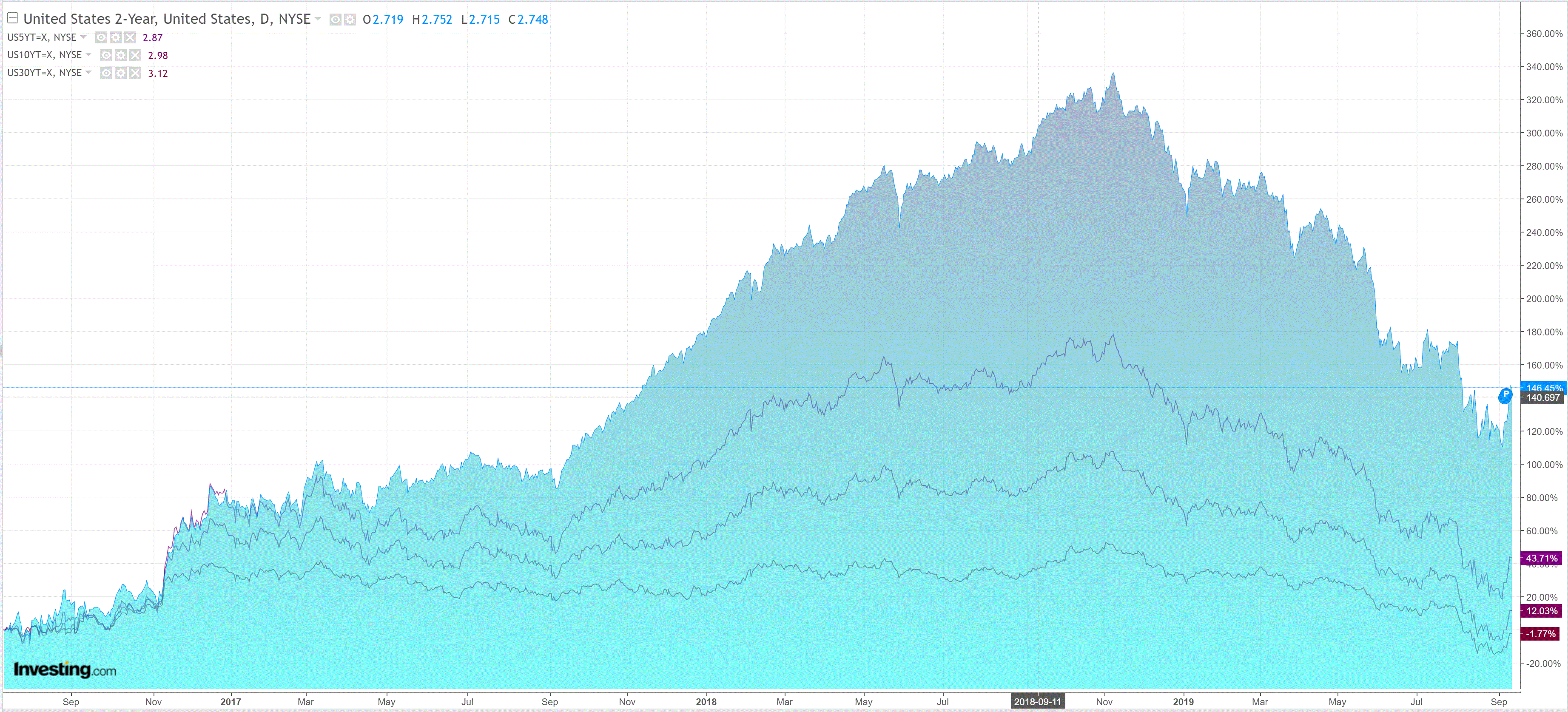 The bund curve is still getting nuked: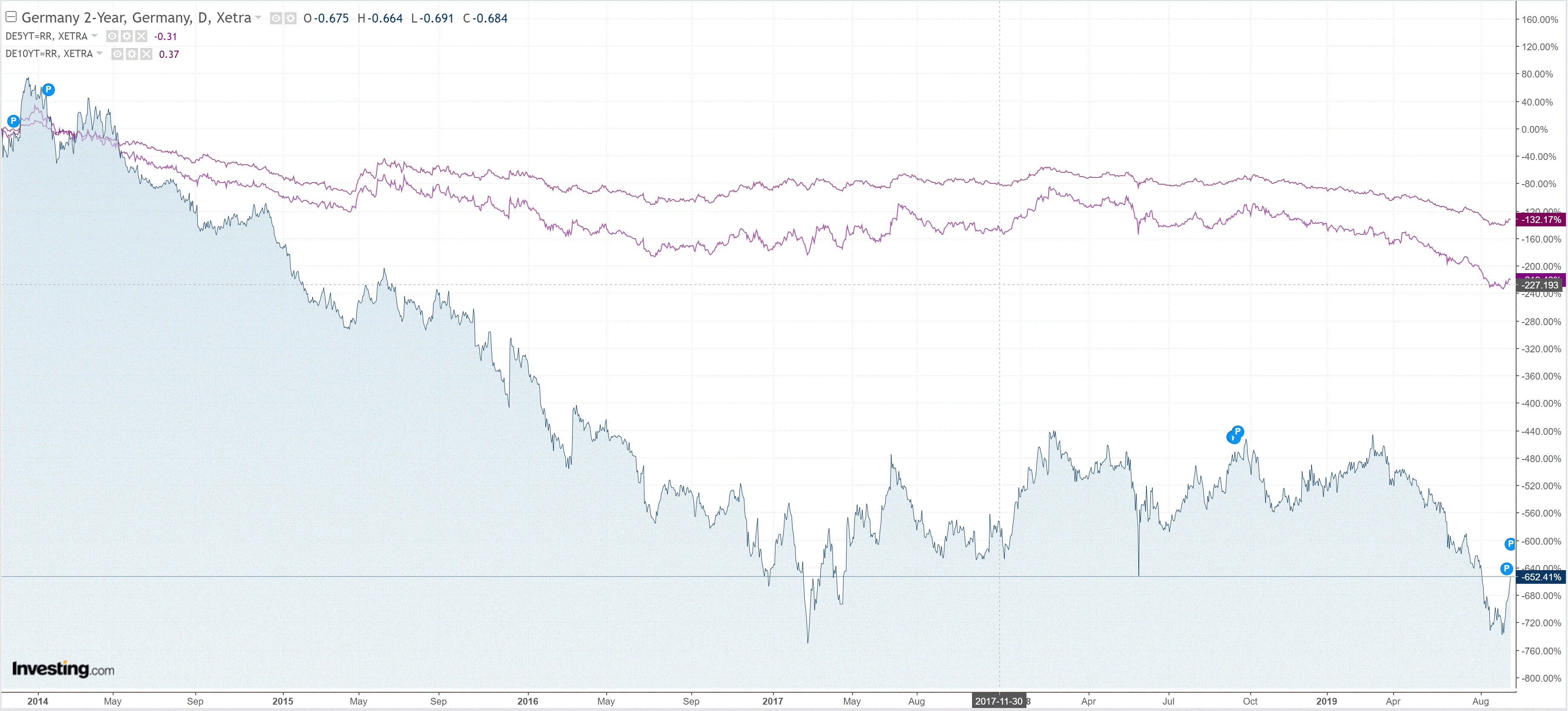 But Australia is steepening as the bubble returns: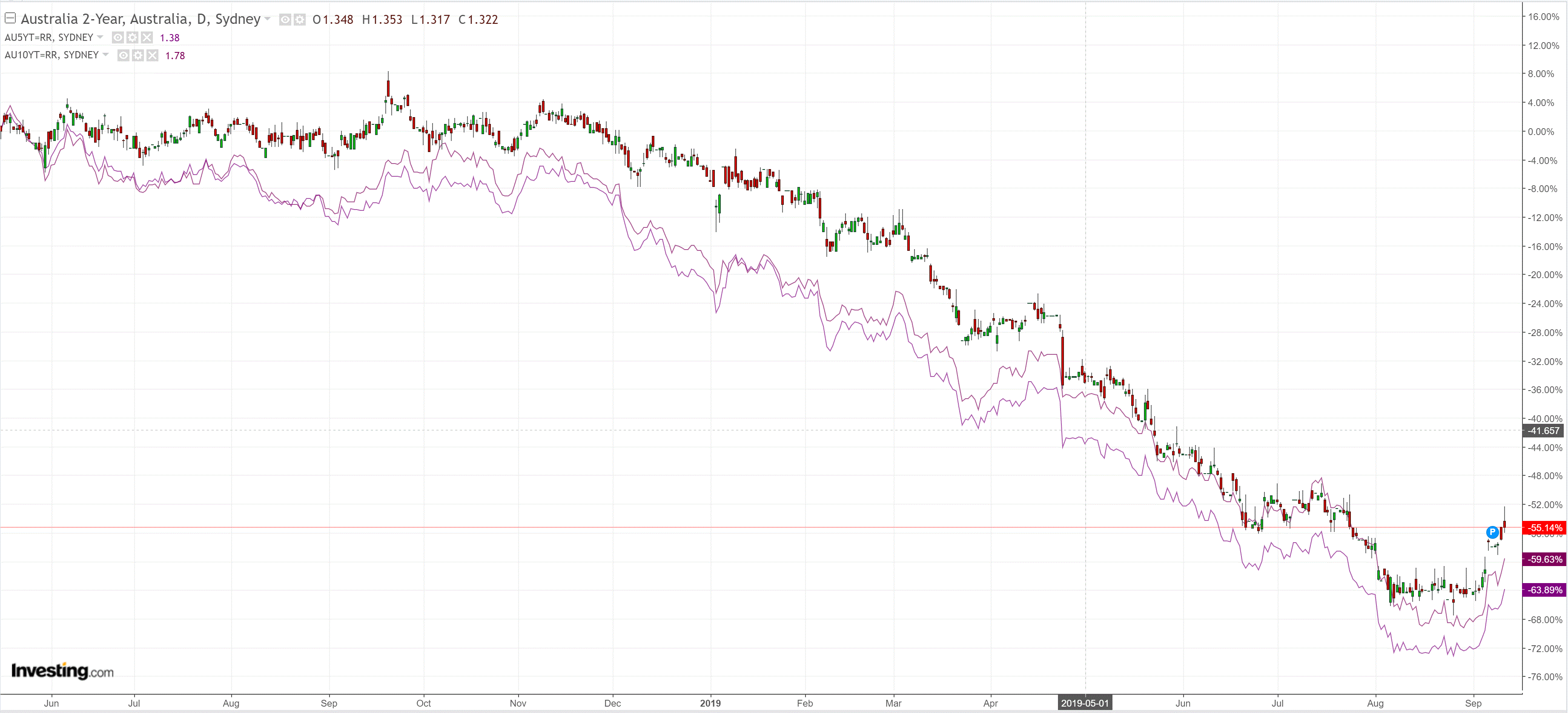 Stocks now look like they might try to break higher: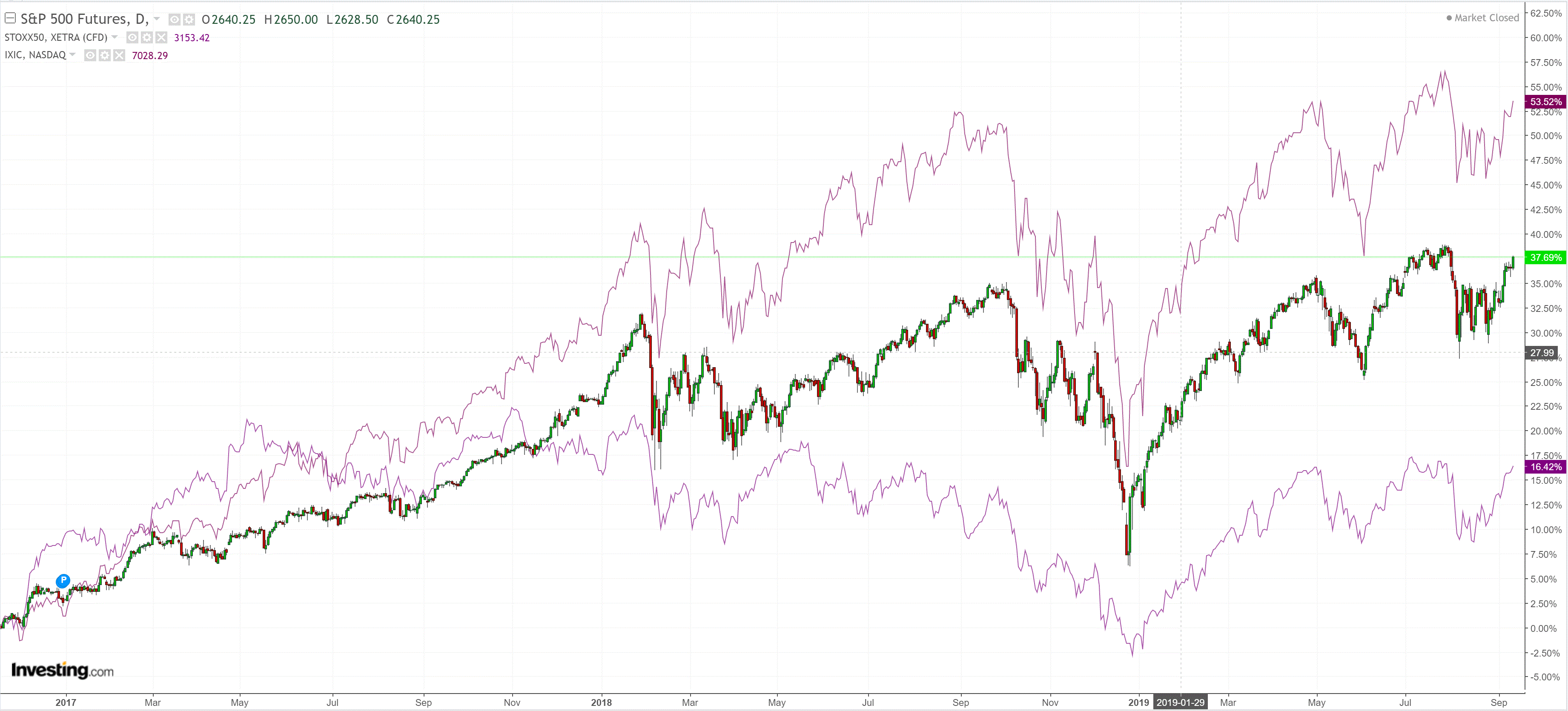 Westpac has the wrap:
Event Wrap

US PPI inflation rose 0.1% in August, while the core rate rose 0.3% (1.8% and 2.3% yoy). Prices in the services sector led the gains, while goods, food, and energy prices declined.

Bloomberg reported that US Pres. Trump discussed easing sanctions on Iran, although officials declined comment.

Trump also reiterated that he believes China wants to make a trade deal with the US. China announced a range of US. goods to be exempted from the 25% extra tariffs put in place last year, seeking to ease the impact from the trade war. High-level Chinese negotiators will travel to the US for talks in the coming weeks, and lower-level officials will also hold talks this month.

Event Outlook

NZ: Food prices for August are released.

Europe: the ECB policy meeting is universally expected to deliver a 10bp deposit rate cut to -0.50%. The key focus will be on the details of a likely broader stimulus package. At the July meeting, the ECB stated they had tasked Eurosystem committees with examining options ranging from reinforced forward guidance, a tiered reserves system and restarting asset purchases.

US: Aug CPI is expected to edge up 0.1%, seeing annual inflation hold at 1.8%yr. The core measure is seen to rise 0.2%, which would see the annual pace edge up to 2.3%yr from 2.2%yr.
Reflation hope prevailed over political risks again. The four horseman of MB's end-of-cycle shock were mostly driven back. First, China nudged things along with a little trade was de-escalation, at Bloomie:
China announced a range of U.S. goods to be exempted from 25% extra tariffs put in place last year, as the government seeks to ease the impact from the trade war without lifting charges on major agricultural items like soybeans and pork.
Second, it wasn't very nice to Hong Kong, via
HKFP
:
Some Hongkongers have said that they will temporarily halt protests out of respect for the victims of the 9/11 terror attack. The move came after a Chinese state-run paper accused "radical protesters" of planning local acts of terrorism on Wednesday – the anniversary of the 2001 attacks on the US.

On Monday, the China Daily Hong Kong edition wrote in a Facebook post that the claim was based on "leaked information" in online chat rooms, attaching a picture of the World Trade Centre under attack. "Anti-government fanatics are planning massive terror attacks, including blowing up gas pipes, in Hong Kong on September 11," read the post.
The charming CCP at work. But protests are suspended.
Third, Brexit was all over the place but most important was this, via Reuters:
While parliament has so far blocked two of Johnson's requests for an election, Farage said it was clear that there would be one soon and that traditional party loyalties to Conservative and Labour had changed due to Brexit.

"If we go beyond the 31st of October and we are still a member of the European Union – which looks increasingly likely – then a lot of votes will shift from the Conservative Party to the Brexit Party," Farage told reporters.

He said he would consider a pact with Johnson's Conservatives ahead of a possible general election if Johnson agreed to press for a "clean break" Brexit.

"The Conservatives will take a real kicking from Nov. 1 onwards," Farage added. "I very much hope that Boris Johnson will simply look at the numbers. If we stand against them, they cannot win a majority."

Johnson's political spokesman said: "The PM will not be doing a deal with Nigel Farage."
Not now. But after any election he sure will: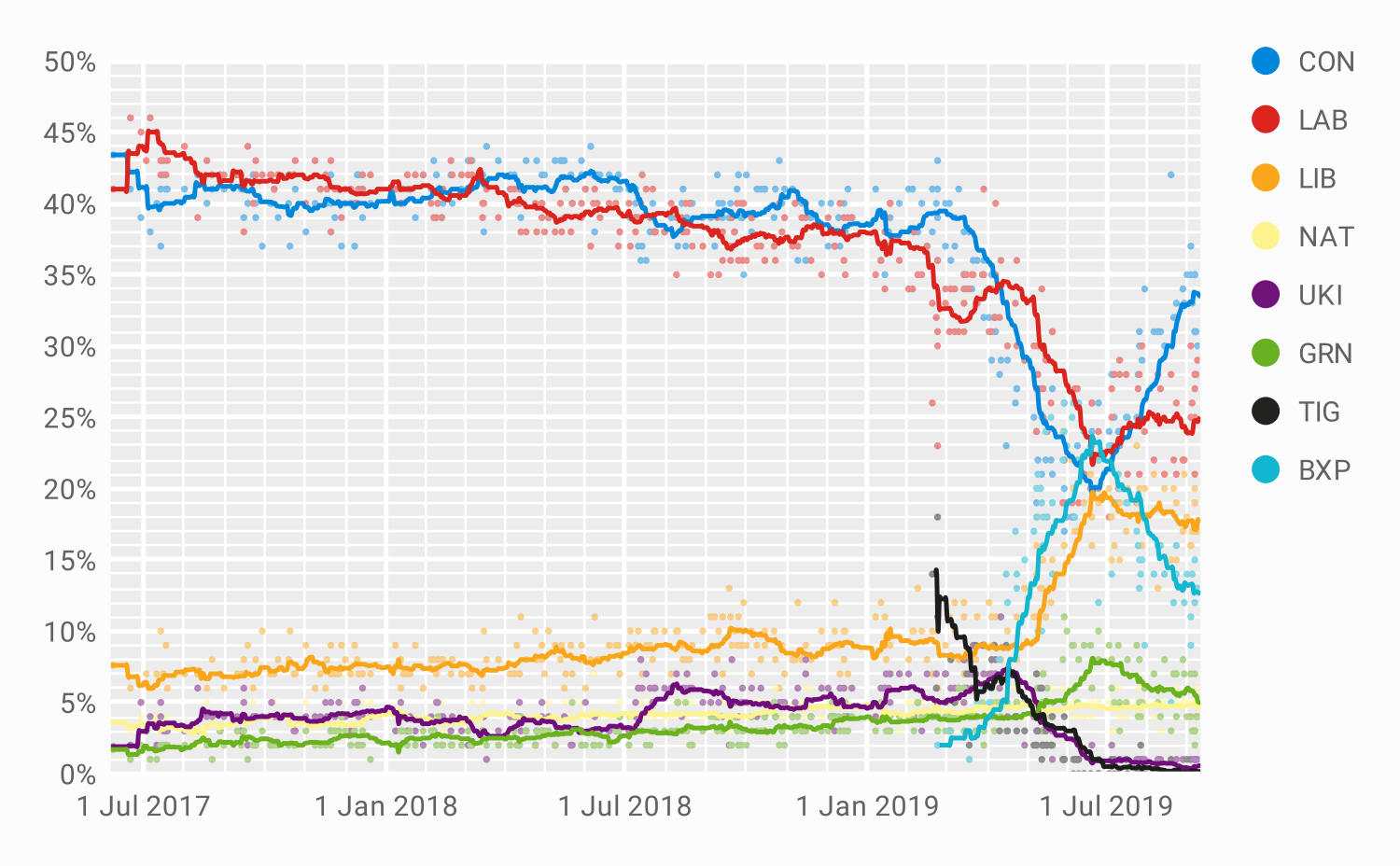 Fourth, oil was down sharply on Iran detente, via Bloomberg:
Bolton made sure to block any and all avenues for diplomacy w/ Iran, including a plan being brokered by Macron," Suzanne DiMaggio, a senior fellow at the Carnegie Endowment for International Peace, said on Twitter.

"The French are offering Trump a facing-saving way out of a mess of his creation. He should grab it."
Falling oil helped bonds and stocks.
JPM sees the possibility of a ripping rally in the short term:
…positive fundamental developments related to Brexit, Italy, Hong Kong, US economic activity (services), and most importantly negotiations between the US and China that are scheduled for October.

…given the increased monetary stimulus, providing support for the market and value stocks…the October negotiations will be the key for future performance of equity markets and more broadly the global economy.

…recent voter polls indicate that 65% of US voters would blame US administration trade policies and Trump directly for market volatility, and 57% would blame Trump if the US were to enter recession.

These results were confirmed with another poll yesterday indicating similar results. A recession going into election would be politically devastating, and with the time window to the election closing, it would be reasonable to expect some progress on trade. This could give enough time for monetary and fiscal measures to turn around economic activity.

…the value rotation can continue and the broad market could move higher going into October negotiations, and if real progress is made, continue into a more sustained rally.

This view is based on positioning, record factor spreads (e.g., value vs low volatility), and an unwind of some of the August technical flows in both rates and equities.
There isn't much fiscal support. Monetary support is building even if it has stalled in China. It's mostly going to impact stocks anyway so what this argument really amounts to is stocks will go up on a monetary thermal and that will support economic activity in the short term via the wealth effect.
While this hope abides, the Australian dollar will rise.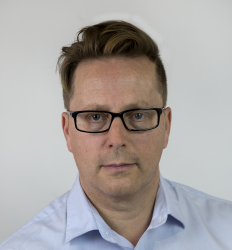 Latest posts by David Llewellyn-Smith
(see all)