See the latest Australian dollar analysis here:
DXY was flat, EUR up and CNY down: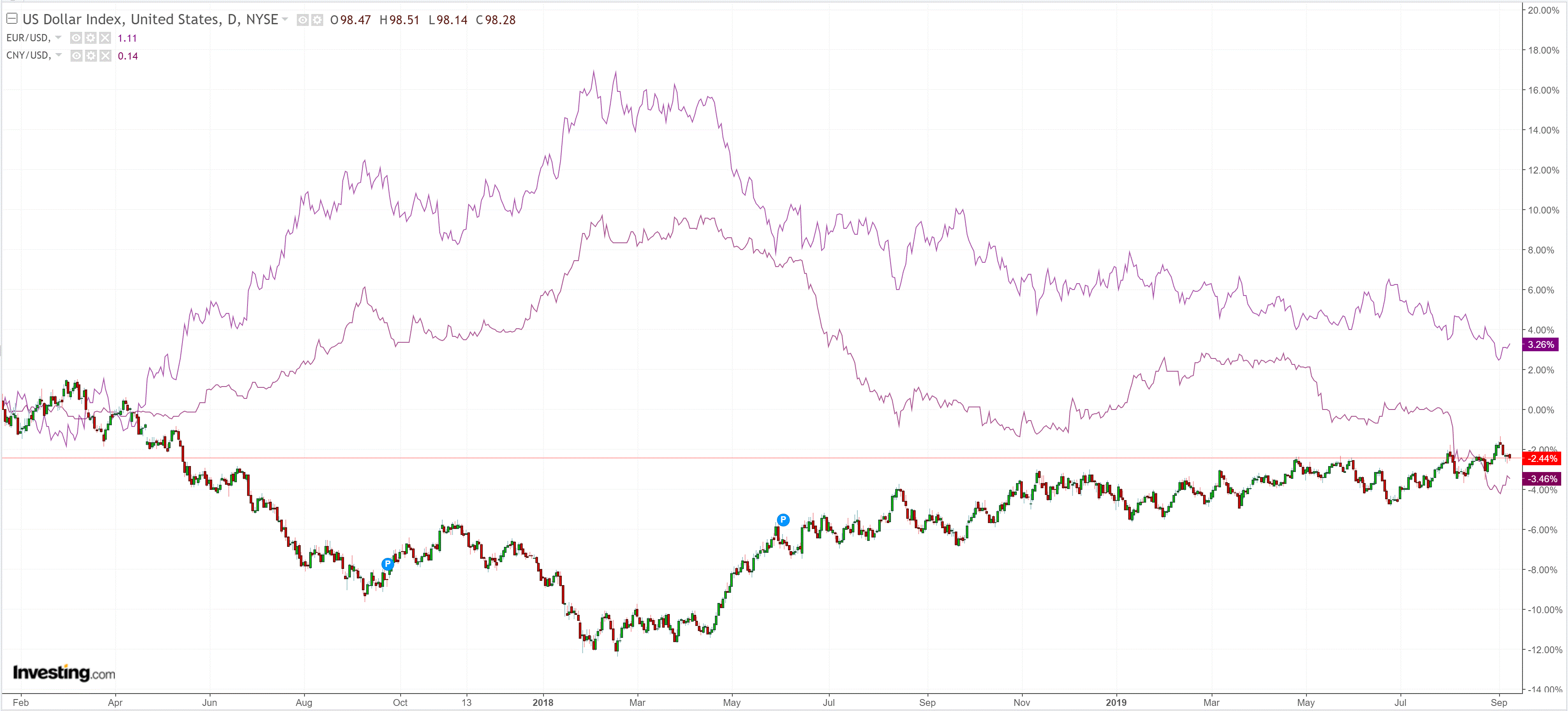 The Australian dollar is on fire versus DMs: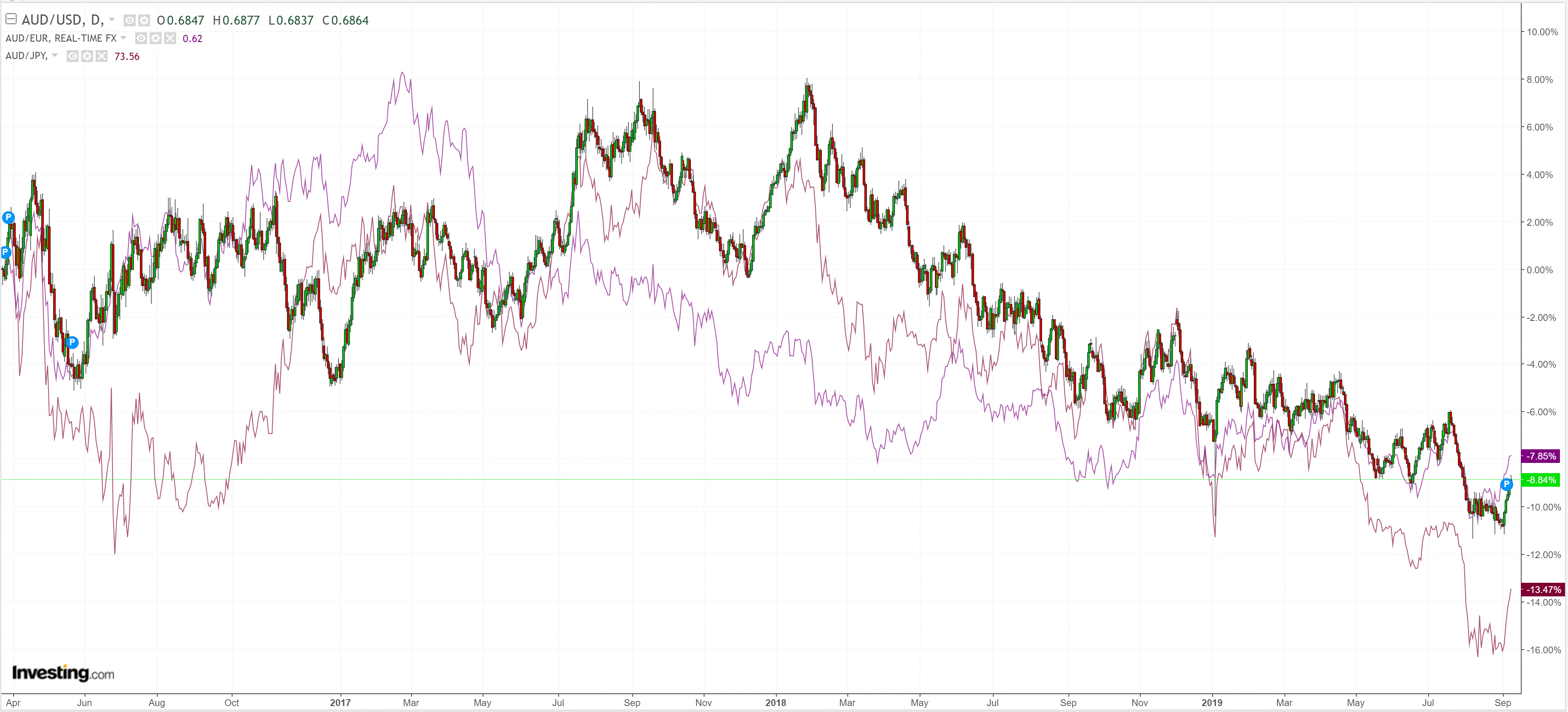 Keeping pace with EMs: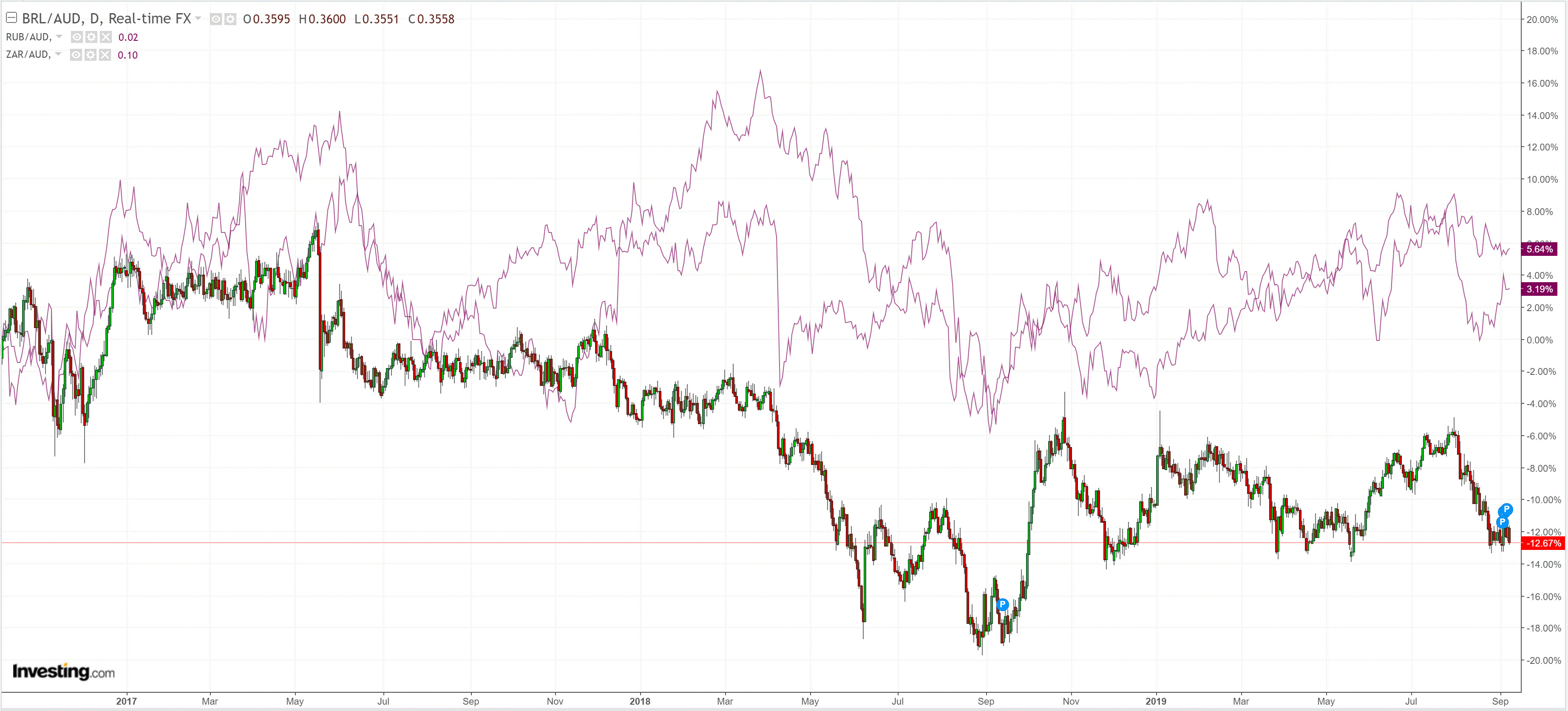 Gold was hit again: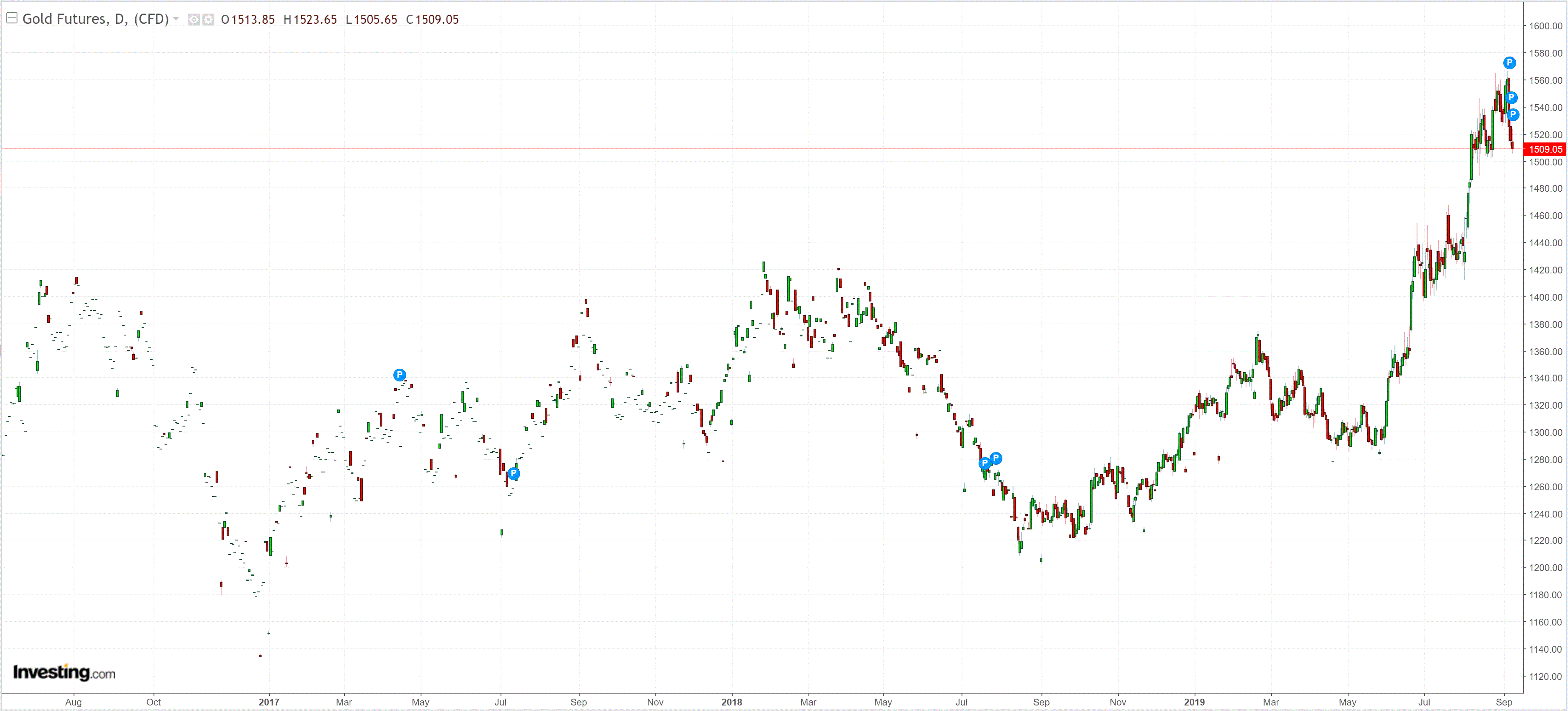 As oil took off: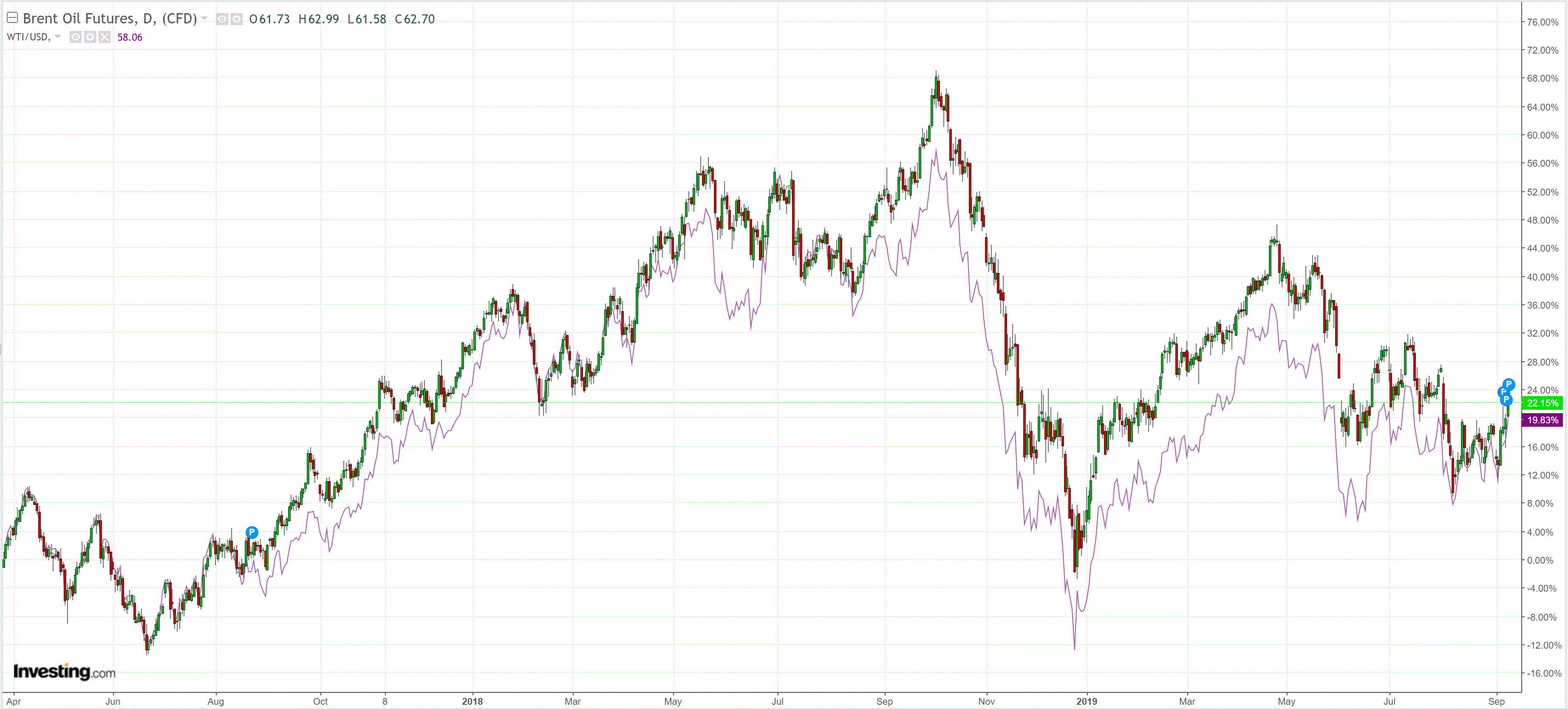 Metals were less interested: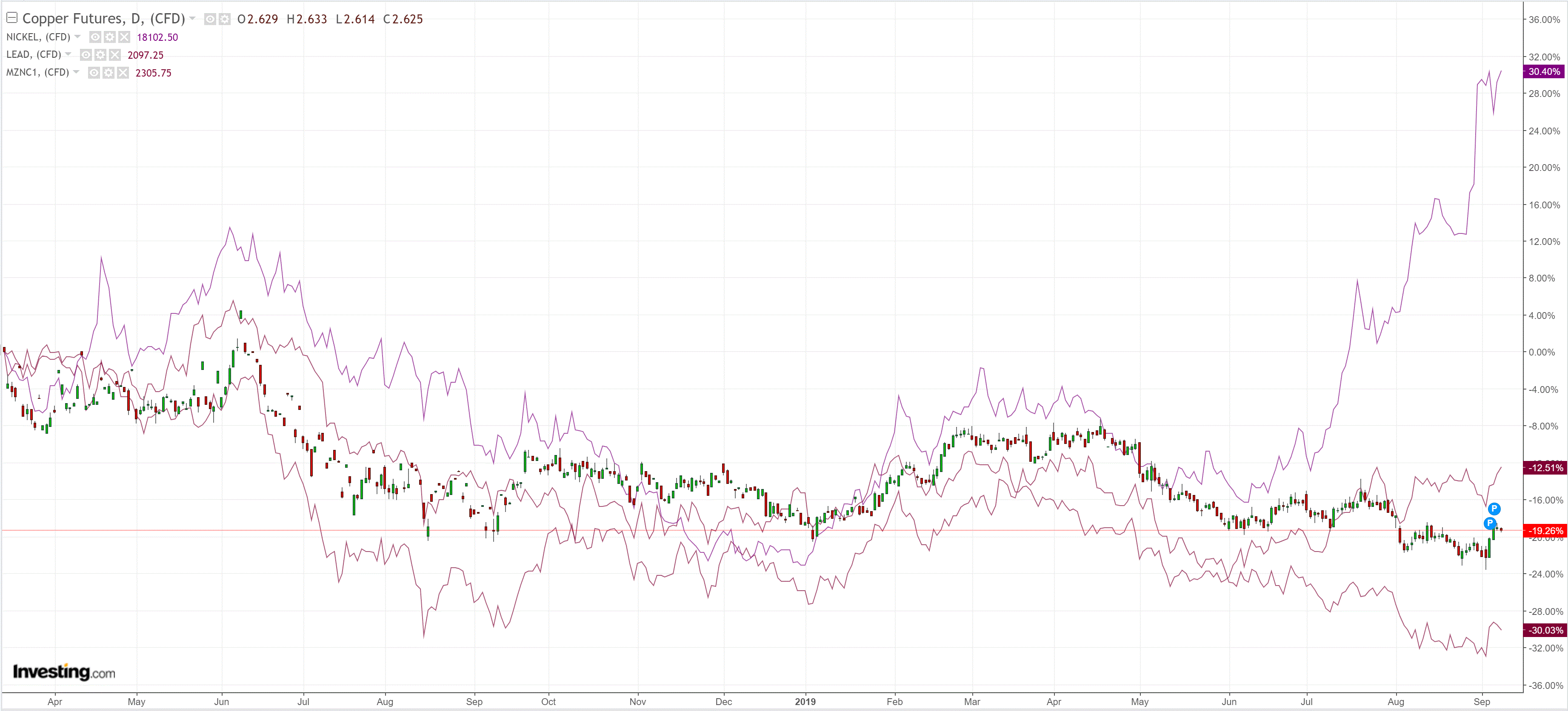 Miners took off: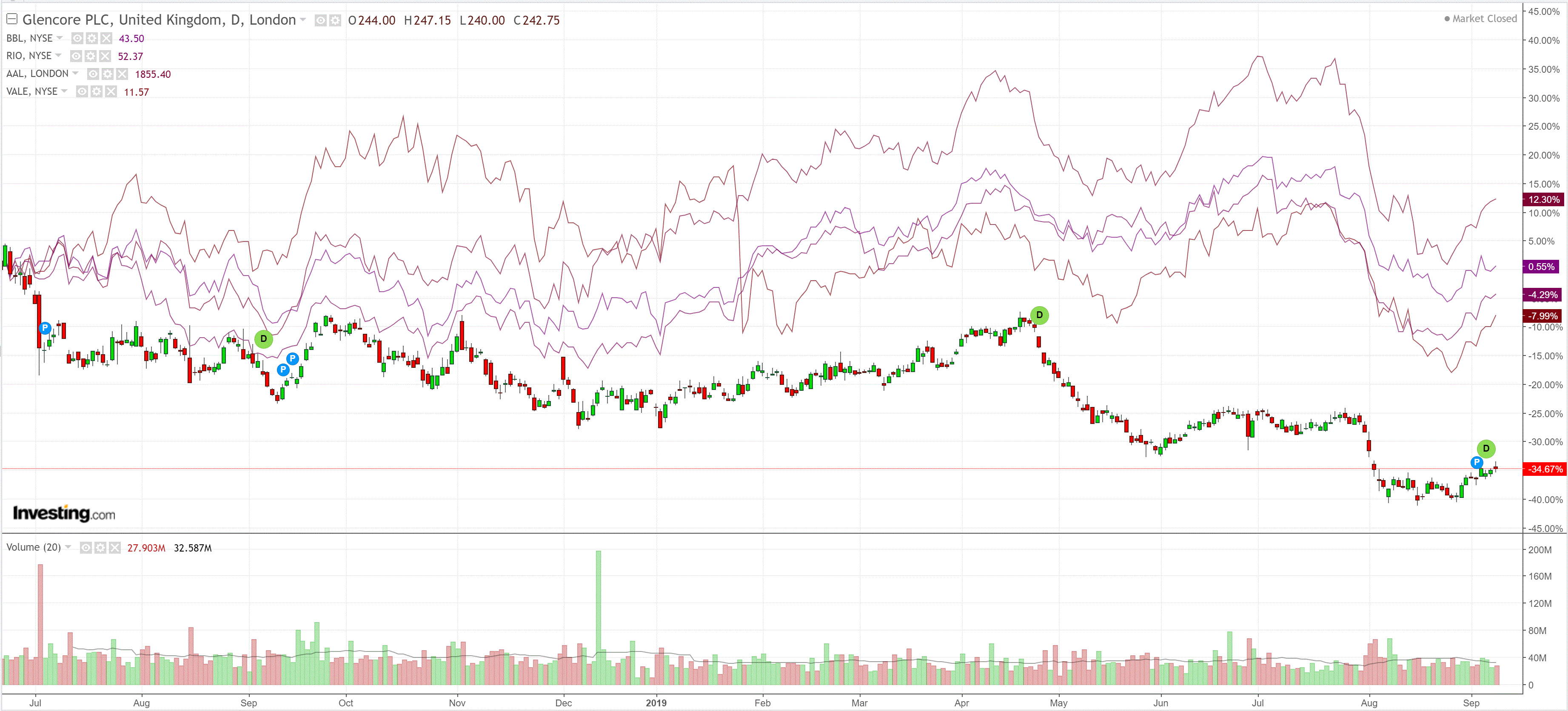 Em stocks are still running: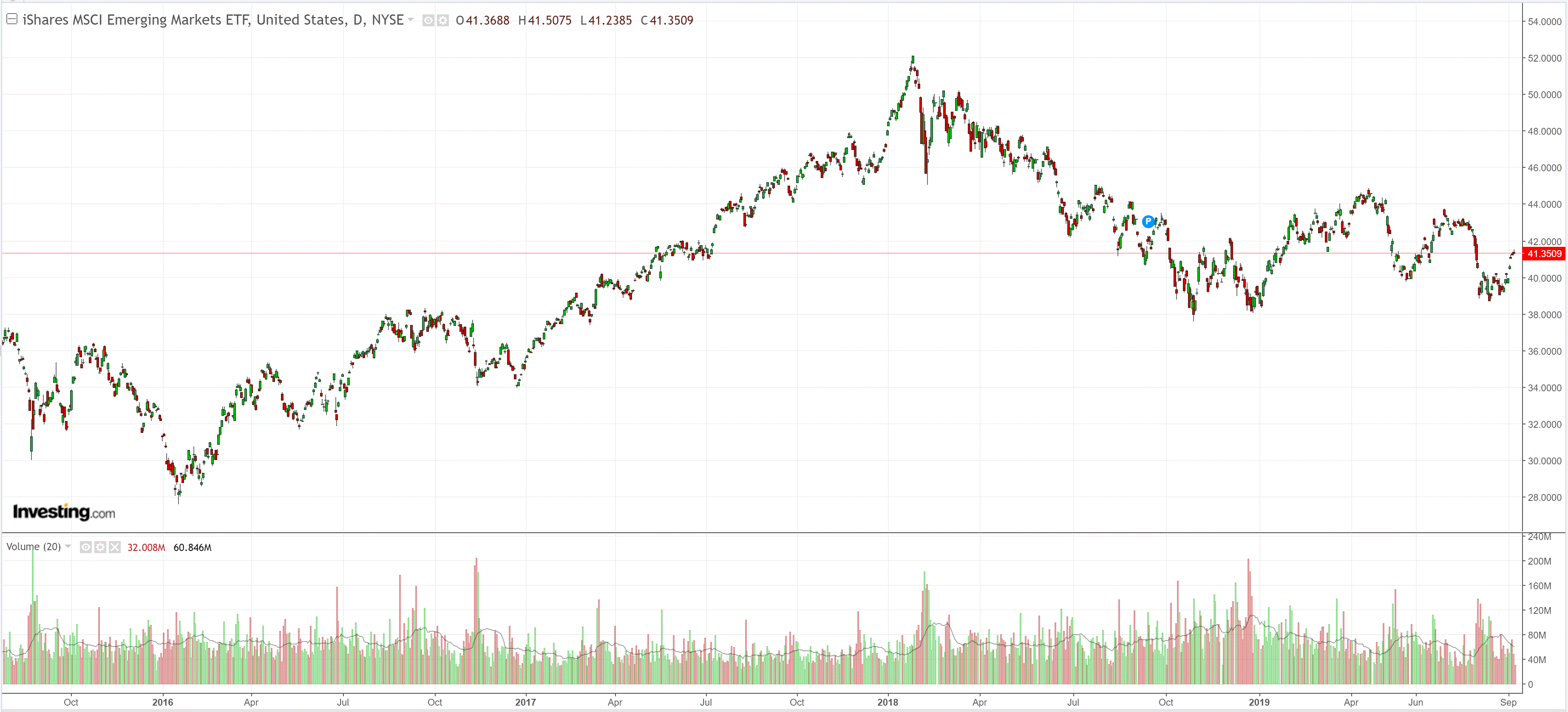 As junk recovers: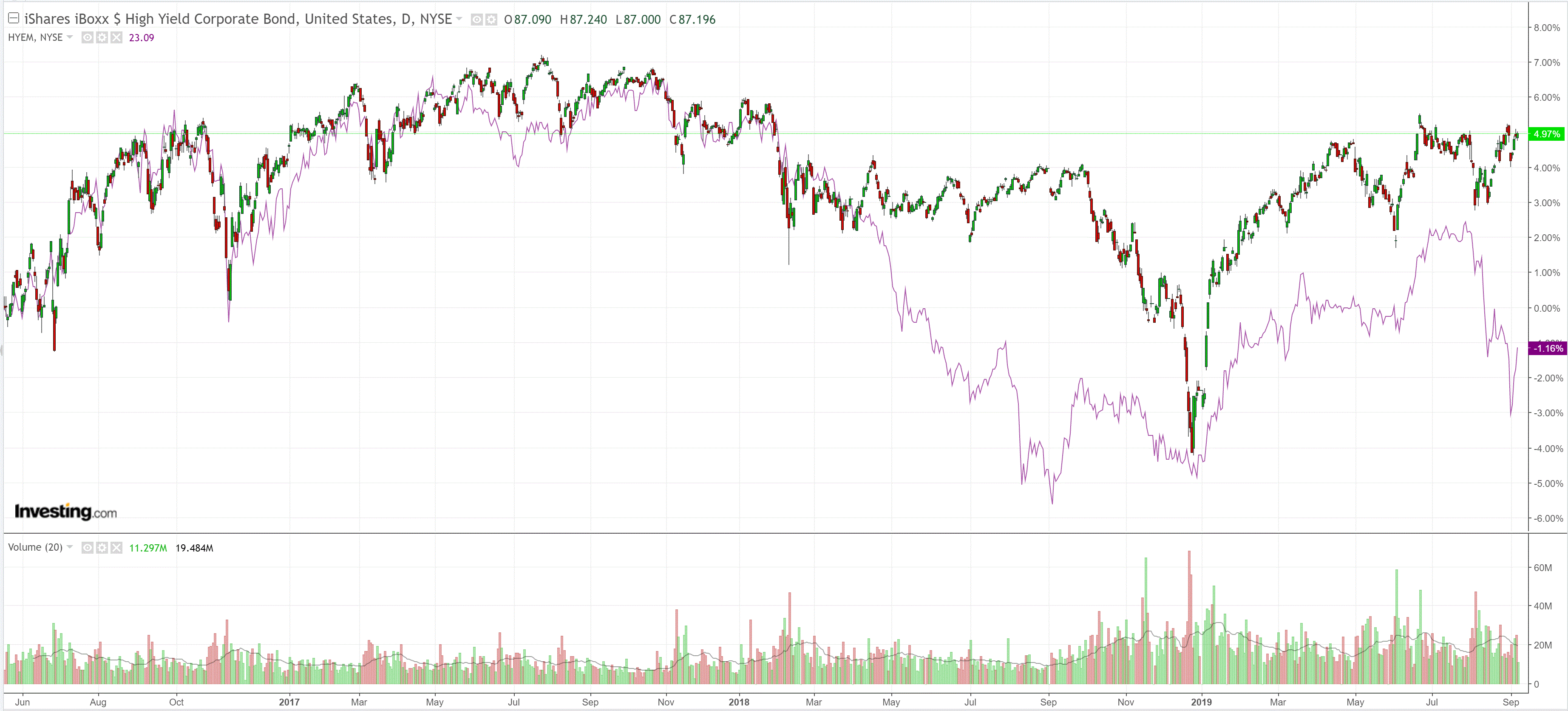 Treasuries were belted: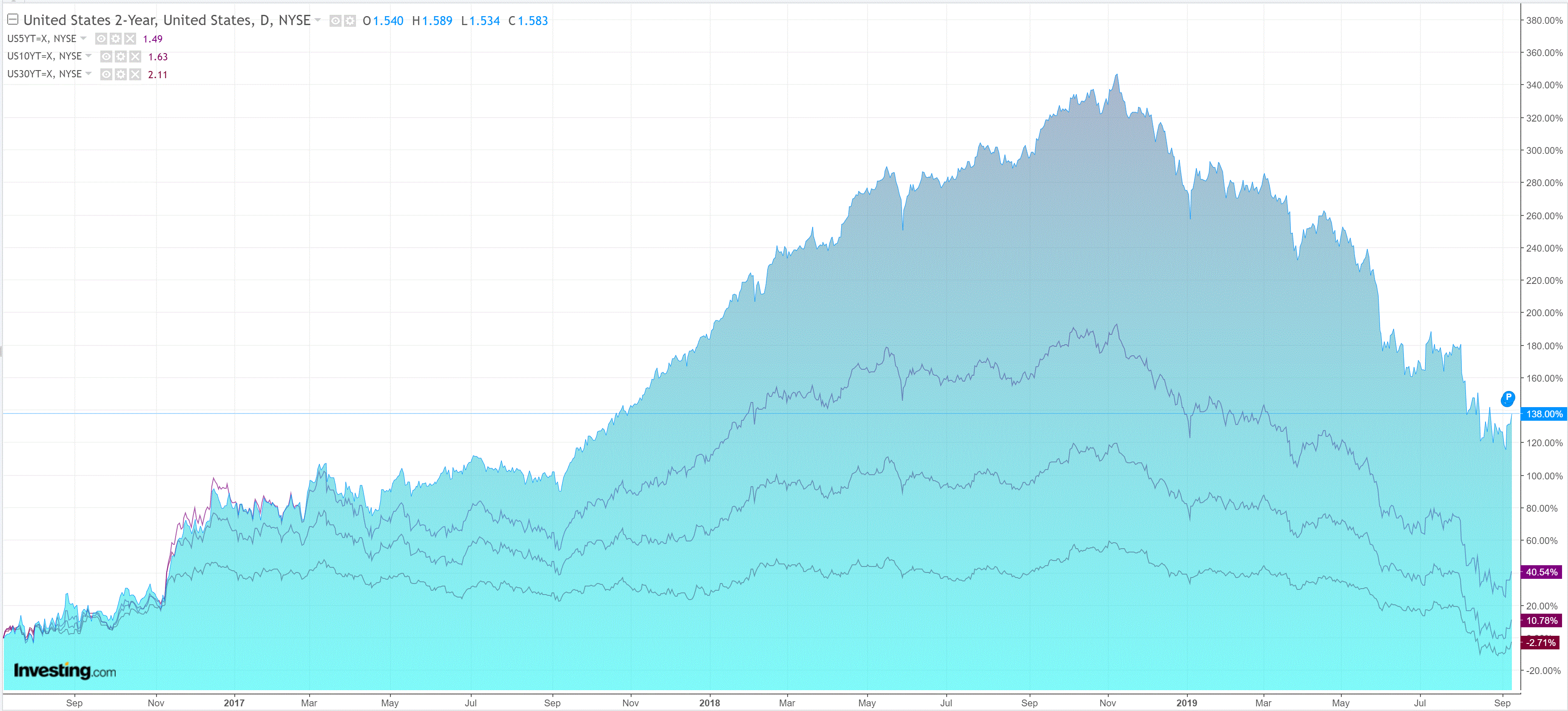 The bund curve was nuked: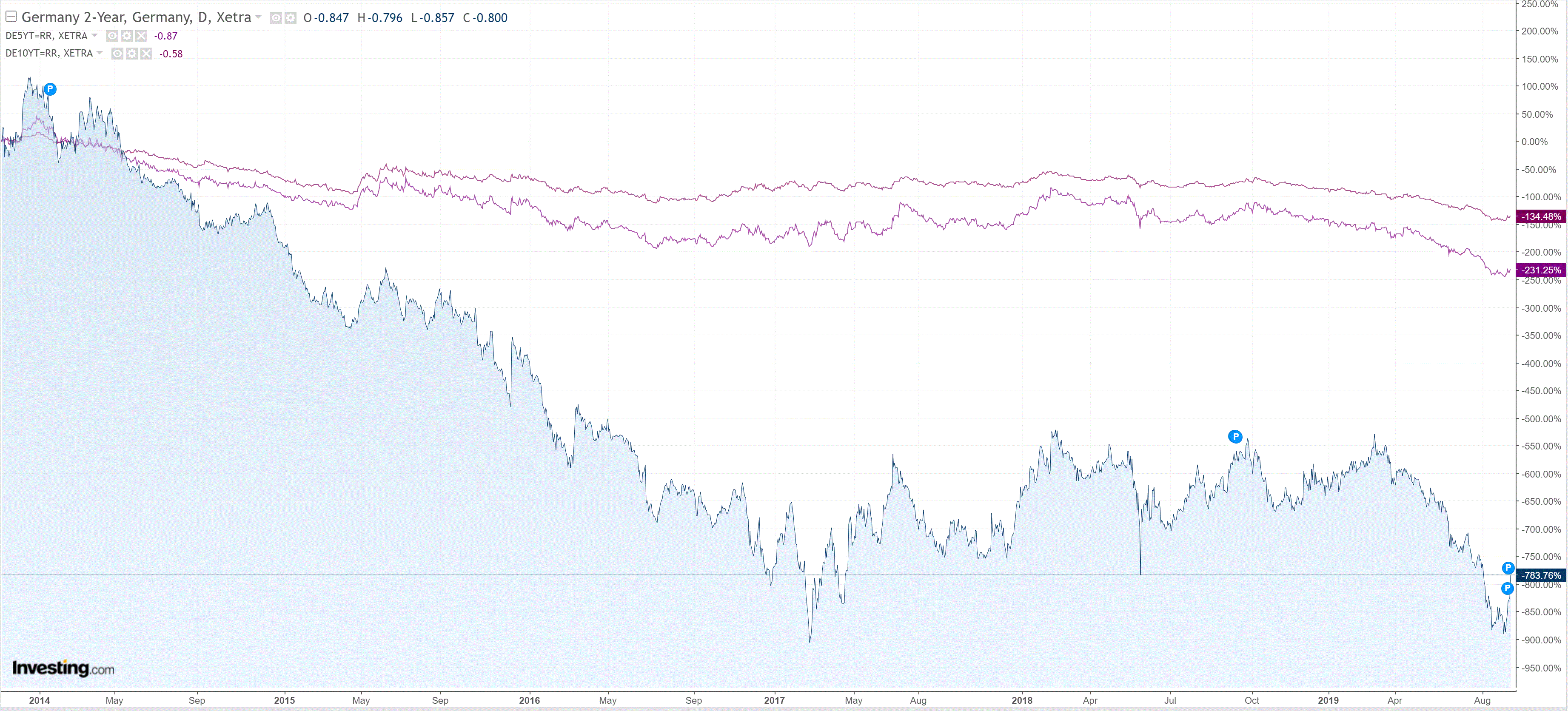 Aussie was soft: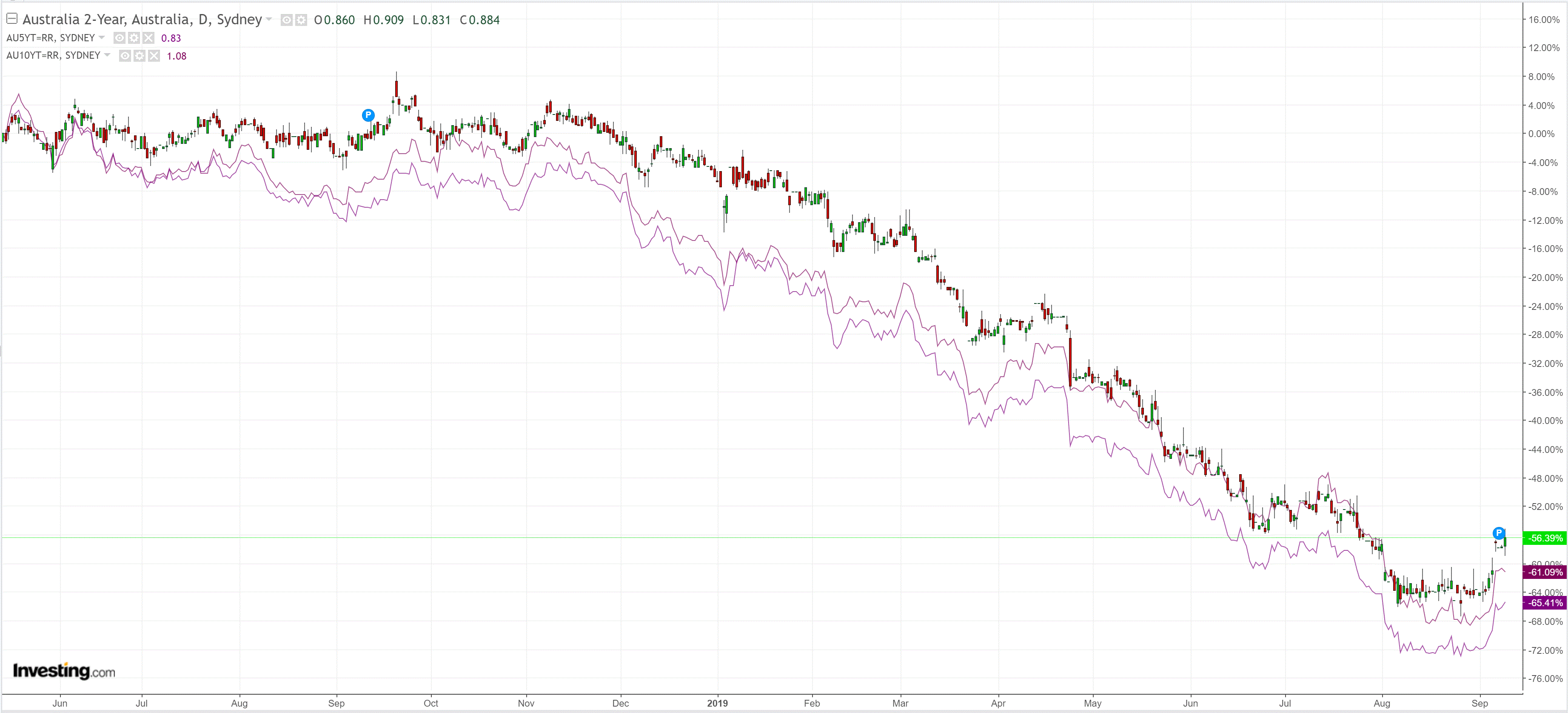 Stocks went nowhere: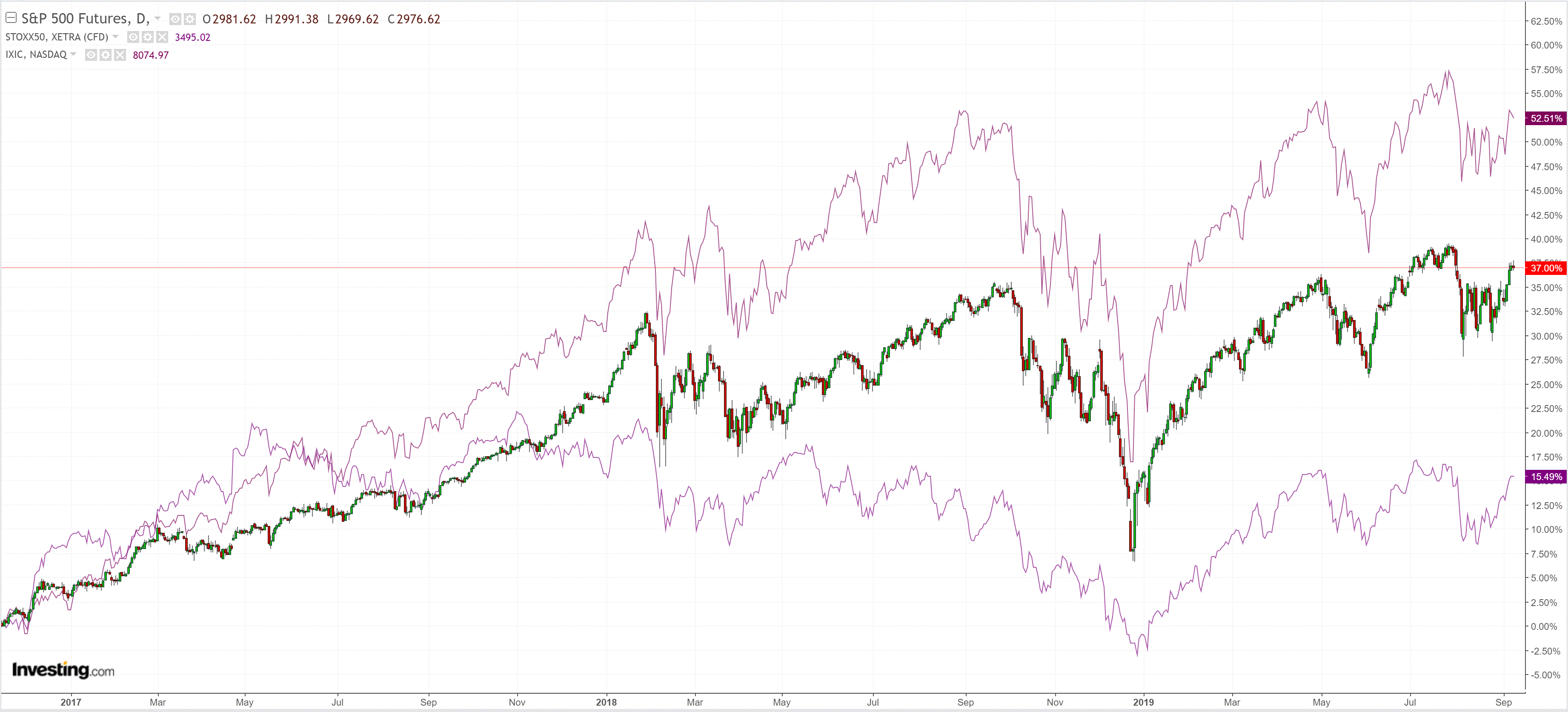 Westpac has the wrap:
Event Wrap

UK July GDP and production data beat expectations. GDP rose 0.3% m/m vs the median forecast of 0.1%, with services particularly strong, and industrial production rose 0.1% m/m (vs median -0.3% m/m). However, over the three months to July, GDP was 0.0% while production was -0.5%, better reflecting the headwinds of Brexit uncertainty and slowing global growth.

The UK bill that stops a no-deal Brexit on 31 Oct became law. The law forces the Prime Minister to ask for a three-month Brexit delay if he hasn't achieved a deal by 19 Oct. PM Johnson may call for a snap election, but he needs the votes of 2/3 of MPs and last week he was well short of this.

Event Outlook

NZ: Electronic retail spending is expected to have risen 0.5% in August, leaving a modest picture of household spending. REINZ housing data may be released.

Australia: Aug NAB business survey will be an early gauge on whether tax offset payments and RBA rate cuts are stimulating consumer spending. Q3 AusChamber-Westpac survey is released.

China: Aug CPI and PPI data are released.

UK: Jul ILO unemployment rate is expected to hold at 3.9%.

US: Aug NFIB small business optimism is anticipated to edge down from 104.7 to 103.5 – a still elevated level. Jul JOLTS data will provide detail on the labour market.
It's reflation hopes versus political fears. The drivers of the former are obvious in central bank easing worldwide. Europe added some fiscal hopes to that, which flogged bunds, via Reuters:
The euro rose on Monday after a report that Germany may boost fiscal stimulus increased hopes that governments will act to boost growth in the region, though expectations of further central bank easing kept a lid on gains.

Germany is considering the creation of a "shadow budget" that would enable Berlin to boost public investment beyond the restrictions of constitutionally enshrined debt rules, three people familiar with the internal discussions told Reuters.

Government officials are flirting with the idea of setting up independent public entities that would seize the historic opportunity of zero borrowing costs and take on new debt to increase investment in infrastructure and climate protection, the officials said.
Let's see what the ECB delivers this week. It was positioned for a bazooka but has been talked down to a pop gun: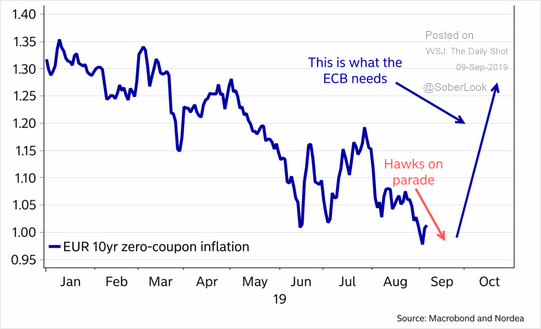 But the four horseman of political shock risk are still riding. A writhing Brexit rolls on, at the ABC:
The British Prime Minister Boris Johnson's government has confirmed it will suspend the UK Parliament until October 14.

Mr Johnson's spokesman James Slack said Parliament will be prorogued at the close of the day's business on Monday evening (local time).

Mr Johnson has said he will take Britain out of the European Union on October 31 even without a deal, but Parliament has passed a bill that would force him to seek a delay from the EU if no deal has been agreed.

The bill has been given a royal assent by Queen Elizabeth II, hours before legislators were set to reject Mr Johnson's demand for a snap election to break the political deadlock engulfing the Government.

Mr Johnson had previously said he would send British MPs home sometime this week.

The suspension limits Parliament's ability to block Mr Johnson's plans for Brexit.
Clear as mud.
The second horseman, Hong Kong, was not encouraging as Li Ka-shing chimed in, at Bloomie:
Hong Kong's richest man urged the government to "have mercy" in dealing with the unrest that has rocked the city this summer, describing recent months of protests as its worst crisis since World War II.

Li Ka-shing, whose conglomerate is among Hong Kong's most dominant business empires, on Sunday called for reconciliation between the government and protesters as another weekend of demonstrations turned violent.

"If it continues, it will be very bad, and I am concerned," the 91-year-old said during an event at Tsz Shan Monastery, a Buddhist temple which he helped finance. "We hope young people can consider the big picture, and government leaders can also have mercy on the masters of our future." A spokesman for CK Hutchison Holdings Ltd., Li's flagship ports-to-telecom conglomerate, confirmed his remarks.
There was little new on the third horseman, the trade war, and that is encouraging in itself. But, as JPM notes in a new index, the intensity of market moving tweets is increasing:

Finally, the fourth horseman, oil, jumped as Saudi did the usual:
Saudi Arabia reassured oil markets on Monday that the oil policy of OPEC's largest producer and de facto leader wouldn't change radically under its new energy minister, who also appeared to signal that further cuts could address the global glut.

According to AFP, Saudi Arabia's newly appointed Energy Minister, Prince Abdulaziz bin Salman—the first royal to hold the oil minister's post in the Kingdom—said at an energy conference in Abu Dhabi on Monday:

"Cutting output will benefit all members of OPEC."
But there is nothing it can do about fading global growth, demand and the seasonal weakness ahead.
We're still in a bear market rally for the Australian dollar, to my mind.
David Llewellyn-Smith is Chief Strategist at the MB Fund and MB Super. David is the founding publisher and editor of MacroBusiness and was the founding publisher and global economy editor of The Diplomat, the Asia Pacific's leading geo-politics and economics portal.

He is also a former gold trader and economic commentator at The Sydney Morning Herald, The Age, the ABC and Business Spectator. He is the co-author of The Great Crash of 2008 with Ross Garnaut and was the editor of the second Garnaut Climate Change Review.
Latest posts by David Llewellyn-Smith (see all)