Can an economy grow by house prices alone? We're about to find out because everything else is headed south fast. The seven drivers of GDP growth are all in deep trouble.
First, dwelling construction is collapsing. Theoretically, this will be arrested by rising house prices as building starts  turn upwards in due course. But that does not account for the apartment defect crisis which has destroyed the credibility of an entire sector as governments flop around wondering what to do about it. Nobody with a brain will buy an apartment today meaning that dwelling starts will keep falling even as prices rise. I expect this will not stop until it reaches the depths of previous cyclical busts and, moreover, triggers a major shakeout in developers. The ongoing shrinkage in starts also robs any new cycle of the consumption boost from household goods.
Second, infrastructure investment is falling despite the hoopla of a boom. The rolling off of the NBN means there will be no growth and probably negative investment flow from major public projects ahead.
Third, business investment is very weak, though at least positive, as oversupply weighs on the need to invest.
Fourth, wages are barely rising and are about to fall away as unemployment rises and a national income shock from the trade war deepens into 2020. The same will boost the savings pulse and tax cuts will be saved.  This ensures very little upside for household consumption despite tearaway population growth.
Fifth, fiscal spending has been strong but is about to weaken as the NDIS roll out halves its aggregate spending, state budgets are still gutted by the last house price correction and are slashing jobs, while Josh Recessionberg is driving his preposterous surplus at the federal level.
Sixth, the LNG volumes ramp up is over. Coal volumes are falling. Education and tourism are about to understand what it means to upset Angry China. The drought is brutal. Net exports can contribute growth only via lower imports now.
Seventh, when the first six drivers get too weak, and domestic demand craters, businesses start to liquidate inventories and that drives growth even lower. That is exactly what we will see on Wednesday in the national accounts. It can run for multiple quarters and is the classic recession dynamic.
All seven drivers of GDP growth are stalling or falling at once. Australia is basically in recession even as a global storm blows in to make it an awful lot worse.
That L-plate Treasurer, Josh Recessionberg, is unable to see this is not all that surprising. He has no experience of running an economy. Nor does ScoMo, in truth. Both are simply following the old Howard/Costello playbook of limiting public spending to drive down interest rates and lift house prices. Sure, it's working for now. But it does not seem to have occurred to anyone that without dwelling construction or consumption follow-through it isn't going to lift growth and jobs.
That leads to a new formulation of the question can an economy grow by house prices alone? Let's rephrase it to ask can house prices grow without an economy?
The answer is no, and that sets us up for a truly historic bust as the external shock builds.
Treasurer Recessionberg will doubtless deploy stimulus eventually. But the longer he waits the less effective it will be and the more that will be needed, just as his budget is eviscerated. He is also inviting the political opprobrium of saddling the Coalition with the end of the great growth bull run. At the AFR today he has no idea:
"With the election falling in the middle of the June quarter and the ongoing impact of trade tensions abroad and devastating floods and drought at home we are expecting soft June quarter results on Wednesday," he said.

"With last year's June quarter growth of 0.9 per cent coming out, the market has been clear that the GDP growth through the year number will be lower than its current rate of 1.8 per cent."

Mr Frydenberg said seven of the 12 weeks of the June quarter were occupied by the election, including the five-week campaign and period afterwards until the writs were issued.

He urged people to "look through" the June numbers to the September quarter which will incorporate the effects of the income tax cuts which came into effect on July 1, as well as the June and July interest rate cuts by the Reserve Bank of Australia.
On that basis, Wednesday's national accounts are likely to deliver a deep swing in the Recessionberg Stupidity Index towards "simpleton":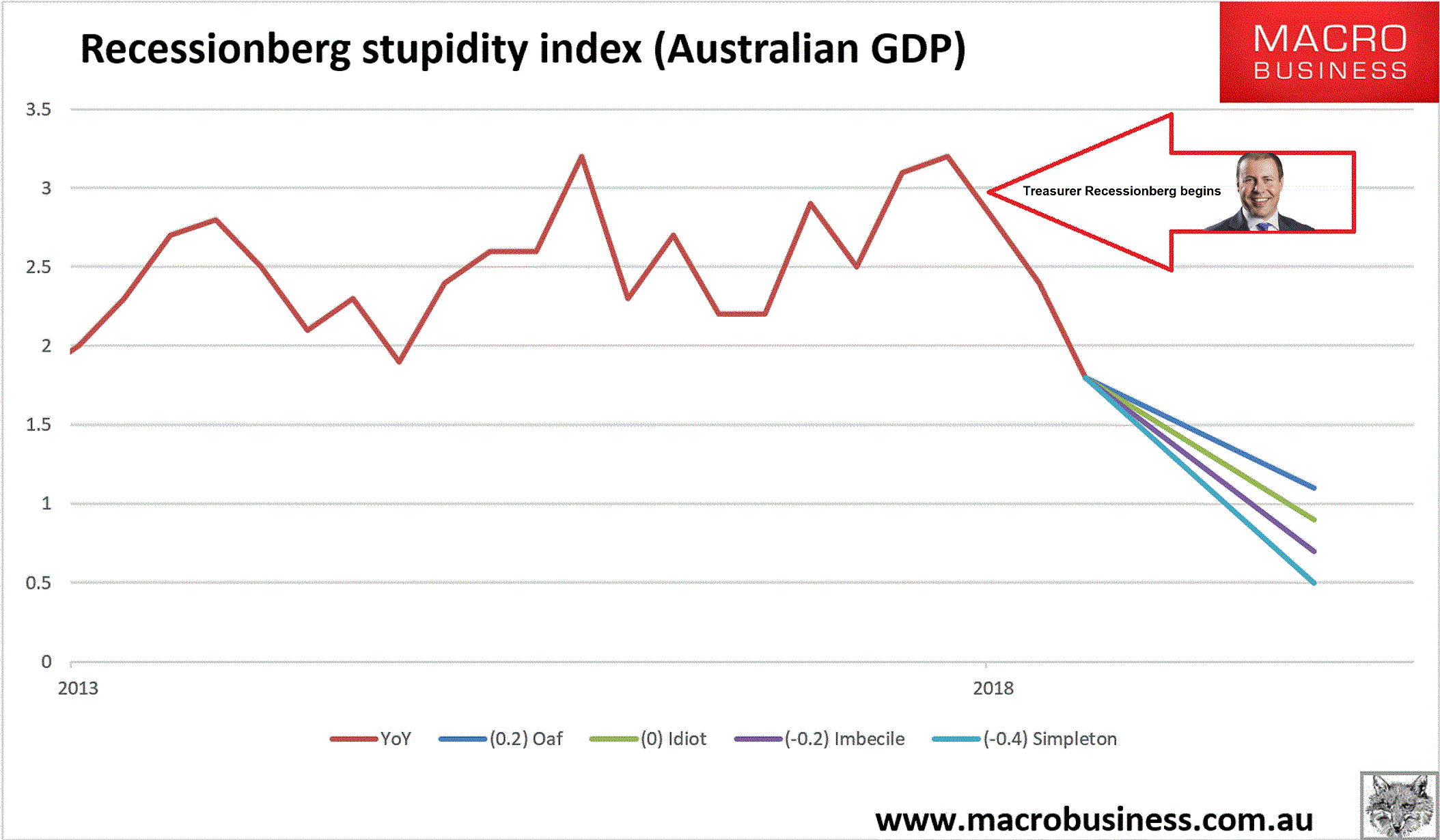 It's the recession that we never had to have!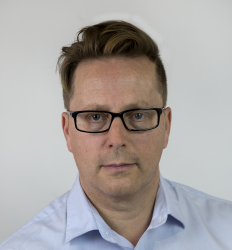 Latest posts by David Llewellyn-Smith
(see all)