Via Domain:
In late July, the United States Studies Centre and YouGov polled 1,820 Australians and 1,800 Americans. We find Australians strongly prefer a Democratic win in 2020, a result replicated across almost all demographic and political groups.

Only about one in five Australians prefer a second term for the Trump administration. Indeed, fewer than one third of Coalition voters want the president re-elected. Support for a Democratic president ranges from 41 per cent among all Australians, and 53 per cent and 57 per cent among Labor and Greens voters.

Men and women in Australia are equally supportive of a Democratic win (41% each). Men are twice as likely to prefer a Trump win, 26 per cent to 13 per cent. Across age groups, there is little variation, with 43 per cent per cent of those aged 18-29 and 65 and older preferring a Democratic win. Just 14 per cent of the younger group prefer a Trump win, compared with the 24 per cent of the older group.

Whatever the case, the majority of Australians stand to be disappointed. Polling of Americans suggests 2020 could be a close contest. Perhaps much closer than many Australians appreciate. Using a series of survey experiments about 2020 voting intentions, we found president Trump trailed three leading Democrats (Kamala Harris, Joe Biden and Elizabeth Warren), but only by a few points. He was tied or ahead of the other four Democrats we asked about.
It is clear that Trump's trade war is in Australia's national interest. Allowing the Communist Party of China to dominate our trade linkages any further very obviously risks the underlying democracy. Canberra is willing to take that punt only because it is reckless, hapless and corrupt. The Australian people should not take it.
So, in assessing which Democratic candidates favour the Australian national interest, China policy is the key consideration. The field is mixed, via Atlantic:
The Democrats, meanwhile, have been highly critical of Trump's approach, though not always for the same reason. One moment, they're bashing the tariffs he's imposed on Chinese imports as bad for the U.S. economy; the next, they're attacking him for being too soft—for instance, when he lifted restrictions on another Chinese telecom firm, ZTE, last year. It isn't clear, though, if the Democrats have many better ideas.

Senator Kamala Harris, a leading presidential contender, joined her fellow Californian Dianne Feinstein in lambasting Trump's trade strategy, deemingthe administration's use of tariffs "counterproductive to its goal of ensuring a level playing field for American companies" and fearing the impact on her state's export sector. But so far, she hasn't offered specific alternatives. The statement merely suggested that Trump "urgently convene negotiations with China." On her campaign website, Harris adds that the United States should confront China in conjunction with allies, rather than unilaterally, and has proposed laws be updated to strengthen the government's ability to go after foreign hackers stealing trade secrets.

Former Vice President Joe Biden has similarly vowed to "get tough" on China through a "united front" with allies. Senator Elizabeth Warren has come out in favor of both continued engagement with China, on issues of common interest like nuclear proliferation, and the use of tariffs to counter Chinese policies that hurt American workers. In an essay in Foreign Affairs outlining her policy, she argued that China has "weaponized its economy," but her suggestions for dealing with that were somewhat vague. "We should encourage our allies to enhance their multilateral cooperation and build alternatives to China's coercive diplomacy," she wrote, adding that "we should also respond to China's efforts to force foreign companies to hand over sensitive technology" and "penalize its theft of U.S. intellectual property." Warren takes something of a "if you can't beat 'em, join 'em" approach, advocating the U.S. government copy Chinese practices of crafting national plans to set economic priorities and more assertively promote and support industry and exports to help the U.S. compete.
They all sound pretty wishy washy though it does show how much El Trumpo has changed the board vis China.
I very much prefer the sound of Bernie Sanders, via Real:
Sen. Bernie Sanders told Sunday's edition of CNN's "State of the Union" that he does not disagree with the use of tariffs in principle but Trump is handling the entire trade war irrationally.

"You do not make trade policy by announcing today that you're going to raise tariffs 'X percent' and the next day by 'Y percent'," he said. "What the President doing is totally irrational and it's destabilizing the entire world economy."

KEILAR: I want to start on the G7, where one of the major topics is the U.S. trade war with China.

President Trump escalated his tariffs on Friday, after China promised new retaliatory tariffs. You've made clear that China is treating the U.S. unfairly when it comes to trade.

And I understand that you don't agree with the president's tactics or his style, but if you were president, would you use tariffs to negotiate a deal with China?

SANDERS: That is one tool that you have.

What the president is doing is totally irrational, and it is destabilizing the entire world economy. You do not make trade policy by announcing today that you're going to raise tariffs by X-percent, and the next day by Y-percent, by attacking the person you appointed as head of the Federal Reserve as an enemy of the American people, by denouncing the president of China, who last year you really loved as a great leader.

This kind of instability and irrationality on the part of the president is causing very serious harm to the entire world economy.

Yes, we need a new trade policy.

KEILAR: I understand your criticism of that, but you say this would be a tool. Is it a tool that you would use? Would you use tariffs?

SANDERS: Yes, of course. It is used in a rational way within the context of a broad, sensible trade policy. It is one tool that's available.

What we need a — you're looking at somebody, by the way, who helped lead the effort against permanent normal trade relations with China and NAFTA, because trade policies that we've had in the past have lost us millions of good-paying jobs, and were written primarily by large corporate — large corporations, at the expense of workers and farmers.

We need a rational trade policy today, not what Trump is doing by tweet.
Sanders would be much better at bringing allies together to pressure the CPC as well, while basically sustaining the Trump trade approach. Sanders is an old school economic nationalist and class warrior, so he does not suffer from the same destructive hypocrisy that afflicts other left wing globalists.
But, for now, Gropin' Joe Biden is ahead comfortably: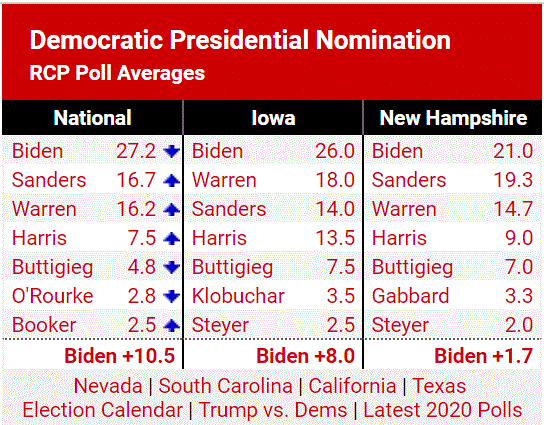 Regardless, I still think that Trump will win. Given he has reset the strategic board so completely why settle for second best?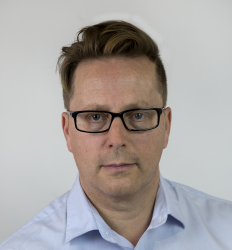 Latest posts by David Llewellyn-Smith
(see all)