Reform of the vocational education and training sector will be high on the agenda at today's Council of Australian Governments (COAG) meeting. Prime Minister Scott Morrison says the vocational education and training (VET) sector is about the people who want jobs and the people who want to employ them, not the providers, be they public or private. Shadow education minister Tanya Plibersek says the skills crisis that the government claims it is trying to fix through reforming the VET sector is a crisis of its own making. While TAFE Directors Australia states that only $70 million of the $525 million that was allocated for skills in the 2 April Budget was 'new' money. From The AFR:
Scott Morrison has proclaimed "TAFE is as good as uni" as he assured the business sector that vocational education and training would be reformed to meet the unfilled demand for skilled workers…

Key business and employer groups have been complaining for years about the skills crisis, and Mr Morrison accepted the system "is letting us down on that front"…

Mr Morrison urged younger people to consider a trade over a degree…

Shadow education minister Tanya Plibersek said the Coalition had itself to blame for the crisis. "We see about 150,000 fewer apprentices today than when the Liberals first came to government. We've seen billions cut from TAFE and training and apprenticeships," she said. "Employers are saying it's hard to find skilled staff, at the same time as we have unemployment, underemployment and high rates of temporary migration…
There's no doubt that Australia's tertiary education system is not functioning properly. At the same time as Australia is churning out record numbers of university graduates, employers are complaining of chronic "skills shortages", all the while labour underutilisation and underemployment are stuck at chronically high levels and wage growth is tracking near record lows.
Basically, there are huge mis-matches in skills across the economy, with far too many people holding useless university qualifications and too few with trade skills. This is reflected in skills shortages for "managers and professionals" running near recessionary levels, according to the Department of Jobs and Small Business: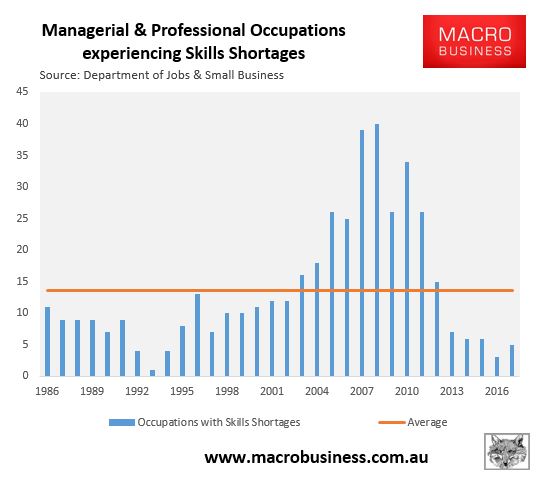 All the while skills shortages for technicians and trades is running well above average levels: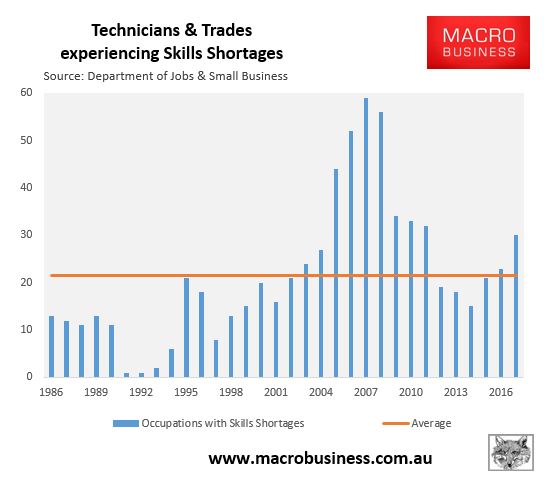 The situation is made worse by Australia's immigration system, with around three-quarters of 'skilled' migrants going to already oversupplied "managers and professionals" jobs.
The blame for this situation can be evenly spread. For its part, the Labor Gillard Government uncapped university places and implemented the demand-driven system, which dramatically drove up enrolments. By 2016, 41% of 19-year-olds were enrolled in higher education, up from 31% in 2009: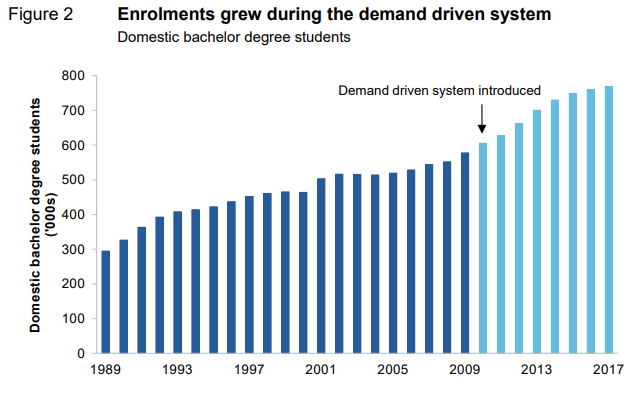 At the same time, the Gillard Government gave private VET providers virtually unregulated access to government subsidies for every student they enrolled. This incentivised the emergence of dodgy colleges and salesman to enrol as many students as they could in order to gain VET FEE HELP funding. They lured unsuspecting vulnerable victims into enrolling in over-priced, dodgy courses (often online), allowing these private VET providers to gain billions in taxpayer dollars while providing very little actual education.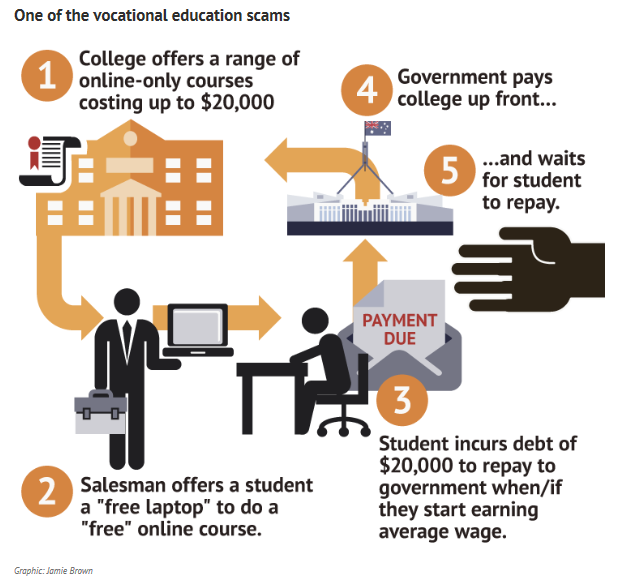 The Coalition was later forced to close down the rorts and possibly threw "the baby out with the bathwater". Funding for VET collapsed:
---
---
And participation in vocational education and trades plummeted: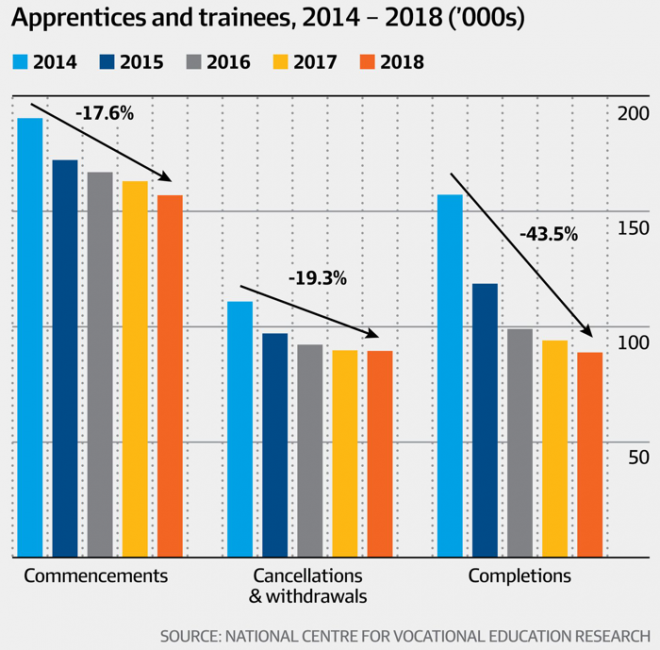 Ultimately, the failure of Australia's tertiary education system is a textbook example of the failed 'marketisation' of public services that Ross Gittins lamented last year.
The demand-driven systems were supposed to give students greater choice and make providers more responsive to students and employers. Instead we've gotten a wasteful, rorted system that has delivered a huge Budget blow-out, left students with huge debts, delivered poor educational outcomes, and left skills mis-matches across the economy
Given Australia is now way oversupplied with university graduates, the solution is obvious: Australia's governments must now shift funding away from the oversupplied university sector towards publicly run TAFEs.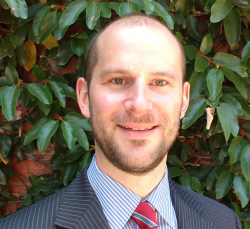 Latest posts by Unconventional Economist
(see all)