Waleed Ali is clutching at his Brexit pearls today:
This trick of rebuilding globalisation through lots of new bilateral agreements is really designed to preserve the mythology of national sovereignty: to say Britain will remain in the global economy, but on its own terms.

Sure, that's a bit false, since free trade agreements typically require some kind of diminution of sovereignty anyway, and since Britain's involvement in the EU was an act of sovereignty in the first place. But it remains nonetheless an attempt to reconcile the "hyperglobalisation" and "national sovereignty" limbs of Rodrik's trilemma. And it is coming at the cost of democracy – to the extent Britain is prepared to suspend its own Parliament to achieve this.

What the Tories definitely won't do is tame globalisation by asserting more national economic control. That would mean things such as stronger unions that ensure better conditions for workers or try to raise wages irrespective of how similar workers in poorer countries are paid, which has been anathema to Conservative politics since at least Thatcher.

And they certainly won't admit to, or embrace, the limitations of the nation state, advocating for a more global governance. National politicians almost never do, since to do so would be to advertise their decreasing relevance. But if these aren't viable solutions, we should fear for democracy, because if Rodrik is even vaguely correct, something has to give.

And it seems that's the limb the political class – especially those so committed to a marriage of capitalism and nationalism – values least.
What, and the globalists aren't in the same boat? Is BoJo really in the process of dismantling UK democracy? Or is he breaking a few precious eggs to push Britain through its impasse? It's 700 years since Magna Carta. I'm pretty sure British democracy will be OK.
Indeed, if you actually look, right now Brexit looks rather more like a plain vanilla outcome in the British utilitarian tradition. Via Property Reporter:
29% of homeowners in London having dropped their asking price ahead of Brexit's October 31st deadline, according to online estate agent Nested.

Its research shows that there are up to £2 billion of potential savings to be had across the capital.

11% of properties currently for sale in London (12,078) have had a price drop of more than £37,800 – the average annual London salary. Key areas to see this price decrease includes Westminster Kensington & Chelsea, Wandsworth, Camden and Tower Hamlets.

A further 18% of properties for sale have seen a price drop of more than 10%.

Jamie Salisbury, property expert at Nested estate agent, said: "Amid this endless uncertainty and gloom there are great opportunities out there for buyers if they're bold enough to seize them. This is particularly true for homeowners who are trading up, presenting an opportunity to buy a new home that might otherwise have been out of reach.

"With money still relatively cheap to borrow and prices falling, buyers can realistically snap up properties they couldn't have afforded in a stronger market. Nested is unique in the industry in that we will advance you the money to secure the property you want – making you chain-free – so you don't miss out on the home of your dreams."
Terrible! House prices are getting cheaper: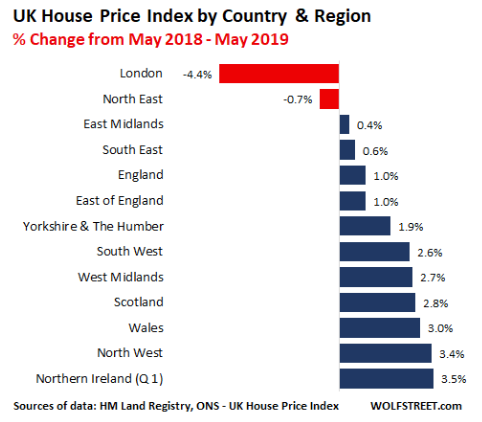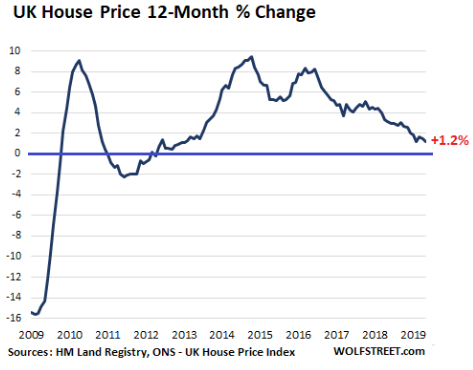 Worse, the GBP has been under pressure for years: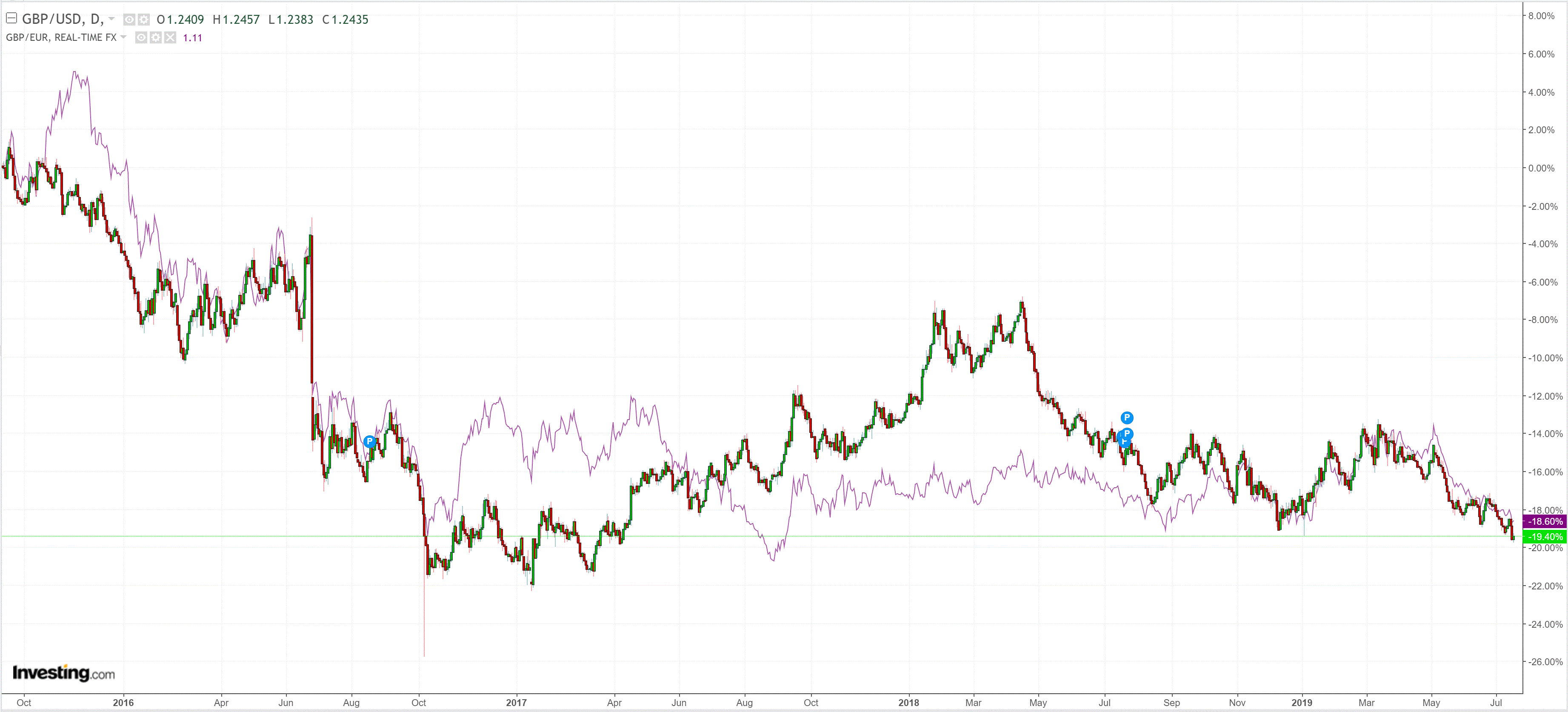 Worst, that's helped drive unemployment to 45 year lows: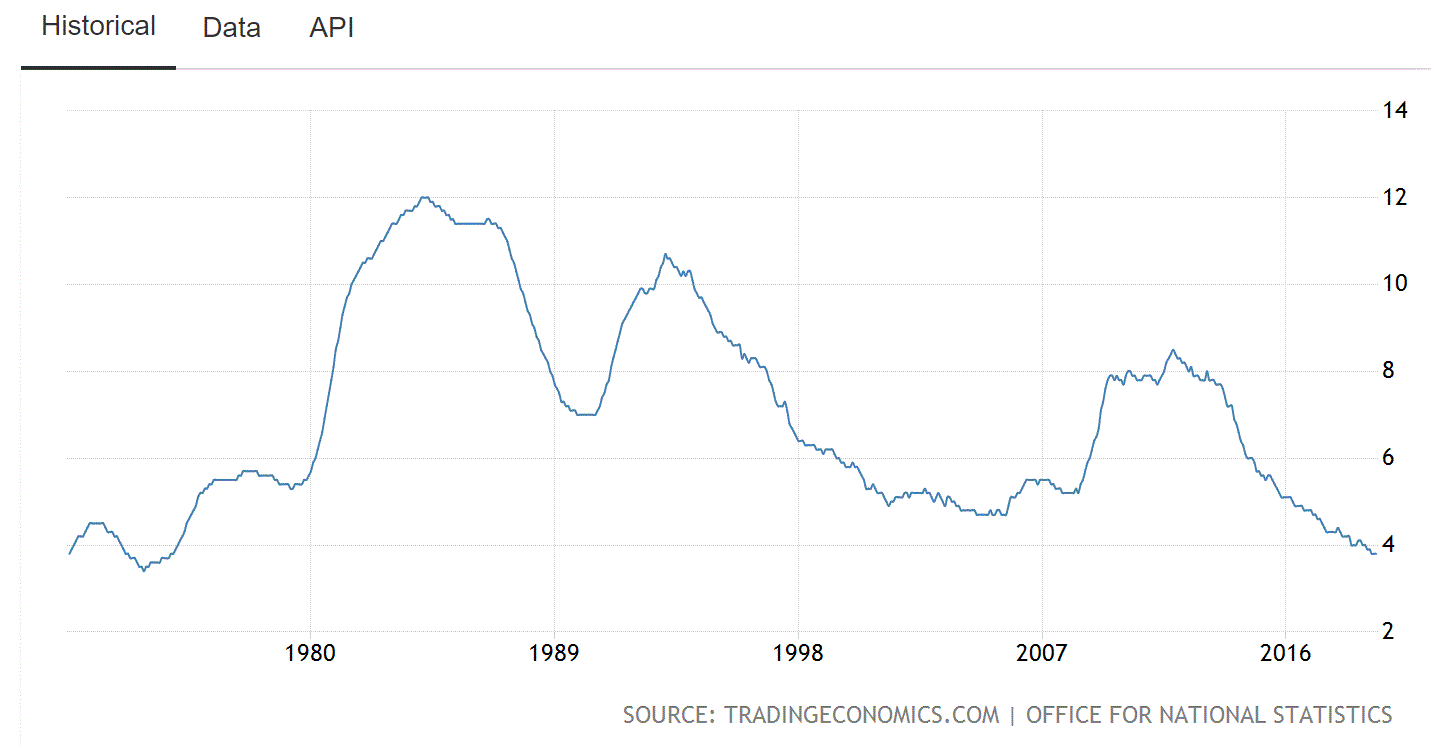 Underemployment has improved significantly, the complete opposite to Davosian Australia: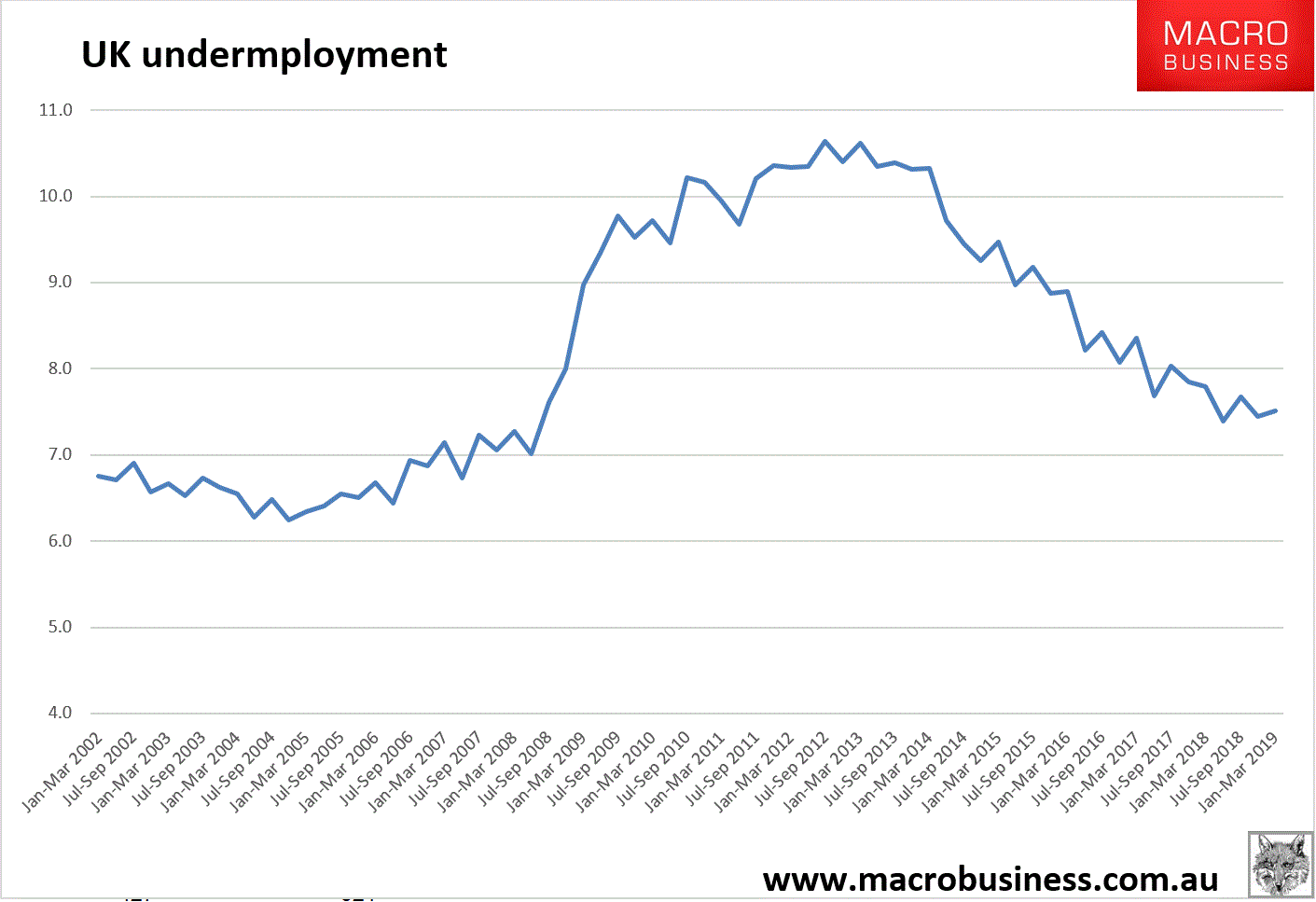 Wages are booming and inflation contained, via the BBC:
Wage growth in the UK accelerated to 3.6% in the year to May 2019, the highest rate since 2008, according to Office for National Statistics figures.

Wages have been outpacing inflation since March 2018.

A record high of 32.75 million people were in employment up to the end of May, while 1.29 million were out of work, the lowest since at least 1992.

"The labour market continues to be strong," said ONS deputy head of labour market statistics Matt Hughes.

"The number of self-employed part-timers has passed one and a half million for the first time, well over double what it was 25 years ago," he added.

"Regular pay is growing at its fastest for nearly 11 years in cash terms, and its quickest for over three years after taking account of inflation."
Even productivity is off the floor, via the FT:
Silvana Tenreyro, an external member of the BoE's monetary policy committee, said in a speech in Glasgow that fluctuations in output per hour had masked an uptick in productivity since 2014, leaving the UK economy with excess capacity and mitigating the need for further interest rate rises.

"Smoothing through some of the volatility, there is some evidence of a mildly improving trend emerging," Ms Tenreyo said, adding that according to BoE calculations, annual productivity growth had picked up from 0.4 per cent between 2010 and 2014 to 0.6 per cent in the next four years to 2018.

"Moreover, early estimates of [output] (and therefore productivity) are typically revised up over time," she said, pointing out that Bank of England economists believed revised statistics would show that the trend in productivity growth increased to 0.8 per cent per year between 2014 and 2018.

Productivity growth has been the missing piece of the UK's economic recovery since the 2008 financial crisis: it has been blamed for low wage growth and, until recently, slow growth in tax receipts.
As we know, the magic tonic has been Brexit immigration cuts: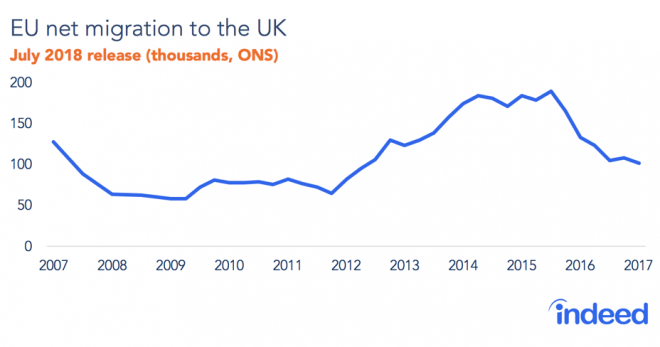 A massive boon for workers:
Average wages are rising at the fastest rate in a decade and employment has reached a record high in the UK, according to official figures released today…

The Office for National Statistics (ONS) said total earnings were up 3.5%, including bonuses, despite expectations the labour market would be suffering more from the UK's looming departure from the European Union.

Figures released by the ONS also show employment has soared to its joint highest level since records began at 76.1% of the working-age population. The official unemployment rate has dipped to 3.9%, the lowest since the mid-1970s…

Matt Hughes of the ONS said: "The jobs market remains robust, with the number of people in work continuing to grow. The increase over the past year is all coming from full-timers, both employees and the self-employed"…
Employers have lashed-out at the government for stemming the flow of EU migrant workers:
"A tight labour market represents yet another headache for small business owners," the FSB said yesterday.

"One in five small UK employers rely on staff from the EU. The sharp drop in European arrivals is a real concern for many smaller firms."

The Recruitment & Employment Confederation also piped up – "our surveys show that firms are still experiencing shortages of key staff. This is a big risk to future growth" – while the British Chambers of Commerce bemoaned "the perennial skills shortages plaguing UK businesses"…
Annual GDP growth is roughly the same as Australia's: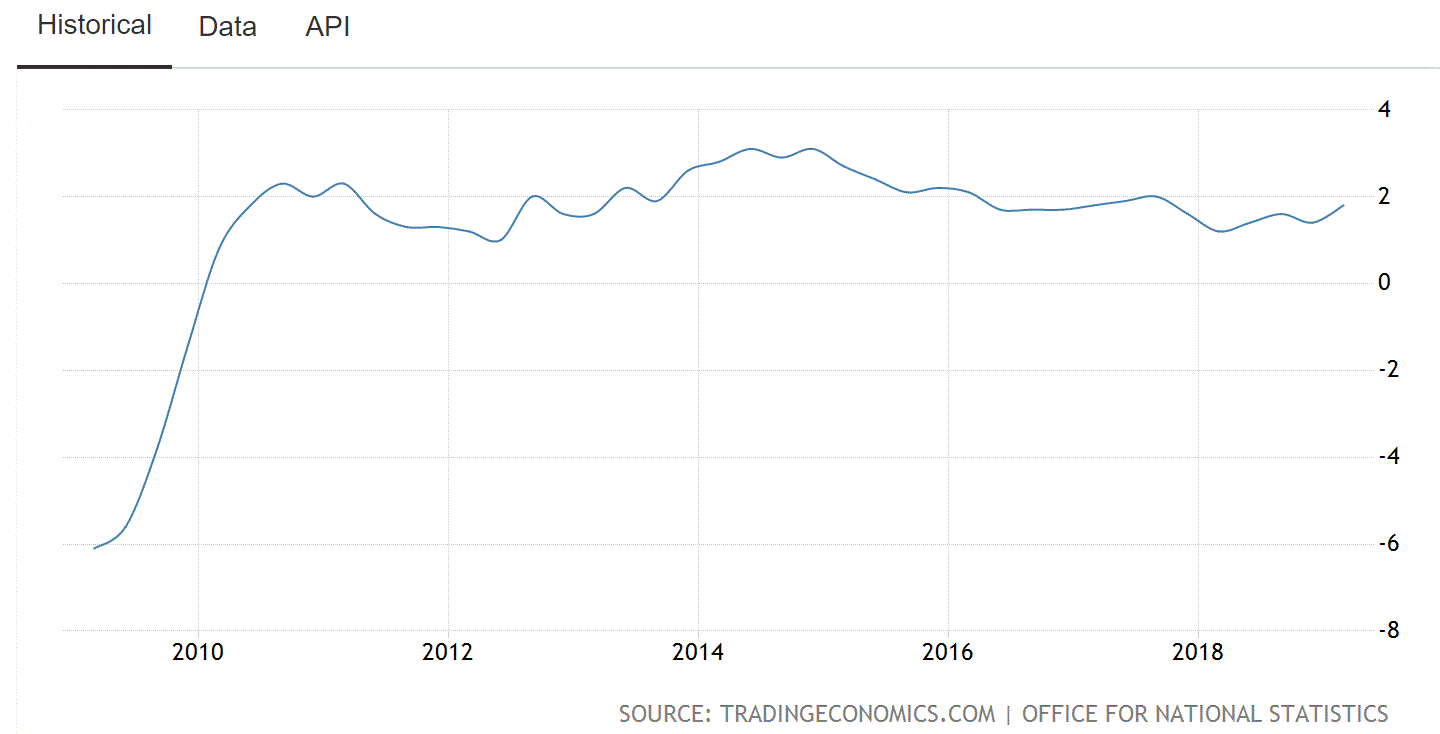 But contrary to Australian falls, GDP per capita has been growing at a decent clip: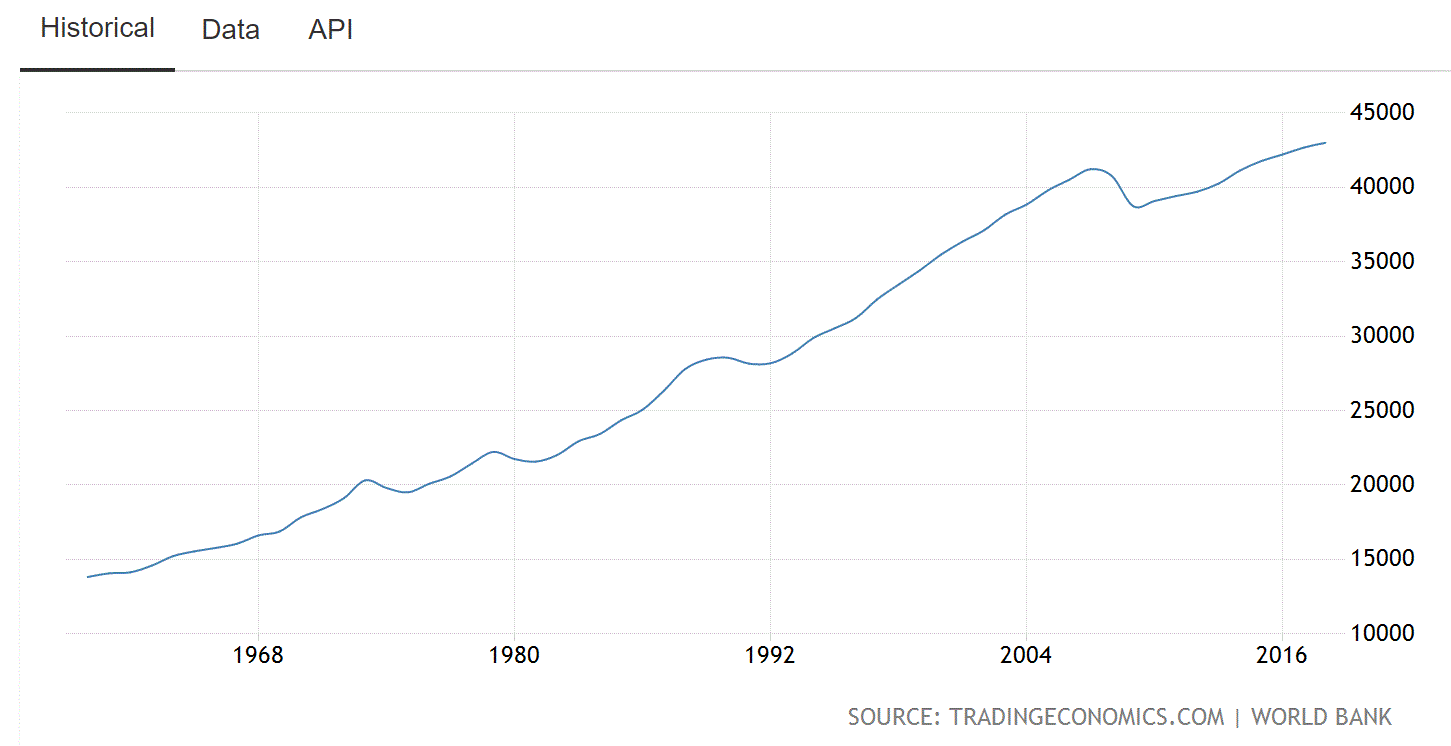 Decent GDP. Low unemployment (3.8%). Strong wages growth (3.8%). Low and steady inflation (2%). Crashing currency. Roaring competitiveness. Rising productivity and living standards. Stalled house prices offering future generations a leg up. What's not to like?
Sure, leading indicators are softening with the rest of the world but the UK is holding up much better than the rest of Europe. If it does drop out in a no deal Brexit there'll be a shock and probable recession, along with everywhere else, but it will be brief and the crashing GBP restore this little golden age for working people pretty quickly.
Brussels will look on in horror as Rome looks on with interest.
Waleed might like to actually take a look.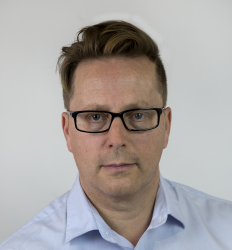 Latest posts by Houses and Holes
(see all)