A new survey by UnionsACT claims that nearly two-thirds of young Canberrans were underpaid over the past year:
There is growing evidence that employers are purposely flouting Fair Work laws and WHS laws on a vast scale, and young workers are under-reporting incidences of injuries and wage-theft to authorities. In a context where the Federal Government is spending more time attacking unions than dodgy bosses who steal from or injure their workers, employers are increasingly "rolling the dice" when it comes to committing wage-theft or providing an unsafe workplace. For those few employers who get caught, there is little consequence by way of penalty…

Young workers reported experiencing wage theft at alarming rates with 62.4% reporting being under-paid or unpaid for work they have done in the last 12 months. Of those respondents who reported having their wages stolen, 38.34% said they would not try to recover their wages mostly out of fear of losing their job.

44.4% of respondents also reported having completed an unpaid trial shift in the last 12 months of work.

Young workers are particularly vulnerable to experiences of wage theft because of the casualised and insecure nature of their work. They are also less likely to report or seek the recovery of their wages for the same reasons.

Despite their under-reporting, young workers are aware of the prevalence of wage-theft, and understand its impact on their lives, and a vast majority reportedly feel that changing the laws to stop it was either important or extremely important (93.8%).
What's not mentioned is that Australia's open visa system is facilitating the wage theft and slow wage growth.
As explained by the Grattan Institute last month, "three quarters of net migrants to Australia today are not high-skill":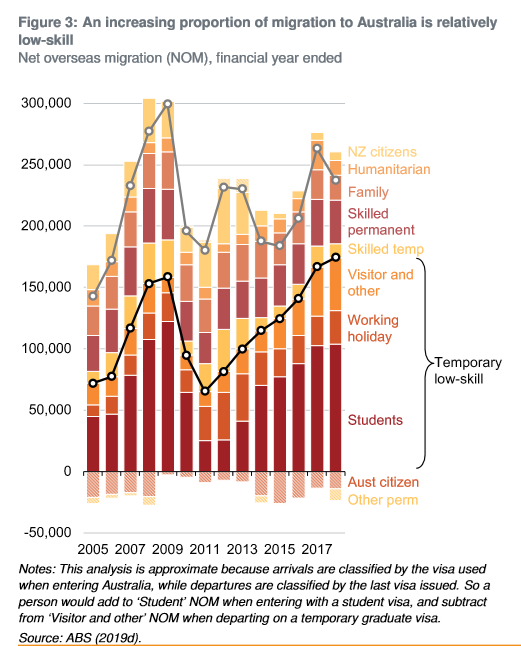 And this migrant tsunami has "put downward pressure on wages" given "measured wages of those aged 20 to 34 have not risen as fast as the wages of older workers for some time (Figure 7)":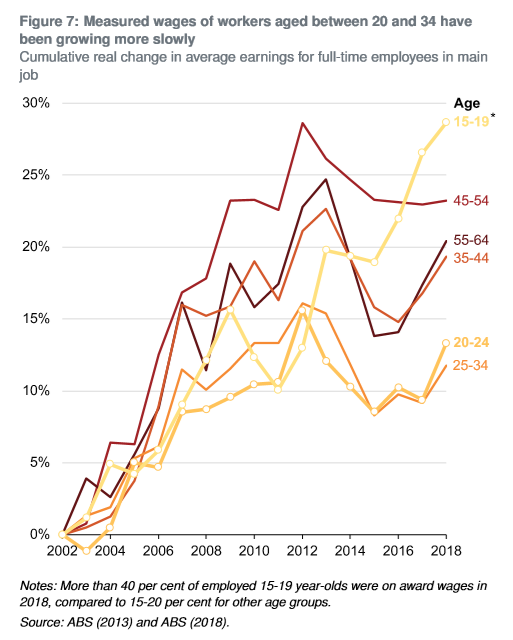 According to Grattan:
Australia is now running a predominantly low-skill migration system. People from this system form a material proportion of the younger workforce. Because of visa conditions, many of these migrants have incentives to work for less than minimum wages, and there is anecdotal evidence that many do. It is impossible for data sources on the Australian labour force to pick up all of this phenomenon. It is possible that the scale of this influx to the labour market is depressing wages and increasing under-employment specifically for low-skill younger workers.
The fact of the matter is that allowing the mass importation of migrant workers circumvents the ordinary functioning of Australia's labour market by enabling employers to source cheap foreign workers (often illegally) in lieu of raising wages, as well as abrogating the need for training.
Leith van Onselen is Chief Economist at the MB Fund and MB Super. Leith has previously worked at the Australian Treasury, Victorian Treasury and Goldman Sachs.
Latest posts by Leith van Onselen (see all)