"Unabashed supporter of a bigger Australia", Bernard Salt, has spruiked new projections for Victoria's population which he claims will make the state a "powerhouse":
Victoria's Department of Environment, Land, Water & Planning released new projections in July showing a powerhouse of population growth and property (and infrastructure) demand unfolding over the coming generation…

The previous set of state projections released in 2016 had Victoria rising to 7.7 million by 2031 whereas the latest iteration has upped this outlook to 8.1 million. That's another 400,000 Victorians and another 200,000 houses or apartments that must be delivered during the 2020s. That's important if you're in the property game…

There are four big winners in this document. The cities of Wyndham, Casey, Melbourne and Greater Geelong. The 2031 population outlook for these edge, central and provincial municipalities has been upped by between 34,000 and 45,000. In rough terms, that's between 17,000 and 22,000 net extra dwellings to be leveraged into these ­municipalities over and above the number that been provisioned for previously…
Hilariously, last year Bernard Salt admitted that Melbourne was growing too fast and even called for lower immigration:
Melbourne is currently growing by 126,000 people a year…

"Out rate of growth has increased ten-fold over the course of a single generation," The Demographics Group Managing Director, Bernard Salt, told 9NEWS.

"It's a bit like a car travelling too fast. You get the speed, things start to shake."

The current spike compared to 25 years ago is staggering, Mr Salt explained. In 1993, early in the Jeff Kennett era, the city's population grew by just 12,000 people…

"Unless you actually deliver the infrastructure, unless you create the city to a blueprint if you like… the city then grinds to a halt," Mr Salt said…

Mr Salt added a 'big picture plan' is vital, with now the time to evaluate limiting the flow of people moving to the city.

"There are times when a city grows too fast and I think we're in that time at the moment," he said.

"But that does not mean shutting the gate… it might mean closing it a bit."
Below is a summary of the projections via the Victorian Government's report: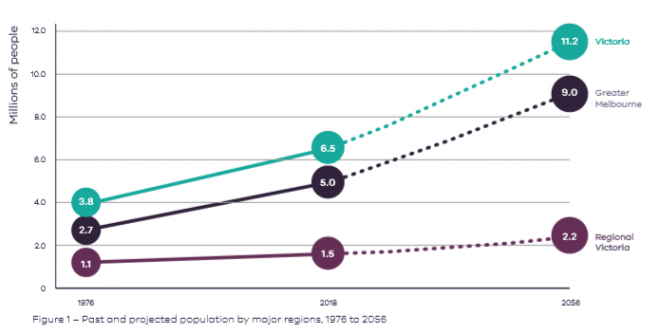 The "winners" from this rampant population growth will obviously be property developers and big business. But the losers will be ordinary residents, whose living standards will unambiguously be crushed.
While Melbourne has added an insane 1.3 million people over the past 14 years, Melbournians have been left with the second lowest median incomes on the mainland, only beating lowly Adelaide: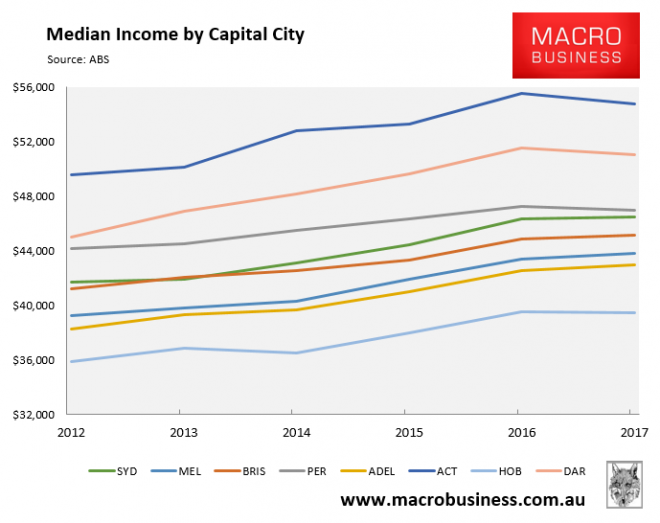 Victoria's household income growth has also badly lagged behind the other jurisdictions: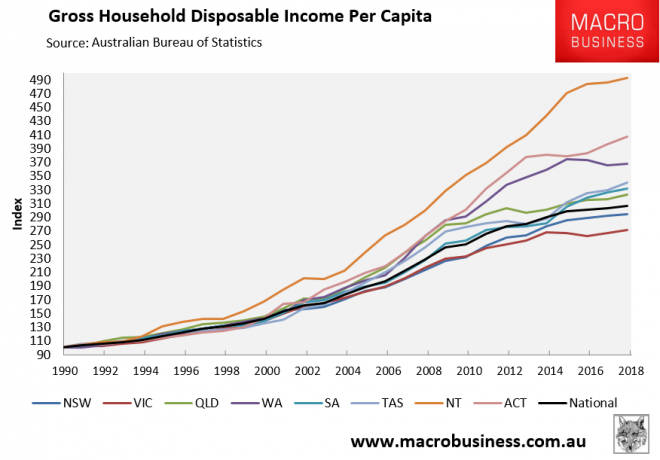 And Victorians have the lowest gross household disposable income in the nation, even lagging behind Tasmania: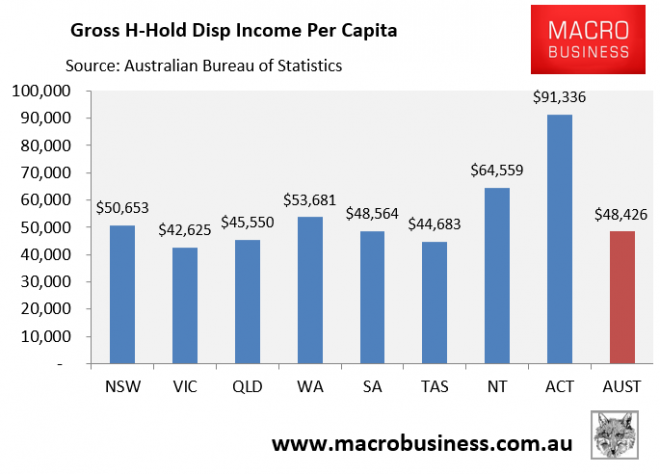 Moreover, this forthcoming population boom will be matched by a dramatic increase in commuting times:
The projections based on ABS and state government projections indicate that the population of Melbourne could more than double, growing by an estimated 5.6 million people, from 4.6 million in 2016 to 10.2 million people by 2056 (Table 6).

The vast majority of this growth (~4.2 million or 74 per cent) is expected to occur in Melbourne's outer suburban areas. Regional cities and included regional centres are expected to grow substantially from nearly 710,000 to 1.3 million (an increase of 78 per cent). ..

Under the business as usual scenario, the economic model found that for residents of outer suburban Melbourne, population growth alone will contribute an increase of roughly 1.9 per cent to overall average incomes (in 2016 dollars), a small increase in unemployment, 7.5 per cent increase in house values and a 63 per cent increase in commute distances…

Overall, as with Sydney, the downsides of population growth will fall most heavily on people who come to live in outer Melbourne, with limited or no benefits in terms of income and employment…
Infrastructure Australia's 2018 modelling also projects worsening congestion, longer commute times, and reduced access to jobs, schools, hospitals and green space as Melbourne's populations balloons to a projected 7.3 million people by 2046: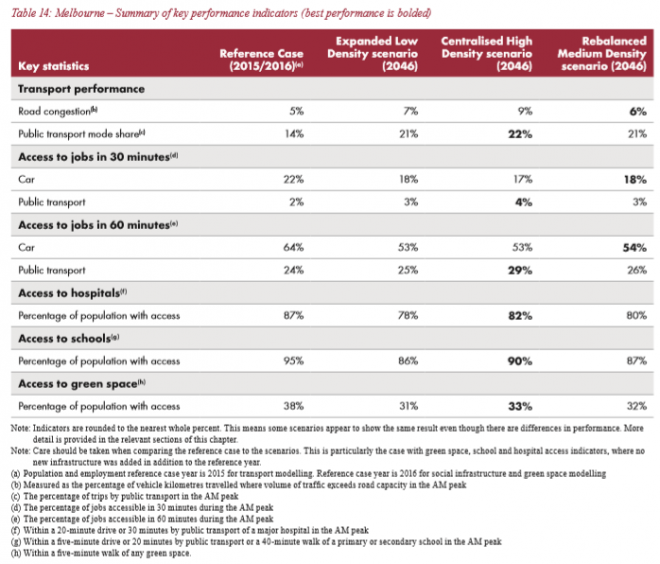 Again, why are policy makers persisting with the mass immigration 'Big Australia' policy if it is guaranteed to lower residents' living standards?
Latest posts by Leith van Onselen (see all)