Check out the below chart from yesterday's June quarter wage data from the ABS: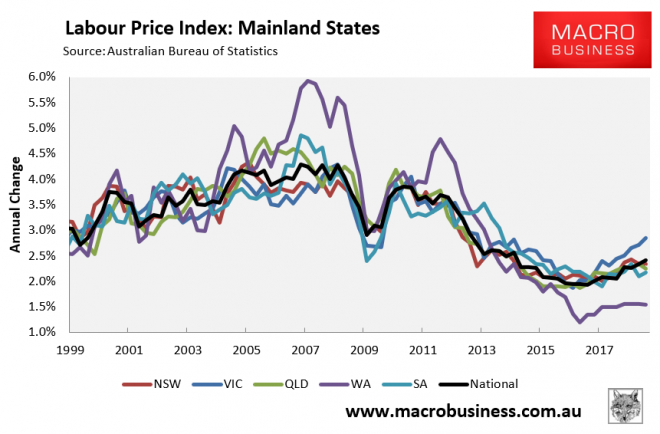 As you can see, Victoria is way out in front on wage growth, recording wage rises of 2.9% over the year to June.
Now check out the next chart showing wage growth across Australia's various public sectors: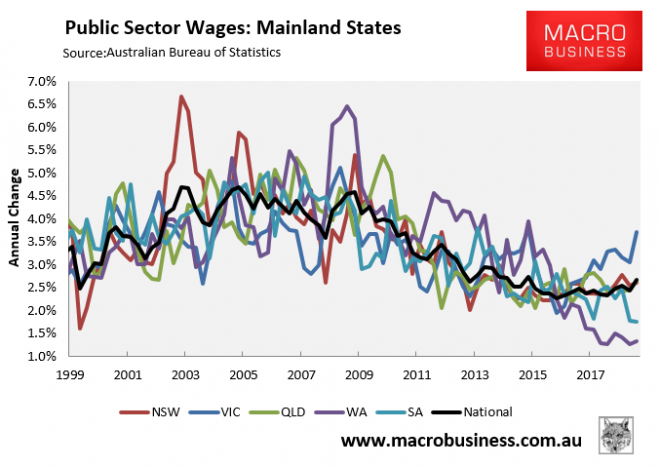 As you can see, Victoria is even further in front, registering public sector wage growth of 3.7% in the year to June, way ahead of the national average of 2.7%.
ABS Chief Economist, Bruce Hockman, explained the rise as follows:
"The most significant contribution to wage growth this quarter came from the public sector component of the health care and social assistance industry, where a number of large increases were recorded in Victoria under a plan to ensure wage parity with other states."
Today, The Australian's Adam Creighton has taken direct aim at Victoria's over-fattened public servants, claiming Victoria, along with South Australia, was one of just two states to post negative productivity growth in the year to June:
In a state where the Premier had 64 taxpayer-funded advisers last year, more than Scott ­Morrison, it's no surprise the state's public servants are enjoying thousands of dollars a year in extra pay… Too bad for the rest of us…

Across 18 different industries, healthcare and social workers — largely propped up by subsidies — enjoyed the fastest growth in wages, almost 0.7 per cent for the June quarter…

Higher public sector wages don't reflect higher productivity, rather an arbitrary transfer of wealth from taxpayers. Indeed, Victoria was one of only two states (South Australia, the other) to ­exhibit negative productivity growth over the 12 months to June last year.
Hilariously, CommSec's debunked State of the States report ranks Victoria the number one economy in the nation.  Go figure!
Leith van Onselen is Chief Economist at the MB Fund and MB Super. Leith has previously worked at the Australian Treasury, Victorian Treasury and Goldman Sachs.
Latest posts by Leith van Onselen (see all)