Over many years, Melbourne has lead the nation's population growth, adding a ridiculous 1.3 million people (a 36% increase) in the 14 years to June 2018: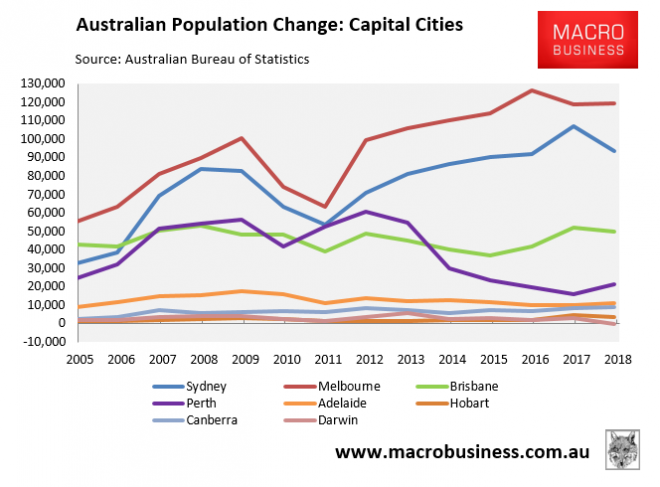 When I worked at the Victorian Treasury in 2006, the State Government had just released "Melbourne 2030", which projected that the city's population would reach 5 million people by 2030. In 2010, the Government released "Melbourne Beyond 5 million", which projected that Melbourne would add one million people in 15 years and warned that the city was not ready for this growth.
As we already know, Melbourne smashed those projections, hitting 5 million people in 2018, 12 years earlier than initially projected in Melbourne 2030, after adding a whopping 590,000 people in just the five years to 2018.
In July 2016, the Victorian Department of Environment, Land, Water and Planning released upgraded projections of Melbourne's population growth, which projected that Melbourne's population would balloon to 8 million people by 2051: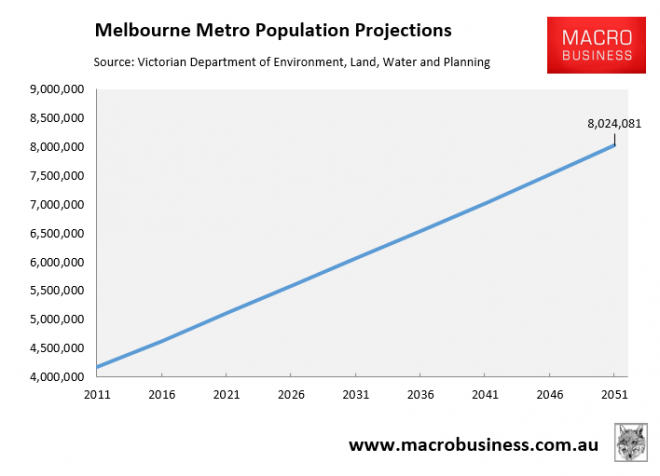 Yet again, the Victorian Government has been forced to upgrade Melbourne's population projections, with the Department of Environment, Land, Water and Planning releasing its projections out to 2056. Now Melbourne's population is projected to be 440,000 bigger by 2051 – equivalent to adding another Canberra – and will hit 9 million people by 2056: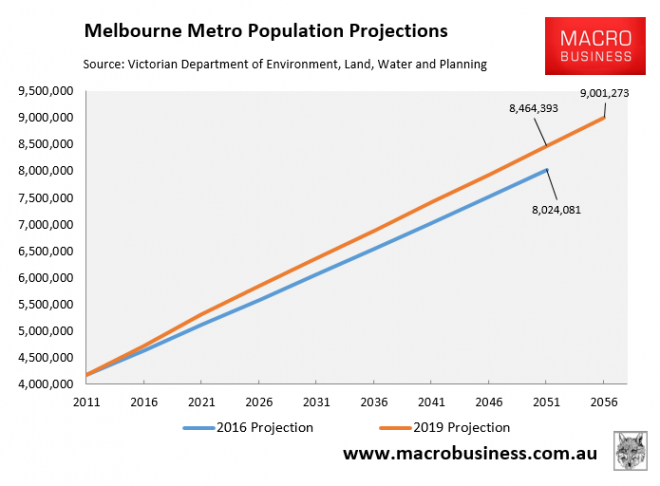 Interestingly, the Victorian Government's revised projections now almost perfectly match the ABS' medium projections, which also forecast a Melbourne population of 9 million people by the mid-2050s, as well as a population of 10.2 million people by 2066 – driven almost entirely by strong net overseas migration (NOM):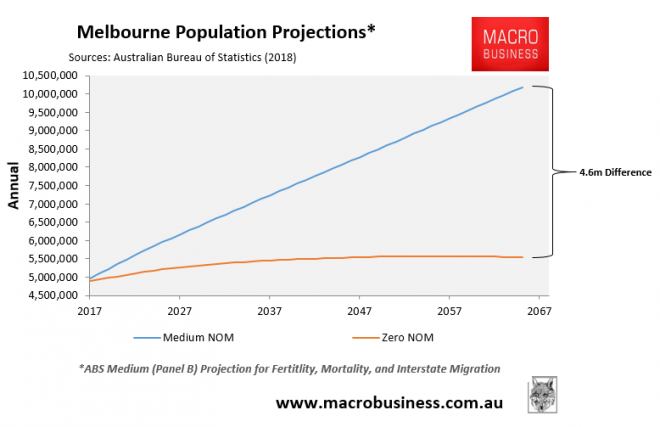 Whatever the case, Melbourne's liveability has already been degraded so much that even "unabashed supporter of a bigger Australia", Bernard Salt, has called for immigration to be reduced:
Melbourne is currently growing by 126,000 people a year…

"Out rate of growth has increased ten-fold over the course of a single generation," The Demographics Group Managing Director, Bernard Salt, told 9NEWS.

"It's a bit like a car travelling too fast. You get the speed, things start to shake."

The current spike compared to 25 years ago is staggering, Mr Salt explained. In 1993, early in the Jeff Kennett era, the city's population grew by just 12,000 people…

Unless you actually deliver the infrastructure, unless you create the city to a blueprint if you like… the city then grinds to a halt," Mr Salt said…

Mr Salt added a 'big picture plan' is vital, with now the time to evaluate limiting the flow of people moving to the city.

"There are times when a city grows too fast and I think we're in that time at the moment," he said.

"But that does not mean shutting the gate… it might mean closing it a bit."
When even the strongest of 'Big Australia' proponents starts having second thoughts, you know there's a problem.
Cut immigration.
Latest posts by Leith van Onselen (see all)