The Mackenzie Institute believes that Australia's economy has become "hollowed out" by a misguided belief that universities must be research intensive, as well as policies that preference higher education over vocational alternatives:
In a paper coinciding with its launch, the institute condemns the 2008 Bradley review – which spawned Australia's recently abandoned demand-driven system of higher education funding – for producing a glut of graduates and exacerbating the funding decline in vocational training, particularly among public technical and further education colleges.

The paper blames the Bradley review for cultivating one of the worst skills mismatch profiles in the world. It cites figures showing that Australia ranks sixth among 33 Organisation for Economic Cooperation and Development nations for "high skills" development, but 27th for technical skills.

The institute says that, irrespective of whether jobs require higher credentials, employers use them to gauge people's potential. "They act as a sorting system that signifies staying power and resilience," says the paper by the institute's leader, Bruce Mackenzie, a long-serving former chief of Victoria's Holmesglen Institute.

"Australia has never had more graduates than now, yet we have a sluggish economy, stagnant wage movement and low productivity. Many of the occupations that provide low return to graduates would once have been taught in VET with better outcomes, and at a much lower cost"…

Mr Mackenzie said Australia's "disappointingly uniform" universities did not cater to vocational students – many of them mature-aged people who wanted to study part-time – with only about one in 10 university students coming from colleges, and half of these dropping out.

He advocated the establishment of six new applied or "professional" universities, ideally formed from large technical and further education institutions. They would offer both vocational and undergraduate qualifications in the fields they taught, focusing on areas of industry need.

The new institutions would provide "short cycle" degrees typically over two years, embellished with considerable practical work, and would receive government funding only for qualifications up to bachelor's level. They could offer master's courses and conduct research, but without funding.
Hard to disagree. The demand-driven university system, which was implemented by the Gillard Government and ran between 2010 to 2017, resulted in a sharp increase in domestic student enrolments at universities. That is, more people from low socioeconomic backgrounds have attended university following the expansion in the system, many of whom "often entered university with poorer literacy and numeracy and lower ATAR scores on average than other students", according to the Productivity Commission: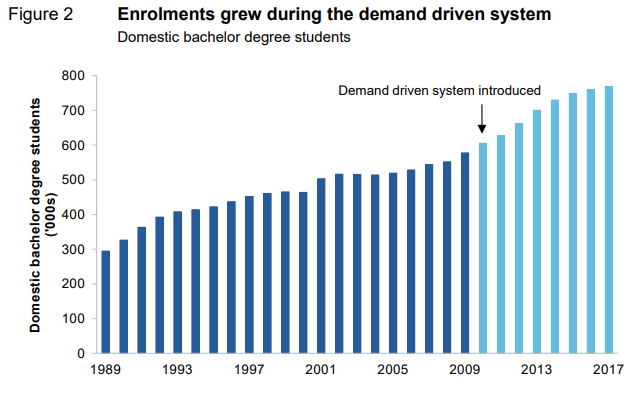 In the process, the demand-driven university system has sucked more young people into university, instead of studying a trade: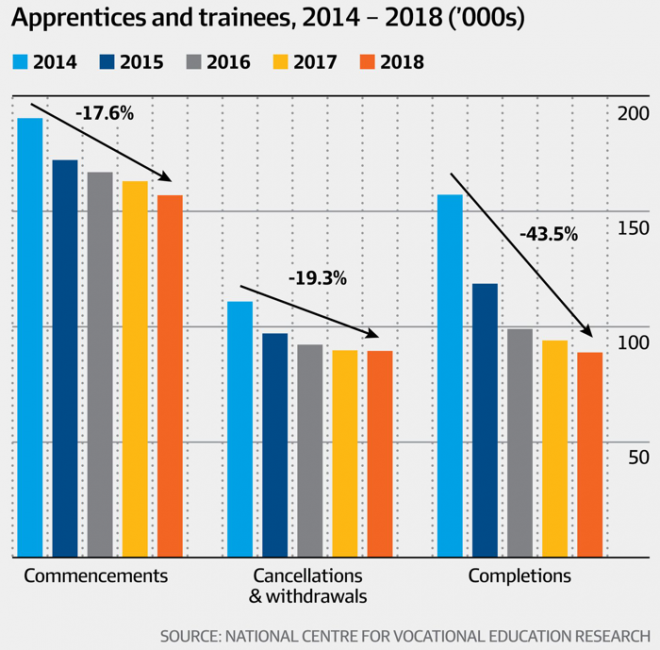 And this policy distortion has led to an oversupply in the labour market, as evidenced by skills shortages among managers and professionals running at recessionary levels, according to the Department of Jobs and Small Business: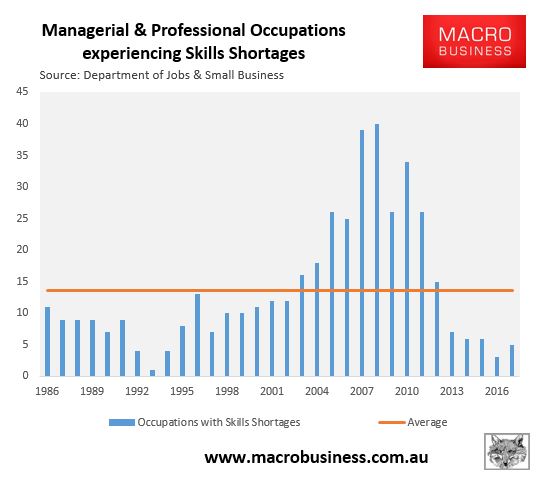 By contrast, shortages among technicians and trades are running well above-average levels: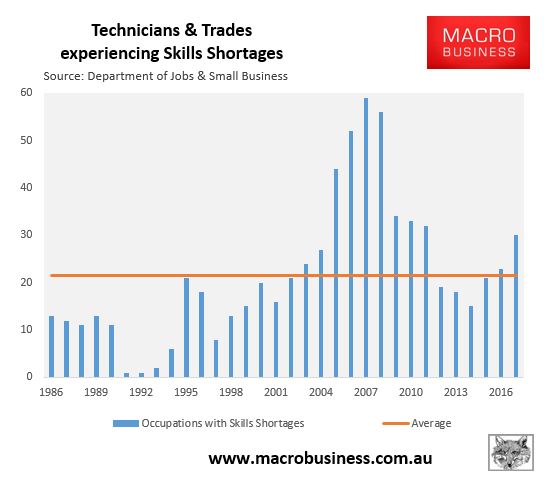 Clearly, Australia's governments must fix this imbalance ASAP by shifting funding away from the oversupplied university sector towards publicly run TAFEs.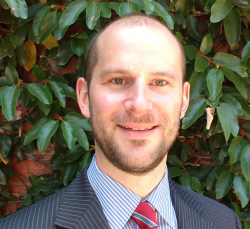 Latest posts by Leith van Onselen
(see all)