Last weekend, CoreLogic released its preliminary auction clearance rates, which revealed the following results:

Today, CoreLogic released its final auction results, which reported a 2.6% decline in the final national auction clearance rate to 67.8% – well above the same weekend last year (54.9%) and also above last week's 66.4%: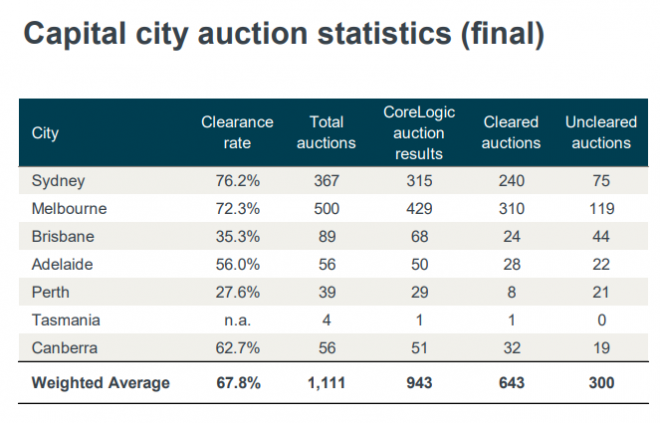 As you can see, Sydney's final auction clearance rate was 5.0% lower, whereas Melbourne's was 0.9% lower. However, both were above 70% and were way above last year's 53.8% (Sydney) and 58.0% (Melbourne).
The chart below shows the strong bounce in auction clearance rates nationally: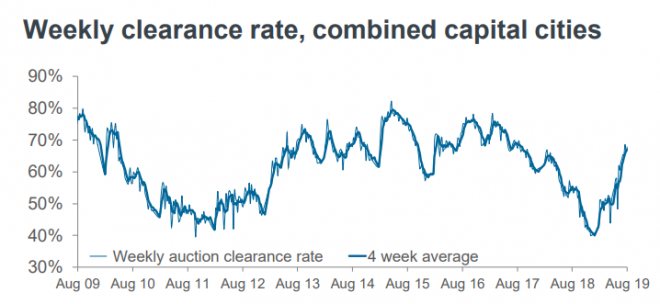 Commenting on the results, CoreLogic noted:
The weighted average clearance rate has held above 65 per cent for five consecutive weeks now, while auction volumes have remained steady each week over the past month. On a yearly basis, clearance rates are currently tracking around 10 percentage points higher, while volumes still remain around 20 per cent lower.

Both Melbourne and Sydney saw their final auction clearance rate reach the highest levels so far this year.

In Melbourne, a final clearance rate of 72.3 per cent was recorded last week; the highest the city has seen since Nov-17… Sydney returned a final auction clearance rate of 76.2 per cent, making it the best performing auction market for another week and the highest clearance rate the city has recorded since Apr-17.
The below charts plot the trend change in final clearances in Sydney and Melbourne against dwelling value growth: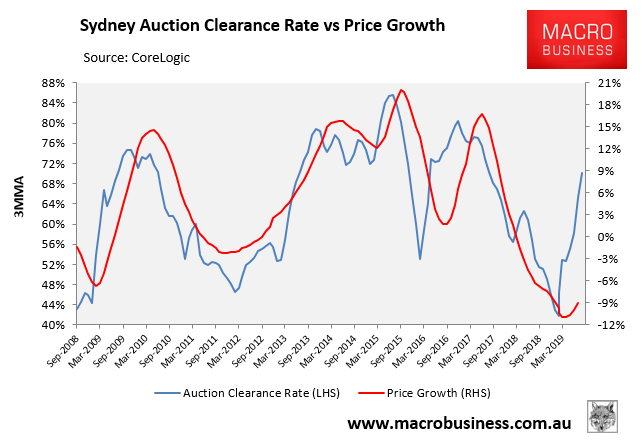 As you can see, the bounce in clearance rates is pointing to prices rebounding strongly. However, in practice the rebound is likely to be stunted by the low volumes and ongoing lack of available credit.
Leith van Onselen is Chief Economist at the MB Fund and MB Super. Leith has previously worked at the Australian Treasury, Victorian Treasury and Goldman Sachs.
Latest posts by Leith van Onselen (see all)