Over the past few years, the New South Wales Government has come up with a range of policy band aids to overcome overcrowding at schools, which are at "breaking point";
NSW Education enrolment data for 2018, released to 9 News under freedom of information laws, reveals 636 schools in NSW have between 100 percent to 150 per cent of student places filled.

That's the equivalent to almost a third (31 percent) of all public schools in NSW – or an even greater proportion of those in Greater Sydney.

Despite school ovals, carparks and play areas being filled with demountables and temporary classrooms set up in halls, libraries and gymnasiums, there are more kids than official places in many suburbs of Sydney…

Schools across Sydney's west, east, north and south dominate the list of the most densely-packed classrooms…
The Government has mulled implementing double shifts:
Education Minister Rob Stokes says he is open to trialling separate morning and afternoon schools  in NSW to reduce traffic peaks and address the enrolment boom.

"Effectively having double schools by having morning and afternoon schools is one option, it's already being done in some countries," Mr Stokes said…
The Government is building high-rise schools, which are already over-enrolled:
The opening of the 14-storey school in 2020 has been highly anticipated, but parents in inner southern suburbs such as Redfern and Darlington had their hopes dashed when the catchment, announced last week, stopped at Cleveland Street.
And now the Government has announced that it will crack-down on out-of-area enrolments:
School shopping in Sydney will become harder due to a major crackdown on out-of-area enrolments by the NSW Department of Education.

Under the changes, every principal will be given a student population limit based on the number of permanent buildings at their school, and will not be given demountables if they exceed their student cap due to out-of-area enrolments.

The tough new approach will reduce families' options if their preferred out-of-area schools are over, or close to, a reduced student cap, and has prompted fears that some schools will not be able to accept the younger siblings of non-local students.
Fiddling with the enrolment boundaries won't fix this mess.
In 2016, the Grattan Institute estimated that NSW would need 213 new schools by 2026 to cope with a projected 175,000 (14%) surge in students: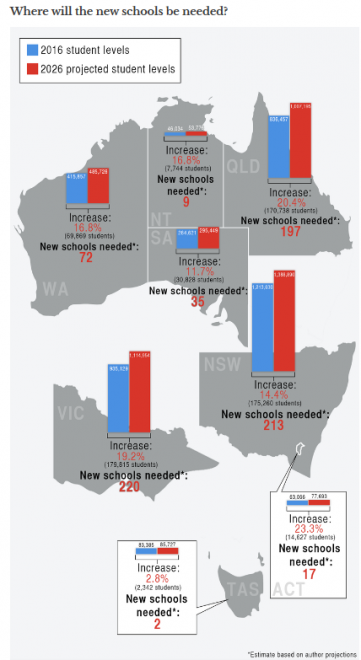 Moreover, this schools requirement is only the tip of the iceberg given the ABS' latest medium (Panel B) population projections have Sydney's population ballooning by 94,000 people a year to 9.7 million people by 2066 – driven entirely by mass immigration: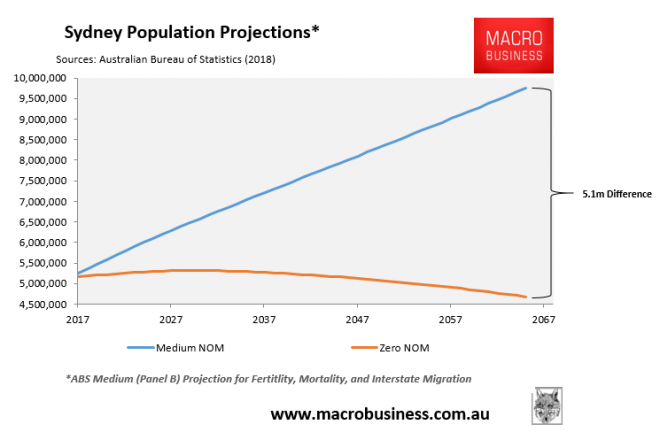 Remember, Infrastructure Australia's modelling shows that access to schools let alone hospitals, jobs, roads and green space will all decline as Sydney's population balloons to a projected 7.4 million people by 2046 (let alone 9.7 million people by 2066, as projected by the ABS), irrespective of how Sydney builds-out: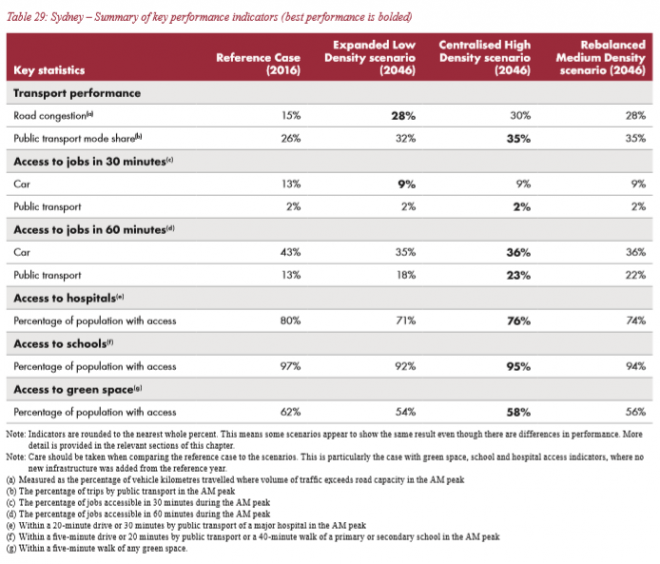 All of this, yet again, highlights the dysfunctional 'Big Australia' policy in action.
There is no way to fix or build enough schools fast enough to keep pace with the projected 100,000 annual increase in Sydney's population. What we are experiencing is a planned degradation of living standards to support the massive wealth accumulation of a few billionaires, like Highrise Harry and Gerry Harvey.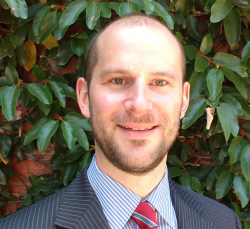 Latest posts by Unconventional Economist
(see all)