It's winter. The desalination plant is running full throttle. Sydneysiders are consuming less water. And yet Sydney's dam levels have fallen below 50% – the lowest reading since 2004 when the Millennium drought was raging – with worse to come:
The dams serving metropolitan Sydney will sink below 50 per cent full for the first time in 15 years by the weekend, with long-range weather forecasts suggesting the slide could accelerate…

According to a WaterNSW spokesman, the rate of the present slide in storage levels continues to exceed the pace of that dry spell more than a decade ago.

The decline continues even though Sydney's desalination plant began producing water for the city's users in March and reached full capacity of about 15 per cent of total demand at the start of August, a spokesman said.

"Preliminary expansion planning" has now begun on doubling the plant's capacity of 250 million litres of water a day, he said.

Sydneysiders have responded to first-stage restrictions, with usage about 7 per cent lower since July than forecast…

Warmer conditions and longer days will likely see evaporation rates increase.
Sydney added 93,400 new water consumers last year, with mass immigration (77,100) driving the increase: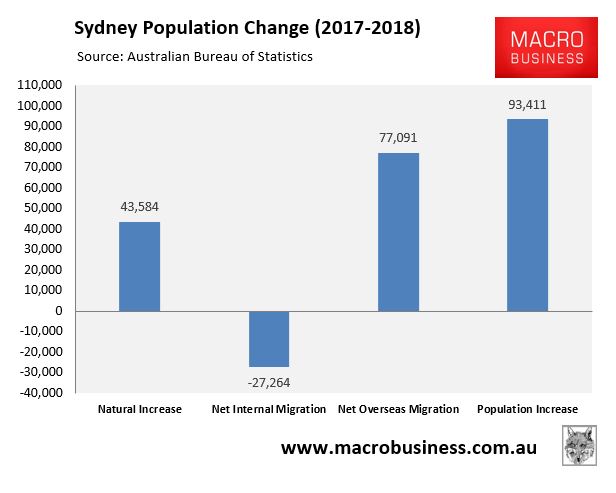 So what happens to Sydney's water supply when the city's population balloons by a projected 4.5 million people (86%) over the next 48 years, driven solely by immigration, at the same time as droughts become more common because of climate change?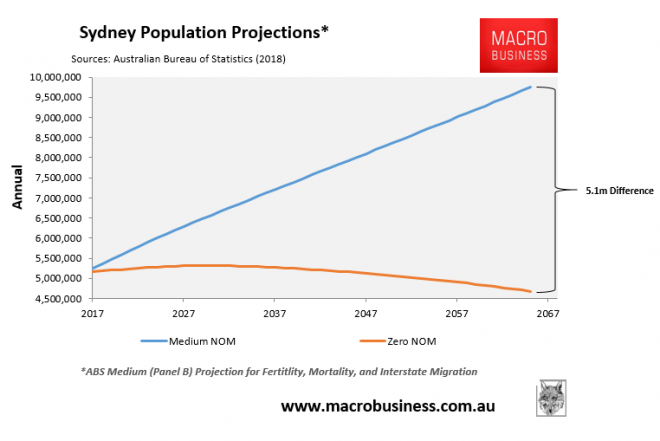 Heck, Sydney's West is projected to take an extra one million people alone in the next 20 years. Western Sydney is located a long way from the coast, therefore, the cost of piping desalinated water uphill will necessarily be very expensive:
"Water being non-compressible and quite a heavy substance — it's quite expensive to transport," said Mr Lovell.

"Even if you're looking at Sydney on the coast through to Penrith or from Wonthaggi to the north of Melbourne — you're looking at 80 to 90 kilometres. That's really expensive, and it's a really inefficient way to transport water"…

Professor Khan said a whole new set of pipelines would need to be built to get desalinated water west of there, where the population growth will be.

"The further you (pump desalinated water) inland, the more you're working in a direction that is opposite to the way our water supply systems are designed and operate," he said.

"They pump water from the source — up in the reservoirs, up in the hills — to the coast. And it's very difficult to actually turn that around."
In spruiking for mass immigration and a 'Big Australia', advocates conveniently ignore Australia's fragile water supply, which extends well beyond the cities into the regions.
The first best policy response to alleviating Australia's water woes is to not run an immigration program that is triple the historical average. It's so obvious, and yet ignored by policy makers, vested interests, and Australia's mainstream media.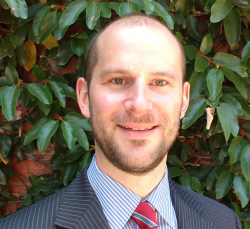 Latest posts by Leith van Onselen
(see all)