The Morrison Government has announced that it will make the Global Talent Scheme permanent after a 12-month trial, thus permitting start ups to employ cheap migrant workers:
Under the program, two visa streams are available to fill specialised positions. Established businesses with a turnover of $4 million can apply for up to 20 visas for foreign workers annually, while start-ups in the science, technology, engineering and mathematics field can apply for five.

Twenty-three firms have struck agreements of up to five years with the government to bring workers into the country under the streamlined scheme. These include Rio Tinto, Coles, Atlassian and Cochlear…

StartupAUS chief executive Alex McCauley, who chairs an advisory panel that endorses eligible start-up companies to access the visa scheme, said Australia was in a global war for talent…

"For a long time start-up founders have thought the biggest thing holding them back in Australia is access to top talent," Mr McCauley said.

"These are people in demand all over the world. These are new economy jobs but they don't exist in big numbers in Australia yet. Demand is substantially higher than supply."
The list of established companies already taking advantage of the Global Talent Scheme is provided below: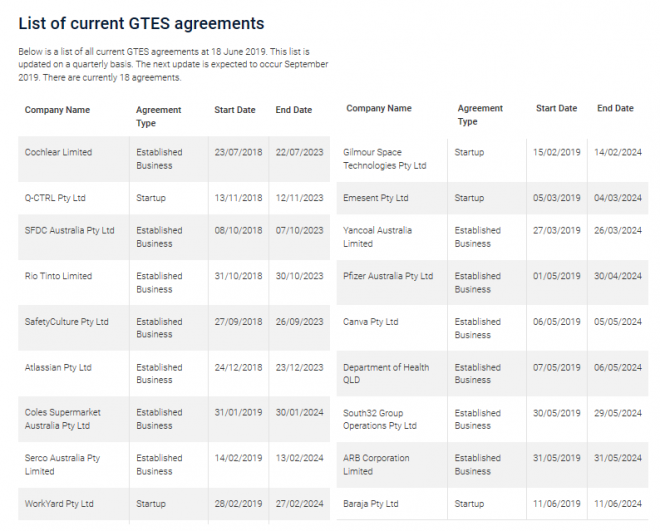 According to the Department of Home Affairs' Fact Sheet on the Global Talent Scheme, established businesses must pay a minimum salary of $180,000. Thus, these visas are reserved for highly skilled and highly paid migrants to fill genuine skill gaps across the economy.
However, the start-ups scheme contains the same low salary floor of $53,900 as other "temporary skilled shortage" (TSS) visas, requires "at least 3 years work experience directly relevant to position", and provides a "transitional pathway to permanent residence after 3 years". Therefore, these visas will be used primarily to employ cheap migrant workers and will undercut Australian workers' wages and conditions.
One wonders how rare the skills are when the minimum visa salary is a pitiful $53,900?
Latest posts by Leith van Onselen (see all)