See the latest Australian dollar analysis here:
DXY was up last night as EUR sank. CNY found some support: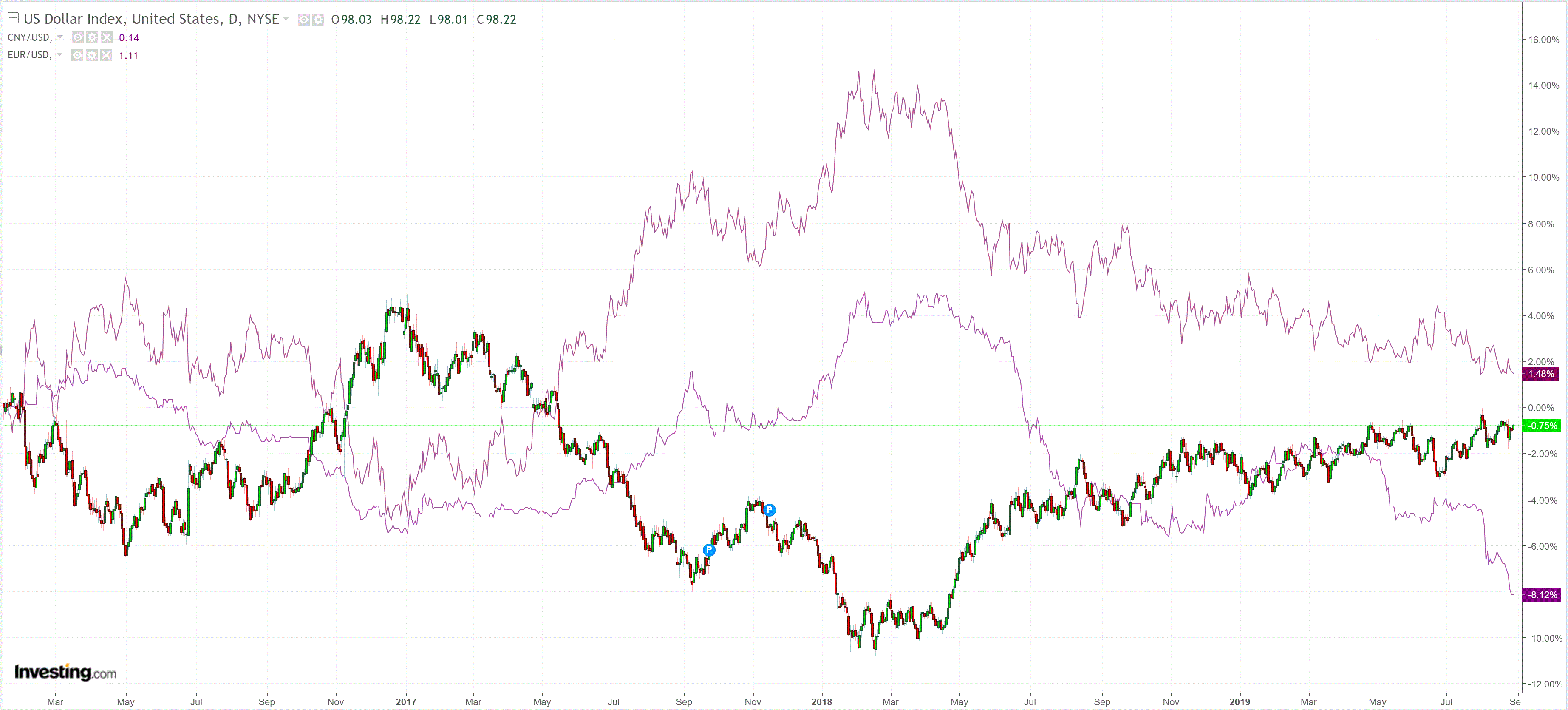 The Australian dollar did not lift at all: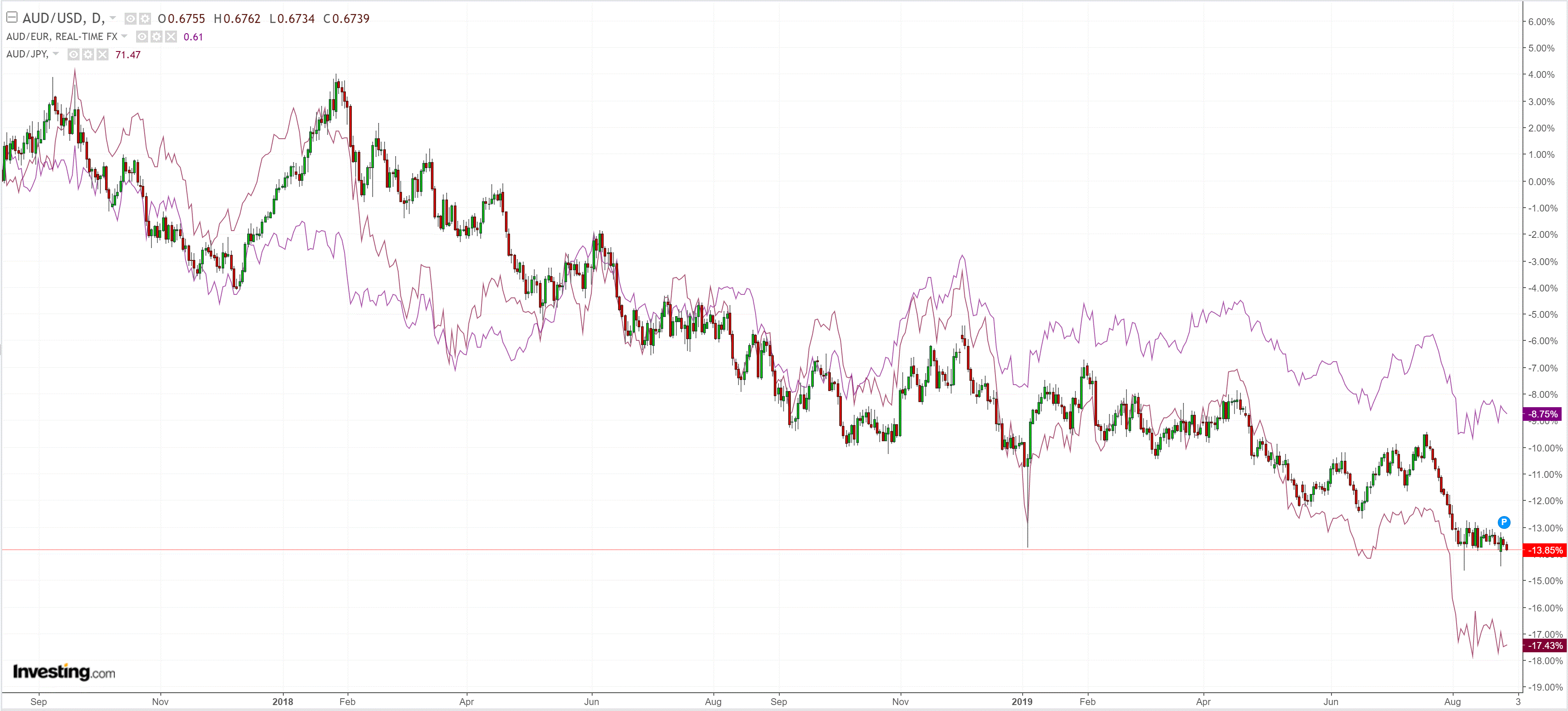 EMs were also weak: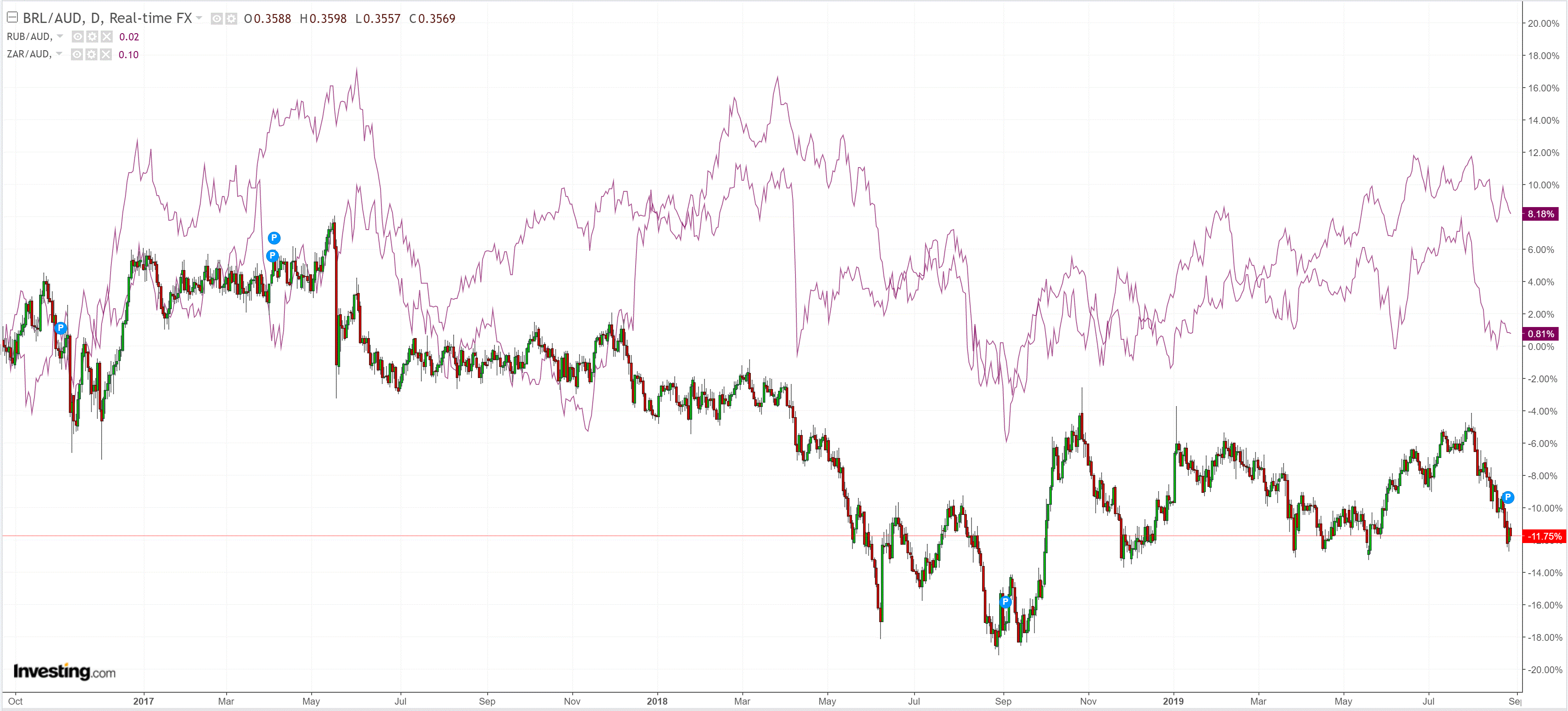 Gold was strong: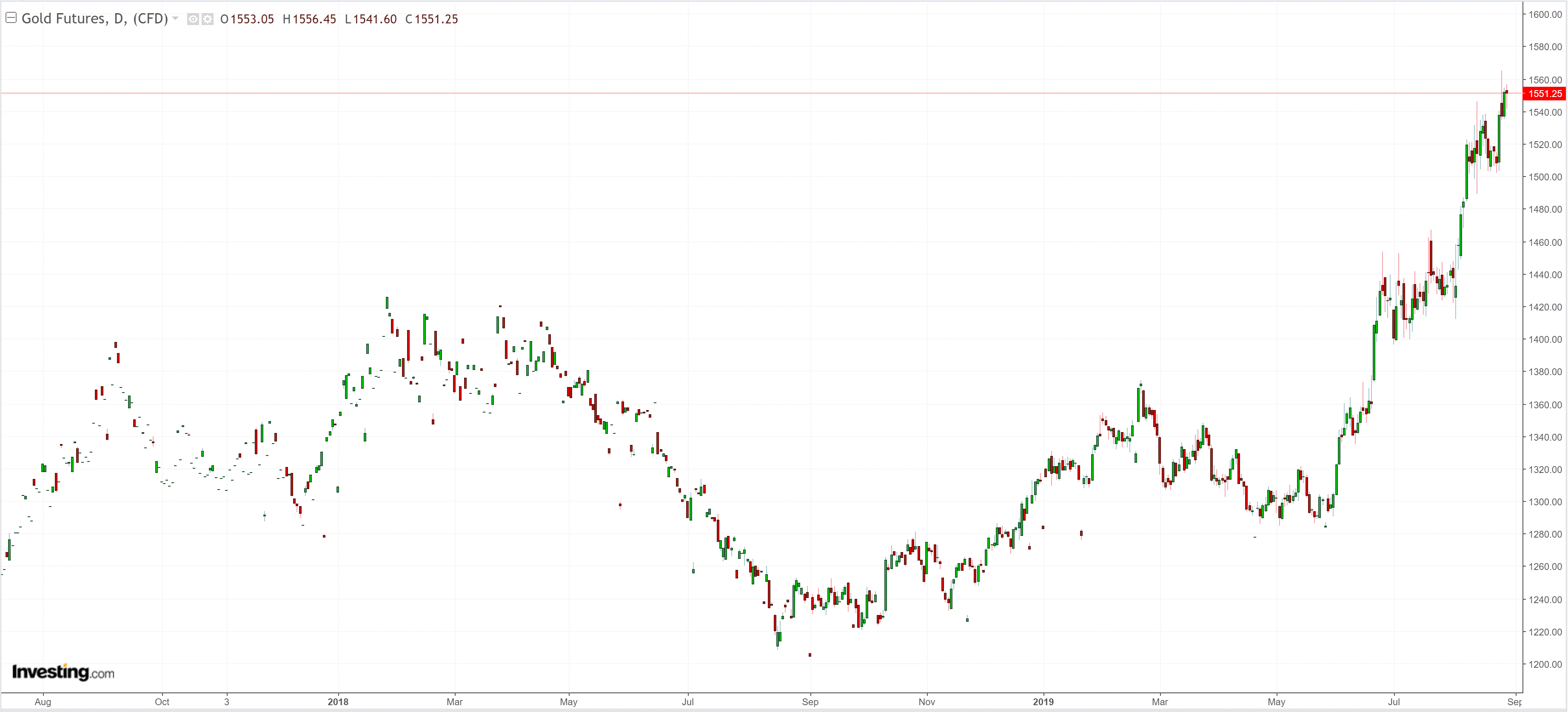 Oil too on a big US inventory draw: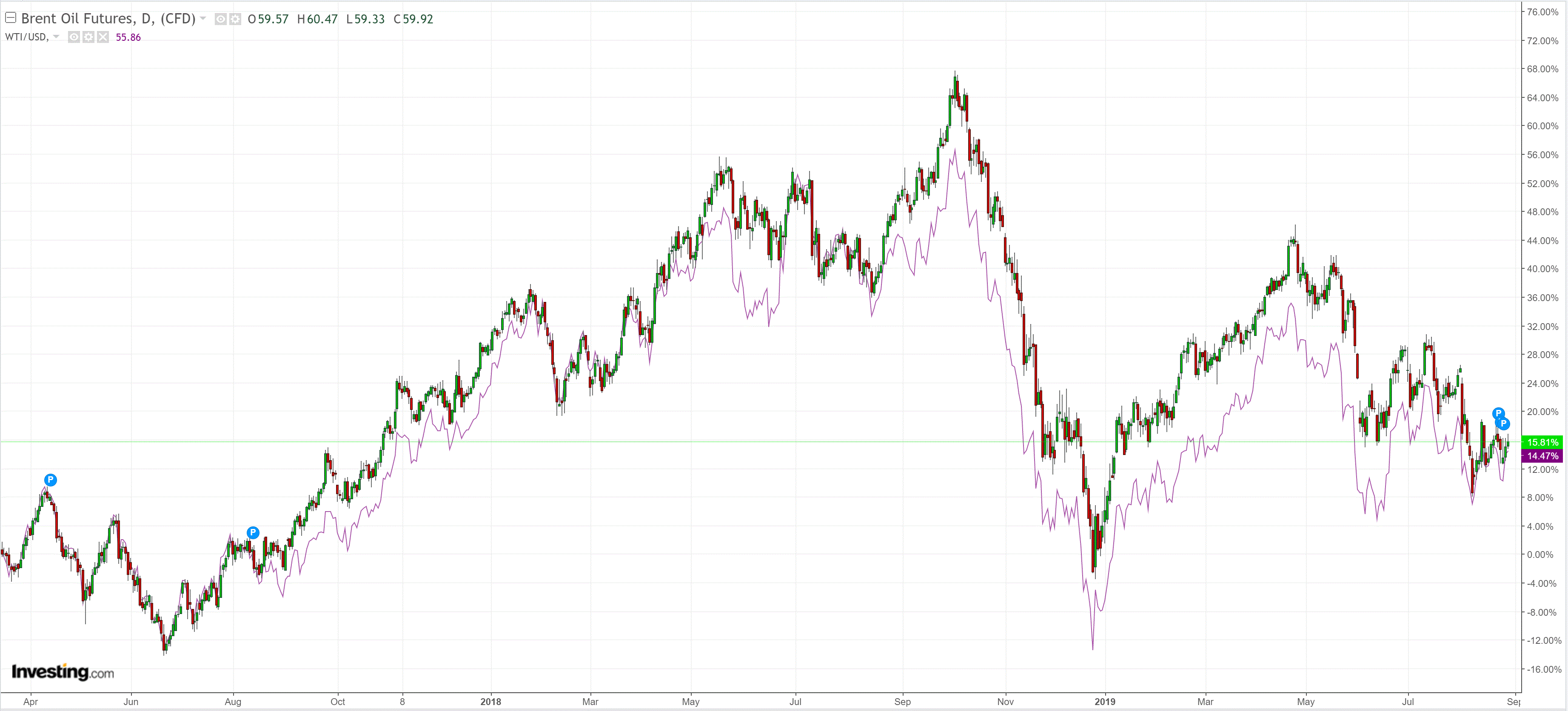 Metals were mixed: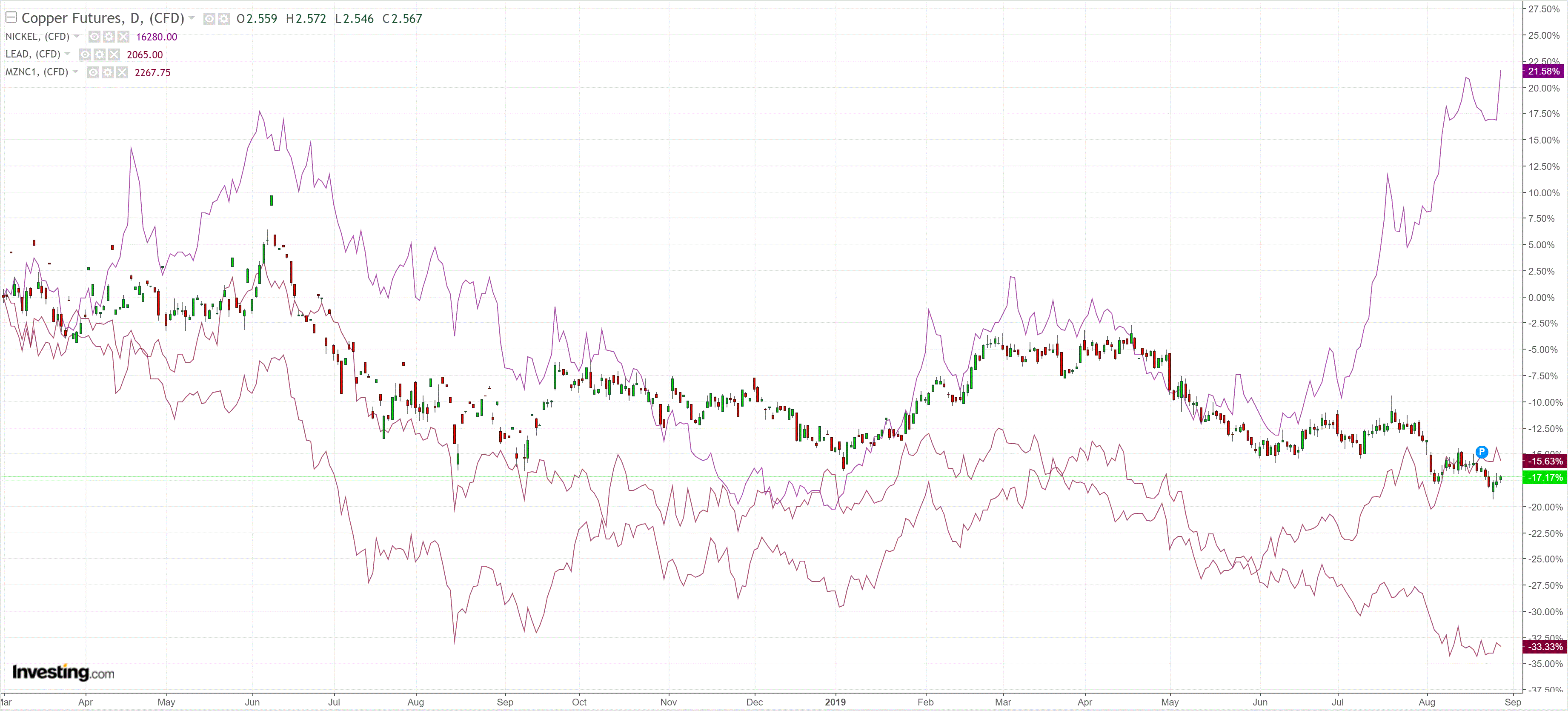 Big miners bounced: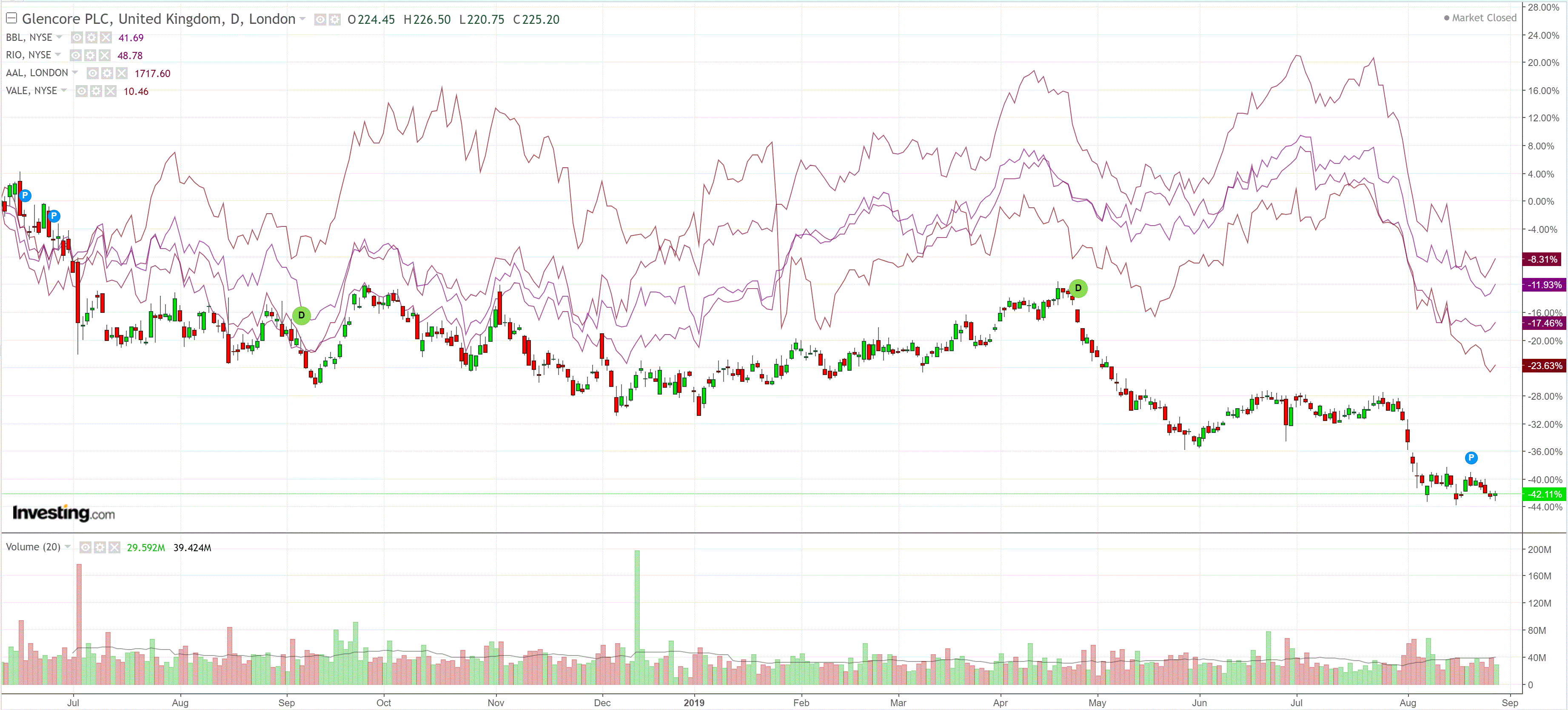 EM stocks didn't: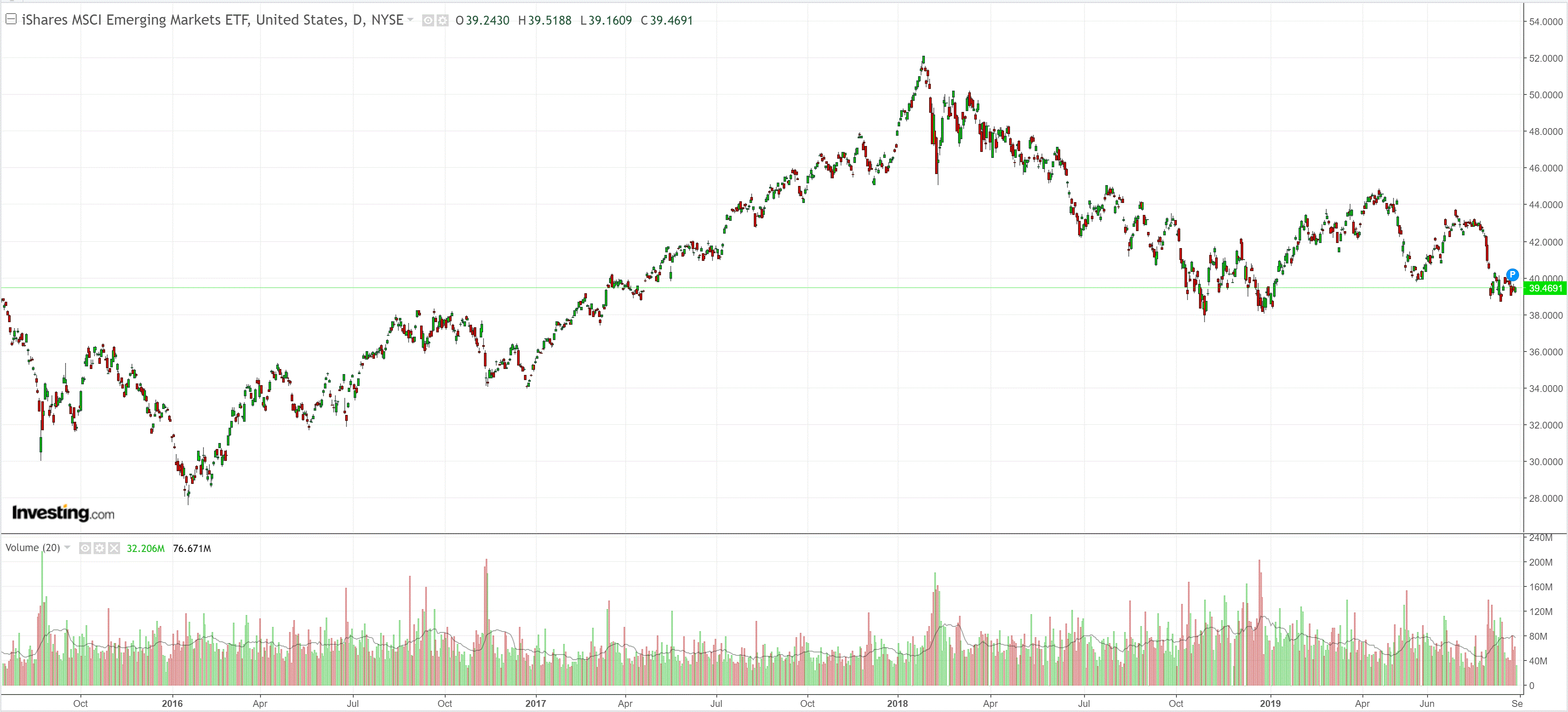 US junk is good, EM not so much: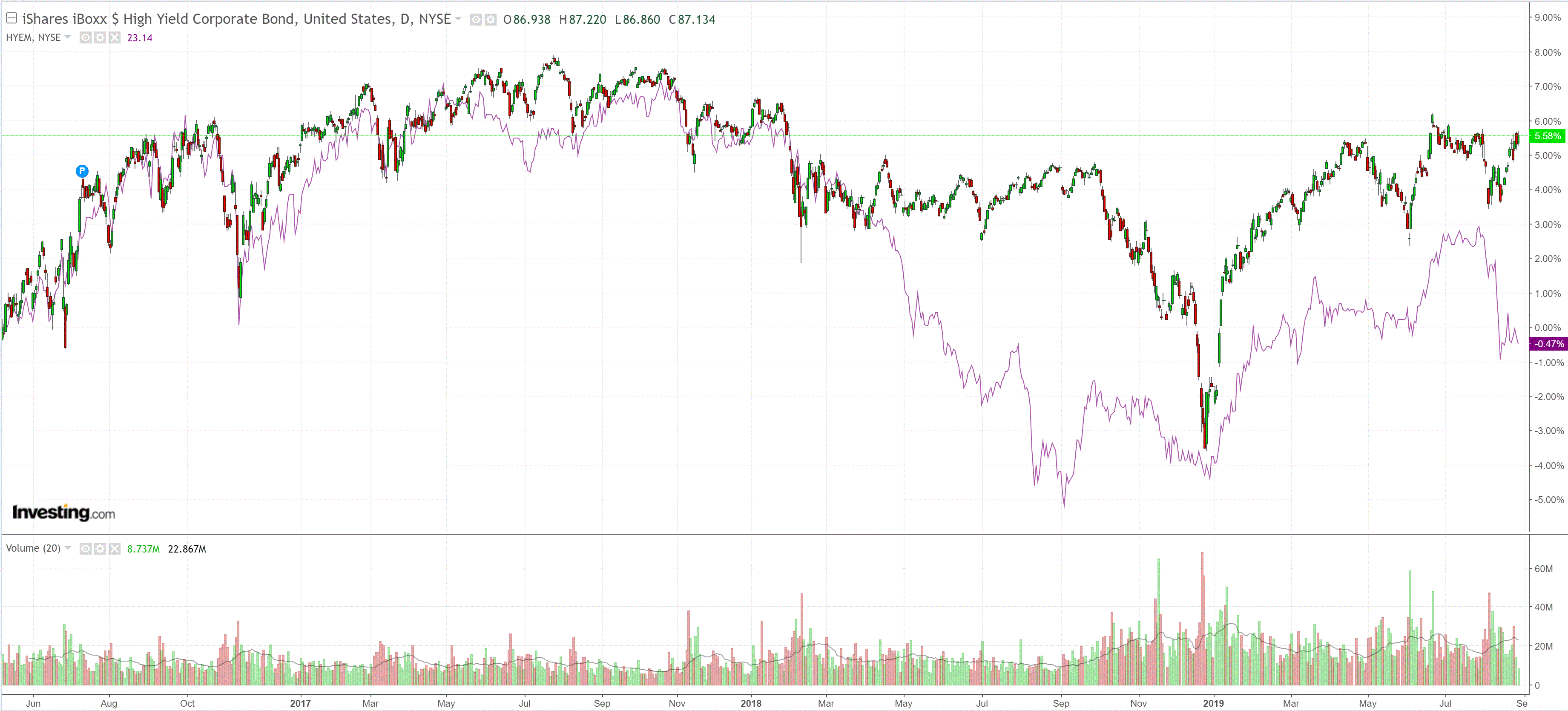 Treasuries were bid: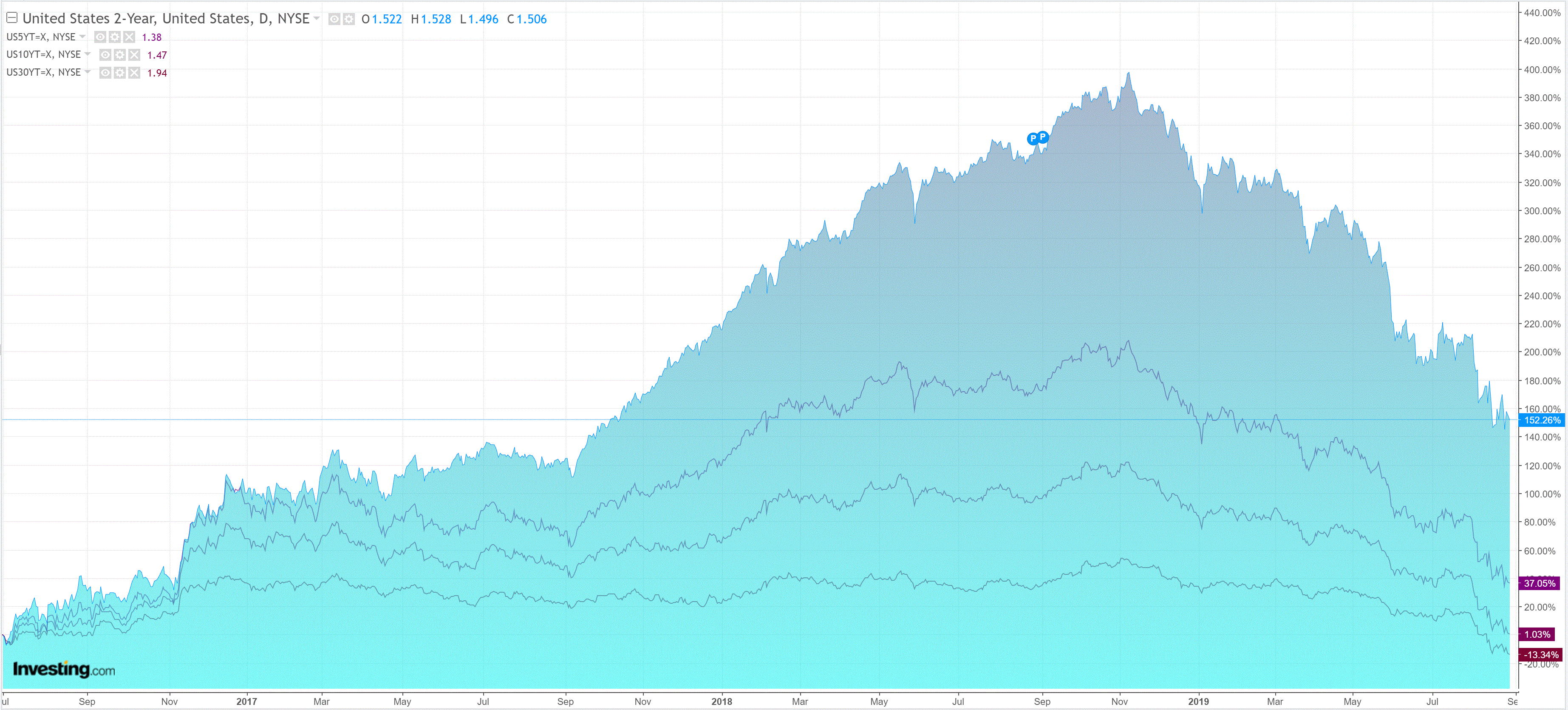 The bund curve flattened: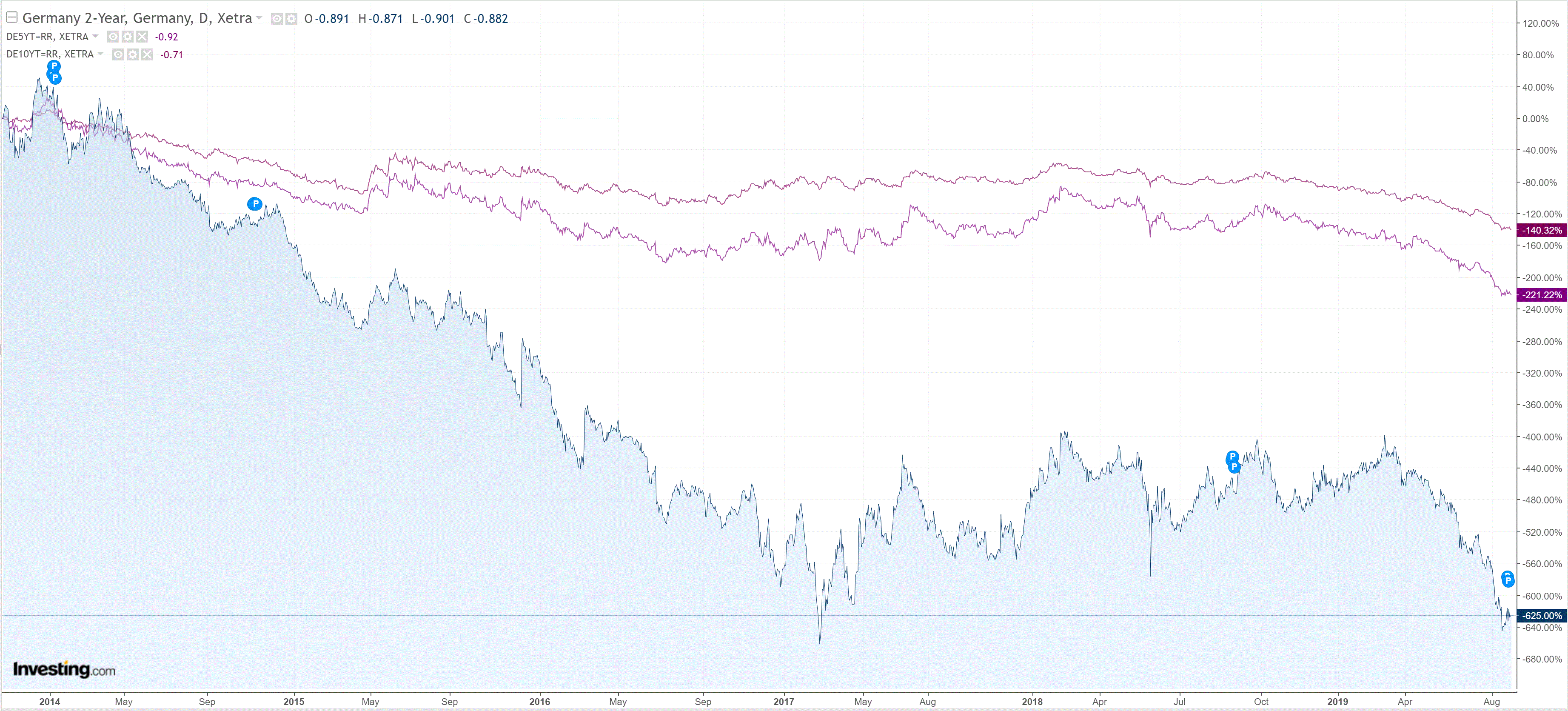 Aussie bonds are stuck: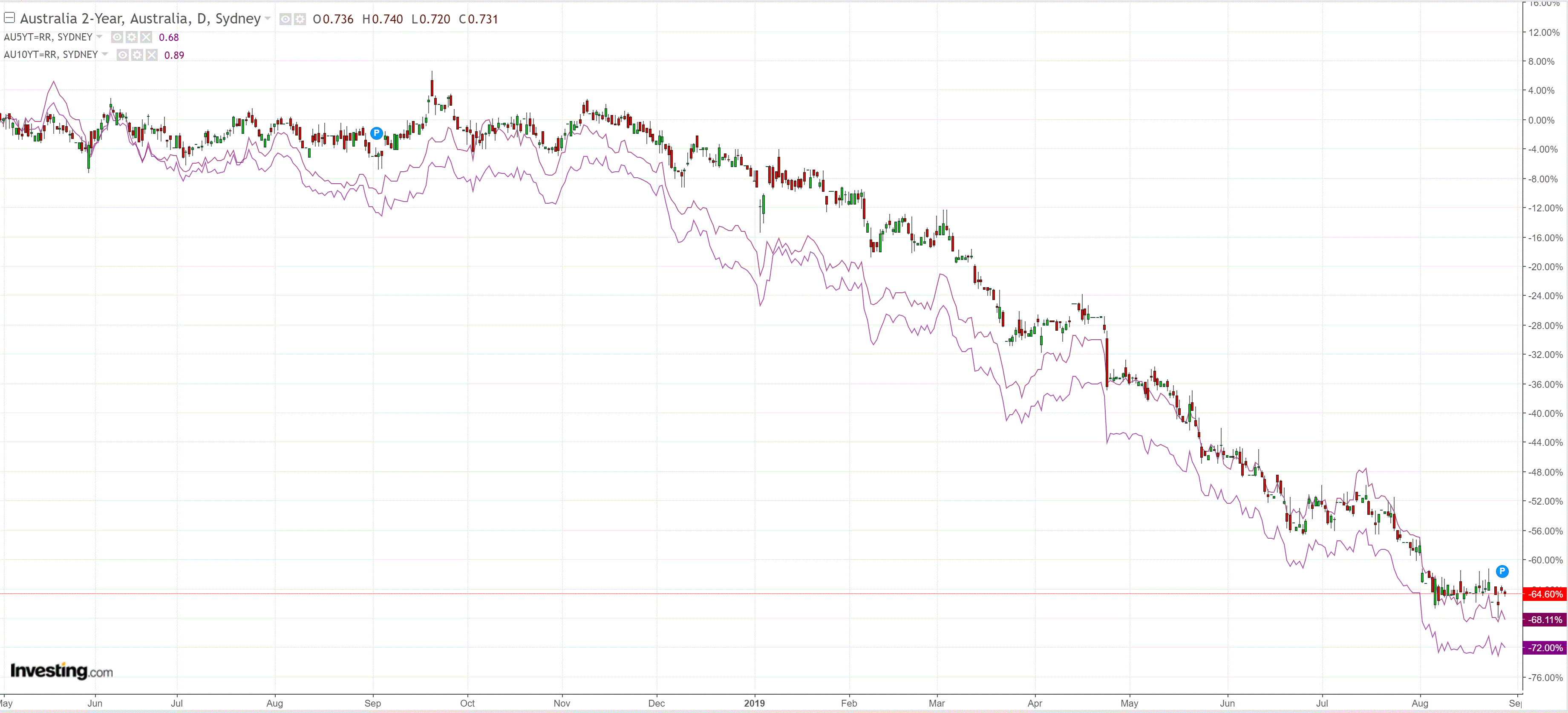 Stocks rebounded moderately: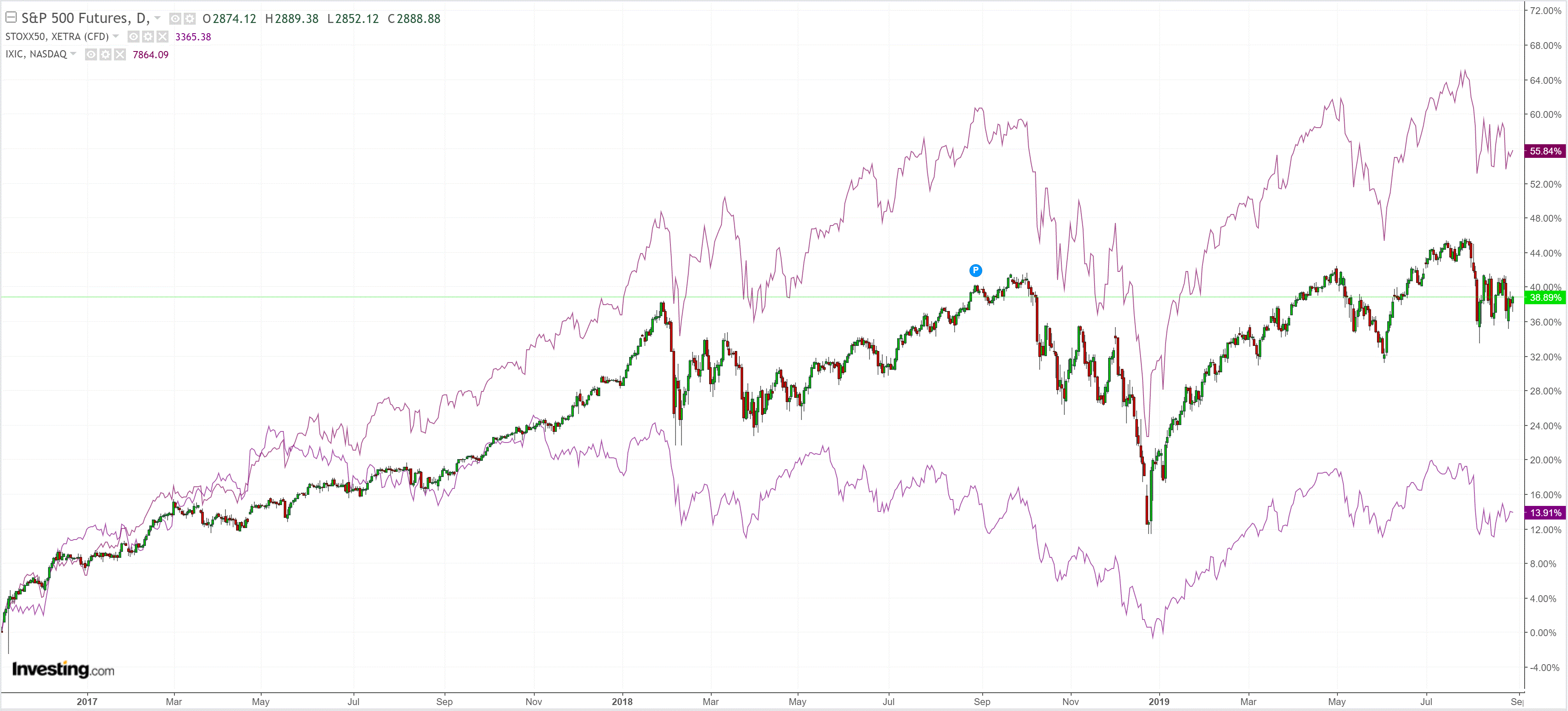 It is unusual to see a risk rally and falling Australian dollar but it is well-deserved. The global risk matrix is bearish, with three of our four potential shocks all getting worse overnight despite equities lifting.
The Hard Brexit scenario intensified as BoJo prorogued parliament, at the FT:
Boris Johnson plunged Britain into constitutional uproar on Wednesday when he announced plans to suspend parliament for five weeks, daring opponents of his Brexit strategy to vote down his government in a sharp escalation of tensions in Westminster.

The move, designed to thwart MPs' efforts to stop a no-deal Brexit on October 31, was described by John Bercow, Speaker of the Commons, as a "constitutional outrage". Ruth Davidson, the popular pro-European Conservative leader in Scotland, is expected to quit on Thursday, according to people briefed on her plans.

The prime minister asked the Queen to prorogue parliament between the second week of September and October 14 — the longest suspension since 1945. The monarch, who has so far avoided being dragged into the Brexit debate that has divided Britain since the 2016 referendum on EU membership, approved Mr Johnson's request in a meeting of the privy council, which advises her on political matters.
The second risk, intensifying trade war, was also afoot with Google moving more supply chain out of China, via Nikkei:
Google is moving aggressively to shift production of its Pixel smartphone from China to Vietnam as it seeks to build a low-cost supply chain in Southeast Asia that will serve as a springboard for its growing hardware ambitions.

Working with a partner, Google started work this summer to convert an old Nokia factory in the northern Vietnamese province of Bac Ninh to handle production of Pixel phones, two people familiar with the company's plans said. This is the same province where Samsung developed its smartphone supply chain a decade ago, so Google will have access to an experienced workforce.

The push to develop a Vietnamese production base reflects the twin pressures of higher Chinese labor costs and the spiraling tariffs resulting from the trade war between Washington and Beijing. The U.S. internet giant intends to eventually move production of most of its American-bound hardware outside of China, including Pixel phones and its popular smart speaker, Google Home, according to the sources.
The third, risk, a crackdown in Hong Kong, got uglier as the CPC regime declared martial law was an option, via SCMP:
The use of any emergency powers at the government's disposal to end Hong Kong's escalating protest crisis would have to come in a measured way rather than a blanket crackdown, to protect the city's status as an international financial centre, a top adviser to the city's embattled leader said on Wednesday.
However, Executive Council convenor Bernard Chan said that while Chief Executive Carrie Lam Cheng Yuet-ngor's administration had the option of using the Emergency Regulations Ordinance, the city was nowhere near requiring such a move, which would grant the power to seize property or shut down the internet.
Finally, we did see some reprieve on the last of our for risks with oil lifting on a big US crude draw: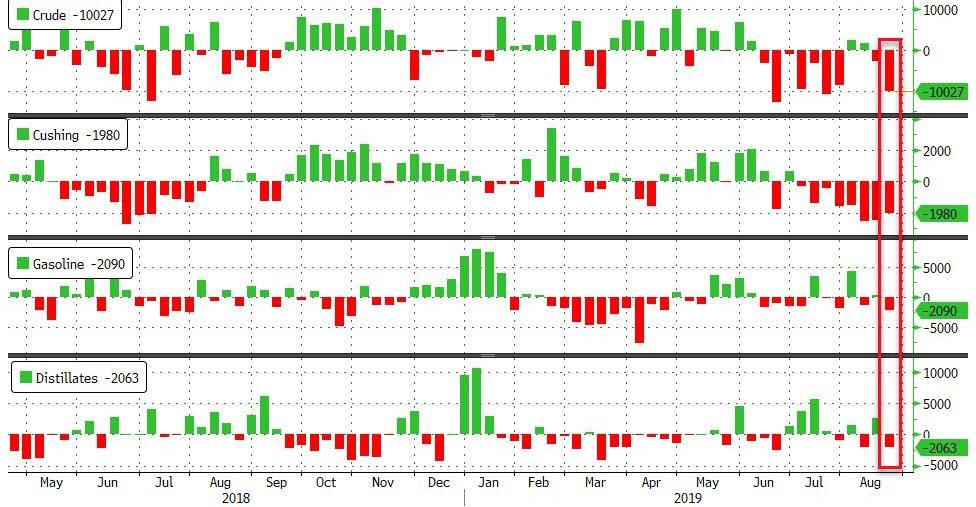 Somewhat offset by rising output: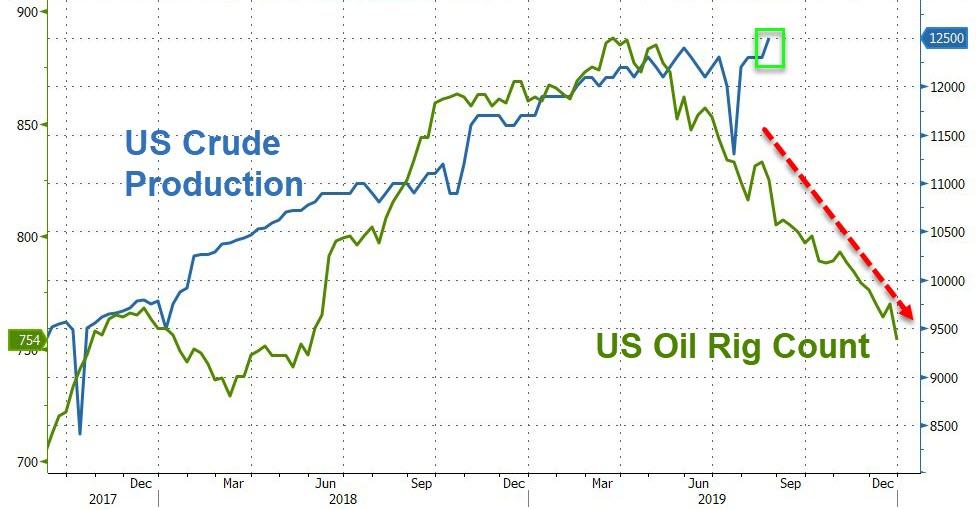 If output does turn down soon then it will offer some reprieve on this last worry, but we are soon entering oil's weakest seasonal period as well so the jury is out.
Of course, the AUD has been rightly struggling ever since the release of Construction Work Done yesterday which is setting up for a terrible Q2 and annual GDP print next week, via Credit Suisse:

Far below the RBA's nowcast of 1.75% growth to June: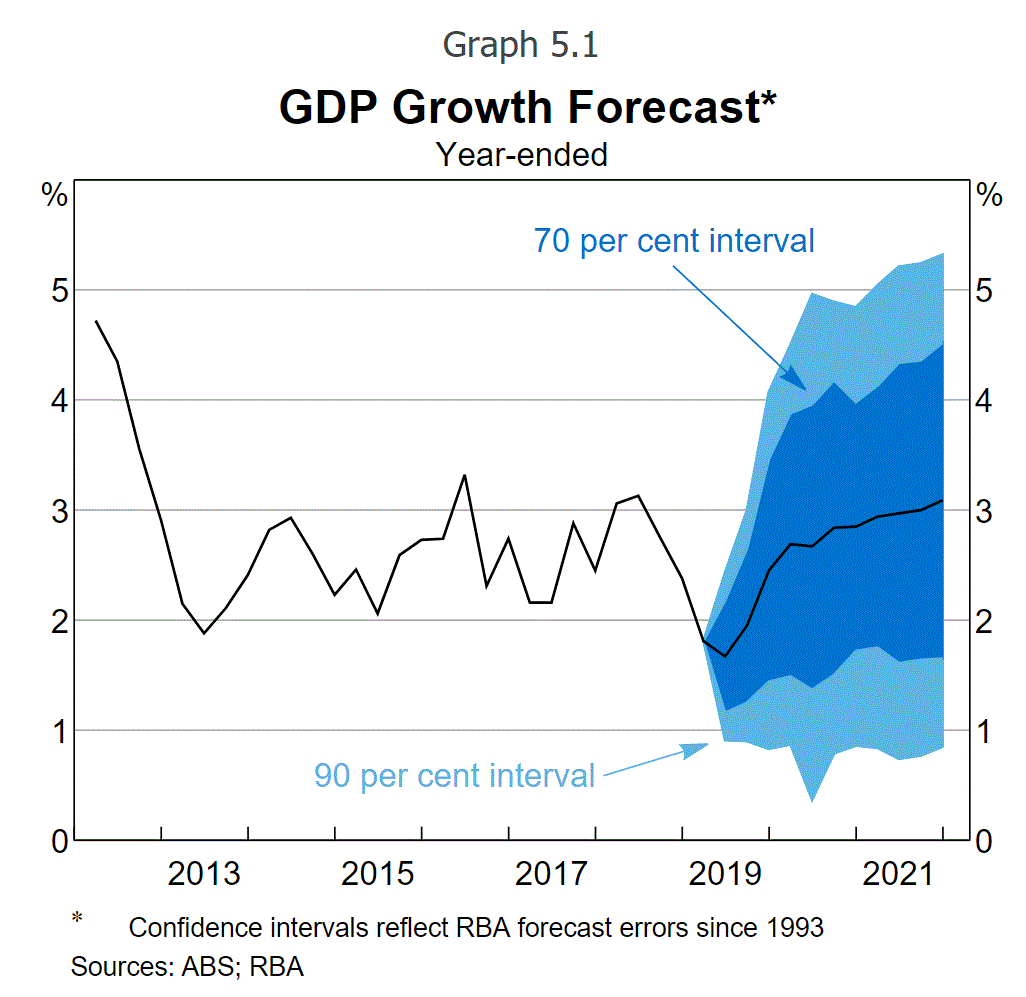 Which pulls all of its forecasts down by nearly 1% of GDP.
Given how dovish it is already, one does not need a whole of imagination to picture what that means for rates and the AUD.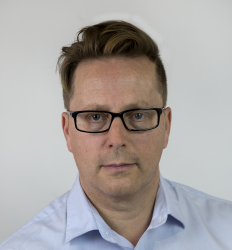 Latest posts by David Llewellyn-Smith
(see all)