And why wouldn't it? Power prices are more than double historical averages: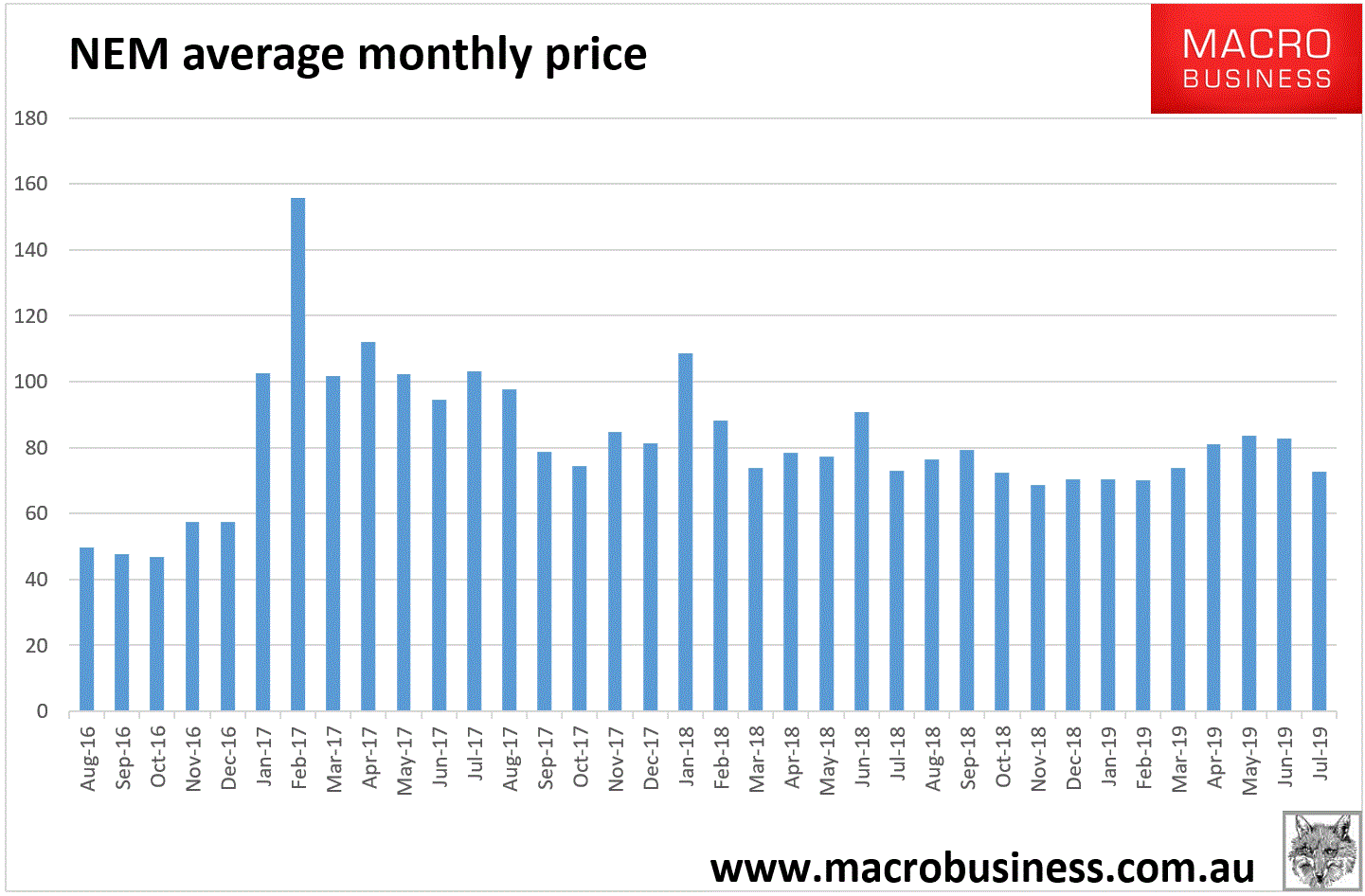 Via The Australian:
Rio Tinto's aluminium smelters in Gladstone and Newcastle are "on thin ice" and face an uncertain future if Canberra does not act on the east coast energy cost crisis, according to Rio boss Jean-Sebastien Jacques.

As Rio delivered another $US3.5 billion ($5.1bn) in dividends to shareholders on the back of the soaring iron ore price, Mr Jacques added his voice to the chorus of criticism of Australia's energy policy.

He said Rio was in talks with state and federal governments, and utility providers, over a solution for rising energy costs at its aluminium smelters but confirmed the operations and their 2000 strong workforce could be closed if a solution is not found for energy prices.
Governments will broker a deal, just as they did with Coolan Island.
But that's hardly a market is it? And it doesn't help everybody else, which is also being gouged on power and gas prices. Let's recall that it is gas prices that set the marginal cost of electricity in the NEM and the gas cartel is still out there doing its thing. While Asian price crater, at Reuters:
Cargoes of liquefied natural gas are trading in Asia below $4 per million British thermal units for the first time in several years, as new supply floods the global pool and as demand from North Asia remains weak, industry sources said.

The last time a cargo traded below $4 was likely about three to four years ago, two of the six industry sources said on Thursday.

Indian Oil Corp bought a cargo for delivery in the second half of August from commodity trader Trafigura at $3.69 per million British thermal units (mmBtu) through a tender, the sources said.

Separately, China National Offshore Oil Corp (CNOOC) bought a cargo for delivery in early September from Vitol at $3.90 per mmBtu, the sources added.
The gas export cartel is still refusing to meet the terms of the Australian Domestic Gas Security Mechanism which should see prices here at $4Gj. Instead they are still above $8Gj: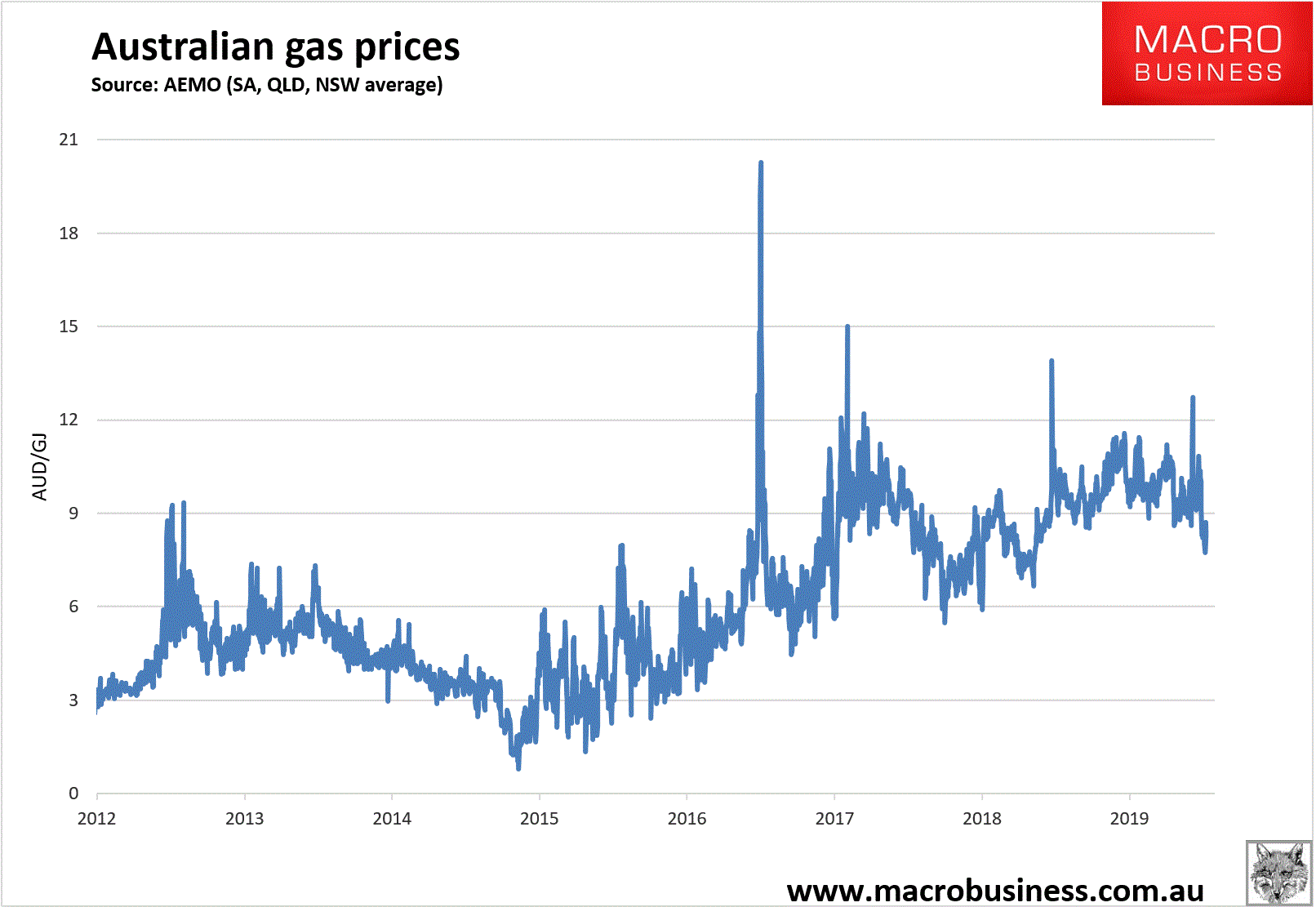 While ScoMo fiddles, at the AFR:
"The thing we can't lose sight of is you need more reliable base energy supply into the market," Mr Morrison told Nine News on Thursday night.

"Now that isn't just keeping our existing large generators open for longer, it's also about getting more gas into the system.

"And this is why I'm so frustrated. The Commonwealth does not control how much gas is allowed to come out of the ground. That's decided by the states.

"NSW, Victoria, I want to see those bans go and I want to see that gas come out from under people's feet."
More gas won't lower the price because all new sources are above $8Gj to extract.
The Commonwealth controls the ADGSM and has promised to fix it. It is the only option to lower gas prices.
Get on with it, ScoMo. Your lies are wearing thin.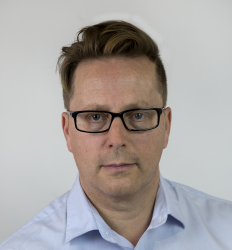 Latest posts by David Llewellyn-Smith
(see all)